WARSAW knife show 2017
Warsaw knife show 2017

One of the nicer things about working on European Blades Mag. is that you get to visit some interesting places; The Warsaw knife show, for instance. We'd never heard of it, and that is entirely our fault, because this year's show was the 14th edition!

Text and pictures: Bas Martens

Left: The Palace of Culture and Science in the heart of Warsaw, where the 14th Warsaw knife show was held.
Center: the show poster. Right: A surprising number of visitors wore gloves, a very sympathetic gesture toward
the knife makers.

The 14th edition of the Warsaw knife show was held on the 21st of October, at the Palace of Culture and Science in the city centre. You may hold your own particular views on architecture, but this building is an impressive location for a knife show: high ceilings, well-lit rooms and marble covered walls.
The show is organised by Wojciech 'WAR' Ramotowski and Michał Lukaszewski, who are also the administrators of the websites: www.knives.pl, and the connected Polish knife forum https://forum.knives.pl/ which, with a count of almost 30,000 registered users, is one of the greatest forums in Europe, if not the greatest.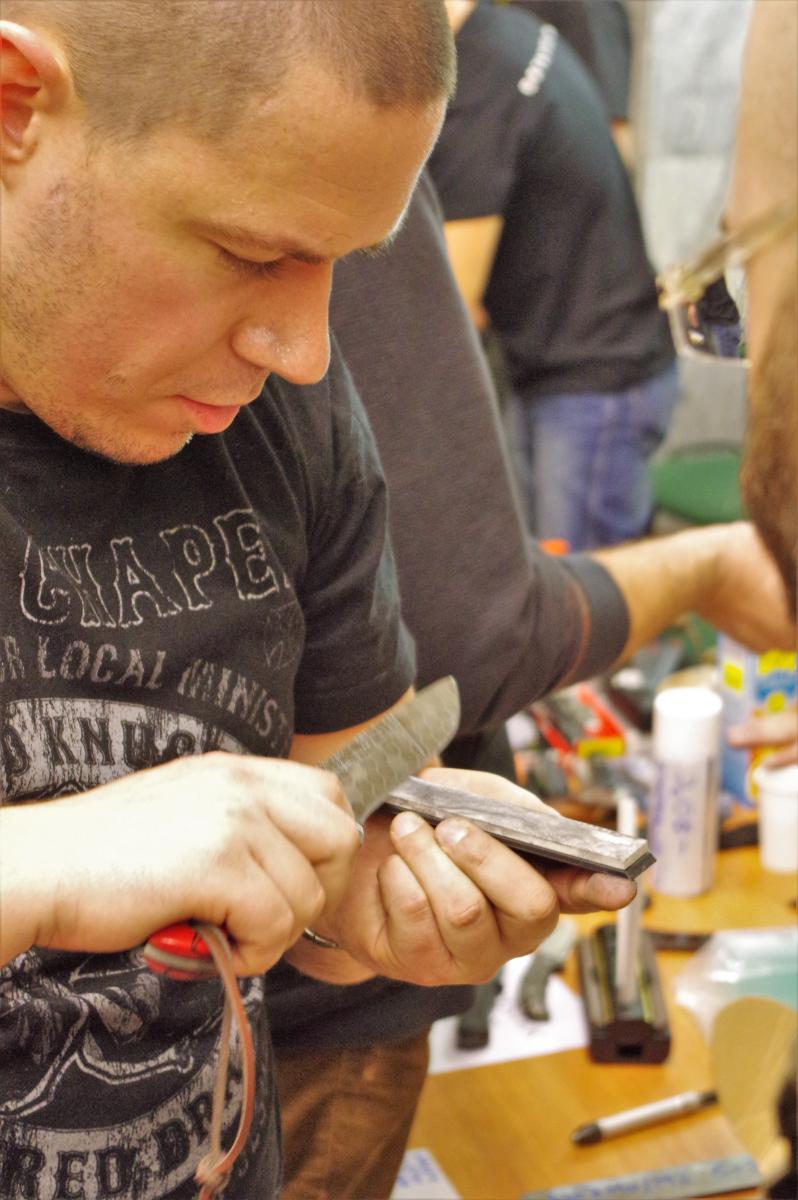 Left: A small part of the exhibition floor. The Palace of Culture and Science is spacious. Right: There was,
of course, an extensive offering of knife sharpeners.

Poland, as it turns out, has a very active and lively knife-making community. The level of craftsmanship and artistry is high. The one-day Warsaw knife show featured 103 exhibitors on a 2600 square meter floor. The exhibitors flew in from Poland, the Ukraine, Russia and Lithuania to meet the some 2100 visitors. The show is basically divided into two parts. The first consists of factory knives, flashlights, leather ware, knife-making necessities and the like. The second part features all of the custom knives. The accompanying pictures give an impression of the work presented there.
The Warsaw knife show is certainly worth a visit, even more so because Warsaw is a pleasant city to spend a few days. And although Polish is a difficult language, almost everybody speaks English, so that cannot be an excuse!

A brief interview with Wojciech 'WAR' Ramotowski
Wojciech Ramotowski (left) and Michał Lukaszewski, the organisers
of the Warsaw knife show.
Q: What does the text on your t-shirts mean and why the Easter Island head?
A: It's kind of joke and a short story.
"Człowiek admin" can be translated to "Admin man" - like a superhero or supervillain. As you know behind this exhibition is the forum knives.pl and the annual gathering of our group.
Michał and I are two of the administrators of this board. Because we have almost 30,000 registered users, mostly male, we have to run it with "hard hand". On the other hand, Michał and I have a specific sense of humour. Let's say we are malicious, often. A Polish comic writer created a fictional character on the internet: "Czlowiek Skurwiel", which can be translated to "Bastard-man". We're joking that "Admin man" is someone even worse.
The Easter Island head has something to do with an absurd sense of humour, which is impossible to explain. Anyway, we have combined these two things and now we have these awesome t-shirts that help the exhibition's guests find us in a crowd.
Q: Can you tell us a little bit about how the Warsaw knife show has developed?
A: It all started on our forum board. Our users wanted to meet in real life. Me and Zbyszek (as owners of knives.pl) helped them realise this. Our first gatherings were really small and concentrated on people, the community. But every subsequent year we had to find more space for more of our extraordinary knife makers who wanted to show their work. Then some companies joined us and well, now we're trying to continue the show and be more and more professional.
Michal was used to be our technical support for the web services but in 2006 he joined the organisation team and today Michał and I are the main organisers. But - and this is very important to mention - we don't do this ourselves. We have continuously had the support of a bunch of people. Without them, we'd be organising a book club, not an exhibition like this.
Q: What do you want for the future?
A: We want to bring back some community spirit. We would like to find a place with enough space for both an exhibition and an outdoor area for competitions. But on the other hand, we have to organize this event in Warsaw, as close to downtown as possible. And this is difficult to combine.
We also want to invite more knife makers from Europe, but for Western European knife makers we're a country of white bears probably, so that's not easy either.
Q: Are you knife makers yourself?
A: No, we have our talents, but making art from steel is not one of them. We are knife collector and users. Michał is part of the Pomeranian Group of Knives.pl. These guys are kind of legendary, because they are hardcore users and they do not respect any sanctity. I am a bit of a legend myself as well, after I broke a Mad Dog knife. Whoa! That was a real shit storm on the USA forums!
Q: Do you already have a date for next year?
Yes, we have. We want to invite you and all readers of European Blades Magazine to Warsaw on October 20th, 2018. All details (in English too) will be published on knives.pl around May 2018, but if any knife maker wants to be informed before that - let him or her contact us immediately.
Wojciech 'WAR' Ramotowski
war@knives.pl
Michał Lukaszewski
pecado@knives.pl
www.knives.pl.
There is great solidarity in the knife-making community. Recently, a very respected Polish knife collector died unexpectedly. Hundreds of knife makers came to his funeral. The collector was especially fond of Spanish knives, and a personal friend of Antonio Montejano, who specializes in a traditional Spanish technique of etching blades, called "agua fuerte".
This knife was made by Pawel Ukanowski (Pavulon Handmade Knives) and etched by Antonio Montejano. It was auctioned at the Warsaw Knife Show, with the proceedings going to the family of the collector.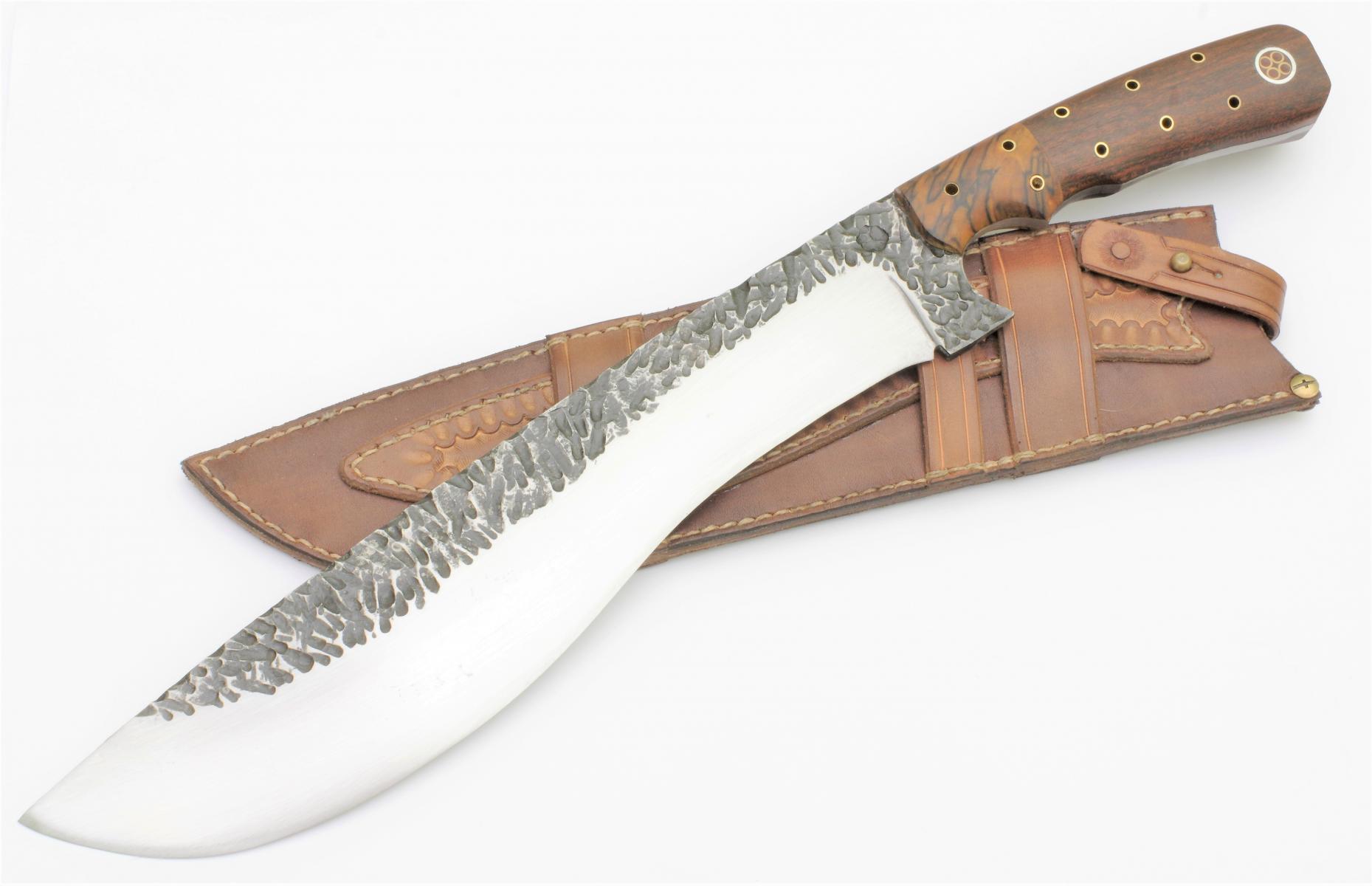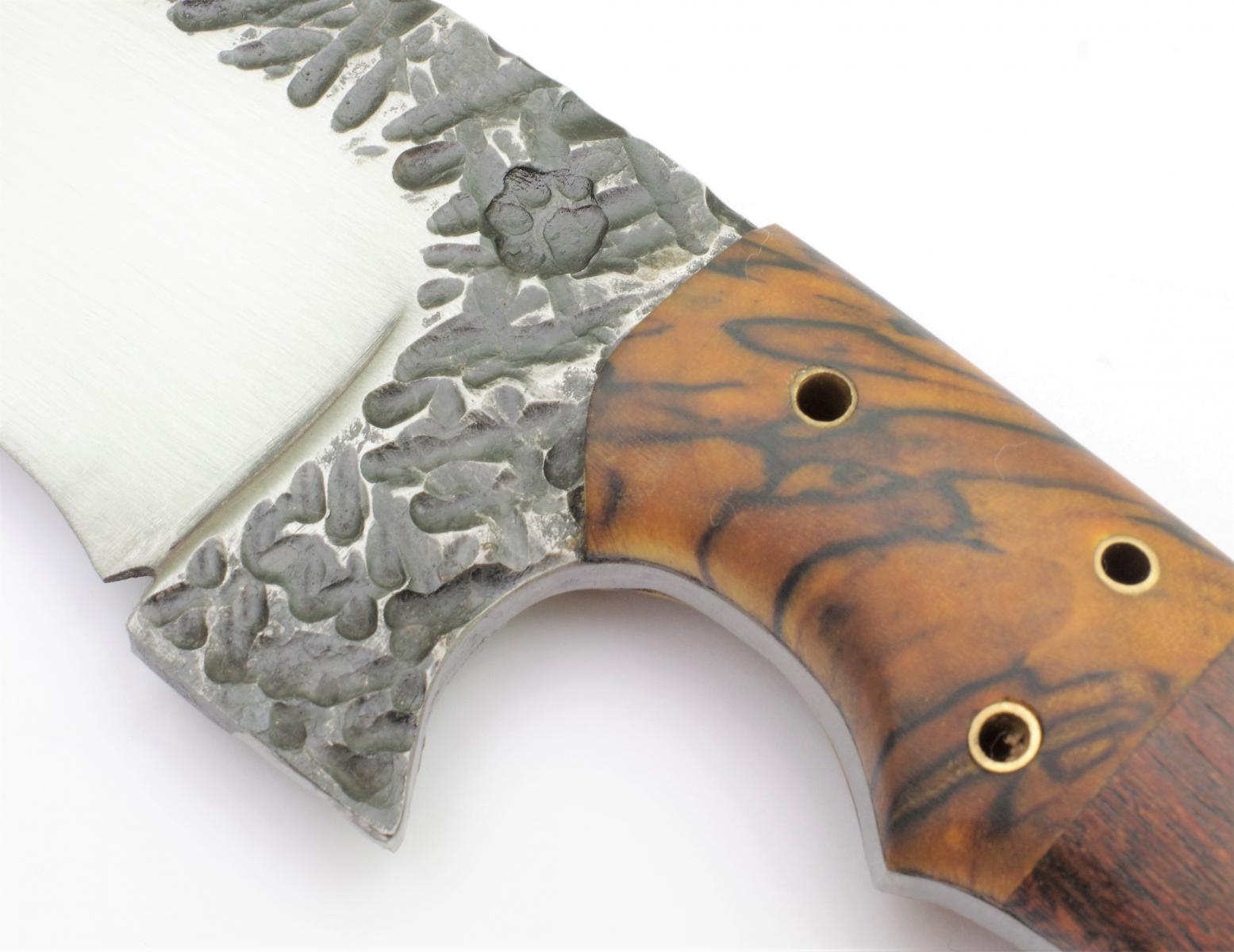 Adela Krzęcko-Alagierski and Igor Alagierski work together at the Kalcifer Forge, but both have their own distinctive style. Her mark is the paw of a cat, his is the claw of a bear, but that does not necessarily mean that his knives are bigger. The Wielroryb (Whale) is a 42 cm long knife. The HF50 blade was forged by Adela and finished by Igor. The handle is stabilised birch and palisander.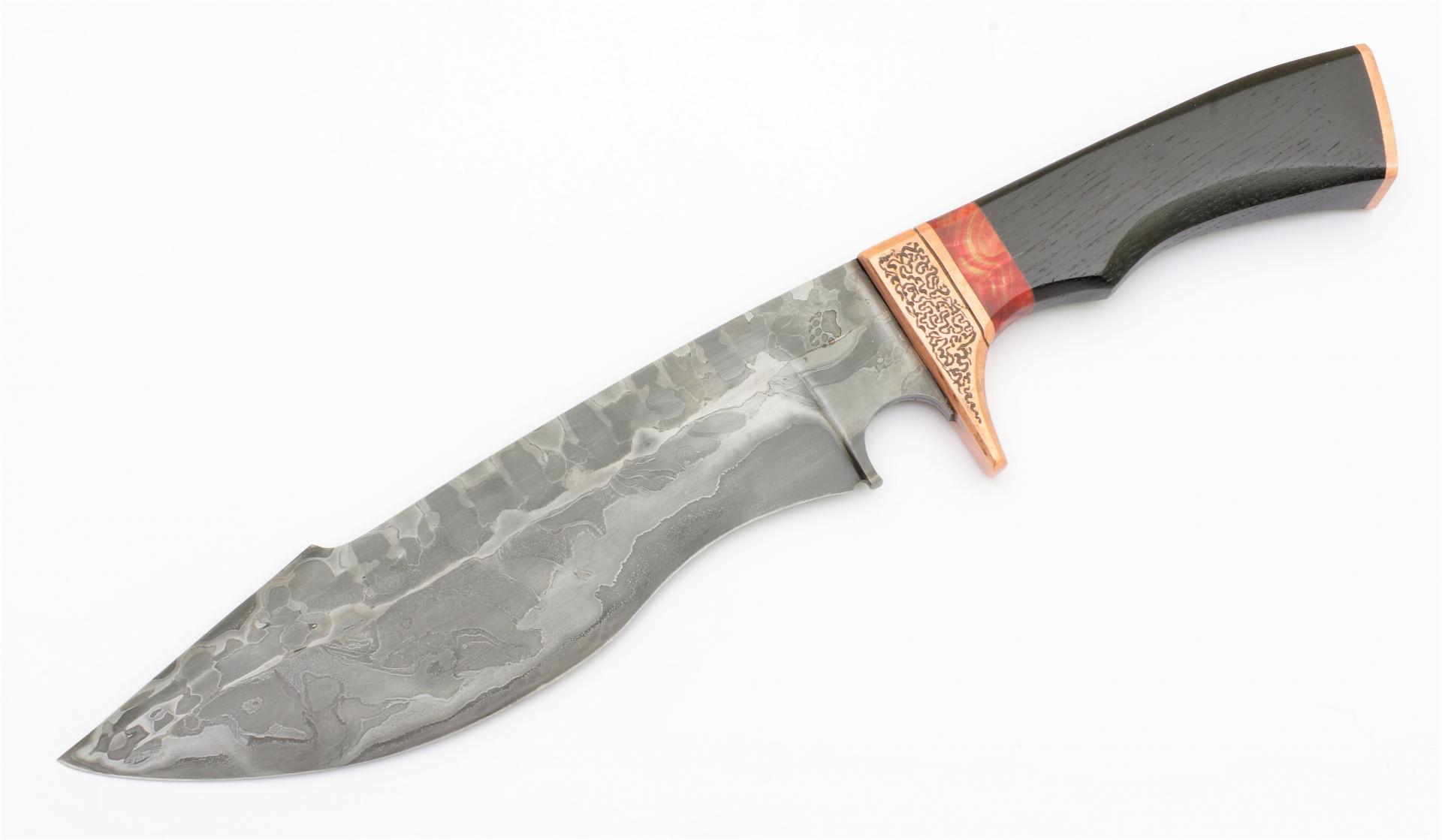 Igor Alagierski made this impressive knife with a hand-forged Damask blade with a core of tH15 and an outer layer of a motorcycle chain, twisted N9E steel and tH15. The handle is made of copper, stabilized maple burl and stabilized black oak. The knife measures 38 cm.
Bernard Górny made this beautiful knife, with a NCV1, 15N20 and N9F Damask blade. Bolster and end cap are also of damask and the handle is ebony.
The 'Tiamat Hunter' by Paweł Gruszka (G-custom). The integral knife is made of M390 steel with a Titanium aluminium nitride (TiAlN) coating. The handle is a combination of Carbon fibre and stabilised birch burl.
The 'Kayman' by Paweł Gruszka (G-custom). The blade is N8E steel, selectively hardened with a Hamon line, the handle is Ironwood.
Lithuanian knife maker Vytautas Valantis made this Nr. 51 hunting knife. The 102 mm blade is from RWL 34, the handle is bone and Ironwood.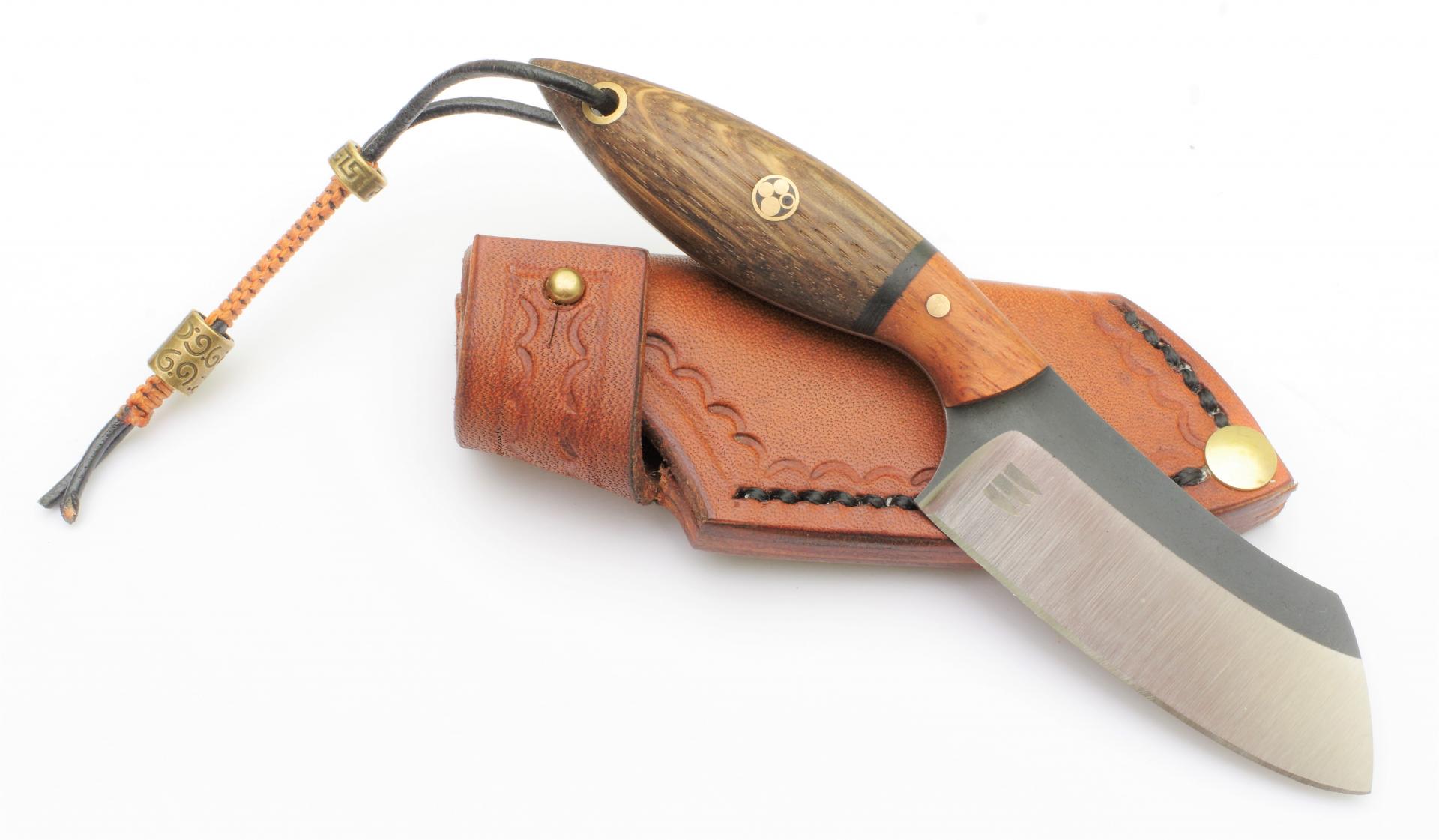 Emil Handmade Knives made this Lapwing, which can be carried on a belt or as a neck knife. De blade is made of ,5 mm D2, the handle is oak, carbon fibre and Sapele. The knife measures about 15 cm.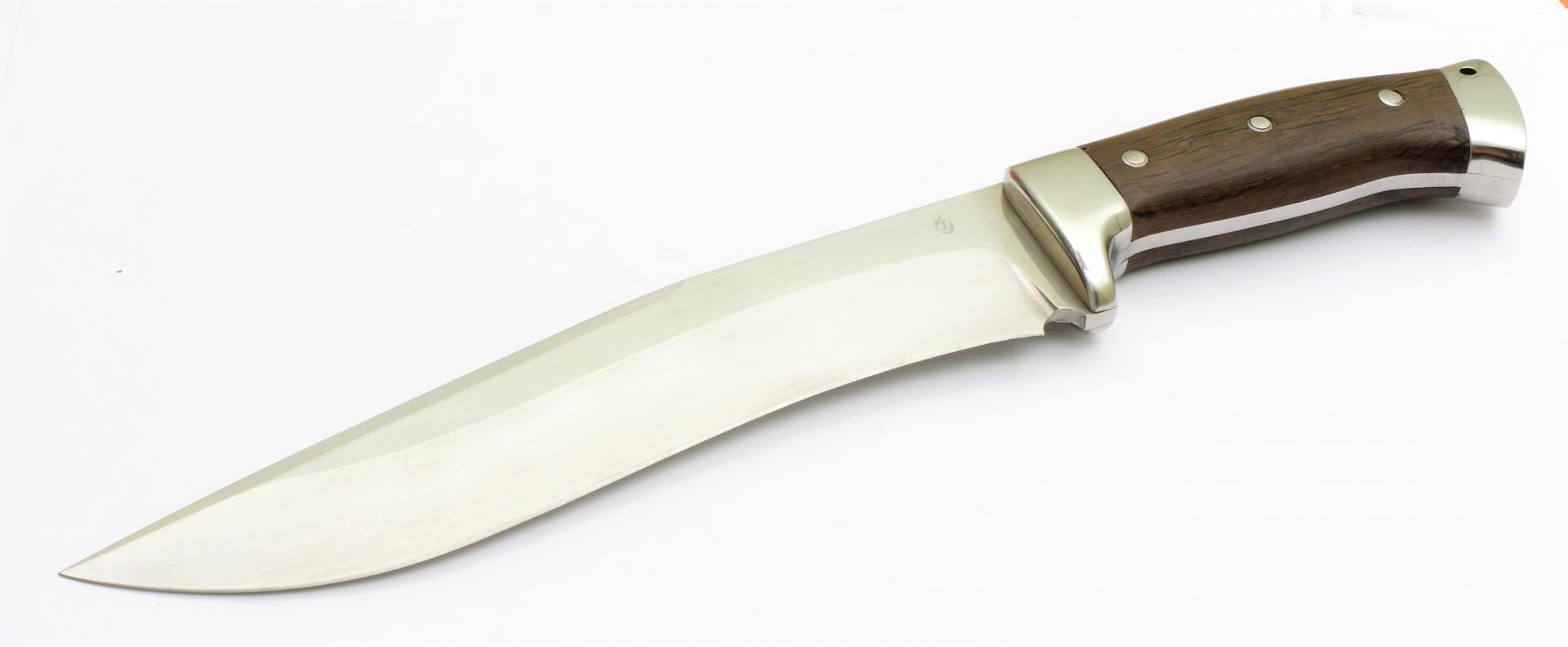 Jacek Kazimierski (Khazimir knives) made this Bowie from A8 modified tool steel. The handle is made of stainless steel and Ebony.
Michael Trollsky named this knife the 'Wenge Wanderer'. The blade is 80CRV2 with a Hamon line, the handle is Wenge wood, red G10 spacers and Brass pins. The blade is hardened using the edge quenching method, which gives it a rustic look after keeping it for 15 minutes in Ferric Chloride. The knife measures 23 cm overall, and Michael Trollsky comments that "big knives are overrated."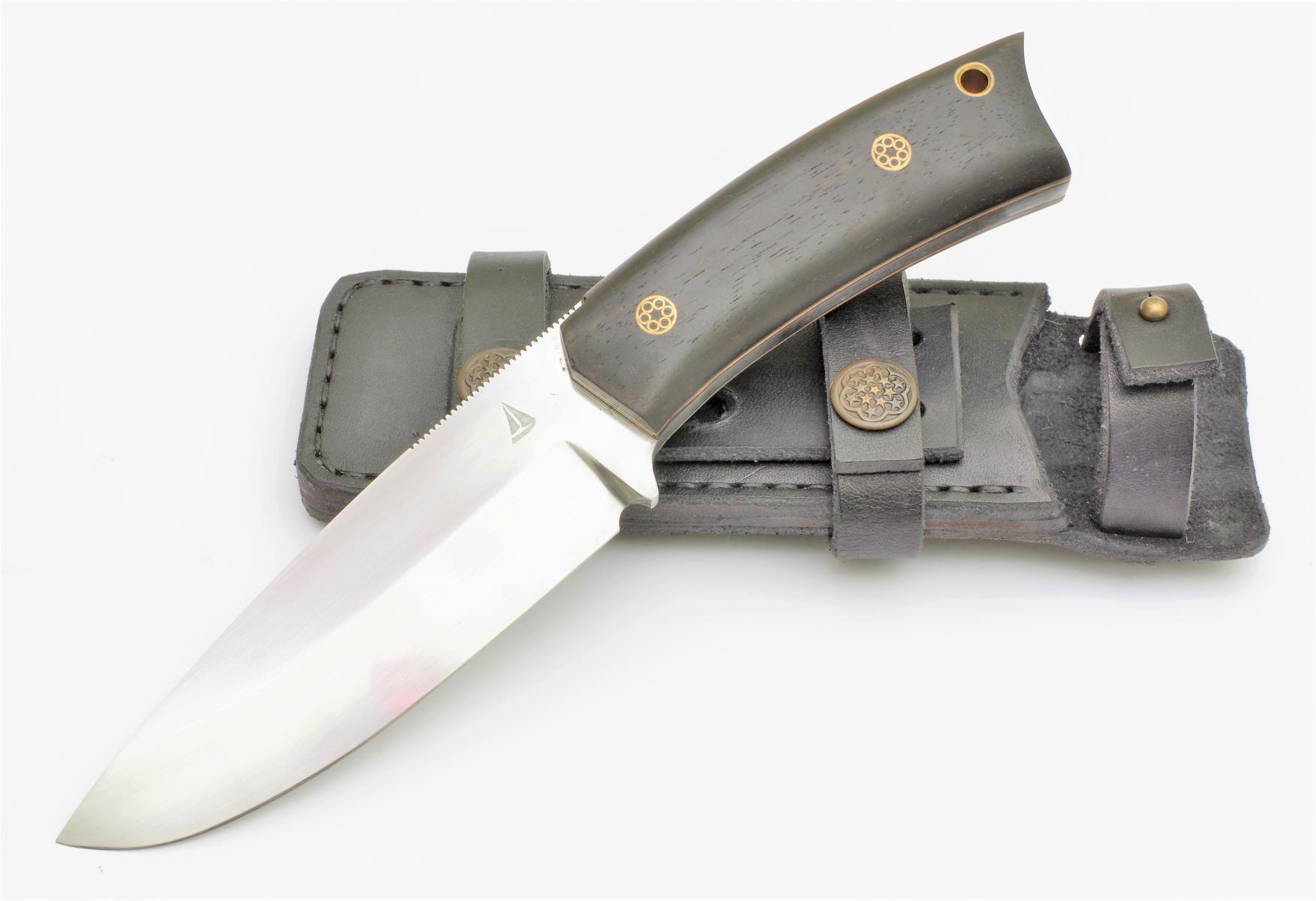 Dariusz Rustecki works under the name: SKDR – Super Knives Dariusz Rustecki. This model is called 'Tooth'. The handle is made of brass, ebony, fibre and mosaic pins. The sheath can be worn horizontally or vertically.
Jakub Śliwka (Sliwkosky Knives) made this Poseidon, with an Elmax blade and an intriguing handle of blue stabilised maple.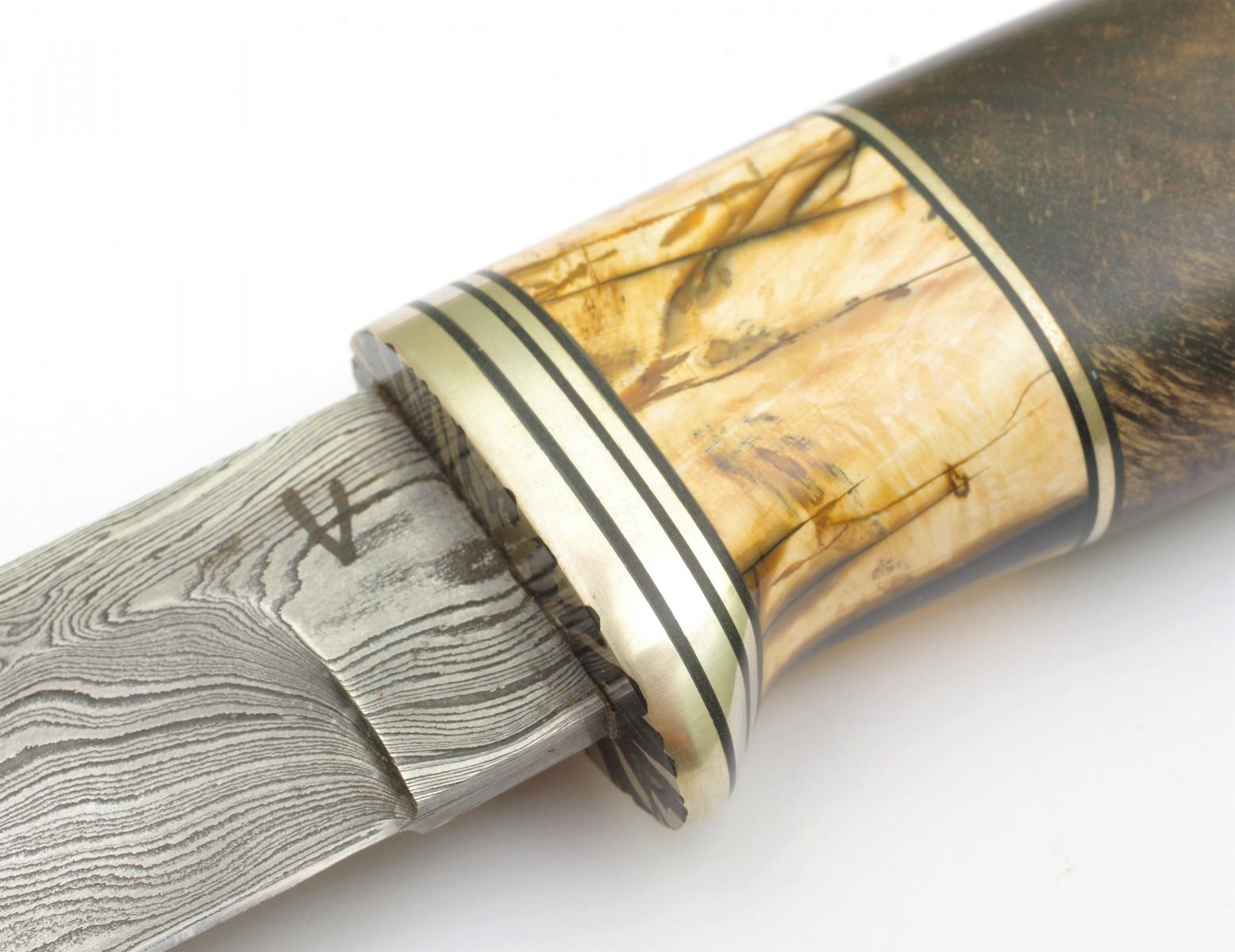 Piotr Nowicki works under the name: Vatro Knives. The knife pictured here is the 'Antis'. The blade is made of 1095 and 420 steel, the handle is a combination of mammoth tusk, Alpacca, fibre and stabilised birch burl. The overall length of the knife is 255 mm. The spine of the sheath has an inlay of sea devil skin.
Markas Kausinis (Marco Knives) made this Nr. 357 'Kelt-3'. The blade is stainless damask made from K110 and 95x18, hardened to 62 HRC. The handle has a titanium bolster, and is made of walrus tusk and Ironwood. The Pyrography on the tusk (decoration with burn marks) was done by Algis P.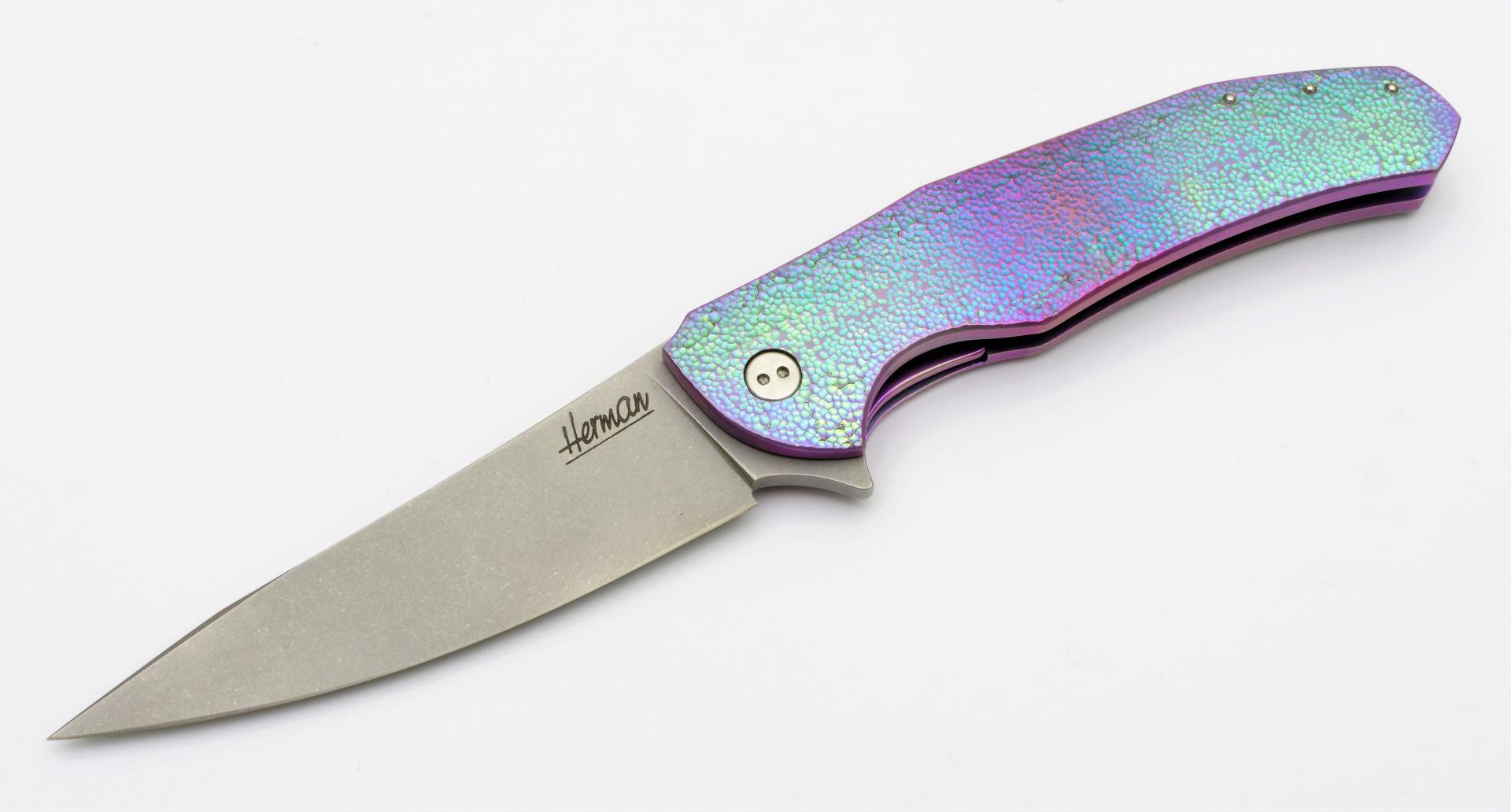 A linerlock folding knife by Bartek Herman. The blade is made of M390 steel. Handle, clip, backspacer and liners are made of titanium. The knife has a ball bearing system.
Grzegorz Sławiński (Sagittarius knives) made this knife with an Elmax blade, and a handle from Turkish walnut. Overall length is about 16 cm.