Valdobbiadene 2018
Valdobbiadene 2018

The annual custom knives show in Valdobbiadene, Italy, is growing. This year, over 2500 people came to see the work of 50 exhibitors despite the poor weather conditions. The quality of the knives on display varied a great deal. The works presented here are a personal selection from the exposition.
Enrico Corradini, integral hunting knife, steel blade 01 integral, snake
wood handle, mosaic pin. Overall length: 260 mm.

A classic by Aldo Zicolillo. Once released the gravity lock lets the blade come out by gravity alone. Blade
in Damasteel Damascus. The handle is in black lip mother of Pearl (below) and natural abalone. The frame
is made from nickel silver; the sheaths (not pictured) are ostrich leather. Overall length: 150 mm.

Directly from Sardinia. A fine example of Cardedese (from the village of Cardedu in the province of Nuoro)
work by Pier Luigi Piras. It is a non-locking folding knife. The blade is in four bars Damascus, the handle
in Mouflon horn, the ring in Mokume. Overall length: 260 mm.
Left: Master Pierluigi Gulli offers this backlock semi-skinner, a feathered Damascus blade and an hippo ivory handle. Gulli himself added that the knife was built without the use of any digitally controlled machines. The knife has had file work on the back and liners. Overall length: 161 mm.
Right: The Maiorano brothers made this fixed blade, their N° 166. Blade in in Damascus by Dario Quartini, handle in mammoth tooth and Cape Buffalo. Guard and end cap are in titanium. Overall length: 295 mm.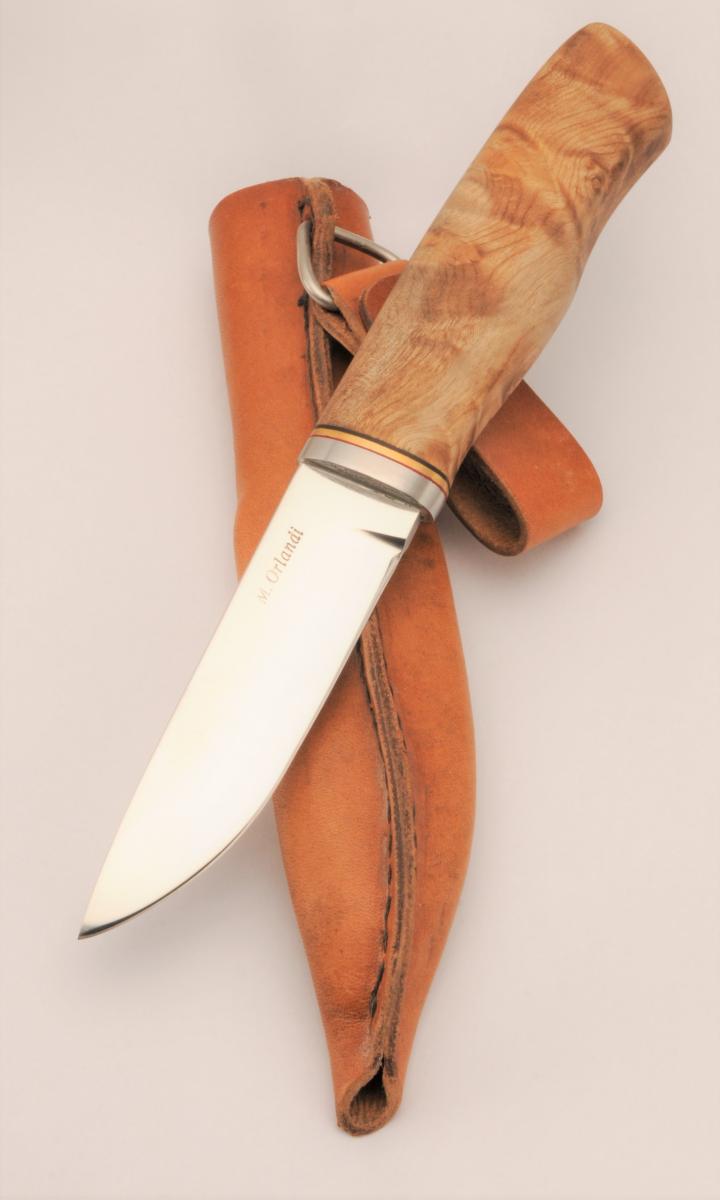 Left: Northern European influences for Mattia Orlandi's Puukko. Blade in ATS 34, stabilized poplar handle
and stainless-steel guard. The leather sheath covers one half of the handle, as per tradition. Overall length:
230 mm.
Right: A liner lock by Marco Cesare Olivieri. Blade is stainless Damascus "Vinland" by Damasteel,
snake wood handle, frame and spacer – with internal file work - is anodized Titanium. Overall length 200 mm.

Fabrizio Costa, Celtic, liner-lock with stainless Damasteel, bolster in briar and 416 steel. The liners are
in titanium. Overall Length: 170 mm.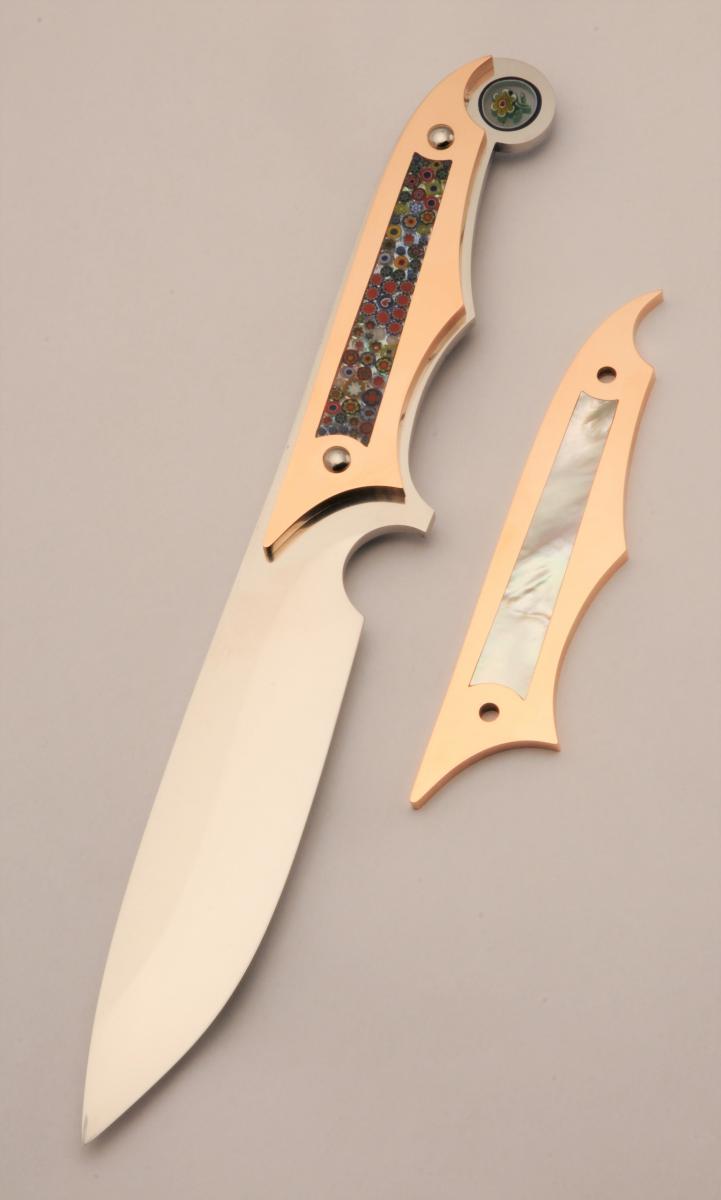 Left: Antonio Emosti's 'Double Face'. Blade in RWL 34, grips in copper, mother of pearl and Murrine. The
peculiarity of the knife is that the grips have a different inlay on the reverse side and it is possible to turn them, changing the aesthetics of the handle. Overall length: 250 mm.
Right: It has an unusual shape, this fixed blade by Michele Valtorta, named MV-1-2018-F. The blade is in
Ma5M and has a finger choil for the thumb, the handle is in walnut wood with an ebony insert, stainless
steel guard. Overall length 200 mm.

Riccardo Mainolfi, Seagull. Blade in ATS 34, handle in stained and stabilized bone, bolsters in Aisi 416
steel. Overall lenght 180 mm.

A very elegant Tanto by Giuseppe Pala, a liner-lock with blade in RWL 34 and handle in Aisi 416.
The frame inserts are in stone from the Kalahari Desert, scales and backspacer are titanium.
Overall length: 198 mm.

Bruno "Graciut" Bruna, Dam Liner-Lock with blade in RWL, grips in Damascus by Dario di Chiara
and liners in titanium with file work. Overall length 212 mm.