The SOG Stout Frame Lock Knife

Looks can be deceiving. The SOG Stout FLK knife proves this once more. In the pictures it looks like a giant, but in reality, the unfolded knife is just under 16 centimetres long. Not big, but very solid. Hence, the Stout has already been described as a 'little tank'.

Text and pictures: Bas Martens


The SOG Stout FLK was designed by SOG founder Spencer Frazer and Danish knife maker Mikkel Willumsen – hence its appearance in European Blades Mag. The letters FLK stand for Frame Lock Knife, which of course refers to the lock.
Mikkel Willumsen likes his knives to be big. Well, maybe not always big, but always sturdy. In his eyes, a knife is a tool that should be used intensively. This fits perfectly with the ideas of Spencer Frazer, founder of SOG and designer of most of the company's models. Officially retired since January 2020, Frazer is still associated with SOG as an advisor, and so it is that the model of Frazer and Willumsen is marketed as SOG Stout FLK.
Mikkel Willumsen (right) and Niels Egede Olsen, photographed at the IWA show in Nuremberg in 2019.
Willumsen is a custom knife maker and Olsen takes care of the marketing.

The Stout is a folding knife with a 67 mm long and 3.8 mm thick blade made from Cryo D2 steel. The knife has a drop point blade with an angled spine. The top of the blade has an elongated thumb hole. The blade can be opened using this hole, but it is easier to use the flipper. When the knife is opened, the flipper divides the front (in the blade) and back (in the handle) finger grooves. The handle has a slightly curved back and a slightly curved rear end. At the back there is an hole for a wrist strap. The steel carrying clip can be switched to the left or right side of the grip.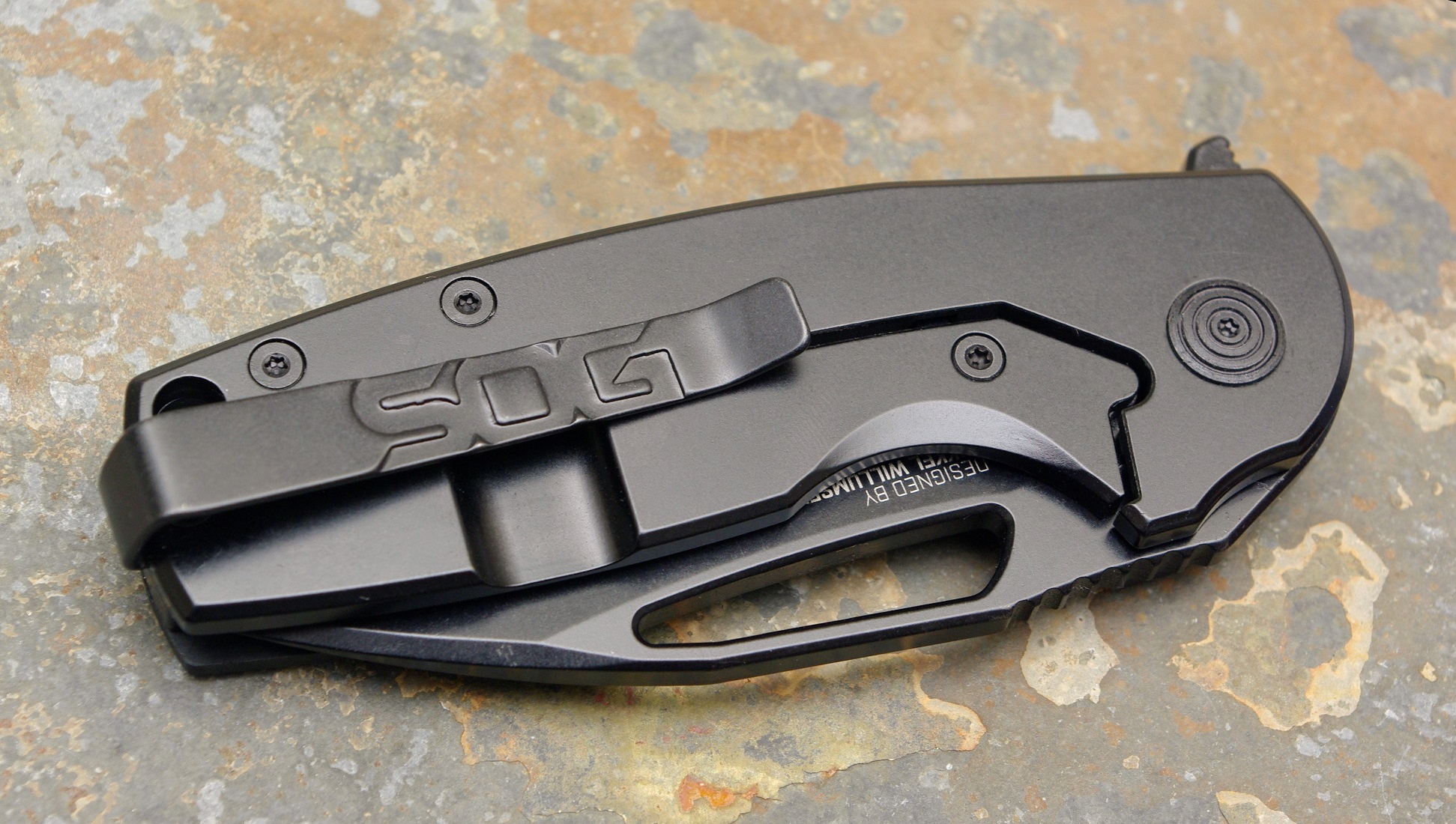 The Stout folded, with a view of the pocket clip, frame lock, thumb opening and flipper (top right).

The Stout grip consists of two different materials. The left handle side is made of G10 and the right handle, with the frame lock, is made of stainless steel. The Stout FLK comes in two versions: with the Olive Drab, the G10 handle is olive green and the steel parts have a stonewash finish. In the Blackout version, the G10 handle is black, with the handle and blade having a black coating.
All in all, the Stout FLK is a compact, handy pocket knife, nicely finished and quite sharp. One drawback is the weight. Using titanium instead of steel would have made the knife lighter, but this is offset by the modest price.

We would like to thank the Dutch SOG importer Adola BV for providing us with the Stout FLK.

The designer's name on the right side of the blade.