The E-show, part 3
The third part of our digital knife show is a virtual tour through Europe again, from Spain to Great-Britain and from Poland to Iceland. The custom knives are as different as the countries they come from, but the makers all share a common passion.
We will continue this series in the next two or three issues of European Blades Mag., depending on the developments with the real-life shows. So if you have not presented one of your recent knives here, please send us one or two pictures and a brief description. We will be happy to show your work to a world-wide audience. One thing though: European knife makers only, please.
A recent commission from English knife maker Philip Siddell (Wellington Bladeworks). The blade is
Sandvik 14C28N steel. The knife has textured brass guard, mosaic pins and dyed and stabilised striped
Poplar scales.

Left and right side view of a linerlock folder by Dutch knife maker Aad van Rijswijk. The 9cm blade is
stainless Damascus steel. The handle has Tortoise shell inlay. Engraved with ornaments and a 24k
golden Merlin by Pascal Jacoby.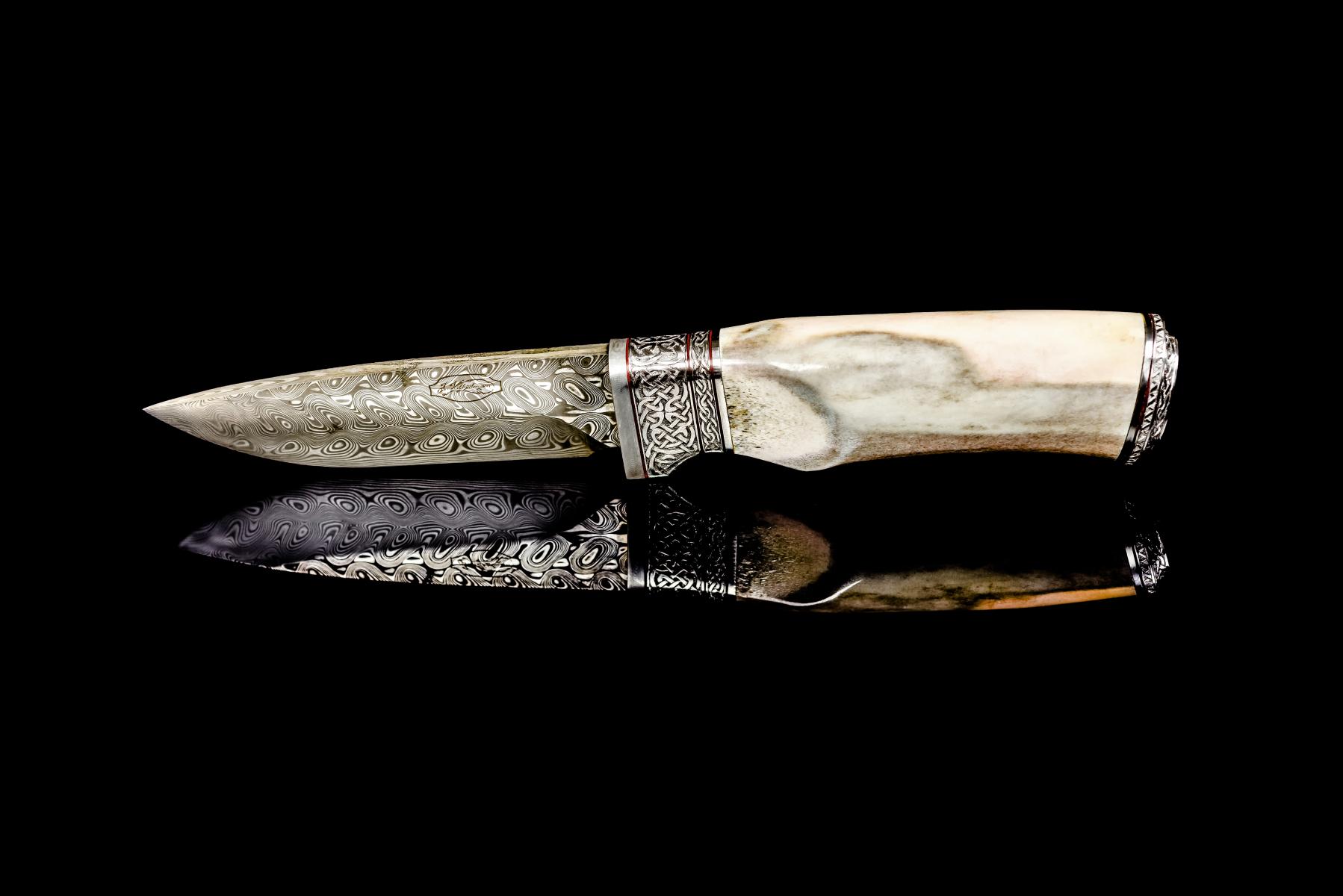 Jóhann Vilhjálmsson from Iceland made this knife with a 10cm blade from Damasteel "Hakka Pella". The
bolsters are stainless steel 303, and the handle is Icelandic reindeer antler. The engraving is by Veronique
Grojean in Liège.

British knife maker Stephen Nowacki (White Tiger Knives) made this Higonokami folding knife. The 85mm
long blade is made from Hitachi white paper steel and has a bamboo theme filed into the spine. The handle
is made from 2mm thick copper which has been filed and chiselled to resemble bamboo, and then had liver
of sulphur applied to the surface to give an aged patina. Overall length of the knife when open is 195mm.
It comes with a custom made leather pouch sheath to carry on your belt.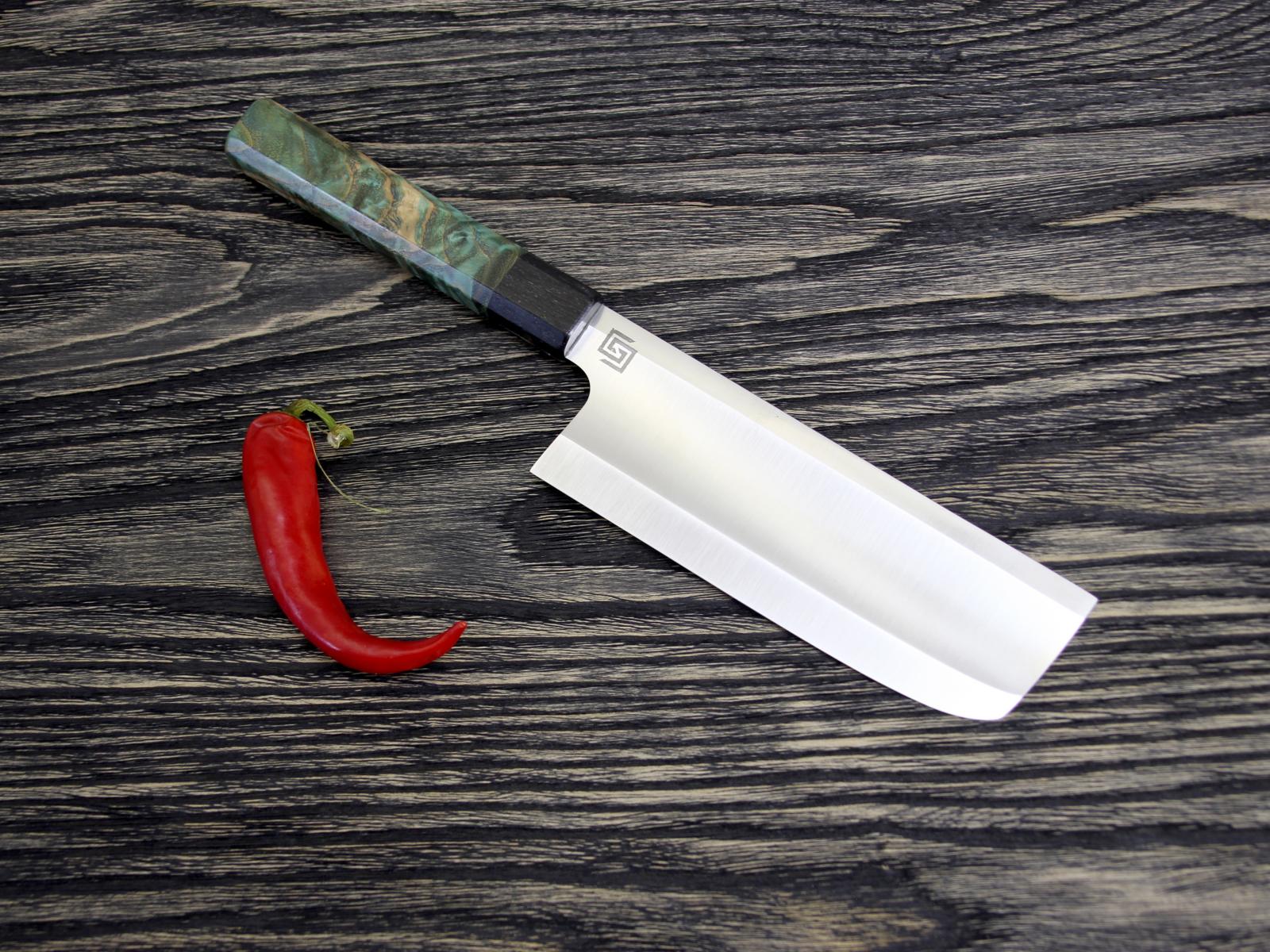 A Nakiri by Polish knife maker Mateusz Gąsiorowski (GGasiorowski Knives). The blade is 2.4mm D2
steel with an S-Grind, the handle is made from polished stabilised wood and black oak.

A recent small Gyuto by Austrian knife maker Dieter Schmidt, made according to some basic specifications
from the customer. The 160mm blade was forged from 1.2067 steel. The WA-style handle measures 125 mm
and is made from stabilised and coloured stacked beech in red and black. The blade tapers from the handle
to the tip and has a double sided S-grind for better food release and both left- and right-handed use. For
transportation there is a simple leather sheath.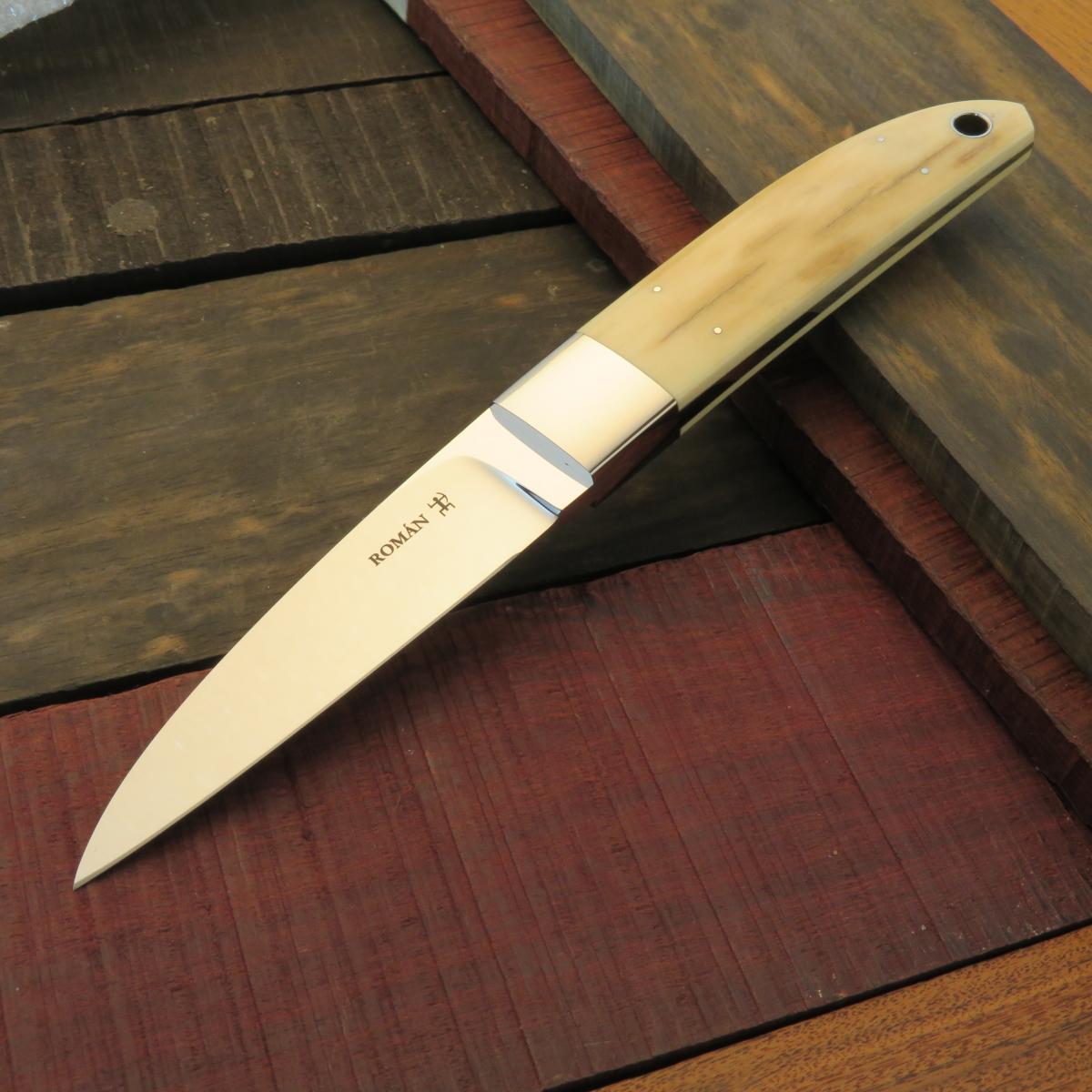 The "StiffHorn" by Spanish maker J Román Cabrero. The blade is Damasteel RWL34, mirror polished
with a tapered tang. The handle is Mammoth Ivory.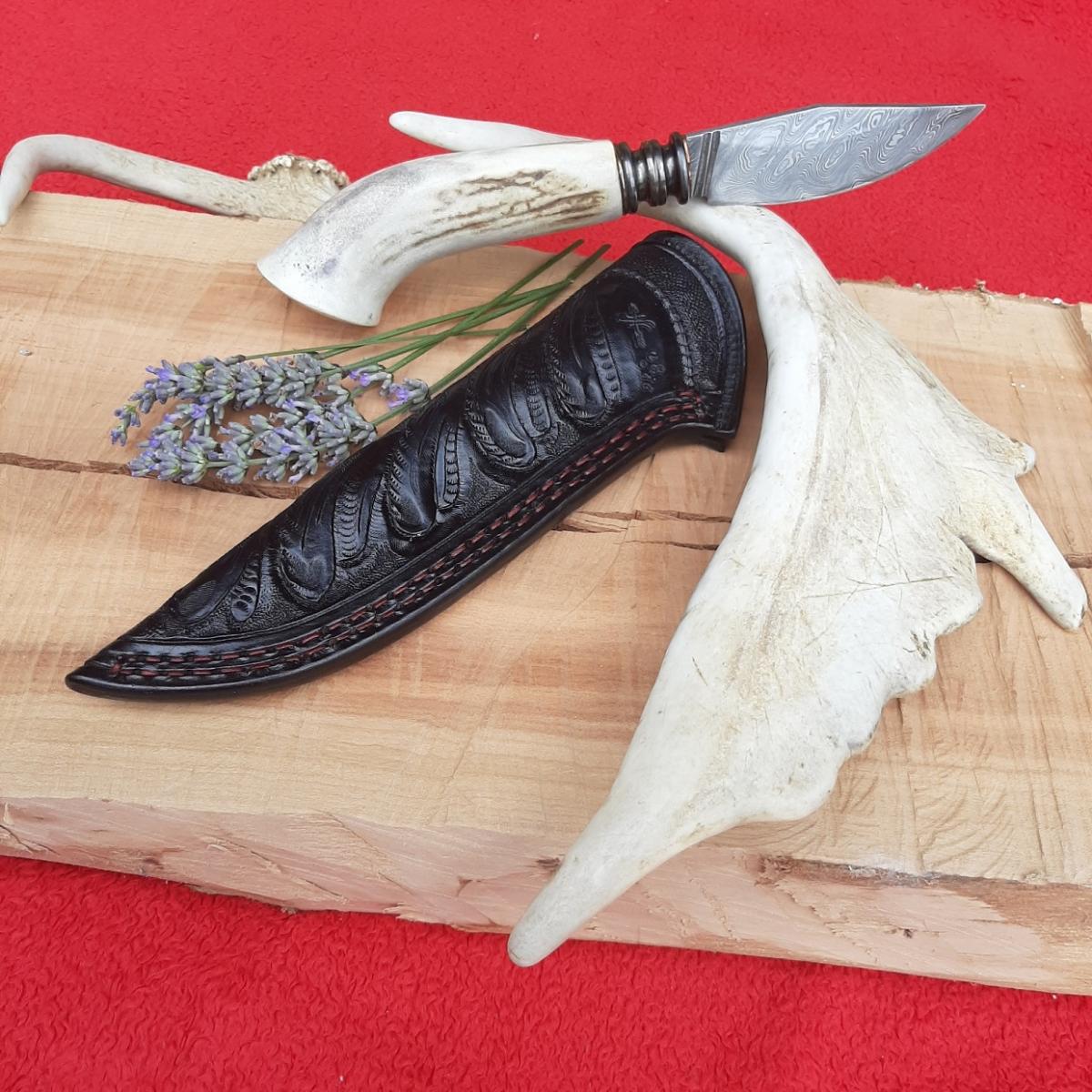 A hunting knife by Siegfried Hattinger from Austria. The blade is made from an unidentified piece of
Damascus steel with filing work. The handle is polished Austrian Deer stag, with browned steel and
copper fittings. The sheath is made from cow neck leather, engraved, punctuated and hand-stitched.
It was varnished with an airbrush pistol.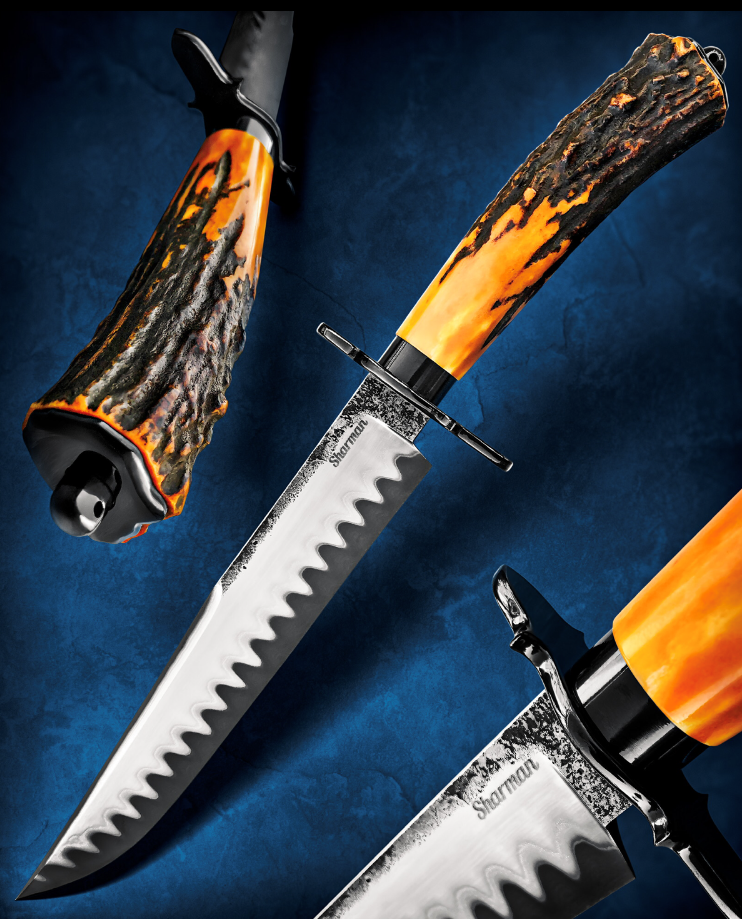 A Dog Tooth San Mai by British knife maker Wendon Sharman. The blade is 420 Stainless cladding with
07 core steel. The fittings are hot blued steel and the handle is Sambar stag. Overall length of the knife is
almost 36cm. (Picture Caleb Royer)

Tomasz Matuszewski (Jadd Custom Knives) from Poland calls himself more of a designer than a
professional knife maker. The knife pictured here is made from 50HF steel (the Polish designation 1.8159
or 51CrV4).The handle is Apofis Epoxy Hybrids from Polish manufacturer Grzegorz Żurawski. Overall
length is 420 mm.

A frame lock folder by French maker Christophe Lemaire (Atelier Tofbarteam). The blade is SHV stainless,
the handle is Titanium with "Arctic Storm" Carbon Fiber.
Portuguese maker Sérgio Santos named this knife "Alma Lusa" (Portuguese soul). The blade is shaped
like a ship's hull, reminiscent of the Portuguese era of discoveries. The handle is shaped like the neck of
a Fado guitar, and the brass inlays, the heart and the Fado guitar, imitate the gold filigree, typical of Portugal.