The 28th SICAC 2017 in Paris
The 28th SICAC 2017

It almost looked like a knife show marathon in Paris. In mid-September the French capital hosted three events in the same weekend, beginning on Friday with the Salon Internationale du Couteau d'Art et de Collection (SICAC).

Tekst and pictures: Louis Blanchet Kapnist

The two-day SICAC was held, like last year, at the Porte de Charenton in the east of Paris. The spacious floor was filled with 117 knife makers, and almost 2000 visitors. There was an exhibition of ancient motorcycles, and there was a barber shop, which attracted a new group of visitors who could best be described as 'slightly hipster'.
The show saw a fair number of first-time participants from the USA, Russia and South Africa, whom I had never seen before. Some of their work was outstanding, as can be seen from the pictures.
The organisation had awards in 12 categories. The winners were as follows:
Best of Show: Antony Marfione
Best Knife Design: Jean Pierre Martin
Best Forged Folding Knife: Thierry Chevron
Best Folding Knife: Manu Laplace
Best Flipper Knife: Tony
Best Fixed Blade: Pierre Yves Thomas
Best Tactical Knife: Mark Skaggs
Best Art Knife: Bertie Rietveld
Best First Participation: Mike Kulygin
Best Knife Sculpture: Zhigzhit Bayaskhalanov
Best Fixed Blade: Pierre Yves Thomas
Best "Young Hope": Dew Hara
Best "Coup de Coeur": Stéphane Sagric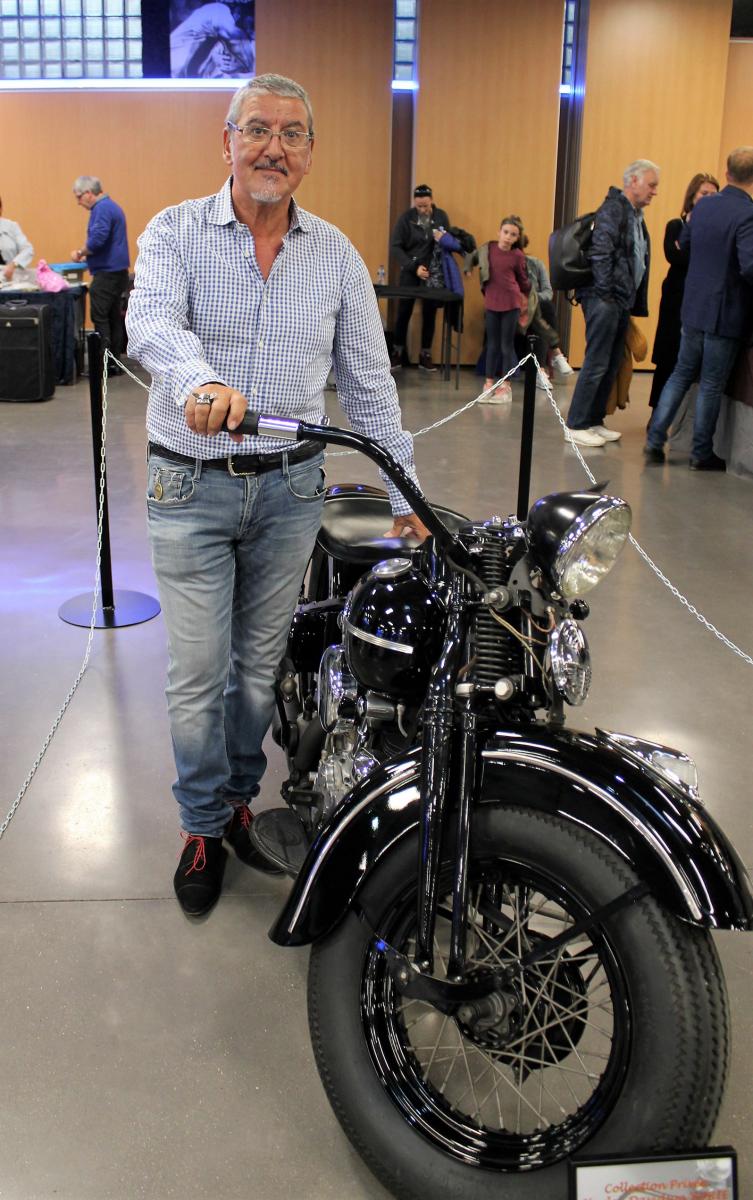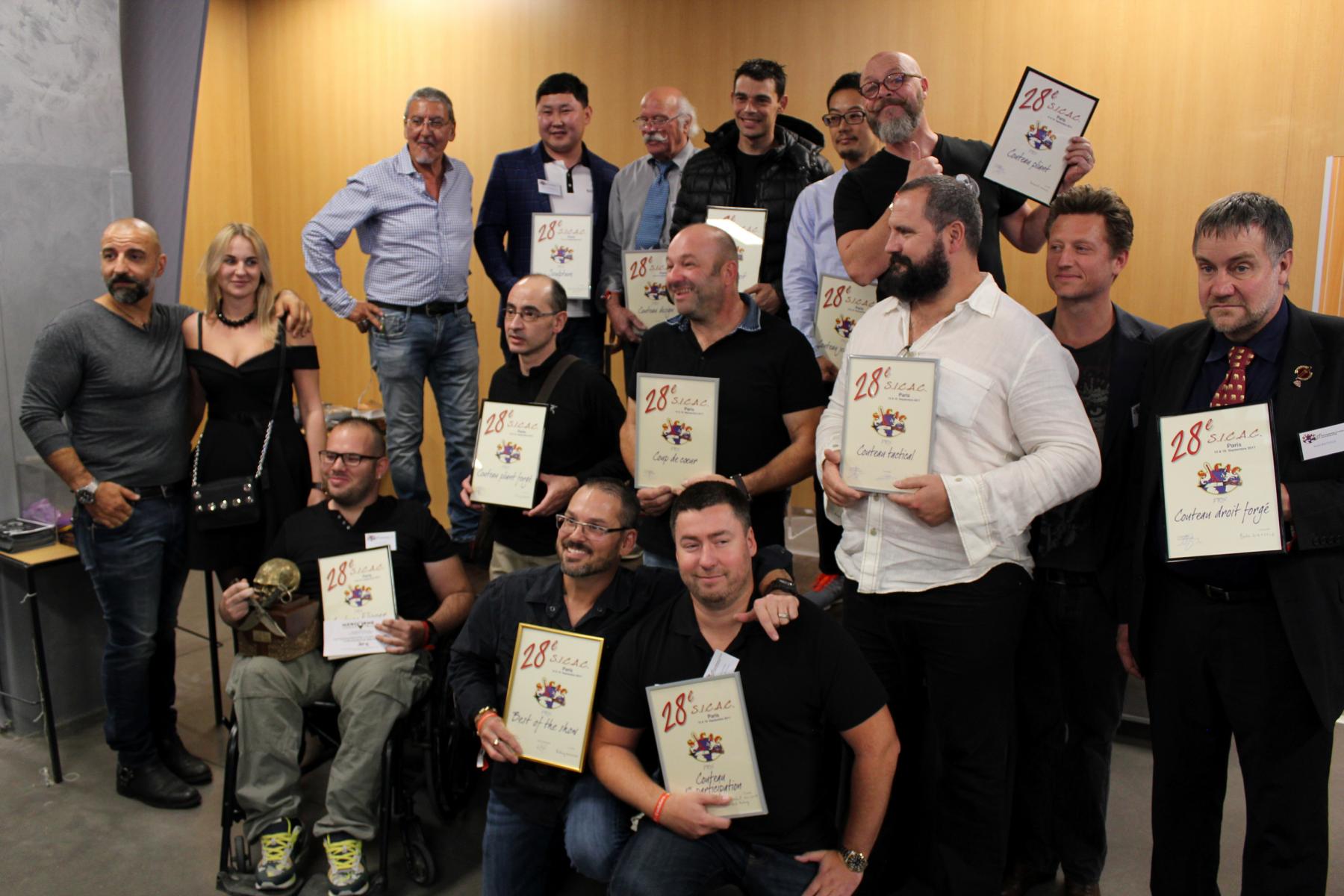 Left: Yvon Guegeche, organiser of the SICAC, with one of the historical motorcycles on display. Right: The
twelve SICAC award winners. Congratulations!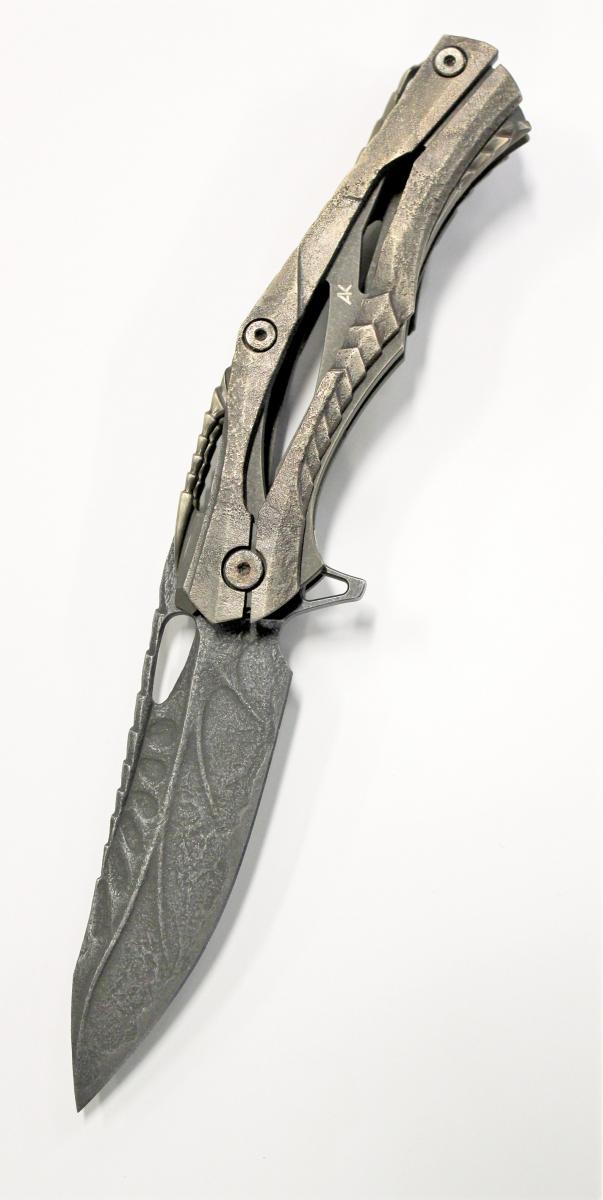 Mike Kulygin from Custom Knife Factory in Moscow
made this DCPT-1, from S35VN and 'Dragonspine'.
Kulygin won the prize for best first participant.
South African knife maker Trevor Burger (TBC Knives) made this folding knife
with a Damasteel blade, hand engraved bolsters and spalted Oak Burl handles.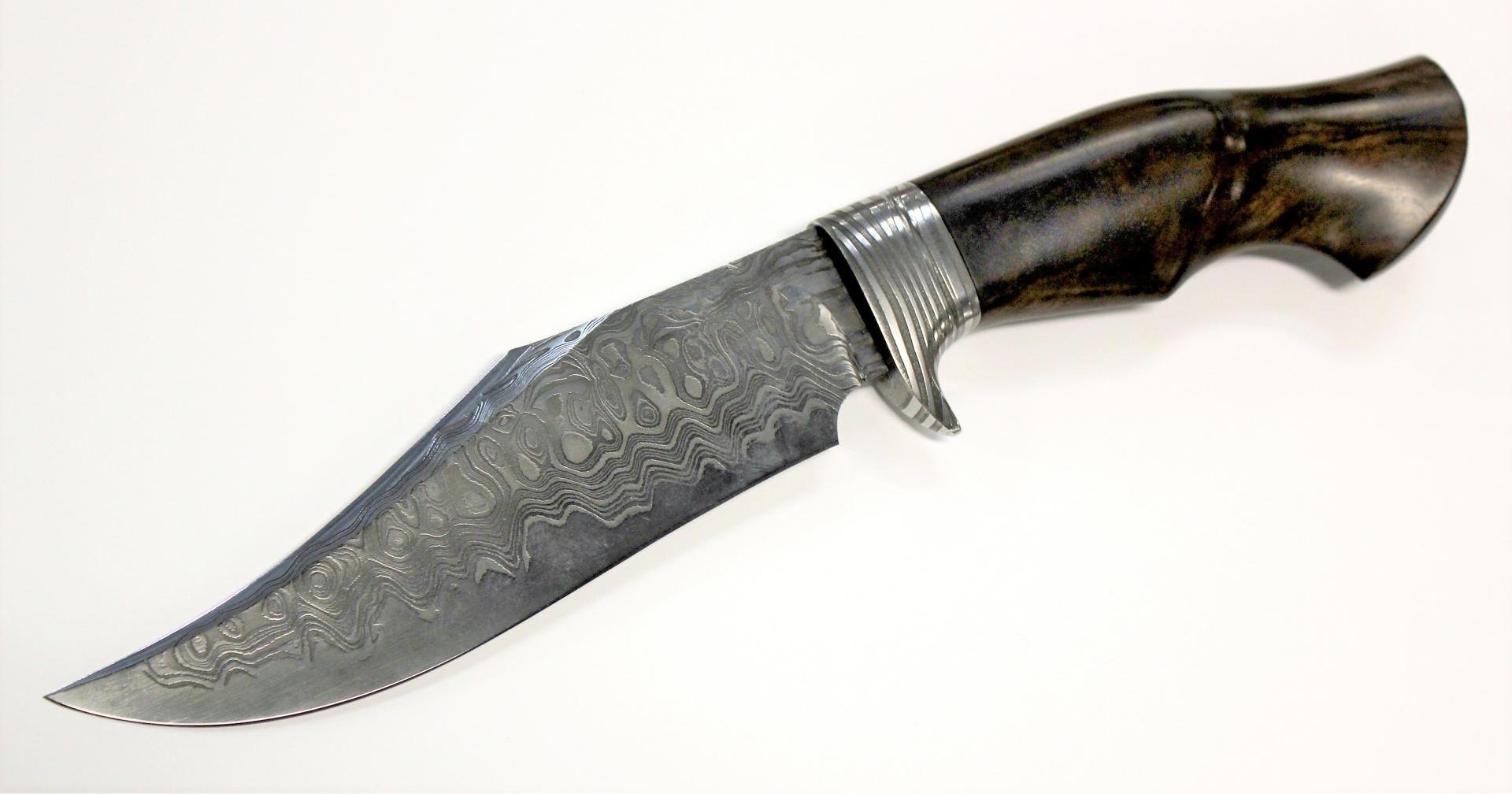 Grigorii Verizhnikov made this impressive knife with a blade of K110 and stainless Damask, a guard of
stainless Damask, and Bokote handle.
The 'Interpol' framelock by Thomas Gony (Grind Tactical Knives). The blade is D2 steel, the handle is
titanium. The blade opens on ceramic rollers.
The 'Provocator Custom' by Oleg Chernov from Best Knife Collection in Moscow. The blade is made of
M390 steel, the handle is sculpted titanium.
'Le petit loupe' (the little wolf) by Michel Delanghe. The blade is made from 14C28 Sandvik, the liners
are anodised titanium and the handles are royal ebony.
An office knife by Yann Regibier. The blade is XC75 steel, the boxwood handle sculpted in 'cthulhu' style.
Alexandre Cheburkov drew his inspiration for this knife from the toucan, and that is what the knife is called.
The blade is M390, the handle is titanium and Timascus.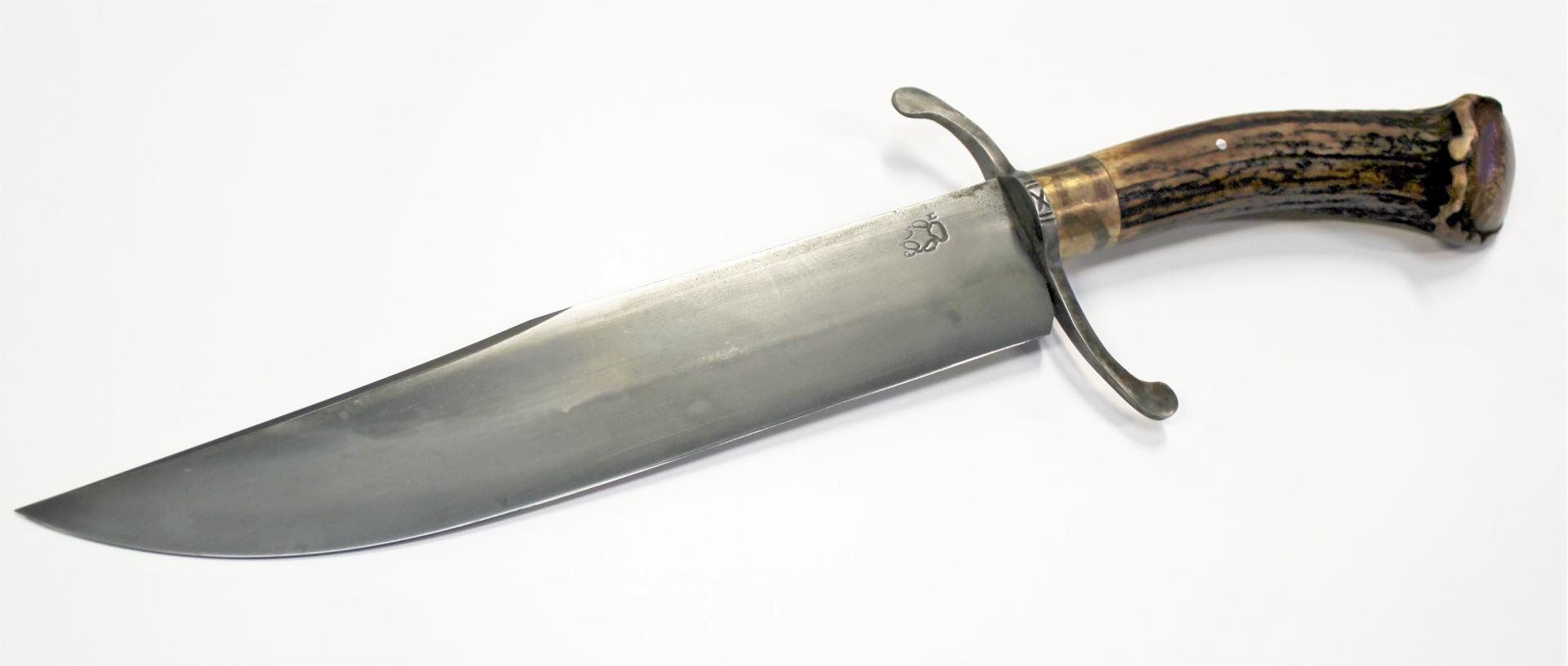 Pierre-Henry Monnet made this Bowie with an XC75 blade and a handle from deer antler.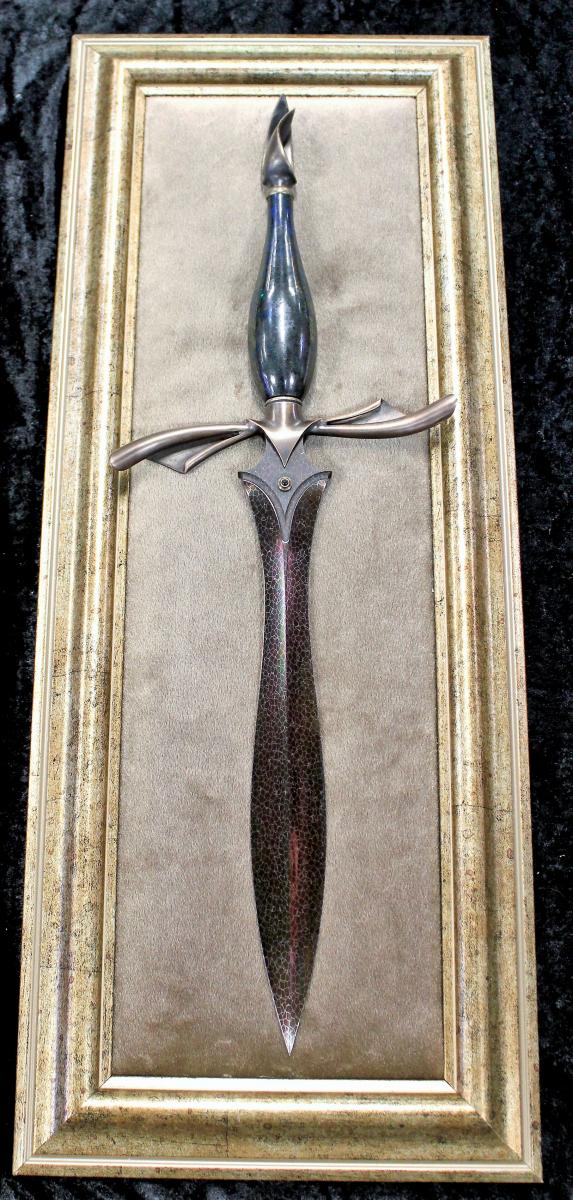 The 'Pinnacle Dagger' from South African knife maker, Bertie Rietveld. The blade is Nebula steel, the guard and pommel are cast bronze and the handle is Chrysocolla stone. Rietveld won the SICAC prize for the best art knife.
South African knife maker Charl Pienaar presented this CPK3. The folding knife has a 3" RWL34 blade,
contoured titanium scales and an axis collar and pocket clip from Damasteel Damask.
Forge Viruce made this hunting knife, with a Wootz blade, and a handle of bronze, ebony, and antler.

A Kaiken flipper by Glenn Waters. The 78 mm blade is M390 with carbide stardust coating. The handle
is titanium and carbon fibre. The knife has ceramic bearings.