The 21st Milan Knife Show
The 21st Milan Knife Show
At the 21st exposition of the Corporazione Italiane Coltellinai, better known as the Milan knife show, there were less knifemakers than last year but some interesting new arrivals. There were not many new ideas, and some knife makers had already sold their knife or knives, so they showed only pictures. For me, that is not attending a show; visitors come to look at knives, not at pictures, and I refuse to get pictures shot by others maybe a couple of weeks before. Shown here are the knives that, in my opinion are in some way not completely "already seen".

Text and pictures: Roberto Allara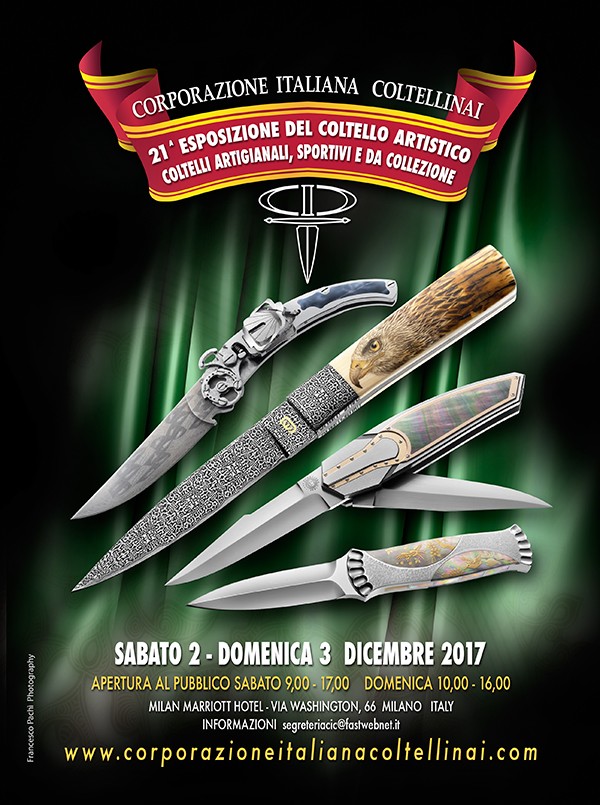 Moreno Feltresi
Carbon mosaic damascus, handle in epoxy resin loaded with oxydes. Blade 22 cm, overall lenght 40 cm
.
Charlie Bennica
Laguiole knife with Gideon Meteorite blade and meteorite inlays in AISI steel.
Blade 12 cm, overall length 26 cm.
.
Salvatore Puddu
A three blade folding knife, backlock, RWL34 blades and black MOP inlays on an AISI 416 handle.
Giuseppe Pala
Blade in RWL34, handle AISI 416, black MOP inlays, liners and spacers in Titanium.
Blade 8.5 cm OAL 20 cm.
Vladimir Kirillov
Mammoth handle and sheath, carved by himself. Blade with gold and silver inlays, won the prize for the
best artistic knife, Blade 16 cm, OAL 28 cm.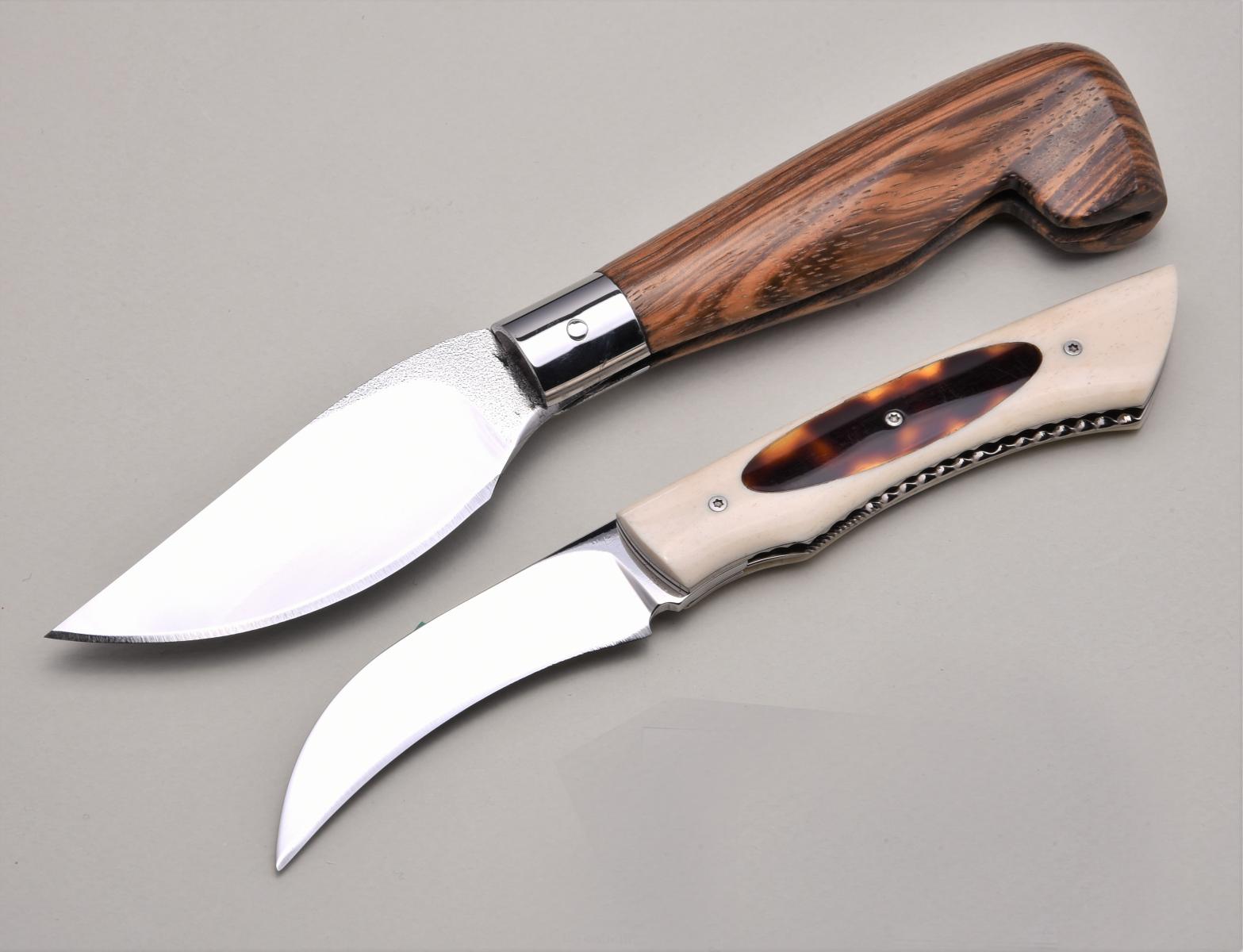 Roberto Ottonello
Two traditional knives from Masone (his town): a Masunin and a pruning knife, this one correctly sharpened
on one side only. Local wood for the Masunin, camel bone and turtle shell for the pruning knife, RWL34 blades.

Daniele Ibba
Blade in RWL34, bolsters in AISI 416, handle mammoth ivory engraved by Aldo Rizzini. 7.2 cm blade,
OAL 16 cm.

Wolfgang Loerchner (Wolfe).
Folding symmetrical dagger. AISI 440C for blade, handle in AISI 416 with black zircon and gold inlays.
OAL 21 cm, blade 9 cm.

Pavel Turna
Big Fives, sole authorship. Damasteel blade, ebony with bone inlaid handle and sheath. 9.5 cm blade,
OAL 19 cm.

Sergey Bobkov
Chameleon. Damascus blade, Titanium handle with a gold point. Blade 8 cm, OAL 19 cm.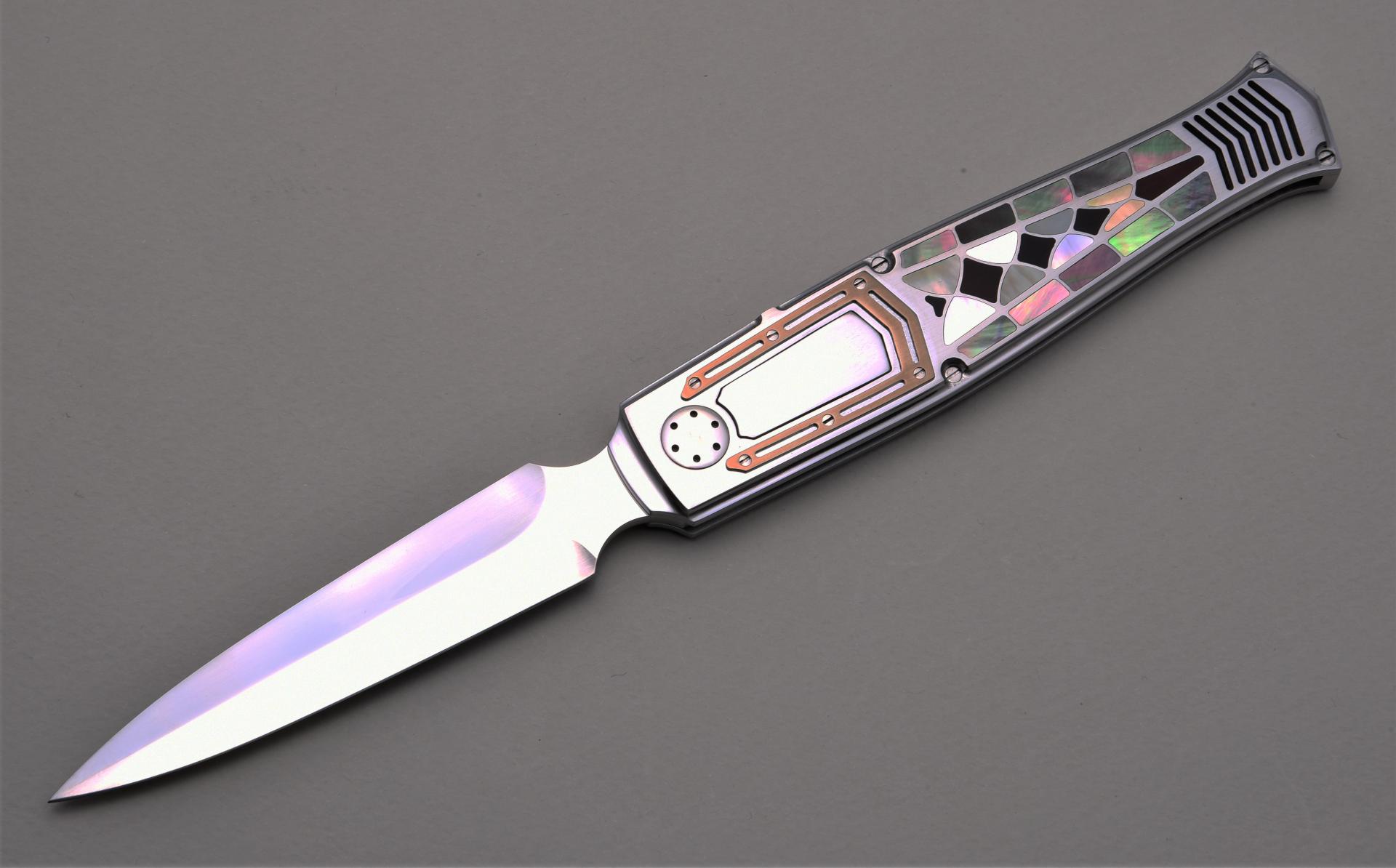 Mario Peddiu
Folding dagger. RWL34 blade, AISI 416 handle with MOP interframe. Assisted opening by a flat button
on the handle. OAL 21 cm, blade 9.5 cm.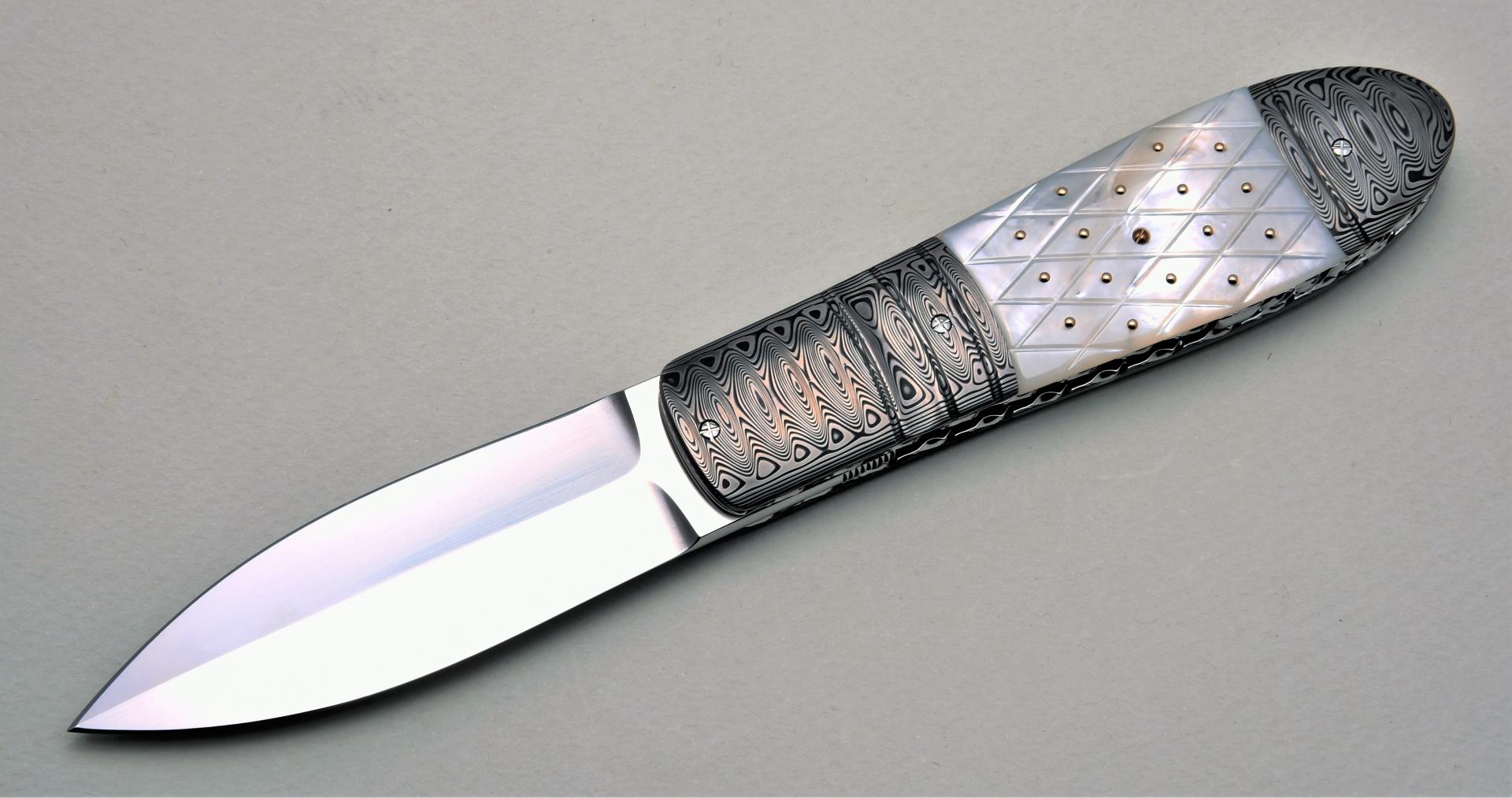 Fabrizio Silvestrelli (Silvester):
Folding dagger. RWL34 blade, Damasteel bolsters, premium MOP inlay with gold pins. OAL 19.5 cm,
blade lenght 9 cm.

Claudio Riboni
Tanto. Carbon damascus made by Gariboldi, AISI 416 liners, Titanium scales, engraving by Aldo Rizzini.
Blade 8,5 cm, OAL 18,5 cm.

Reinhardt Tschager
Damascus by Devin Thomas, fossile horse tooth and walrus ivory, Gold pin with logo. Blade 9.5 cm,
overall lenght 20 cm.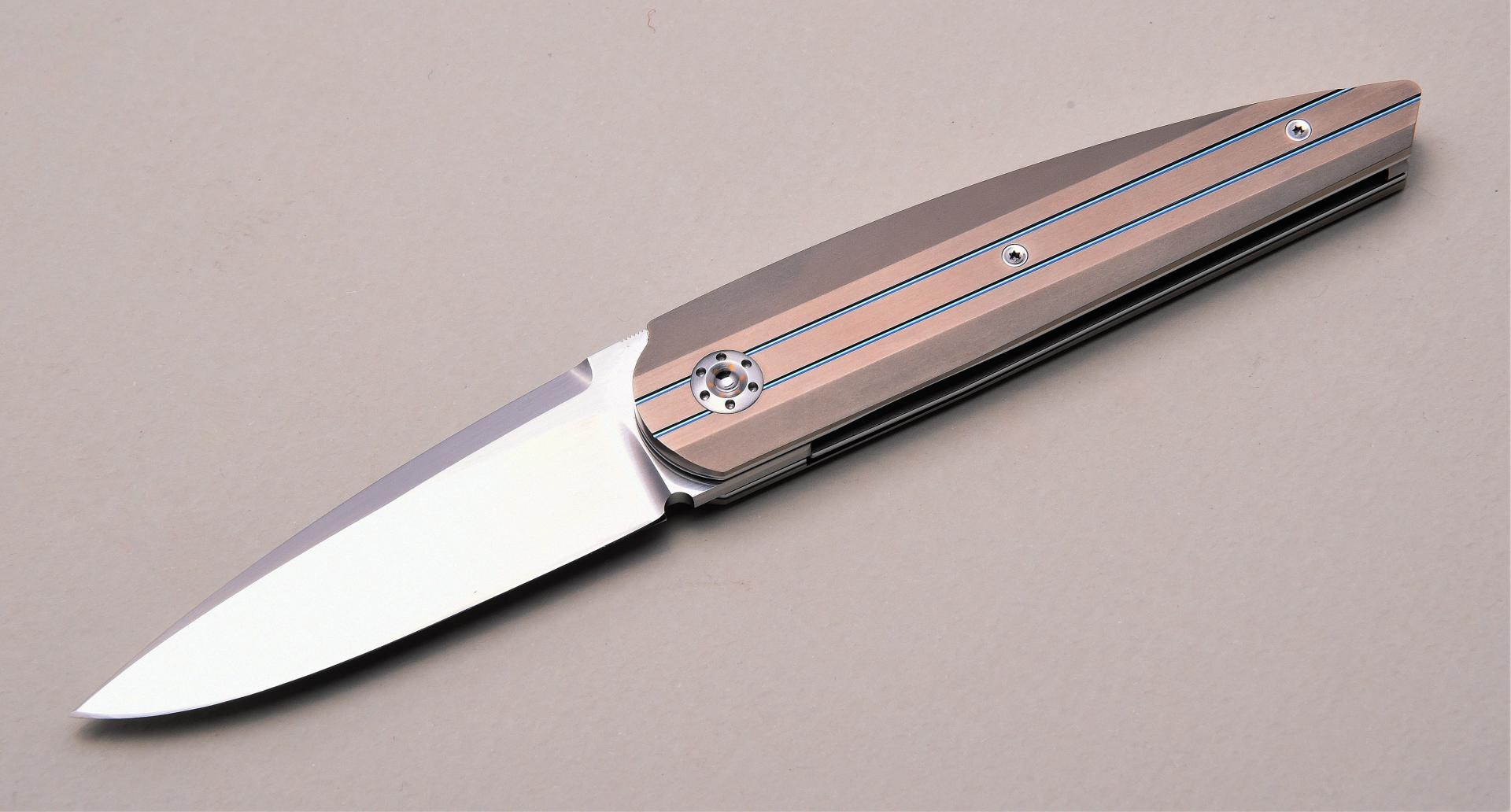 Alexis Lecocq
won the prize for the best folding knife. RWL34 blade, anodized Titanium handle. Blade 8 cm OAL 18 cm.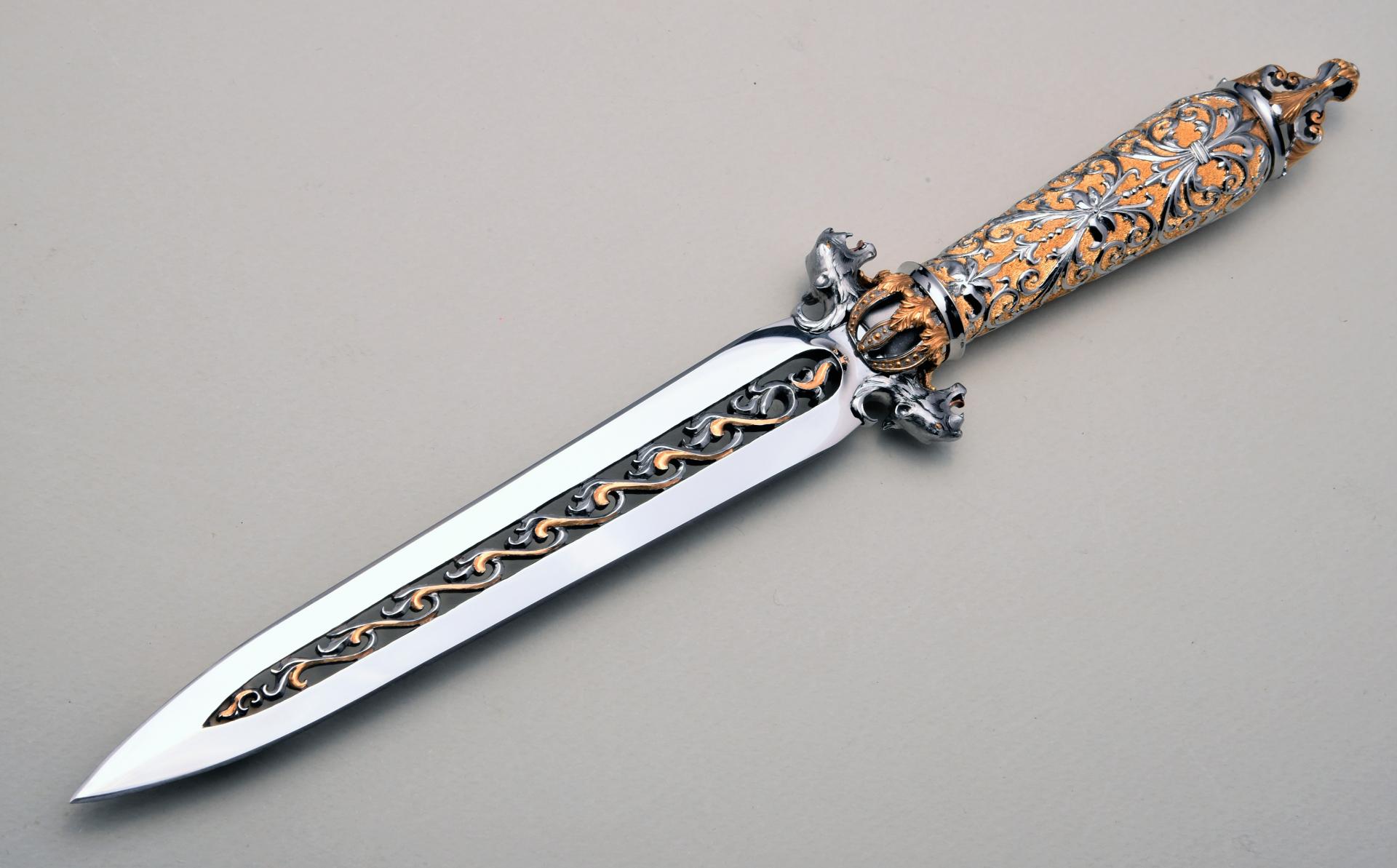 Alexander Gevgalov
Dagger, sole authorship, AISI 420 blade and handle, 24 carat gold. Blade 15.5 cm, OAL 24.15 cm.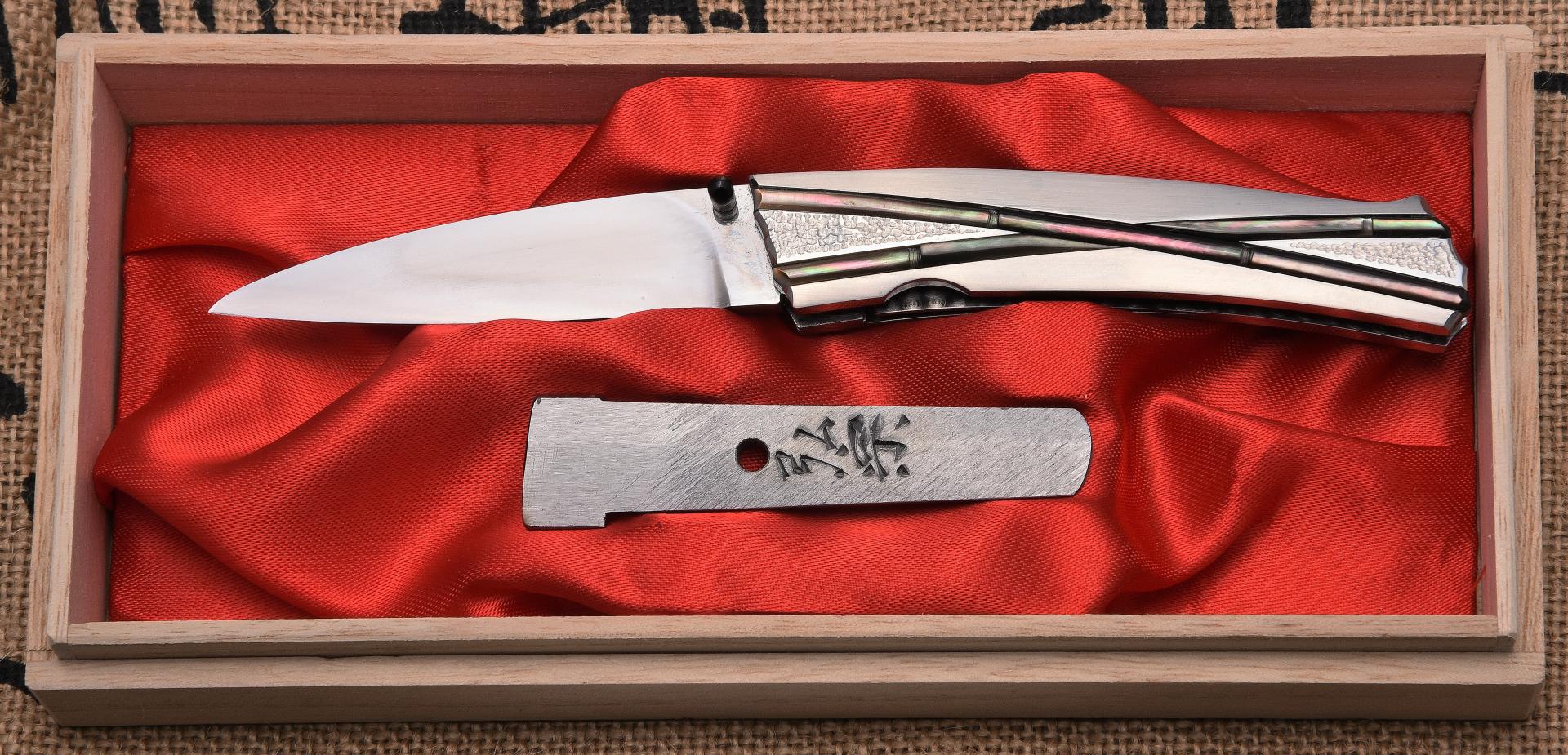 Koji Nara
Japanese sword steel for the blade, AISI 316 handle with MOP inlays. Blade lenght 8.5 cm, OAL 18 cm.

Santino
Ballestra
Walking stick, sole authorship. Carbon damascus blade and AISI 316 pommel, Blackened wood.
Length 80 cm, blade 65.5 cm.

Leonardo Frizzi
Prototype. D2 blade, Titanium handle, frame lock. Blade lenght 7 cm, OAL 13.5 cm.