Solingen Knife Award 2021
The motto for this year's annual Knife Award from the German Blade Museum in Solingen was "Dagger"! There were 25 international participants, demonstrating a very high level of creativity and craftmanship. The jury had a hard time to choose and finally awarded two daggers instead of one.

Text: Bas Martens. Pictures: Deutsches Klingenmuseum Solingen

Since 2017, the German Blade Museum (Deutsches Klingenmuseum) in Solingen has had an annual Knife Award (MesserPreis) for an outstanding, hand-made knife. The Award is endowed with a prize money of 2,000 € by the Stiftung Freunde des Deutschen Klingenmuseums (Friends of the German Blade Museum Foundation).
The Knife Award evolved from the earlier "best of show" awards given at the annual Solinger MesserMacherMesse. The Blade Museum wanted to give the award more visibility, and to reach knife makers regardless of whether they were attending the knife show or not. Therefore, participation is now open to everyone. The initiative has been successful: the Knife Award received 25 entries from eight countries, and from hobbyists to the best makers in the field.
This year's topic was "Dagger!". The daggers had to be hand-made and (at least) double-edged, with a blade length of no more than 25 cm.
The 25 entries were judged according to their craftsmanship, design, creativity, and handling. The jury consisted of Dr. Barbara Grotkamp-Schepers (Stiftung Freunde des Deutschen Klingenmuseums and former director of the Deutsches Klingenmuseum), Wilfried Gorski (award-winning knife maker from Solingen), Roland Roppelt (knife collector and master of the Filipino martial art Kali), and Dr. Sixt Wetzler (director of the Deutsches Klingenmuseum).
As the accompanying pictures show, the level was very high. The task of the jurors was not an easy one. There were several pieces that seemed prize-worthy. After an exhaustive discussion, the jury decided to award two prizes, instead of one. Two daggers were rated with equal points, and it seemed impossible to decide which of the two should be first or second. The Knife Award 2021 therefore was given to both Tõnu Arrak (Estonia) and Ralf Hoffmann (Germany).
According to the jury, Arrak's dagger is of outstanding craftsmanship, and displays a unique and outstanding design. It is truly one of a kind, and speaks of faraway worlds and times.
Hoffmann's dagger takes a classic type – the early modern parrying dagger – and transforms it into a piece of art, while remaining fully functional as a fencing weapon. Execution and design are perfect – as if directly from a fairy tale.
The prize-winning daggers from Tõnu Arrak (top) and Ralf Hoffmann. Araks dagger has a blade from
Damascus made by Achim Wirtz, fittings of silver and mild steel and an Elforyn handle. Hofmanns
dagger is made from CK75 and 15N20 Damascus, with fittings from blackened steel, a stingray
handle and sheath made from wood and snake skin.
On November 13, both winners received a prize money of 1,000 €. They will also have a free table at Solingen KNIFE 2022, which will be held on May 14 and 15, 2022.
The next KNIFE Award (henceforth written in capital letters) will be awarded at that show. The motto will be: "Myth of the Bowie-Knife".
For more information see:
www.knife-solingen.de
.
The pictures of the daggers were supplied by the German Blade Museum – thank you! They are not to scale. Details of steel and materials are given as supplied by the makers.

Maximilian Becker (Germany).


Christoph Daim (Austria). Titanium needle and a brass handle. The needle can be
removed, making this something between a thrusting weapon and a pen. The
inscription reads: "A dagger is a dagger is a dagger".


Johann Birchner (Germany). Damascus blade and fitting, Walrus ivory handle. Leather scabbard
made by Viktor Bärwald.



Sam Engels (Germany).


Ricardo Esters (Germany). A copy of a Roman Pugio. The blade is made from TNT-666-Steel
(6% Titanium, 6% Carbon, 6% Tungsten) embossed with a Roman coat of arms and the text
"Leg X Equestris", referring to the famous tenth Legion. The side of the blade shown here has
an etched symbol of a bull.


József Fazekas (Hungary). Damascus blade, iron fitting and Mammoth ivory handle. The dagger is
named "Chess" because of the chess board pattern of the mosaic Damascus and the chess figures
that make guard and pommel.


Cyrus Haghjoo (Germany). The dagger is called "Kara" which is old Turkic for black. The blade is
270 layer homemade Damascus "Persian Wind", the handle is black Ebony and the fittings are
blackened steel and gold.


Burkhard Jung (Germany). Blade: three layer "sandwich" (inner layer file steel, outer layers
Damascus from chainsaw). Fittings: brass. Hilt: Mahogany and resin.


The "Gladius" by Eberhard Kaljumae (Germany). Made from one piece of torsion Damascus.
Overall length is 270 mm.


Lux Gilles (Luxembourg). This dagger is called "Molch Dolch", which translates as Newt (salamander) dagger.
As it rhymes in German, Gilles got an honorary mention for best name. Damascus blade and fitting and glow
in the dark "Eyes".


Roy Meyer (Germany). Blade a Japanese pattern welded steel, mid layer white paper steel
Hilt: Brass, silver 935, African Ebony and Lapis Lazuli.



Philipp Monien (Germany). Blade made from 600 layers 90MnCrV8 and CK75 Damascus.
Centre of the guard shaped like a hammer, pommel in the shape of an anvil.

Andreas Handl (Austria). Blade 212 layers from 1.2842 (90MnCrV8) and 1.5634 (75Ni8) Damascus.
Damascus guard, handle made from Ebony silver, brass, steel and Damascus.

Hans Luiken (Netherlands).

An integral dagger by Daniel Renner (Germany). Four sides of the M390 blade hollow ground.
Micarta handle. Overall length 245,5 mm.



Hans Weinmüller (Austria) made the only foldable entry to the competition, with a modified
Barry Wood mechanism.


Wolfgang Scheiblechner (Austria) Blade from N690 and K110 Damascus, 27 layers, Mammoth
ivory handle with a Titanium end cap and V2A guard. The scabbard is made from acryl.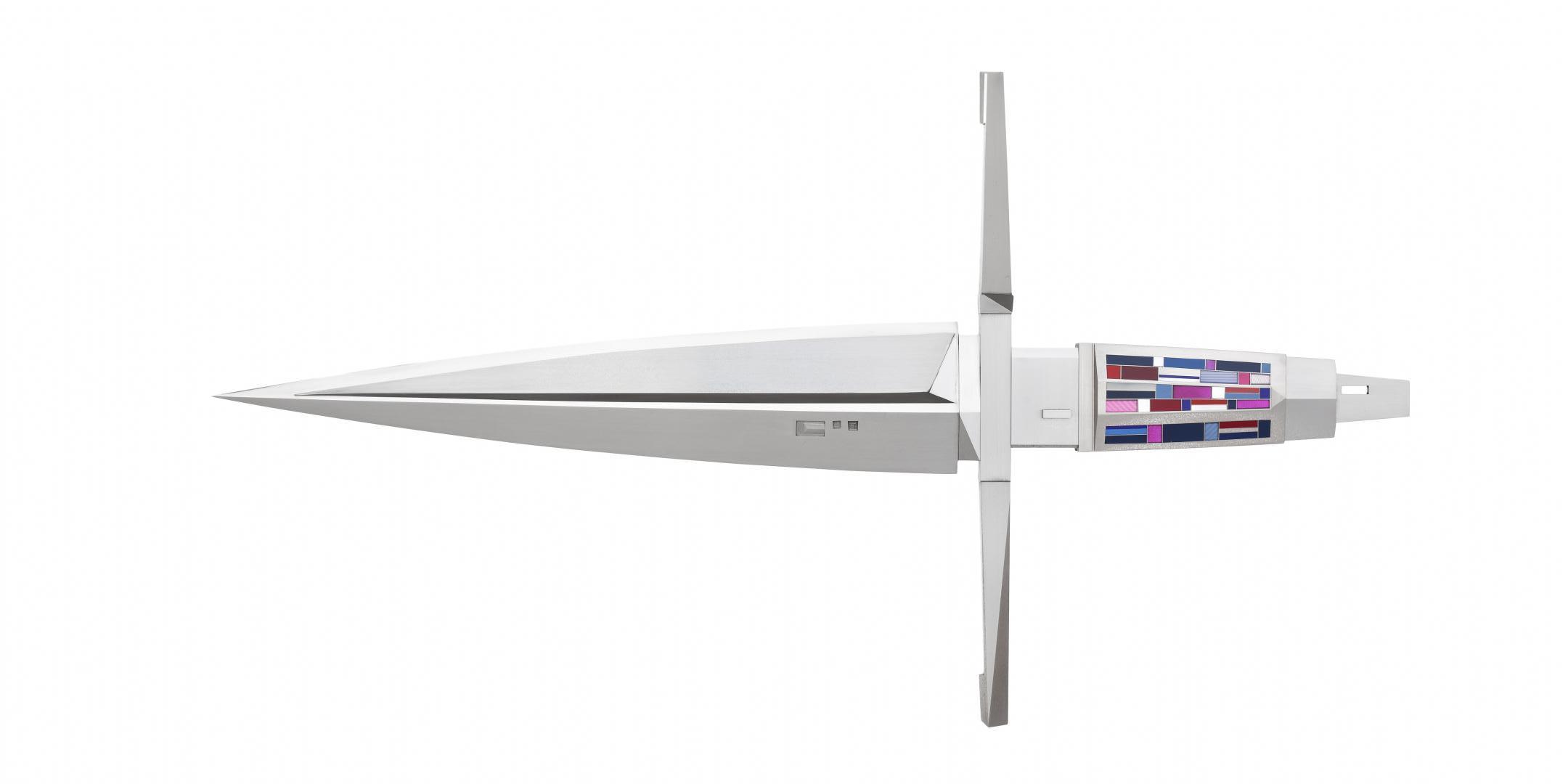 Jürgen Steinau (Germany).


Rafael Schlünder (Germany) Blade: 1.2235 steel. Fittings: puddle iron and brass. Hilt: Thuja.


Wolfhard Sollorz (Germany). Blade: Damasteel Hilt: wooden core, leather, silver wire 935, Damasteel.
Scabbard: stainless steel, inlay alcanatara Overall length: 328 mm.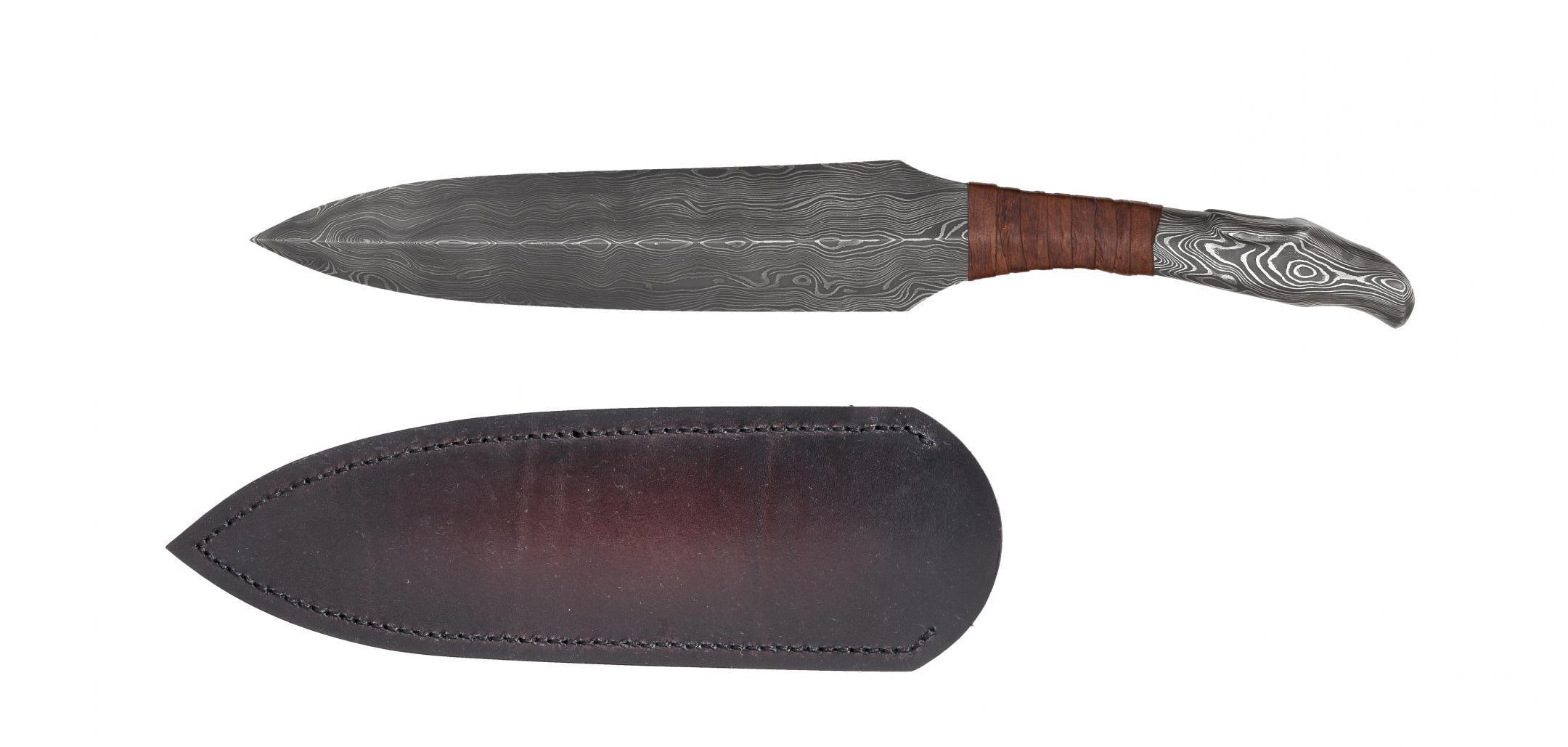 Burkhard Jung (Germany). Blade: three layer "sandwich" (inner layer file steel,
outer layers Damascus from chainsaw). Fittings: brass. Hilt: Mahogany and resin.

The "Fleshcoop" by Dakota Slack (United States). The dagger has a 1080 blade with a double hollow
ground, resulting in an S-shaped cross section. The hilt is rust patinated with 1045 fittings, Tasmanian
Blackwood grip, Buffalo horn spacers, and fine silver accents. Dakota Slack is last year's winner of
the Knife Award.