SICAC 2018
SICAC 2018
Every year in mid-September, Paris can rightly call itself: "ville coutelière" (blade city), for in one weekend it hosts two competitive knife shows, starting with the SICAC.

Text and pictures: Louis Blanchet Kapnist

The Espace Charenton honours its name. It is spacious and had more than enough room to accommodate
the near 2000 visitors.

The ball is opened every year by the SICAC (Salon Internationale du Couteau d'Art et de Collection) which is held on Friday and Saturday at the Espace Charenton. The 29th edition featured some 120 knife makers and around 2000 visitors.
Like in previous years, the exhibition room was spacious and it was agreeable to walk around. There were many newcomers, some of whose work we had not seen in European shows before. Most of these were from the United States and Russia, but there was also a talented Brazilian knife maker, Gustavo Vilar, who saw his work and journey rewarded with a double prize: best knife design, and best forged folding knife.
The SICAC is famous for its multitude of prizes; this year there were almost fifteen categories. The winners are all pictured together. The knife pictures show a small selection of what the show had on offer.
The SICAC award winners. Congratulations!

Gustavo Vilar's prizewinning knife: a stainless San Mai blade and titanium frame with forged titanium inserts.

The 'Martinet' by Russian knife maker Alexander Cherbukov. The blade is Damascus by Bertie Rietveld,
the scales are titanium with silver engravings.

Italian knife maker Ibba Daniele calls this knife the 'Snow Queen Dagger'. It has a mosaic Damascus blade,
guard and bolsters forged by Vlad Matveen, white Mother of Pearl grips with 24kt gold inlays, and seven blue diamonds. The overall length of then dagger is 32 cm.

South Africa knife maker Des Horn presented this tactical flipper. The scales are G10, inlaid into carbon
fibre in a wave pattern.

The 'Alaskan' by French maker Franck Herpin. The blade is 160 layers of Damascus, consisting of
125SC, 90MCV8 and 15N20 steels. The handle is Chestnut and Mammoth.

French knife maker Glenn Guillou got his inspiration for this knife from an Italian catalogue from the 1960s.
The blade is N690 steel, the bolsters are Z8 and the handle scales are stabilized Chestnut wood.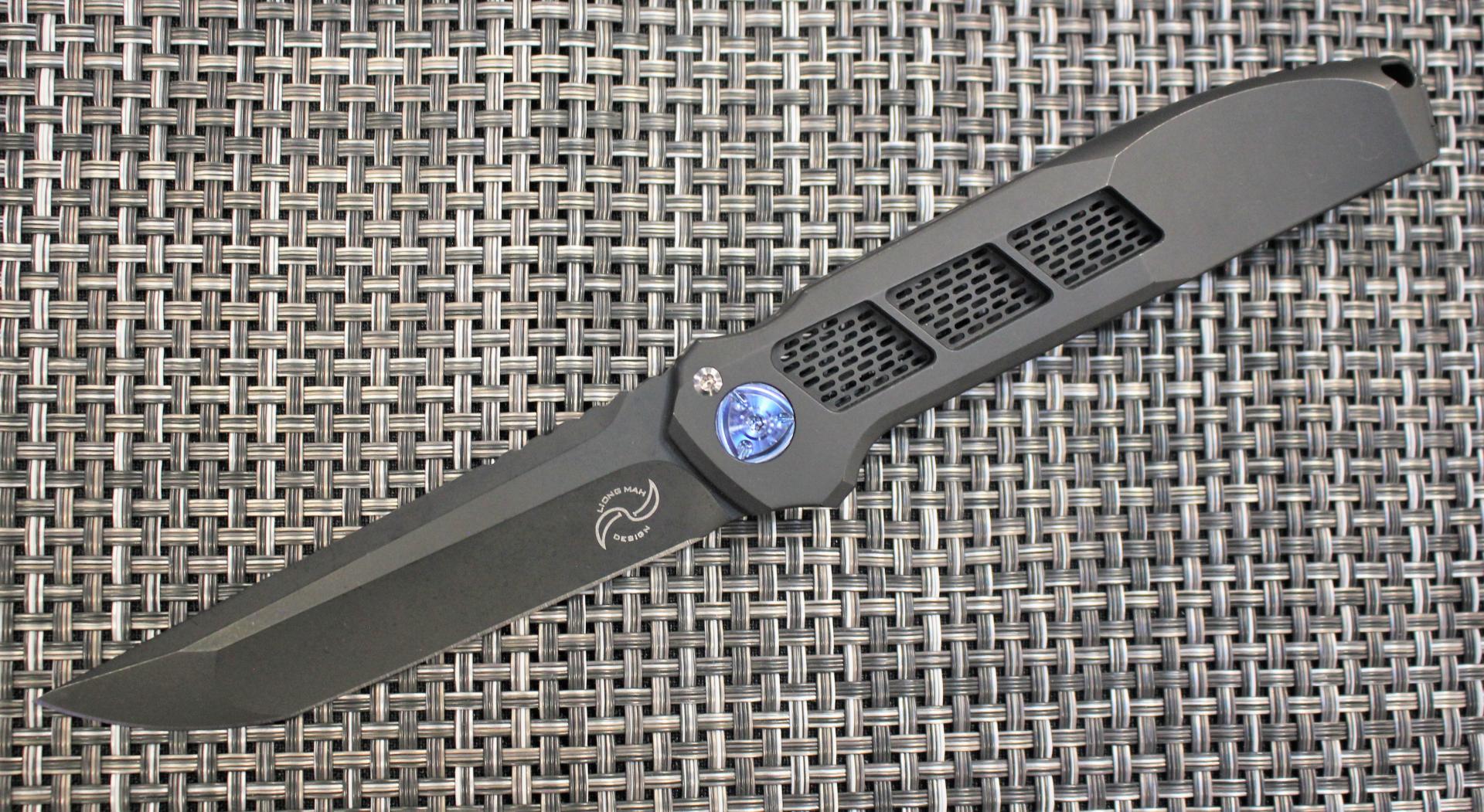 Liong Mah from the United States celebrated his 15th anniversary as a knife maker with this model. It
hasa 116 mm blade from S35VN steel, integral titanium handles and titanium screws, all with a PVD
ceramic coating.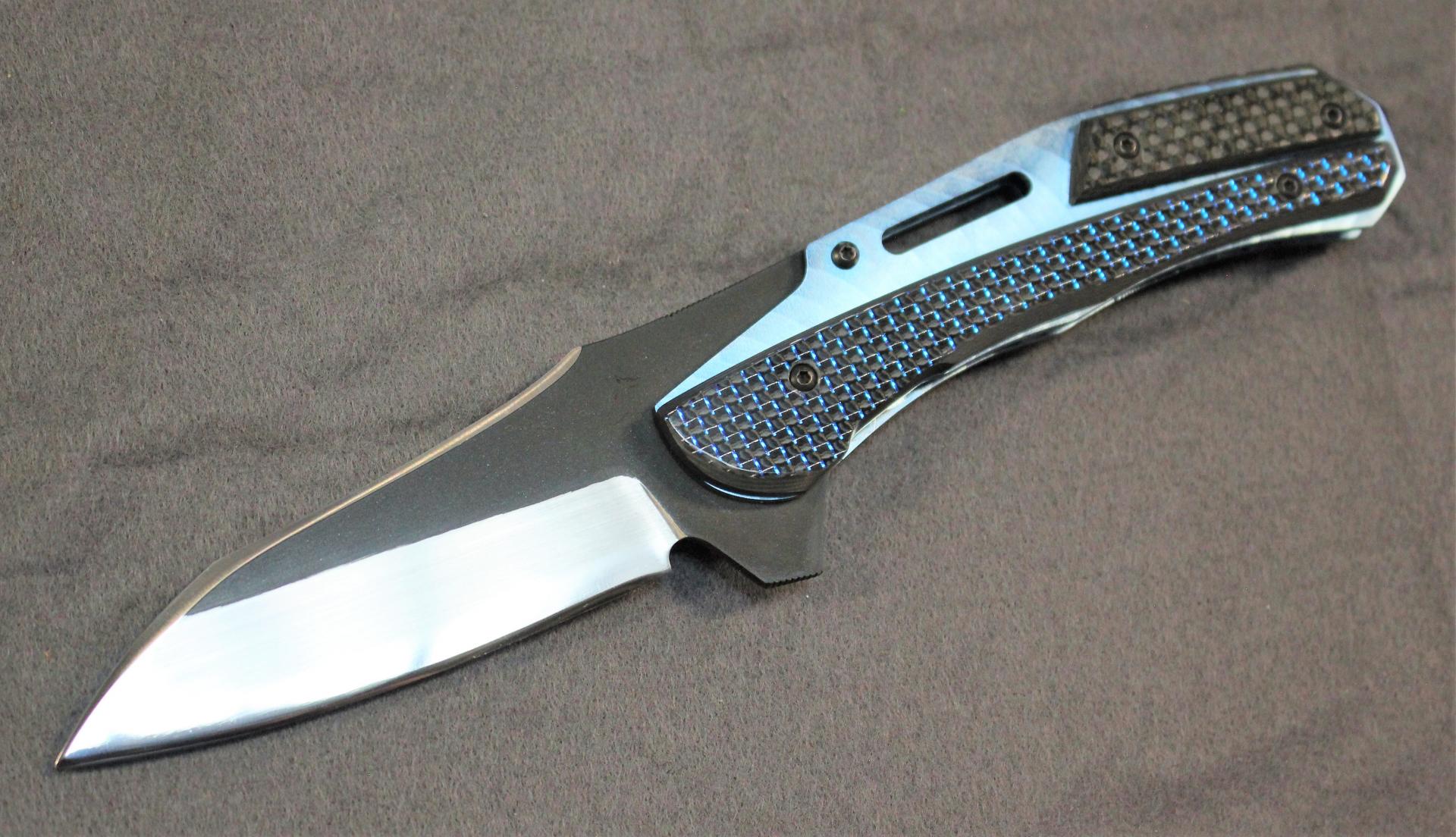 A folding flipper knife made by Michel Delanghe. The blade is 14C28N, partially stonewashed, the handle
has carbon fibre inserts. The blade has an IKBS ball bearing system.

Russian knife makers Nikolay Lomachenkov and Maria Stalina presented this folder in true Steampunk
style. The Blade is RWL34 and Damasteel Damascus, the handles are Titanium, Bronze and steel.

Sebastijan Berenja presented this folder with a M390 DLC coated blade with a Tanto grind and titanium
DLC coated handles.

A beautiful folder by French maker Xavier Fontan. The Damascus blade is made of 15N20 / XC75 / SS517
and XC100 steels. The bolsters are 15N20 and 100C6 Damascus and the handles are Buffalo horn.

French knife maker Yann Régibier calls this folder his model 'Huppé'. The blade is 15N20 and 90 HCV8
Damascus, and the scales are sculpted carbon fibre.