Prague Spring 2022 Exhibition
With spring time also come the traditional Czech knife exhibitions in Brno and Prague. Due to family circumstances, I had to skip Brno. All I know is that the show was held, and that apparently it was a good one. On Sunday 10 April I headed to the Prague New Town hall full of expectations. Last year's Advent exhibition (European Blades Mag # 47) was a failure in terms of exhibitors and visitors. Both were far less than average. I hoped that the Prague spring exhibition would confirm the good indication of Brno, returning to at least partially regular numbers.

Text and pictures: Martin Helebrant

The Prague New Town Hall, the tradition venue of the Prague knife exhibitions.
A quick glance around on the Dining hall of commons (Mazhauz) on the ground floor, the space dedicated to industrial production, did not indicate any miracles. Cold steel, SOG, Okské knives and a very concise offer of Morakniv definitely were not a total failure … but those who remember, certainly know that the capacity of this floor is much larger. Strings of visitors were passing by the tables, still not a miraculous resurrection, but much better than the Advent.
When I climbed the stairs to the corridor in front of the Large Hall I encountered the traditional large table of Jatagan, a prime supplier of knife making materials, and a smaller booth of the Short Blade Association – the knife fencing sports association. And a new table with stabilized wood for handle scales. The Large Hall was much more occupied than in winter and by 10 o'clock the crowd became thicker and thicker. It was not a pre-covid crowd, but still it was a solid stream encompassing all 45 tables. If I can use Napoleonic terminology, I missed the Old Guard. Masters like Hons, Pajl and similar simply were not present and the Old Guard's colors were held only by masters Krebs and Hermach. However, the Middle Guards came in full power, led by masters Jarý, Kurota, Dachs, Netrval … These all had full tables and large groups of buyers in front of them. The Young Guard was present as well and proved that the art and craft of making cutlery is going strong in Czech Republic.
What surprised me was the massive presence of hand forged axes of all kinds, starting with simple, but well-made common woodworking tools up to large, lethal fighting danax on a good 1.5 m long handle, able to cut man in halves by a single stroke. In addition, there were newly made Iroquois war clubs - another half-forgotten yet very efficient weapon. There were no masters from abroad. For obvious reasons the Ukrainians were not present, the same went for Russians. Other nationalities usually come for the Advent.
My general impression is that after the coronavirus epidemy the Prague Knife Exhibition is back on its feet again and starts going on strong. It confirmed a shift in general trends towards a popularity of massive, thick, blunt pointed knives. Another trend are knives in the retro style of the 1920's-30's. Simple, old fashioned but functional knives without any extras, but extremely well-made, are most welcome to my eyes, hand and pocket.
The third popular style are slim needle-like blades with a simple grip. They remind me of the popularity of side opening "Italian automatics" in 1980's. These knives are elegant, functional, but there is something of "don Corleone" hidden inside. Probably the neatest examples of this type of knives are a kitchen knife and a crossbreed between a fisherman's fileting knife and hunter's knife, both made by Miroslav Pouzar. I was attracted especially by the kitchen knife – trendy, precisely made and still totally out of the Pouzar's style. A beauty. Keep going.
In the early morning there was time for a chat. This is the table of Michal "Yakuza" Jarý decorated with
a stylish Sakura twig.
Master Jiří Javůrek and his danax – an axe with a long handle, popular
weapon of northern raiders in early medieval times. The name danax
comes from the distorted English term Danish Axe.
Freshman on the exhibition – StabWood, stabilized wood for handle scales.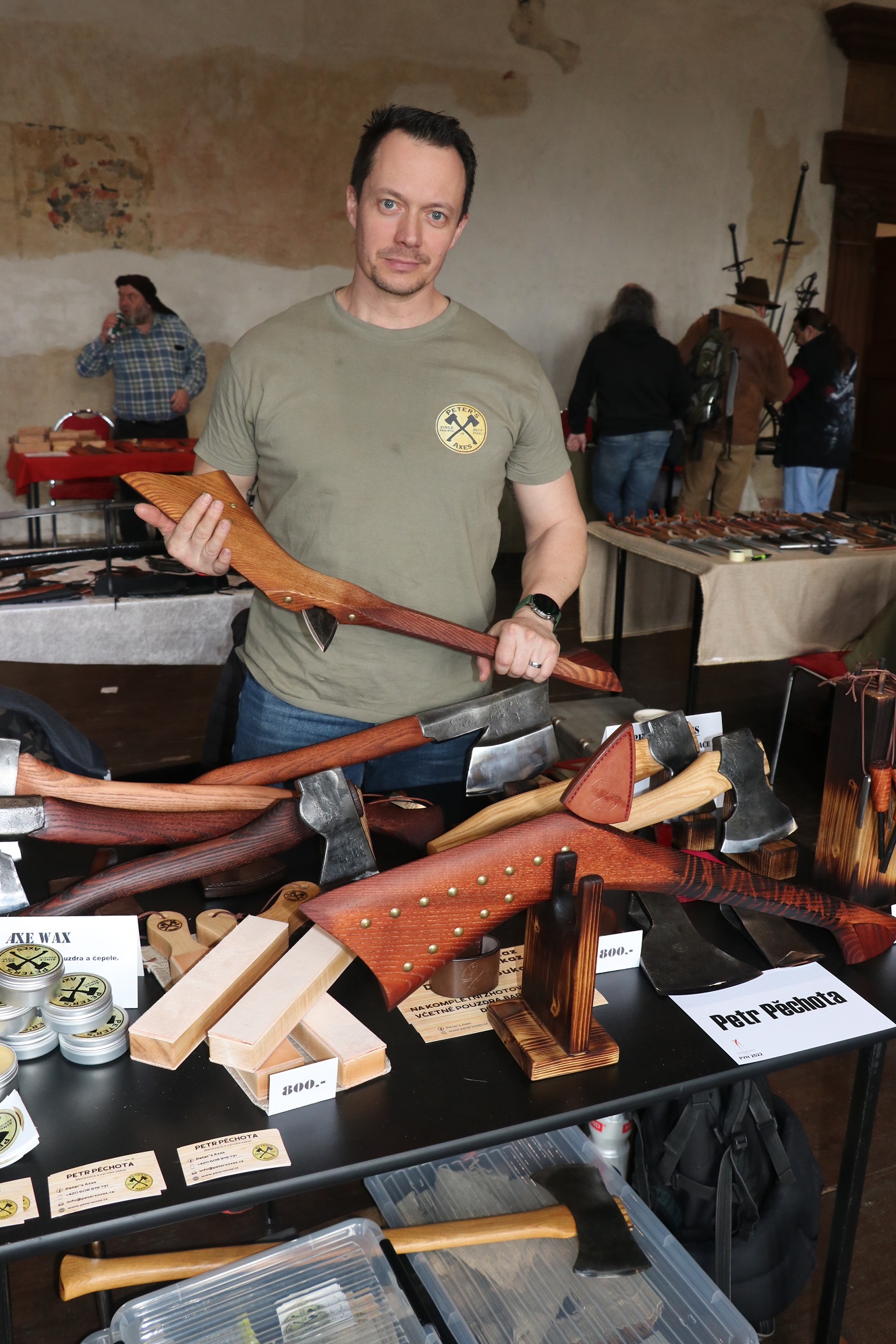 Master Petr Pěchota is ready to defend his table with an Iroquois war club.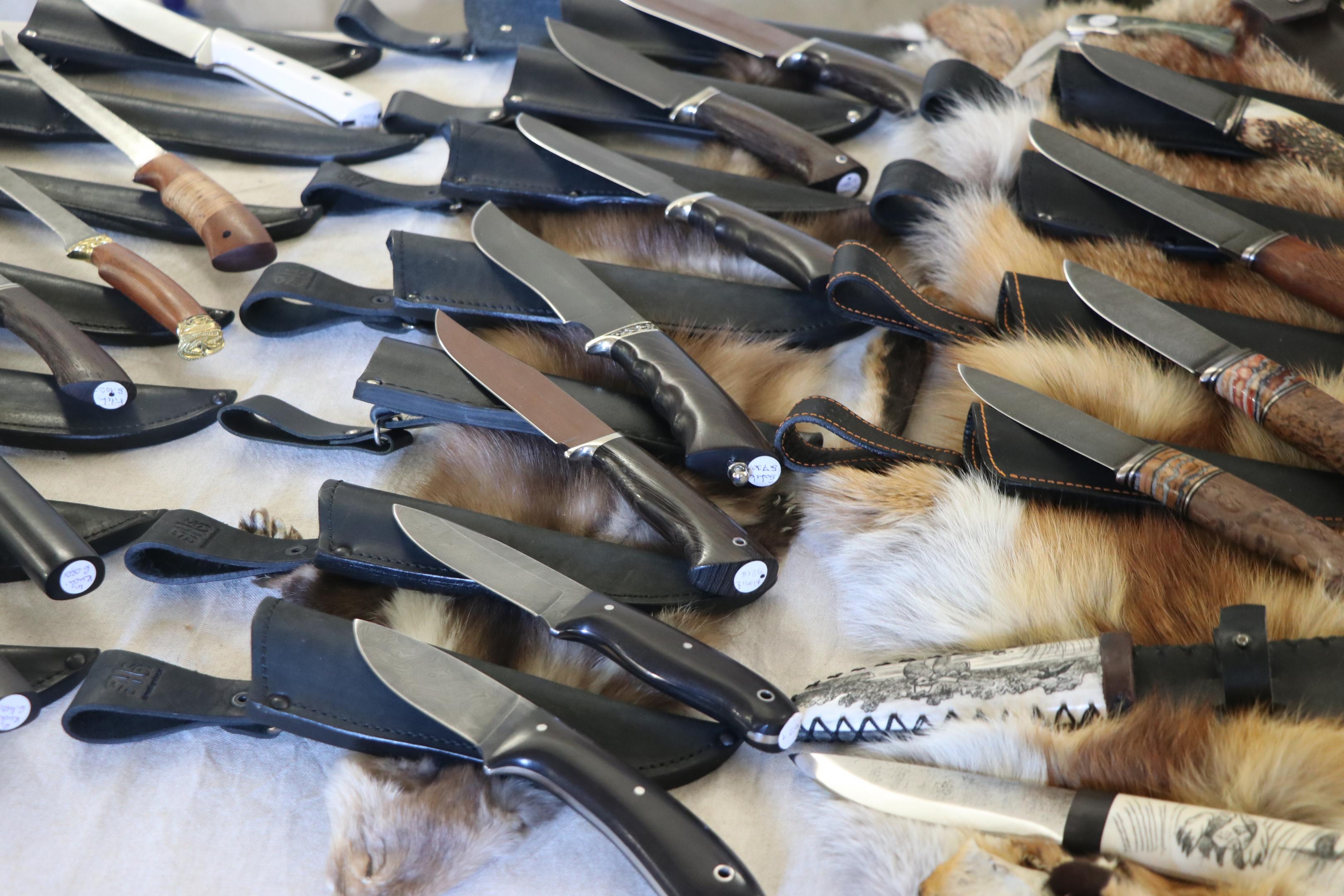 Okské knives are between industrial and handcrafted production, made by a cooperative.
A multi-bladed folder by Filip Koruta (Filda's Knives). The blades are RWL, with the main blade measuring
90 mm. The handle is Ebony and Bronze. Overall length is 105 mm when closed.

A folding knife by Filip Koruta (Filda's Knives). The 80 mm blade is RWL, the handle material is Carbon
laminate. Overall length when opened is 180 mm.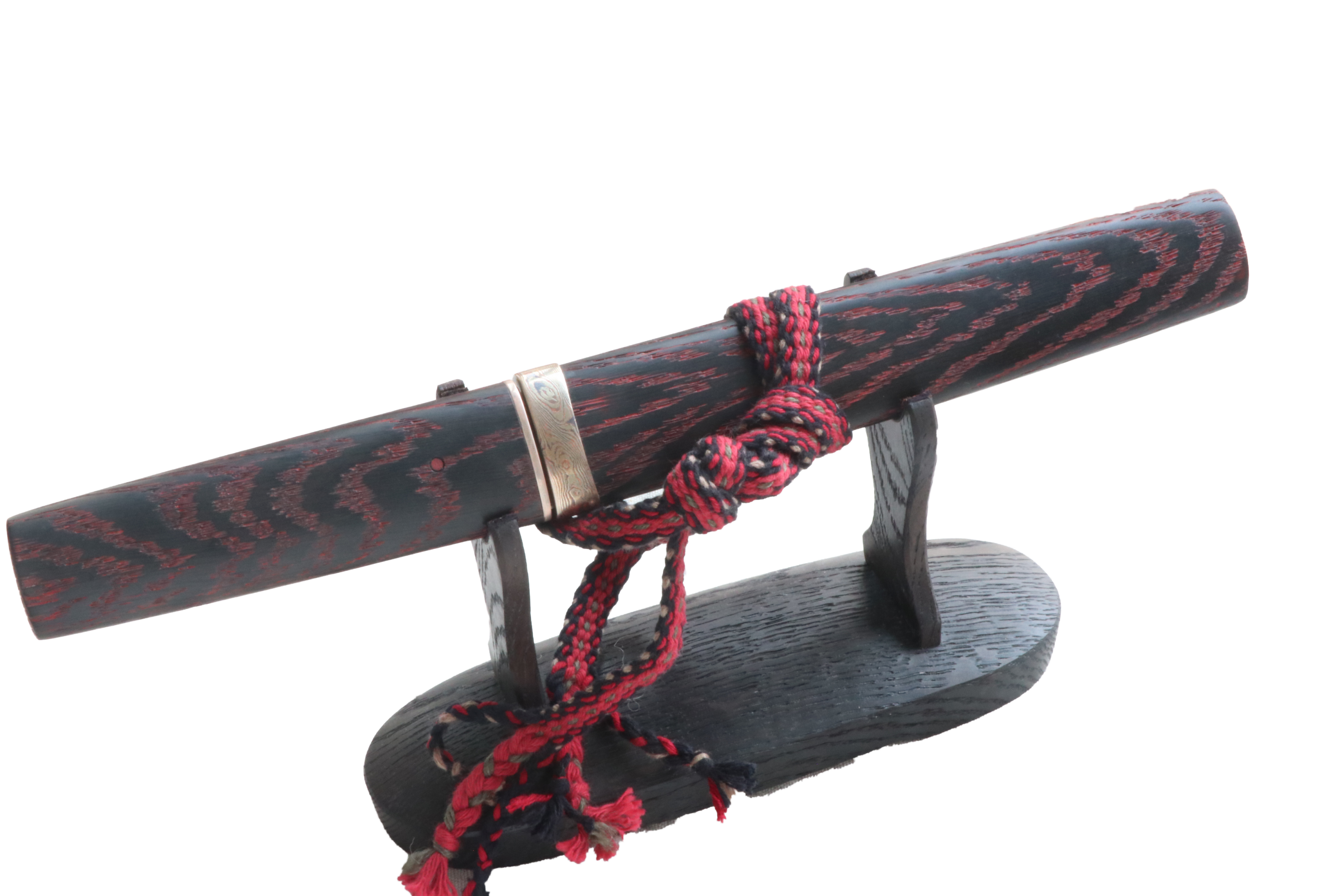 Master Michal Jarý rightly deserves his nickname "Yakuza". The sandwich blade of Carbon Damask with
a Carbon steel ore, beautiful habaki made from brass perfectly fitting the sheath mouth, have a simple,
yet elegant, ultimate shape. The handle is Mokume and Bog Oak. The overall length is 285 mm.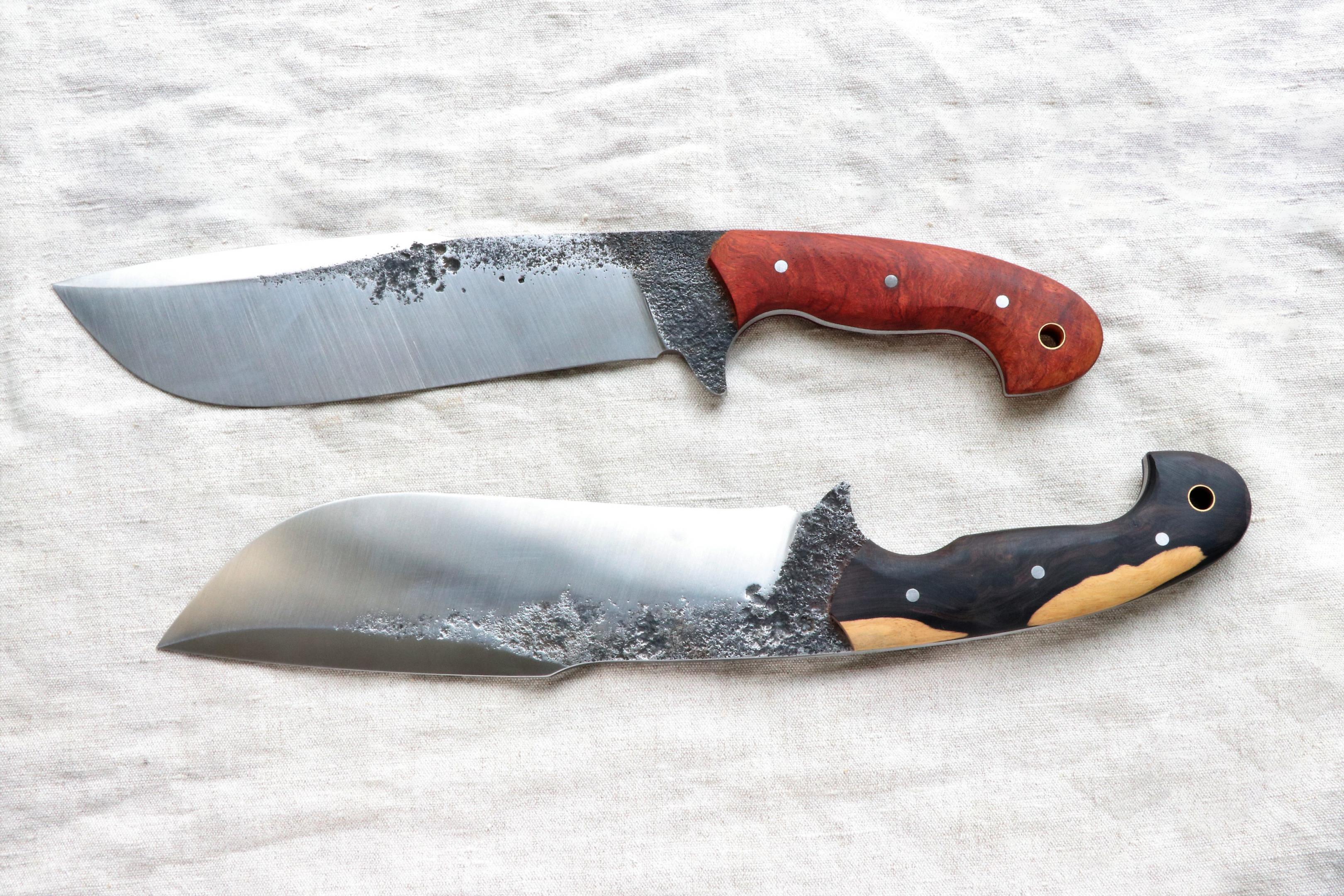 These two knives were made my master Michal Jarý as a reaction to the Ukrainian conflict – function is
everything, no frills, just reliability. The 217 mm blades are spring steel, the overall length is 350 mm.

A butterfly knife by Petr Hofman. The 80 mm blade is Carbon Damask, the handle material is Zirconium.
Overall length when opened is 179 mm.
A fixed blade by Petr Janda. The 77 mm blade is Carbon Damask, the handle is Grenadille. Overall length
is 165 mm.
A more traditional fixed blade by Petr Janda. The 110 mm blade is Carbon Damask, the handle is Maple.
Overall length is 228 mm.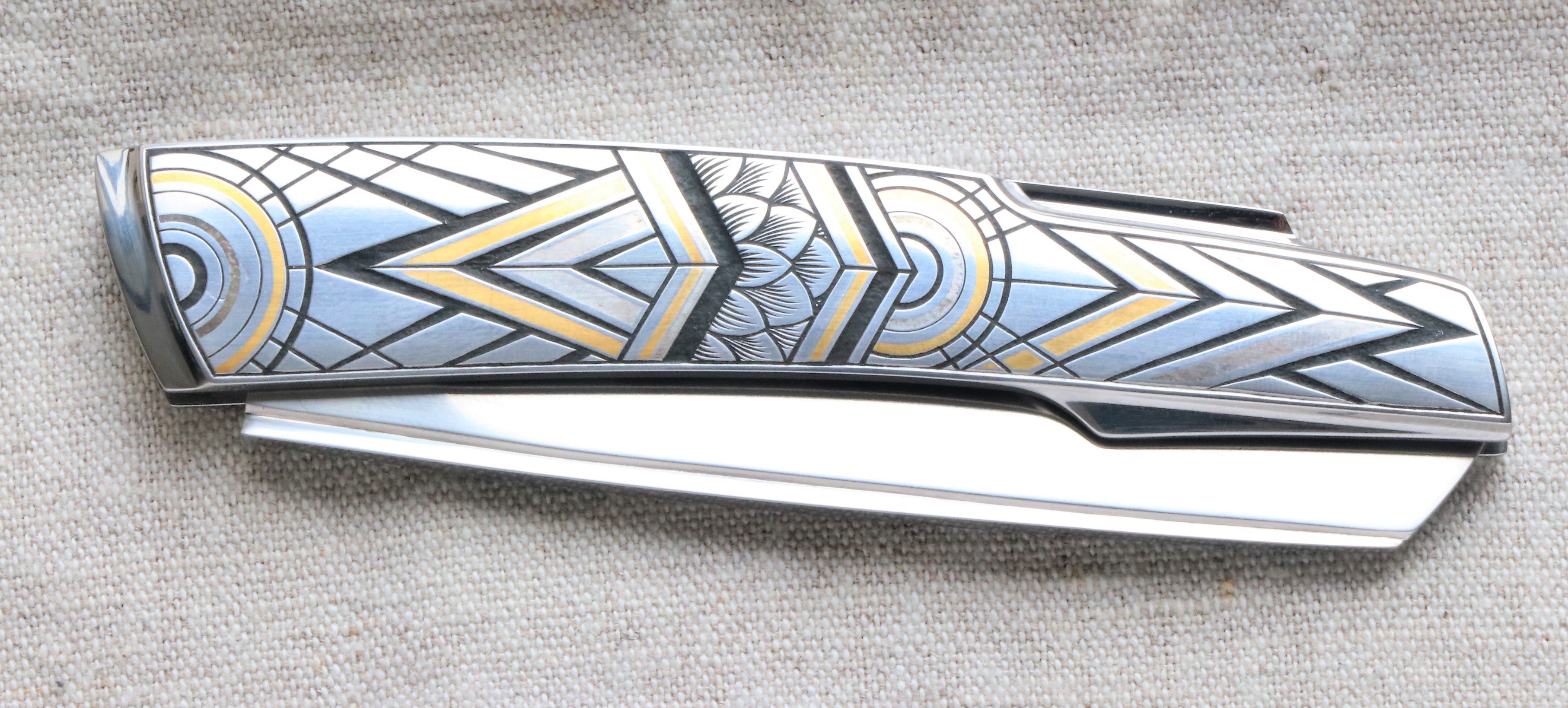 This folder by Richard and Veronika Tesařík is a brilliant merger of perfect knifemaker's work and excellent
engraver's work. I especially appreciate combination of stainless and silver, which will become more
apparent after a period of time.. The 90 mm blade is RWL 34, the handle 416SS, gold and silver
.
The "Rhino" by Richard and Veronika Tesařík. The 92 mm blade is Carbon Damask, the handle is Carbon
Damask, Ebony, Mammoth ivory and silver. Overall length is 197 mm when opened.
A framelock folding knife by Delindger. The 140 mm blade is CPM25CV, the handle is Titanium.
Two knives by Lubomír Šmidrkal. The fixed blade on top has a 110 mm blade from SG2 and a Blackwood
and Titanium handle. The folder below has a 85 mm AK9 blade and antler handle.
Two fixed blades by Penguin knives. Both have a D2 blade and a G10 handle.
A fixed blade by Maxmilián Netrval. The 123 mm blade is D2 with a DLC surface. The handle material is
Elforin. The overall length is 251 mm.
Two fixed blades by Yorkeer. The "Taiga" (top) has an 110 mm RWL34 blade and Acacia handle. The
"Warlock" (below) has an 115 mm RWL34 blade and a Carbon Fiber laminated handle.
The "Megalodon", a fixed blade from Zdeněk Rambousek. The 150 mm blade is sandwich steel with an
Elmax core. The handle is Carbon Fiber laminate. Overall length is 280 mm.

A fixed blade by Petr Polo. The 185 mm blade is N690, partly "chipped" to look like flint. The handle is
Birch on G10. Overall length is 305 mm.
Two linerlock folders by Václav Čížek. Both have an RWL34 blade, 100 and 102 mm respectively. The
upper knife has a Micarta handle, the handle of the lower knife is Ebony.
The "Pride and Freedom" by Bárta's knives. The 190 mm blade is spring steel. The knife has a unique
chrome and cobalt cast guard, depicting a lion's head at one side, and the hand with the torch from the
Statue of Liberty on the other side. The color is the result of a particular heat treatment.

The "Ragnarök" by Miroslav Pouzar, inspired by the present events. Ragnarök in Nordic myths, is a series
of events leading to the dooms day of gods and the world. The 135 mm blade is 19 312 steel, the runes
on the horse bone grips say Ragnarök.

A kitchen knife by Miroslav Pouzar, clearly demonstrating that even a household object can be upgraded
to an artistic level by a perfectly mastered craftsman. The 120 mm blade is stainless AK5, the handle
material is Micarta.
An unusual but fully functional crossbreed between a hunting knife and fisherman's fileting knife, by
Miroslav Pouzar. The 147 mm blade is N690 steel, the handle is antler. Overall length is 263 mm.
An unusual design by Jan Hermach, consisting of a 164 mm Kris-like curved blade from AK9 steel, and
a deer bone handle based on a hunting sword.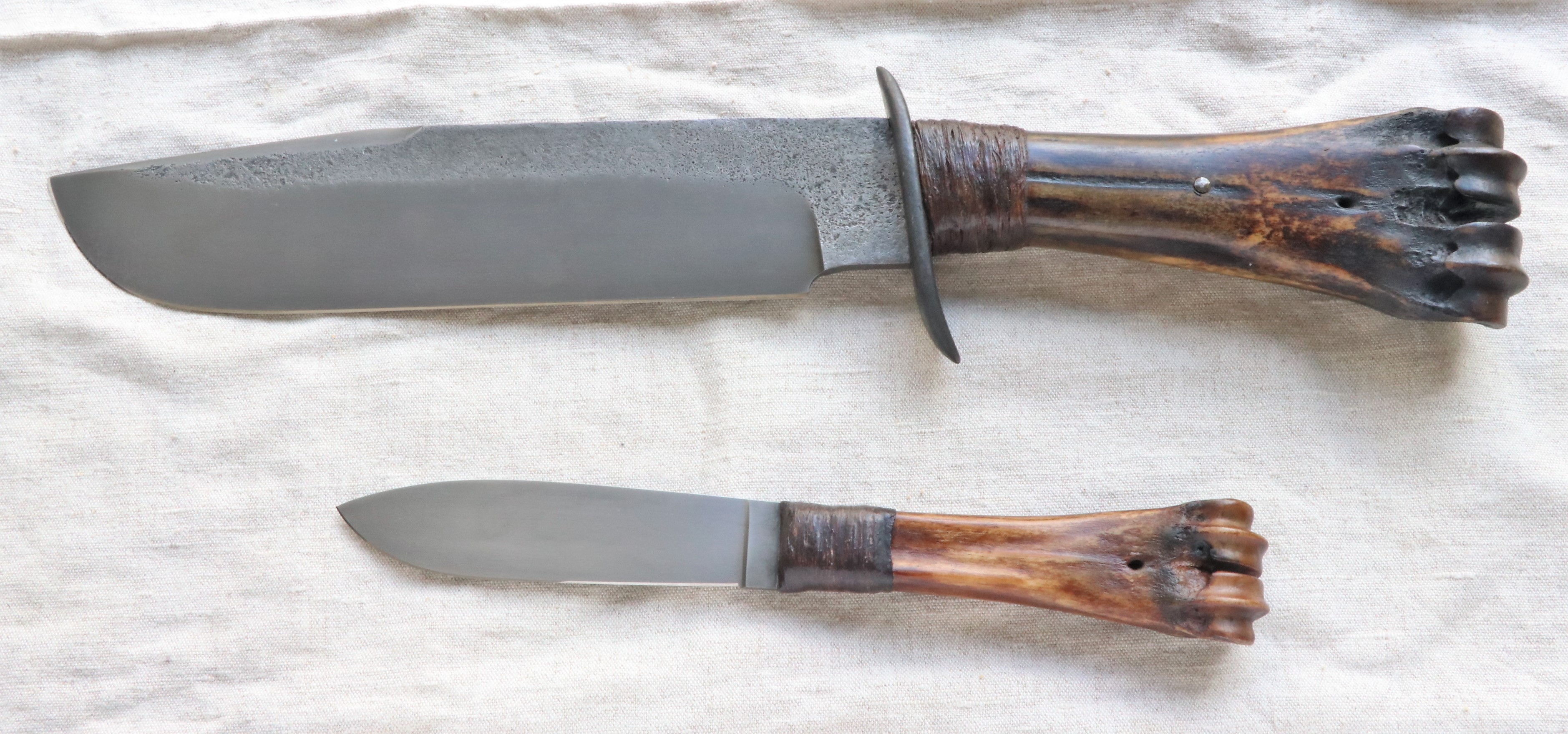 A hunting set by Jan Dvořák Sharp knives, reminiscent of the early days of steel. The upper knife has a
254 mm blade from UHB20C and a buffalo bone handle; the lower knife has a 125 mm blade from spring
steel and a deer bone handle.