Prague Advent Knife Exhibition 2021
There were less exhibitors, and there were less visitors. Still, the Advent 2021 Prague knife exhibition was worth going, according to our correspondent Martin Helebrant.

Text and pictures: Martin Helebrant
The Main Hall shortly before the opening of the Czech Advent knife exhibition – some tables remained
empty, though the name tags of the expected masters were present.

5 December 2021 was a cloudy, dark day. One day before it had snowed a bit, but warm gussets of air from God knows where turned the white surface into a common city slurry. On my way to the New Town Hall in Prague I looked to the windows of the building. The windows were lit up, but there was no movement inside. In the courtyard there was no queue of waiting visitors – which during previous years was a reliable sign that the Advent Prague Knife exhibition was taking place inside. The Xth wave of the Covid pandemic was in full swing, but it still was possible to organize a larger assembly of people. But the result is sad. In the past, the normal number of exhibitors was well above 60, reaching up to 80 in a good year. This year it there were just 40 exhibitors. The same can be said about the visitors – only about 65% of the usual number.
Anyway, the exhibition was taking place on the same floorspace as in previous years, i.e. in the Large Hall on the first floor and in the Dining Room of Commons on the ground floor. The ground floor was designated for the industrial production knives, the biggest booth being the Moskito shop from Prague. A private collection of old Persian edged weapons attracted a lot of attention on the ground floor. This showed mainly talwars (or tulwars) from the Mogul days with wootz blades and iron & gold inlaid handles and katar daggers. The presentation was nice, regardless that none of the exhibits was for sale and the owner remained anonymous. Other interesting booths on the main floor were Piskač a syn – dealers of abrasives (grinding belts, wheels etc.) and Elmax – a producer of sting ray leather goods from Pilsen.
A private collection of historical Persian sabers and edged weapons. The exhibits were not for sale
but it had a large audience.

The Large Hall, the traditional heart of the exhibition, was for custom knife makers. As mentioned before, the number of exhibitors was some 20-30% smaller than in the past, but still there were knives worth seeing. The booth of Michal "Jakuza" Jarý presented nice fixed blades knives with sandwich blades with a copper layer. One of only three exhibitors from abroad – Artgewerk Ingo Runge - presented nice kitchen knives with handles with corn knob based "suns" and damask blades. Miroslav Pouzar presented atop of his typical knives with elaborated leather sheaths two smaller stainless damask fixed knives in wooden sheaths that were awarded on the blacksmith symposium Hefaiston 2021, one large folder with titanium scales and a hunting knife with damask blade.
Aleš Vencovský presented a knife with the hilt covered with a DLC (Diamond Like Coating) surface treatment. DLC is becoming more and more popular with custom knifemakers since it provides an extremely resistant and hard surface, almost absolutely scratch resistant. This is beneficial on the blades, which are highly protected and still it is possible to sharpen them. The only disadvantage of DLC is that can't be done in a small shop – the layer is a result of a highly accurate and controlled chemical and heat process. Other examples of good DLC layer can be found on the ZR Knives by Zdeněk Rambousek or Golik knives.
Konol presented a new kitchen knives series – simple, nicely made in a high quality. These knives will be the jewel of every kitchen. When speaking about simplicity, I would like to point out knives of Václav "Monty" Šmíd. Monty is making simple, elegant knives that will serve you lifelong and still would not break out your wallet. Something similar can be said about the knives of Lubomír Šmidrkal.
Presentation of the Czech Short Blade Association – a sports organization of knife fighting.

When speaking about quality – Slovakian Štefan Galovič started a new line of his folding knives, this time smaller ones and with only a friction lock instead of AXIS lock. His continuous cooperation with Marek Horňák (scrimshaw) brings very good results even on this smaller line.
A very pleasant surprise were the simple, perfectly made knives by Josef Pilch. Minimalistic design backed by perfect craftmanship and his own hunting experience in combination with a young age are a good promise for the future.
The High School of Applied Arts in Turnov, one of the best institutions of its kind in Central Europe, also had its stand on the exhibition and I mention cum laude that the students of blacksmithing there make a knife as one of their regular works. The result of their work is often remarkable and worth of appreciation.
In the last year there has been an effort to broaden the scope of the exhibition with bows and archery in general, but this year there was not enough interest on the side of exhibitors to join the exhibition. Let us hope for the better next year.
If the main floor was sparsely occupied, the same was true about the Granite bar – a place dedicated for catering of the exhibitors and their meetings. The food was just as fine as in previous years but this year the place that used to buzz with discussions of masters was quite sleepy.
The table of Jindřich Šimek from Vodňany, Czech Republic – a presentation of a wide selection of
sharpening stones, from very coarse to ultra-fine, both natural and artificial.

What to say at the end? The exhibition took place and I take that as a positive Number One. Positive Number Two is that every exhibitor had good sales, even though some of the exhibitors used their presence on the exhibition only as place to deliver already ordered or sold knives. Positive Number Three is that even under the malicious influence of Covid, which hit the Prague knife exhibition for the third time already, Mr Zdeněk Janča, an organizer and himself one of the leading Czech knife makers, hopes that he will be able to have the traditional spring Prague knife exhibition.
I walked home and was optimistic. There are still good knives made here in the Heart of Europe, there are still people who master the fine skills of haute coutellerie. There is still a hope, symbolized by the birth of the Child. When you will read this, it will be January 2022, but I still wish you all a Happy New Year.

P.S. only two weeks after the exhibition the Covid wave in the Czech Republic subsided. The hope became true.
A sharpening fixture made by KMFS.

Stingray skin products at the boot of Elmax, Pilsen.

Tomahawk and bowie knife made by Jiří Javůrek, CZ, on occasion of the 20th anniversary of Zbraně a
náboje (Arms and ammo) magazine. Both blades are made from carbon damask.

'Free Willy', a fixed blade by Aleš Vencovský, CZ. The blade is made from ELMAX, the handle is Elforin
and the sheath is from lindy wood. Overall length is 355 mm.

A carbon damask fixed blade by Aleš Vencovský, CZ. The blade measures 150 mm. The handle is
granadilla wood with a DLC coated hilt. Overall length is 273 mm.

Miroslav Pouzar, CZ, made this fixed blade from stainless damask. The handle material is cocobolo.
Overall length of the knife is 262 mm.

A folding knife from Miroslav Pouzar, CZ. The 152 mm blade is from stainless damask, the handle
material is titanium. Note the way in which the knife fits the sheath.

Two kitchen knives by Artgewerk Ingo Runge, one of the few exhibitors from outside the Czech Republic.
Both have a carbon damask blade, of 190 and 175 mm respectively. The upper knife has a handle from
oak and corn knob, the lower knife has a handle from bog oak and corn knob.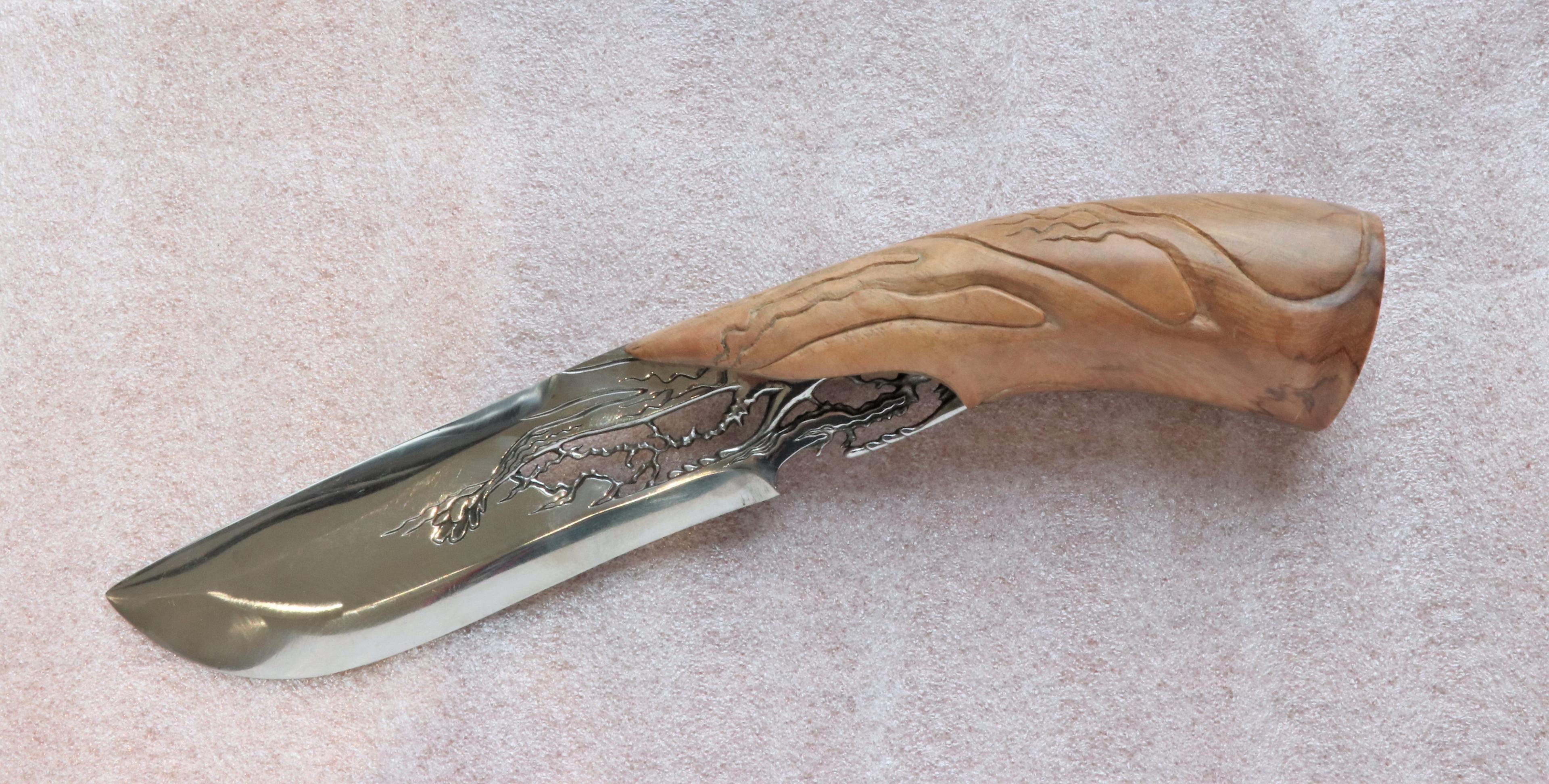 This knife was made by Veronika Chlumská, CZ, student of High School of Applied Arts in Turnov.
The 115 mm blade is 19 312 steel, the handle is wood. Overall length is 224 mm.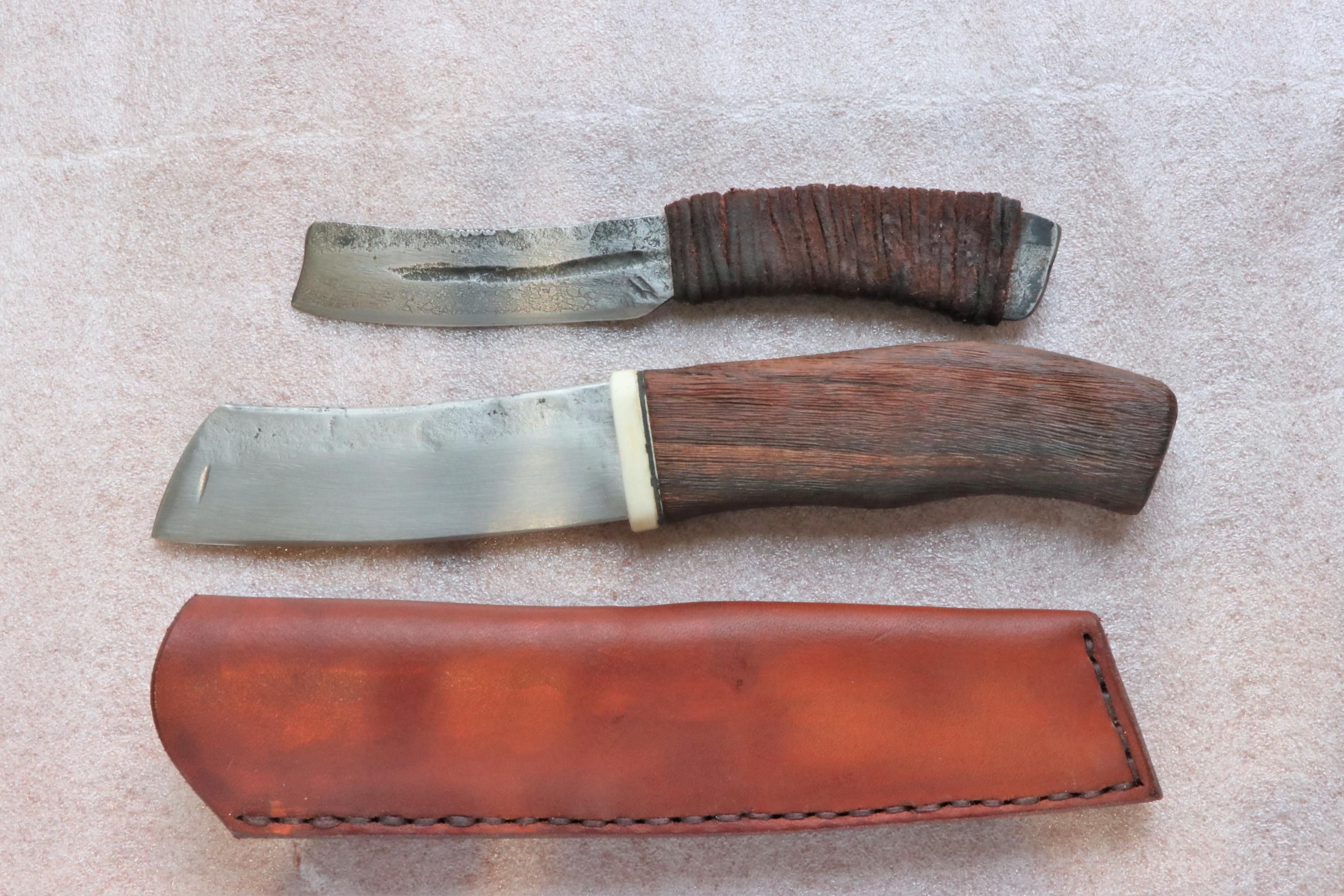 Two fixed blades by Michal Petrovič, CZ. The upper knife has a 75 mm blade from 17 029 steel and a
handle of leather thong. The lower knife has a 92 mm blade from carbon steel and a walnut handle.
Overall length is 155 and 205 mm respectively.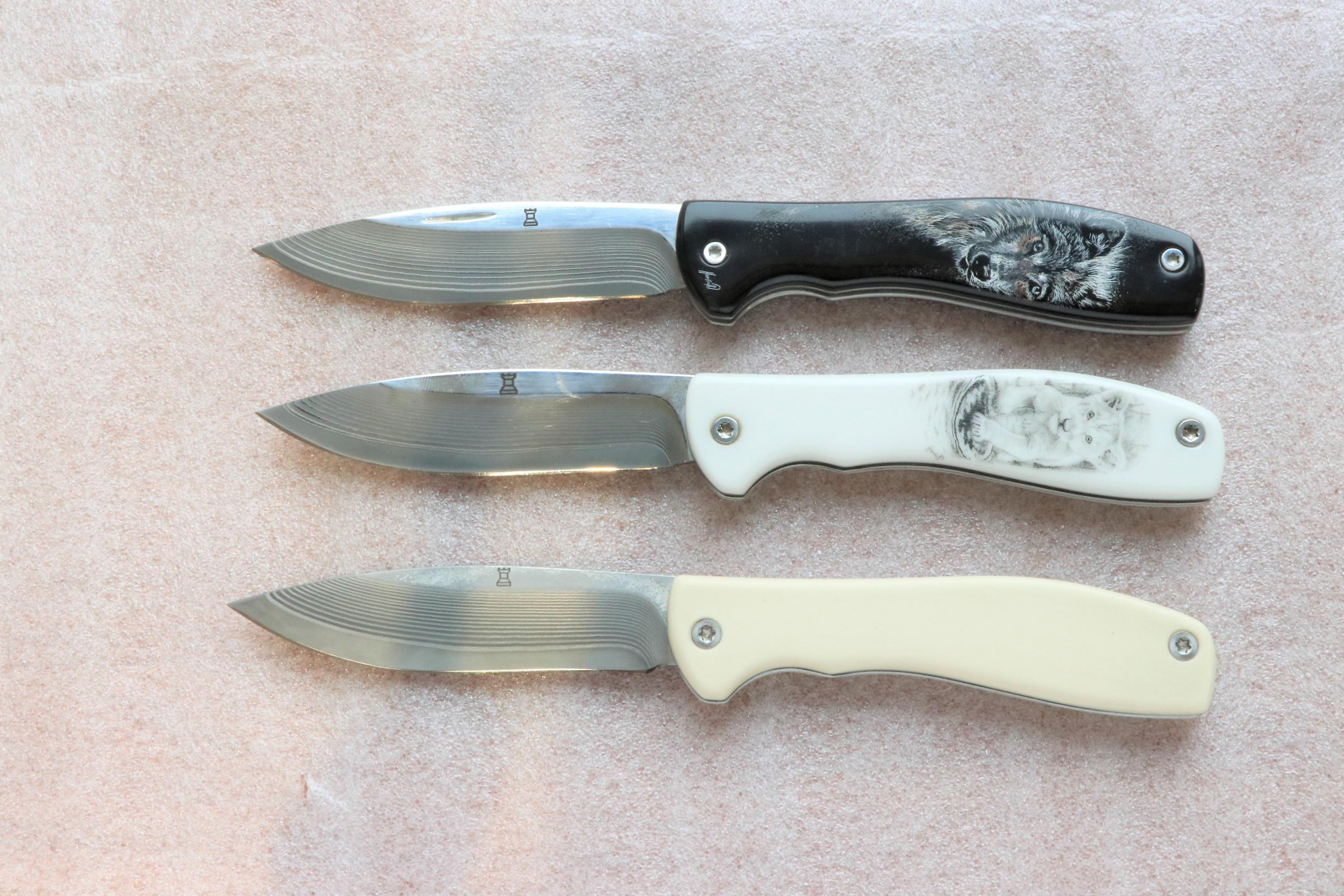 Three friction folders from the new line by Štefan Galovič, SK. All three have a 90 mm blade fromTAKEFU SG2
and KORIAN handles. Overall length (opened) is 190 mm. The scrimshaw is by Marek Horňák, SK.

A rustic fixed blade by Arkay Dabakyan, CZ. The 140 mm blade is from S2258. The handle is birch wood
and overall length is 270 mm.
A fixed blade from Josef Pilch, CZ, with a 90 mm D2 blade and oak handle. Overall length is 180 mm.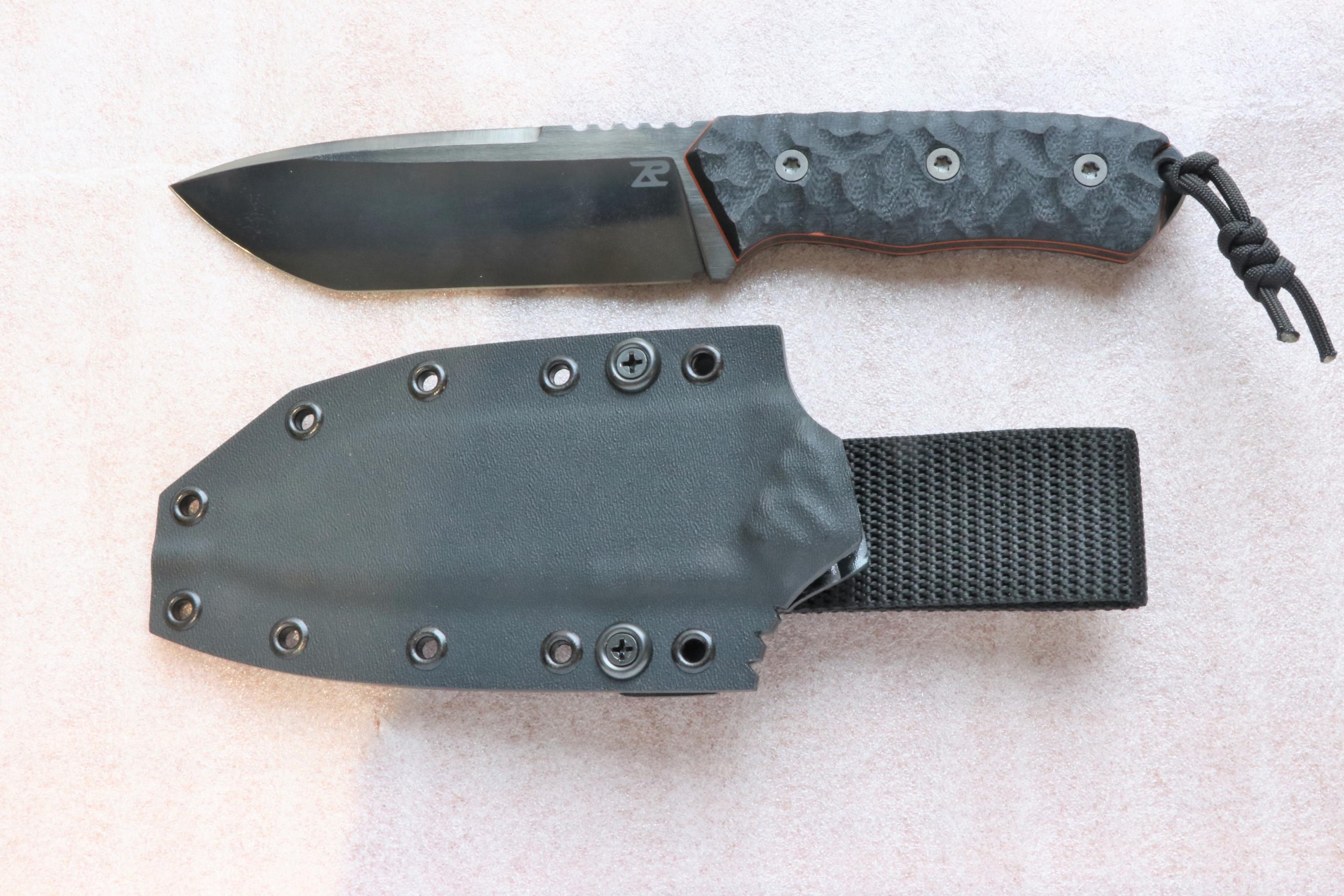 Zdeněk Rambousek (ZR Knives, CZ) made this fixed blade with a 135 mm Sleipner blade, with a DLC
surface treatment. The handle material is structured G10.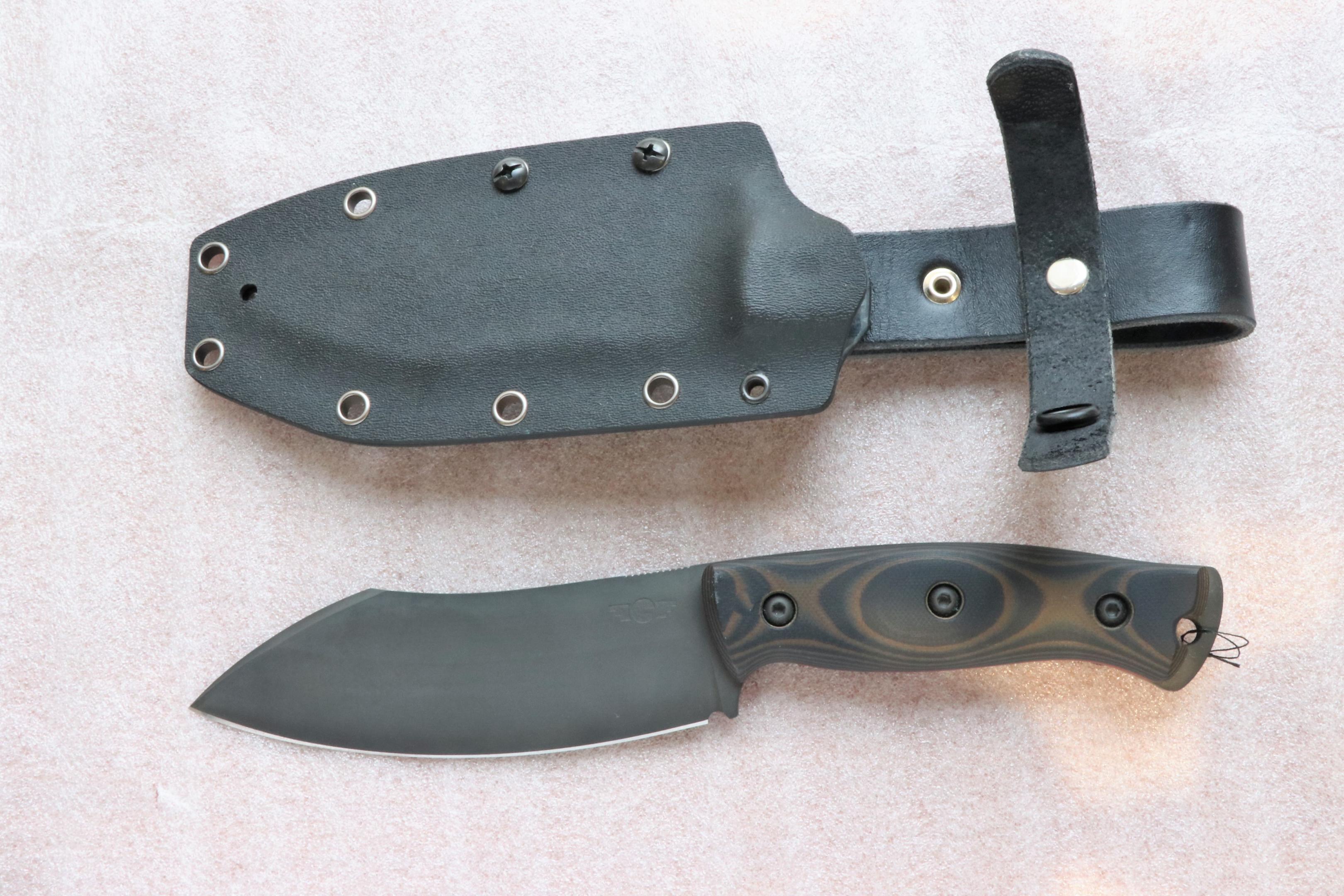 A fixed blade from Golik Knives, CZ. The 130 mm blade is 80CrV2 and DLC. The handle material is G10.
Overall length is 255 mm.

An example from the kitchen knife series by KONOL, CZ. This chopper has a 175 mm AK5Mo blade and
a walnut handle. Overall length is 280 mm.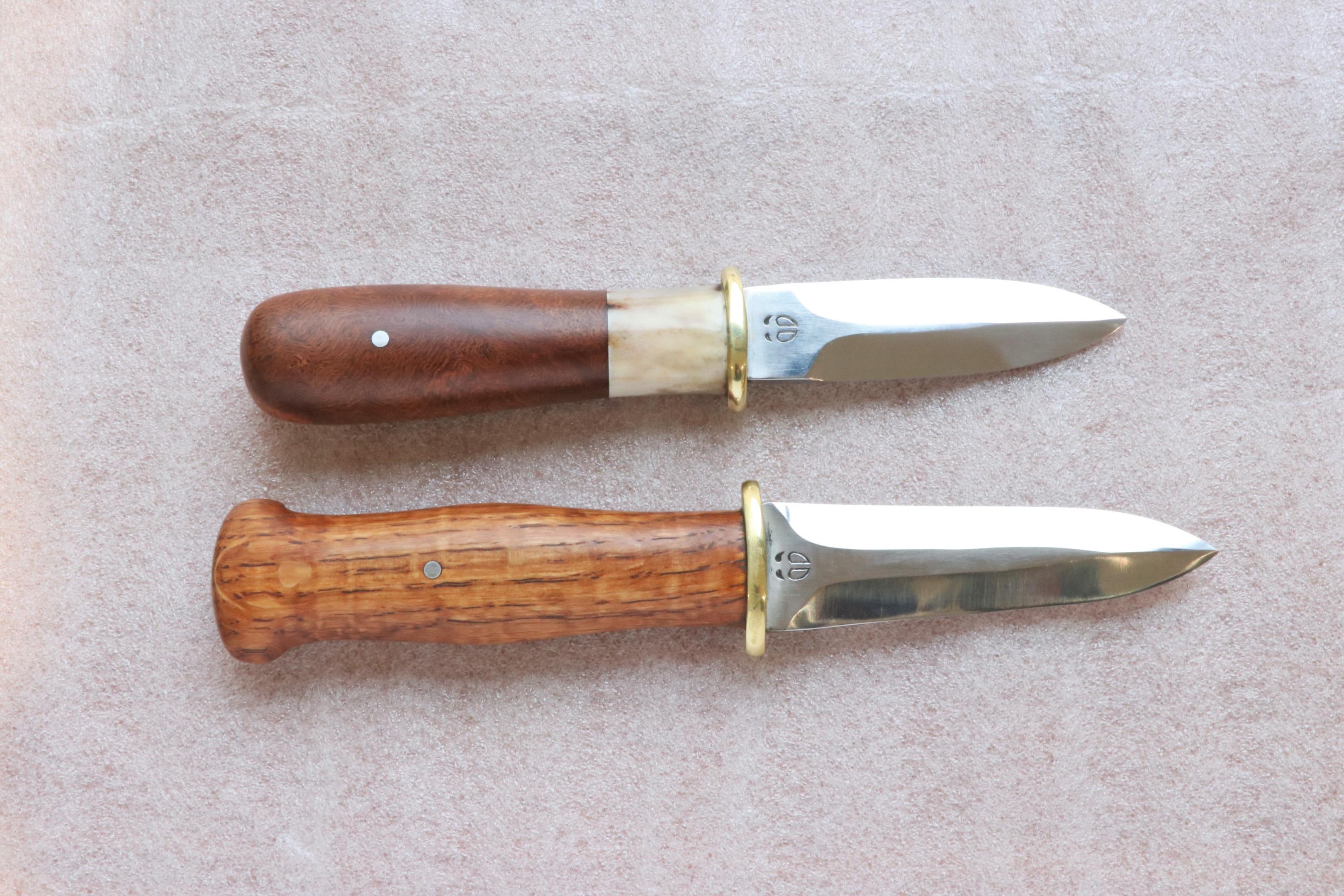 Two fixed blades from Lubomír Šmidrkal, CZ. Both have an AK9 blade, 75 mm with the upper knife and
85 mm with the lower. The handle material is red oak and antler, and oak respectively. Overall length
is 168 and 185 mm.

Václav "Monty" Šmíd. Monty is making simple, elegant knives that will serve you lifelong. The upper knife
has a 105 mm 62 blade and exotic wooden handle. The lower knife has a 110 mm D2 blade and ebony handle.

A fixed blade by Václav "Monty" Šmíd. The 115 mm blade is carbon damask, the handle is beech.
The overall length is 115 mm.

Secrecy I and Secrecy II by Miroslav Pouzar. Both blades are from stainless damask, both handles are
oak. Overall length is 215 and 185 mm respectively. These knives received the Special Award for Damask
Steel work at the blacksmith symposium Helfštýn 2021.