Prague Advent Knife Exhibition, 2017
Prague Advent Knife Exhibition, 2017
Prague under the snow is something that has to be seen, not described. The old town covered by a white blanket has a fairytale charm and is clearly something worth of encountering personally. Unfortunately, this was not the case on the 10th of December of 2017, the day of the Prague Knife Exhibition.

Text and pictures Martin Helebrant

On the second advent Sunday of 2017, the temperature was wandering around zero degrees Celsius, but there was not a single flake of snow in the streets. It was cold but not chilly when 72 knife makers / exhibitors started to arrange their knives in the New Town Hall. Like in previous exhibitions, the principal place was the Large hall on the first floor, where the knife makers tables were placed. The second exhibition space was the Dining Room of Commons.
Left: The New Town Hall in Prague, where the Advent Knife Show was held. Right: The main exhibition floor
(the Large Hall of the New Town Hall) during the lunch time.

The 72 exhibitors came from five different countries. About sixty were Czechs. Contrary to previous exhibitions, it was Poland which had second-largest representation, closely followed by Slovakia and Ukraine. When compared with the spring exhibition, the number of exhibiting masters has grown by almost 20 – a significant increase, but in general the advent exhibition is always stronger than the spring one. Also, the number of visitors was larger than in spring, coming close to 1000. Compared to the spring exhibition, there may have been slightly more foreigners, although their total represented only a very minuscule proportion of the crowd.
Personally, I can not asses properly the overall quality of the Polish knifemakers, but I have to admit that what was exhibited on the Polish tables in Advent Prague was of high grade craftsmanship. The Ukrainians have shown high grade of skills too, especially in forging – some of the blades were really very impressive, like for instance Wladforge, which managed to combine laminated blade steel and copper. From the Czech representation it was nice to see again the excellency of Czech "old masters" like Karel Hons, Lubomír Šmidrkal and others, but personally I was very much attracted by the work of Jan Pomahač. Although young, his work has excellent craftmanship and even more – his works have a very specific style, the most distinct in the whole younger generation. I promise to bring an interview and a larger presentation of his work later this year.
In general I was a bit surprised by the Czech exhibitors since I missed some young faces that I appreciated in the spring. It seemed to me that the advent exhibition rather attracted the "old hares" who prevailed behind the tables, but even these were not in full force. In fact, the composition of Czech masters made me feel that the masters from more distant parts of the country decided to stay at home; the masters from Moravia and Silesia had definitely smaller representation than in spring.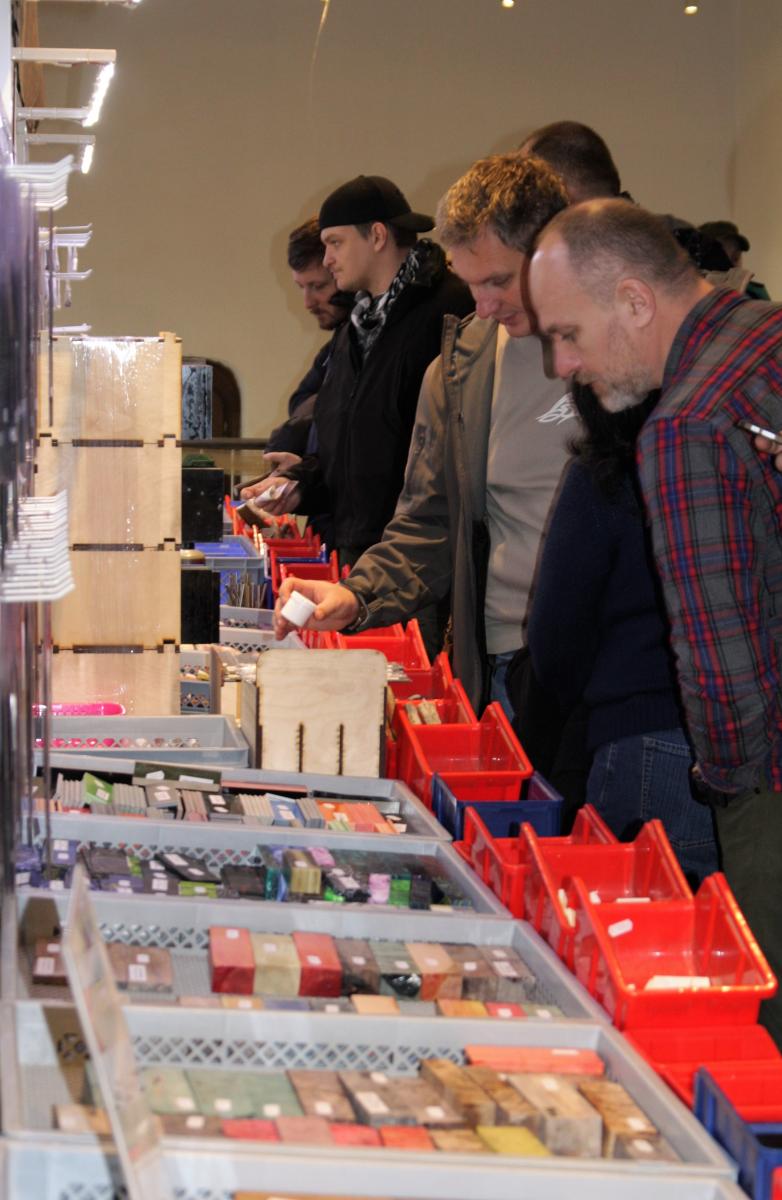 Left: Czechs are dedicated handymen, usually skilled and capable. The booth of the largest Czech knife
material shop Yatagan was occupied for the entire duration of show.
Right: Since the mediaeval days, Prague has a magic aspect. Traditional exhibitors of the show are Yagatai
and Manitai (Michaela Šišková and Michael Surugues) with their shamanic jewelry and tools.

When looking at the exhibited knives, I noticed quite a number of fixed kitchen knives. High grade kitchen or chef's knives were the most common, usually having some Asian resemblance. Radim Dachs is one of the leading Czech makers of the Asian style blades and his knives can be found on pictures from the spring Prague show (European Bkades Mag. No 4), Aleš Vencovský presented his ones and the Ukrainian Wladforge presented another one. To some extent the large knife in a wooden sheath from Maxmilián Netrval can be also used for kitchen chores. These called for premium prices. Anyway, on the floor you could find even some very decently priced, simple but well-made knives for a normal everyday work in any kitchen. When I was observing them, most of the visitors looked and touched the premium knives, but not many bought something. On the booths with an everyday stuff one just observed how one knife after another knife was taken out from the cardboard box, wrapped in paper and handed over to the new owner. Who is more successful in terms of profit is hard to assess, both approaches are fair and possible.
On the lower floor, the Dining Room of Commons was occupied mostly by industrial producers of knives, grinders and other production machinery, and of materials and other accessories used in knife making. Here was the booth of one of the largest Czech knife making companies, KDS Sedlčany. But the floor was dominated by the booth of the High School of Artistic Crafts from Turnov. The school (est. 1884) educates new jewelers, gemstone grinders, metal engravers, blacksmiths and metal smelters. The school is located about 80 kilometers north east from Prague. The town itself has been for many years famous as a center of Czech gemstone industry. The school presented the annual works of the blacksmith course – topic being an edged sculpture. Maybe it still misses some experience, but the presented works show a high level of creativity and an innovation. On the spot two of the students of metal engraving were presenting their skills. The basic course of studies is for four years, the most talented students can proceed for two more years of higher education. It is good to see that the high-grade craftsmanship has its future.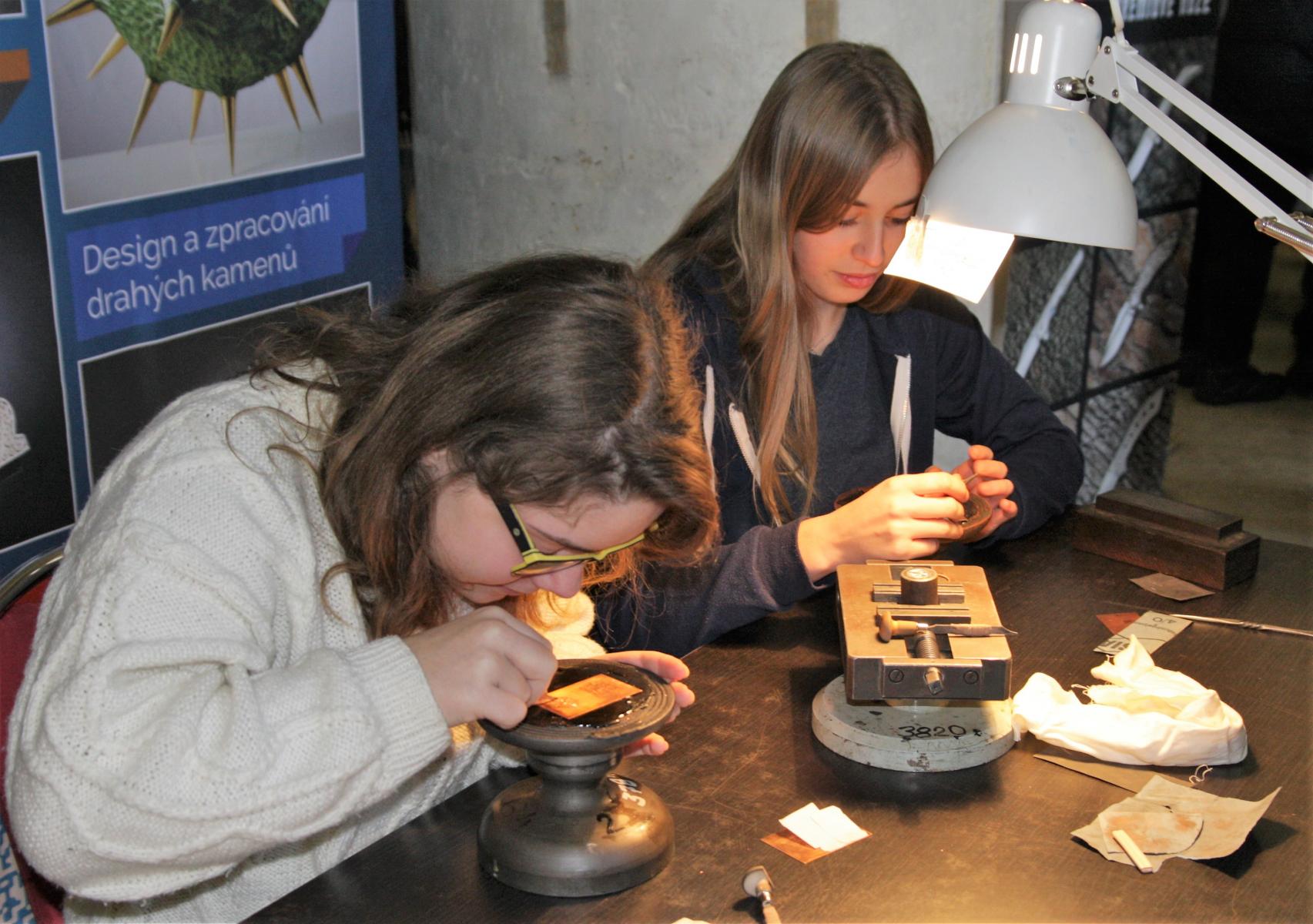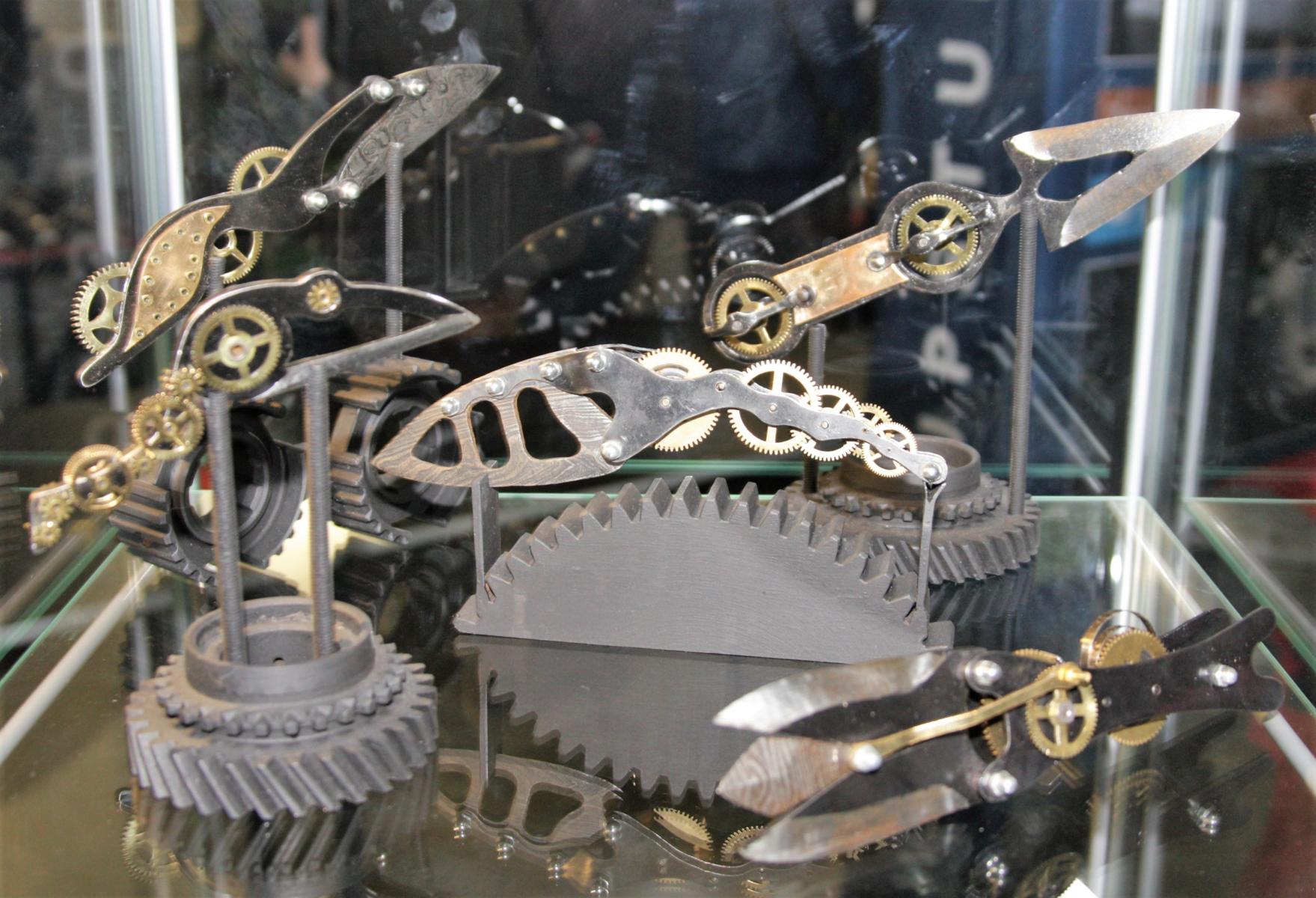 Left: Two students of metal engraving from the High School of Artistic Arts in Turnov were presenting their skills.
Right: The High School of Artistic Arts in Turnov presented the annual works of the blacksmith course – topic
being an edged sculpture.

The one-day exhibition probably has been successful in business terms, when I asked the exhibitors if they are satisfied with the result, everybody confirmed so and so did also the organizers. But the business success was not the only good thing of this exhibition. In the whole exhibition space there has been a spirit of advent – people were coming from table to table, having friendly chats and greeting each other before the Christmass and wishing all the best for the New Year 2018. It was a nice, humanly warm atmosphere. Last but not least, even a child was born as a promise for the days to come.
The Pragie show was held in a spirit of advent – even
a child was born as a promise for the days to come.
Should you like to enjoy the wealth of Czech and Moravian cutlery, please save the following two dates – the spring exhibition in Brno (March 17th 2018) and the spring exhibition in Prague (April 8th 2018). More details can be found on the first page of the website, www.europeanblades.com.
The Izer Mountain Sickle by Milan Pokorný. The 19 cm blade is from wild carbon damask steel, the handle from the elm root and mountain crystal. One of the series of the Izer Mountain knives, which are made from materials characteristic for the Izer Mountain.
A folding knife by Karel Hons. Blade about 85 mm, liner lock, steel RWL 34, handle carbon fiber composite, damask bolsters.
Mayan dagger from Jan Pomahač, Overall length245 mm, blade 130 mm carbon damask steel, handle
stag and leather washers.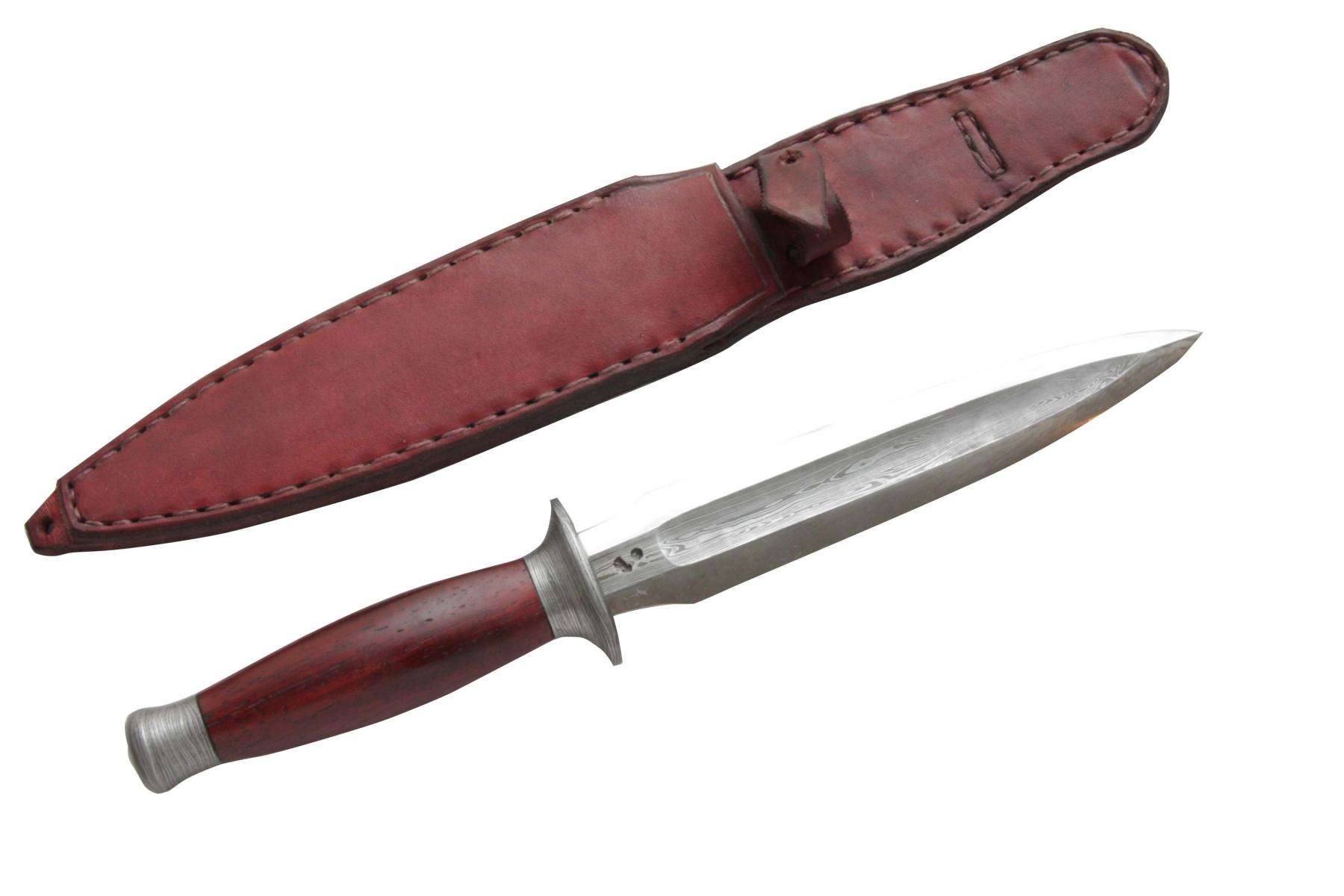 The Partisan dagger by Jan Pomahač. Overall length 350 mm, blade 198 mm carbon damask steel,
handle Padauk wood.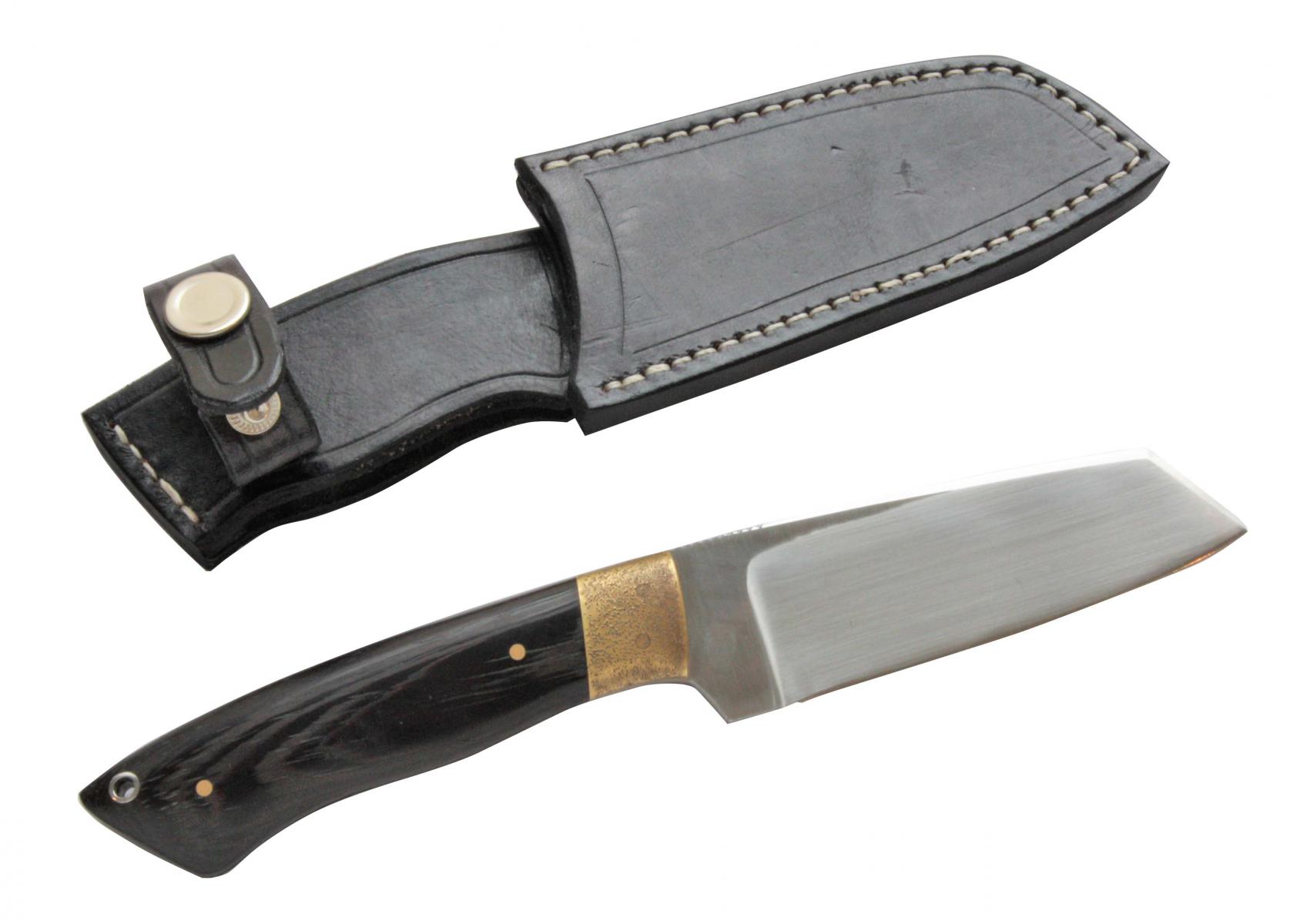 A fixed blade by Aleš Vencovský. Blade approx. 205 mm from N690 steel, 4 mm thick, handle Wengé wood.
Aleš Vencovský, blade approx. 230 mm from N690 steel, handle maple and ebony wood.
The Trapper made by Michal Jarý (Czech). Blade 135 mm,
damask carbon steel (200 layers); handlereindeer stag and
alpaca, overall length: 273 mm.

Liner Lock folding knife by Michal Jarý. Blade 97 mm; Zladinox stainless damask steel; handle mokuti,
snake wood, damask steel, overall length: 125/223 mm.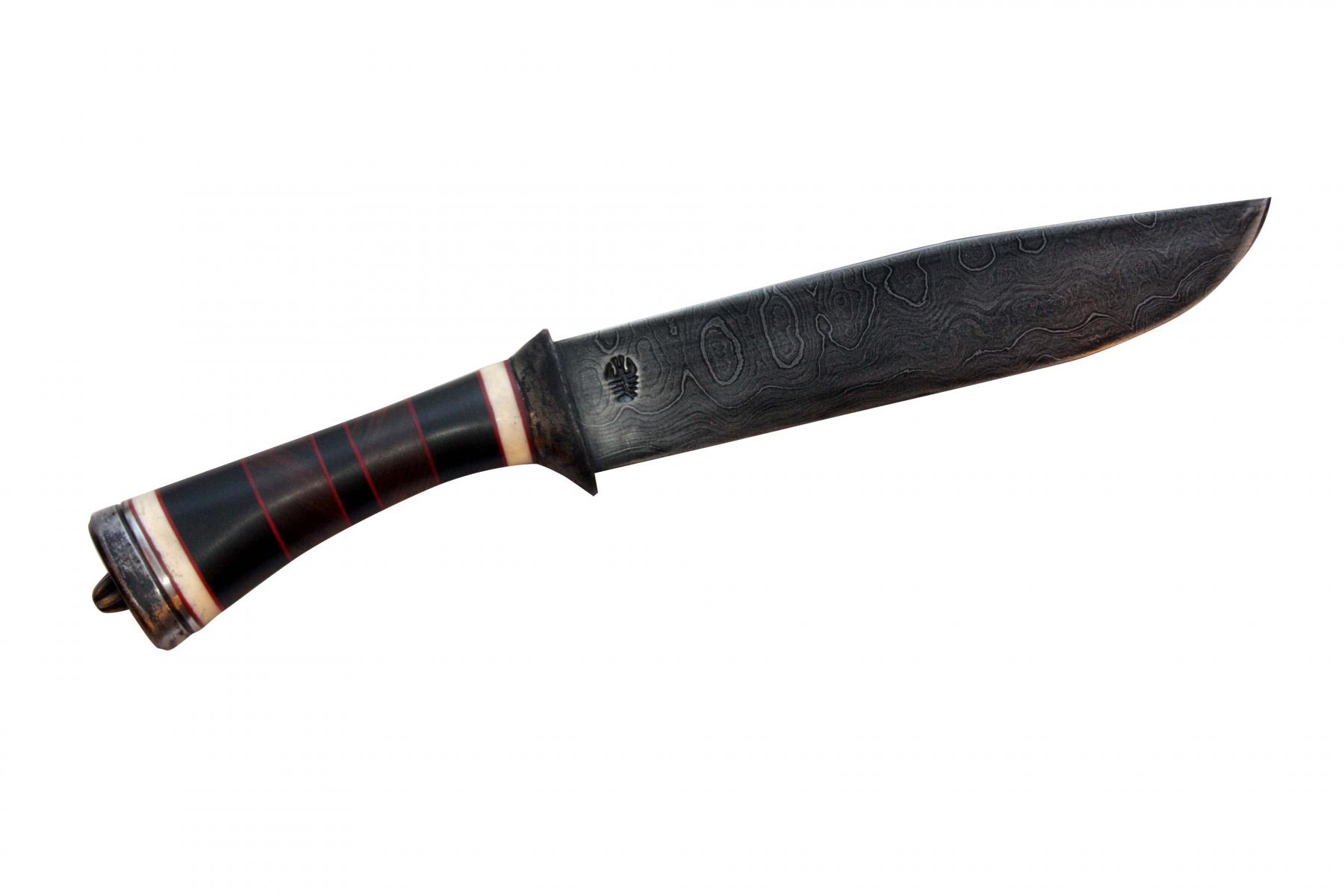 Karel Kreps, blade approx. 270 mm long made from damask made from two different crankshafts, handle
bovine bone, ebony, walnut.
Petr "Buck" Hrubý; no name. Blade 84 and 112 mm, damask steel; handle ebony and coral.
Overall length: 176 and 234 mm.
Arkadyi "Arik" Davbakyan is an Armenian living in Prague. This knife has a 104 mm blade, 2258 steel;
handle monolith with blade, overall length: 212 mm.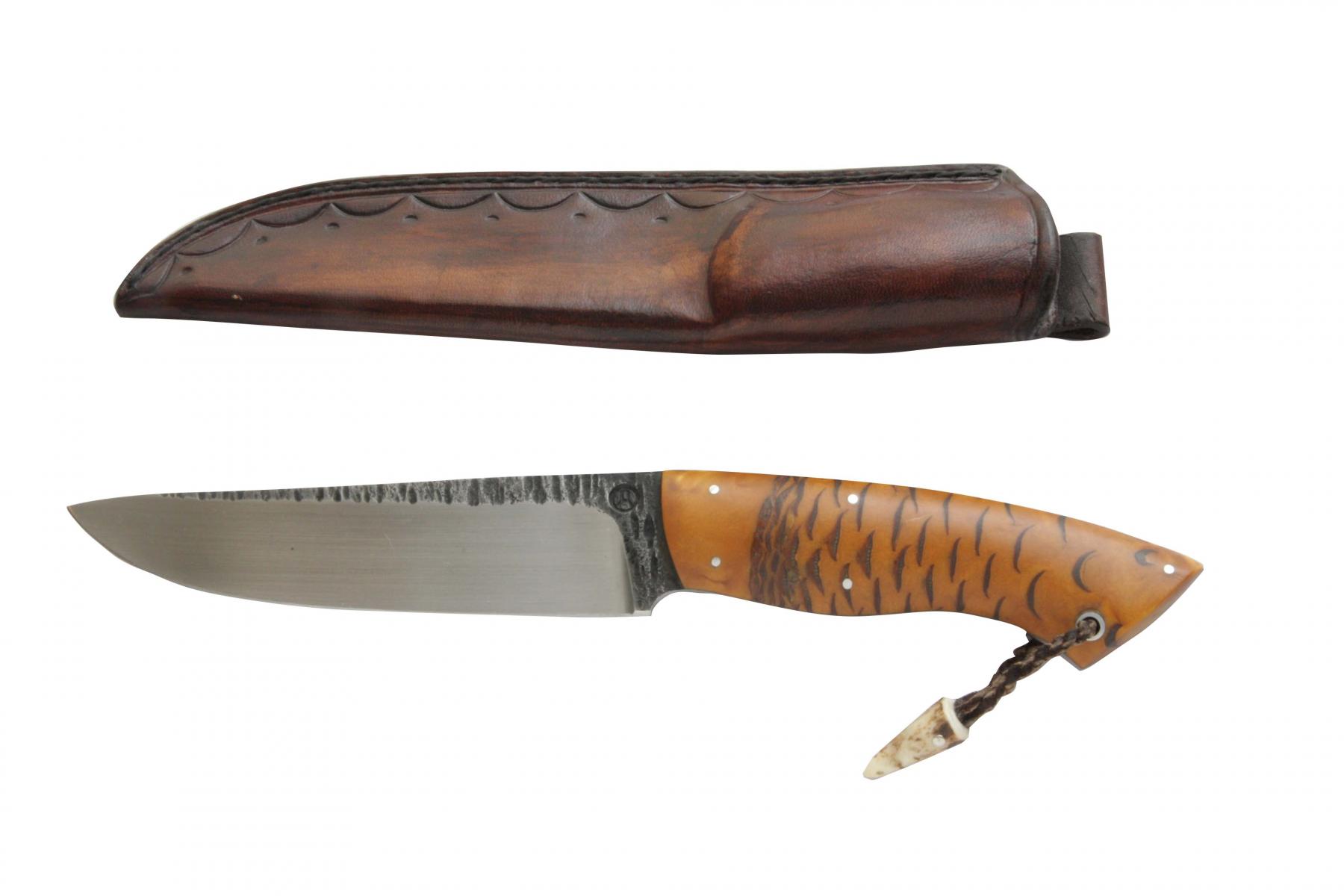 Arkadyi "Arik" Davbakyan; no name. Blade 138 mm, 2258 steel; handle pine cone in epoxy resin, overall
length: 255 mm.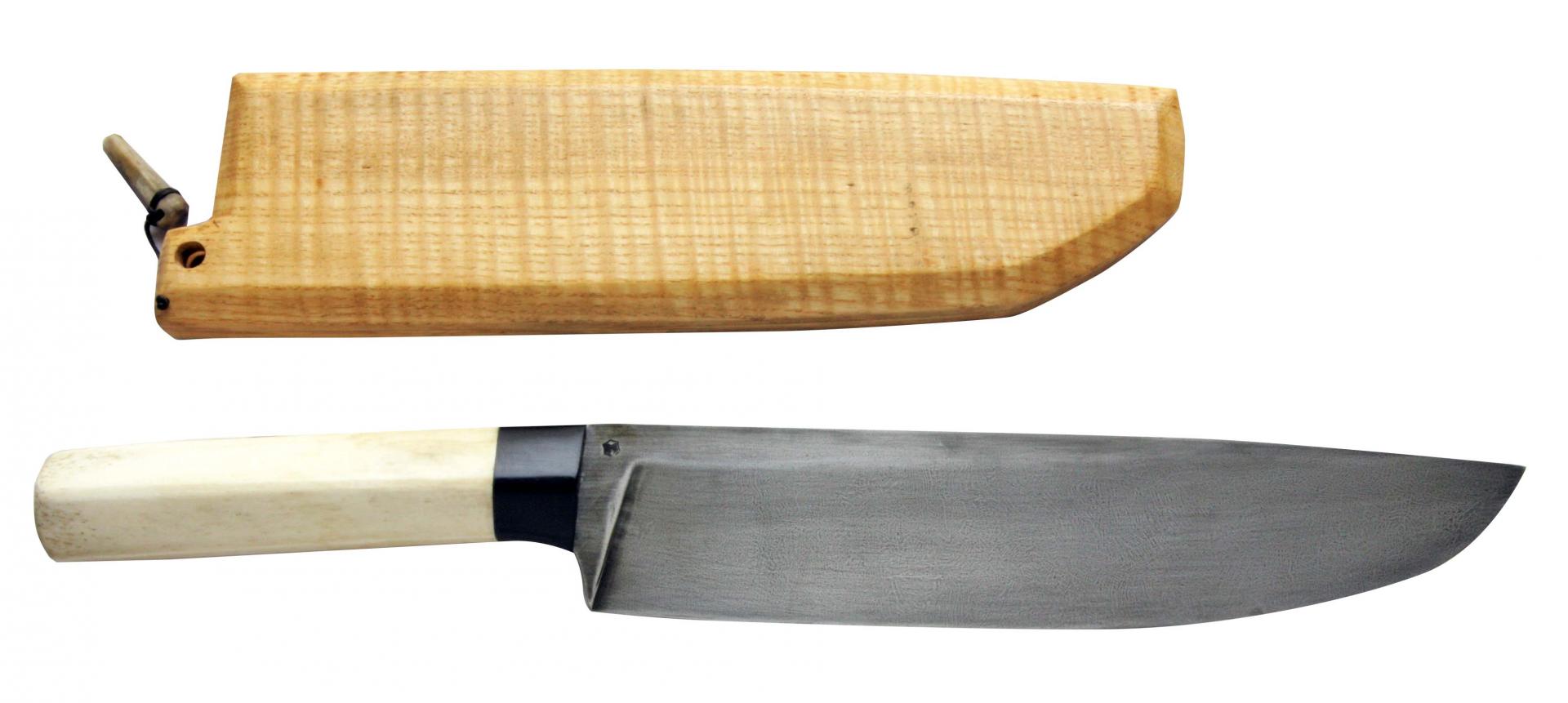 A knife by Maxmilián Netrval, overall length 350 mm, blade approx. 200 mm, wootz steel, handle giraffe
bone and ebony.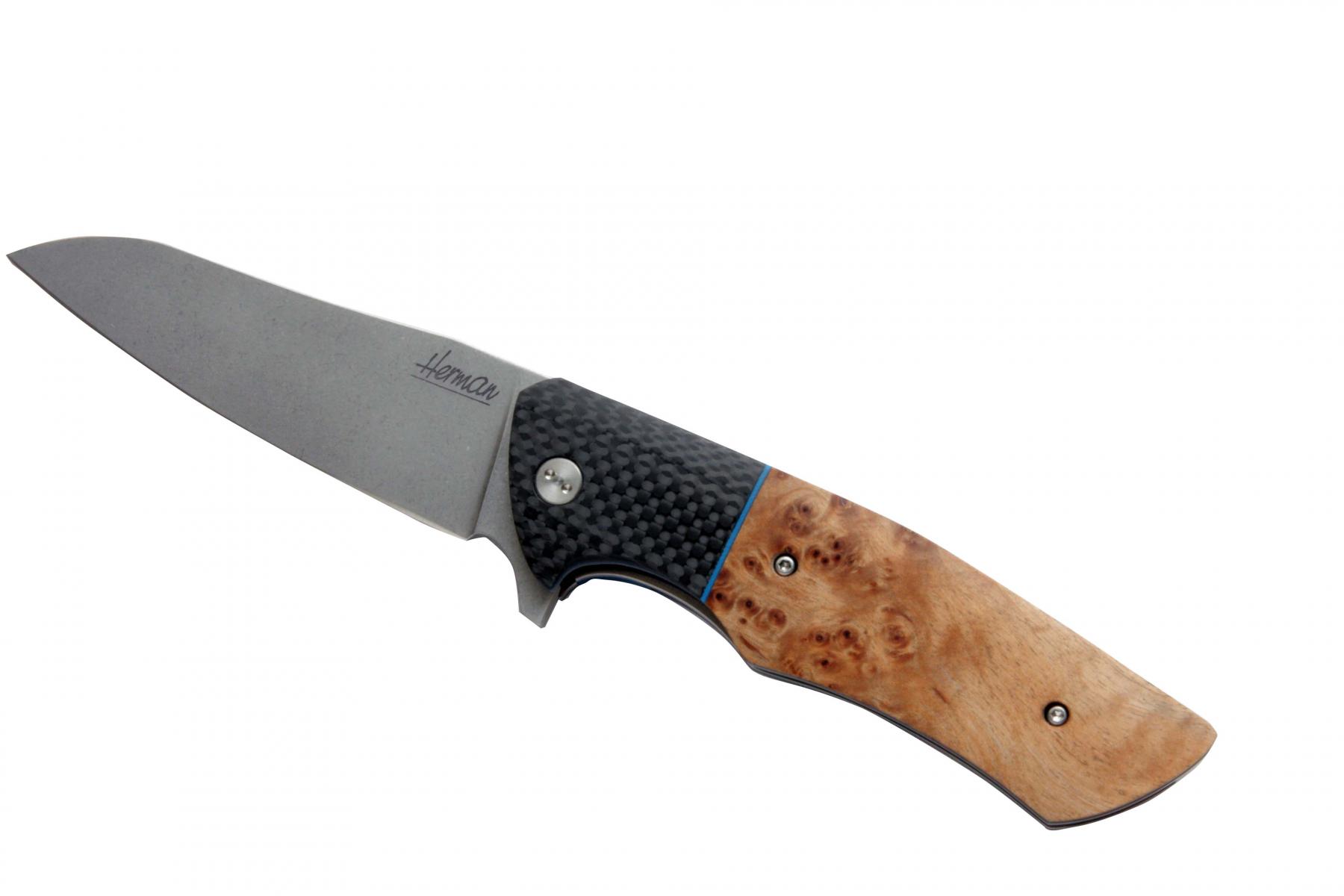 A liner lock folding knife by Herman Knives (Herman Bartek, Poland); no name; blade 89 mm; M390
steel; handle birch wood, resin carbon fibre, overall length: 125/215 mm.
Pavel Prucniak, Poland, no name. Blade 60 mm, D2 steel; walnut, bone carbon, overall length: 109 mm.
Acoustic Blade (Wojciech Zawada, Poland); no names. Blades 80 and 37 and 32 mm, stainless steel;
micarta; overall length: 155 and 86 and 90 mm.
Wladforge – Ukraine; no name. Blade 125 mm, N690 + Cu + K110steel; iron and brass, overall length: 255 mm

Wladforge – Ukraine; no name. Blade 165 mm, N690 and K110 laminated steel; iron and brass, overall
length: 303 mm
Folding knife by Karel Hons. Blade about 85 mm, liner
lock, steel RWL 34, handle mammoth tooth and
titanium bolster.