Pi-Knives
Pi-Knives
The Austrian company Pi-Knives was established in 2010 by the inventor and professor of biology, Sami Stinner. Last year, Pi-Knives became an independent knife brand offering self-developed knife designs. European Blades Mag. presents three models: The Felis S, Trackmaster and Pocket Panther.

Text: Christophe Verstappen. Pictures: Christophe Verstappen and Bas Martens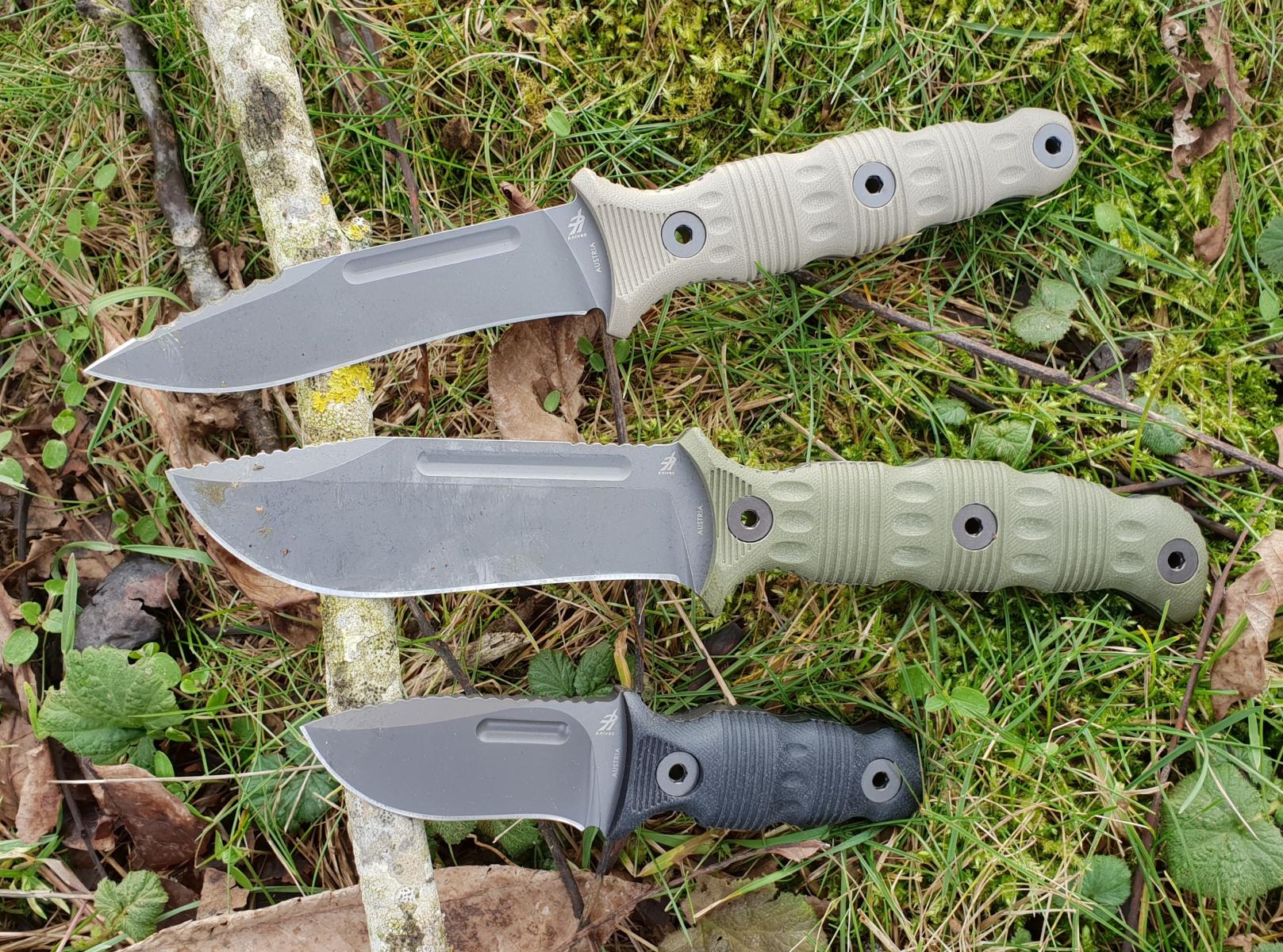 Three Pi-Knives models. From top to bottom: Felis S, Trackmaster and Pocket Panther.

Being a biologist by training, Sami Stinner puts significant effort into the small natural details of knife handles. Notably, he's developed a special shape and structure for a natural grip. The design is called the B.E.S.T. handle, which stands for Biometrically Engineered Surface Texturing.
Currently, Pi-Knives offers nine models (two folding knives and seven fixed blades) in the categories: Military, Hunting, Outdoor and Special. Three of these fixed blades are shown here: The Felis S (the 'S' stands for Serrated); the Trackmaster and the Pocket Panther. All three have D2 blades and G10 handles and come with a Kydex sheath with a Tek Lok.
The Felis S with its Kydex sheath. All Pi-Knives have a G10 B.E.S.T. handle with a special shape and structure.

The Felis S is a military knife, with a 4 mm wide blade which is partly serrated on the spine. Blade length is 117 mm. The Trackmaster is presented in the Outdoor category. It has a 6 mm wide and 120 mm long blade. The Pocket Panther falls in the Pi-Knives 'Special' category, and features a 6 mm wide and 70 mm long blade.
The Trackmaster features a 120 mm long blade. Handle and sheath are available in three colours: black,
tan and olive drab. The black handle comes with a black PVD coated blade, the other two have a
stonewashed finish.

I carried out some basis tests wherein I found that the three models were more suited to military use than outdoor tasks. In my view they scored better for basic army tasks like opening ammo packaging and other small jobs.
In the outdoor tests, only the Felis S gave me the good sparks in use with a ferrocerium rod to light a fire. The Pocket Panther was the best in feather stick making and the Trackmaster stood out in small wood chopping. So you might say that you need the three knives together to master all your outdoor tasks. Which in my view is not a real problem if you use the rule: one is none, two is one.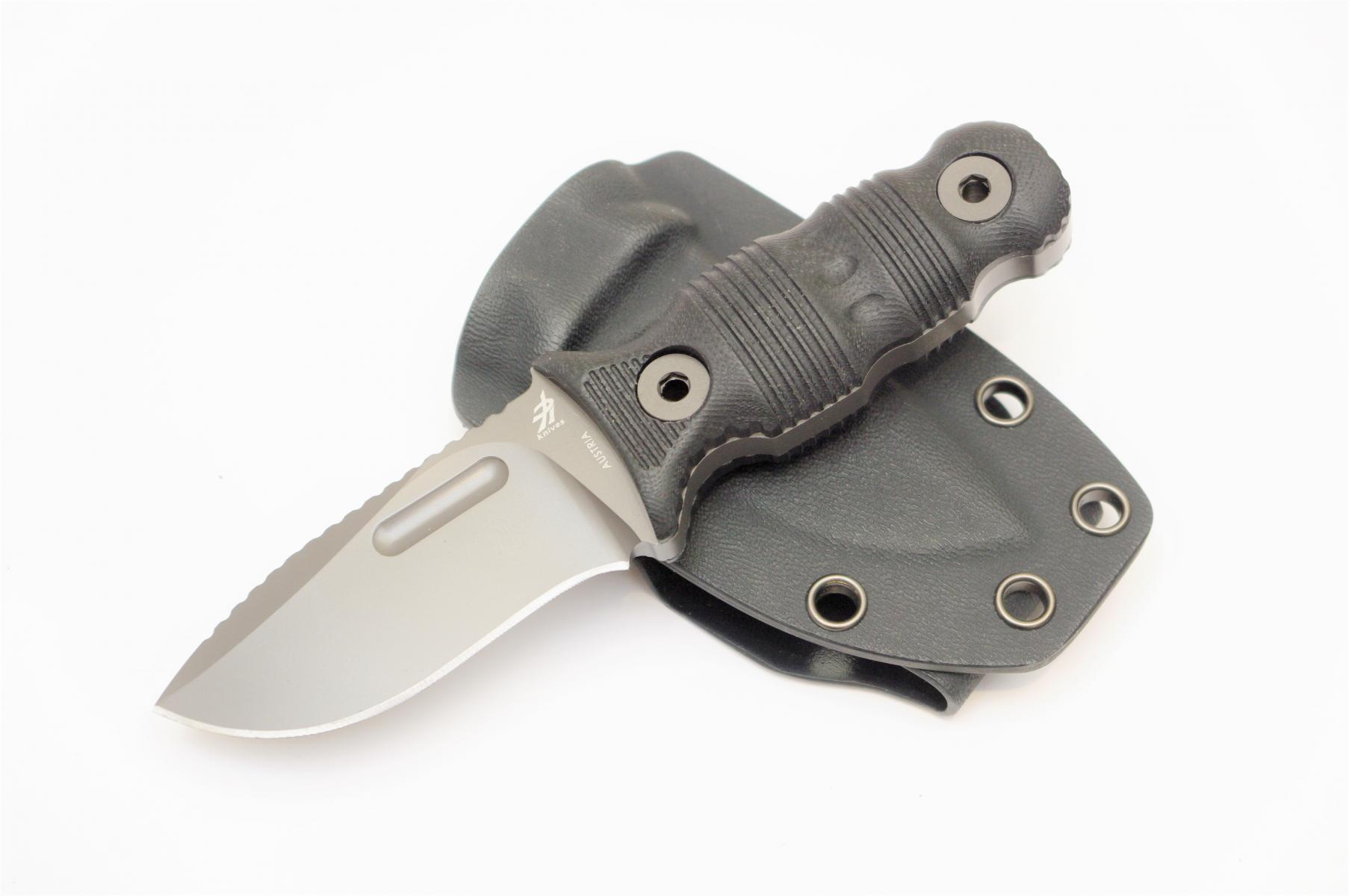 The Pocket Panther is a sturdy little knife, with a 6 mm wide and 70 mm long blade.

The Pocket Panther can easily be placed in your survival kit and both other knives could be fitted on your gear or in your rucksack. The B.E.S.T. handles of the knives are well done and feel great in the hand. The design of the blades is a matter of taste - you like it or you don't. The Kydex sheaths are sturdy and come with a Tek Lok.
To be honest, I like their finish, their presentation and their looks, but as I said before, I will not rely on them as a first choice for outdoor knives. But as a military backup I would seriously consider the three of them.
For more information see
www.pi-knives.com
.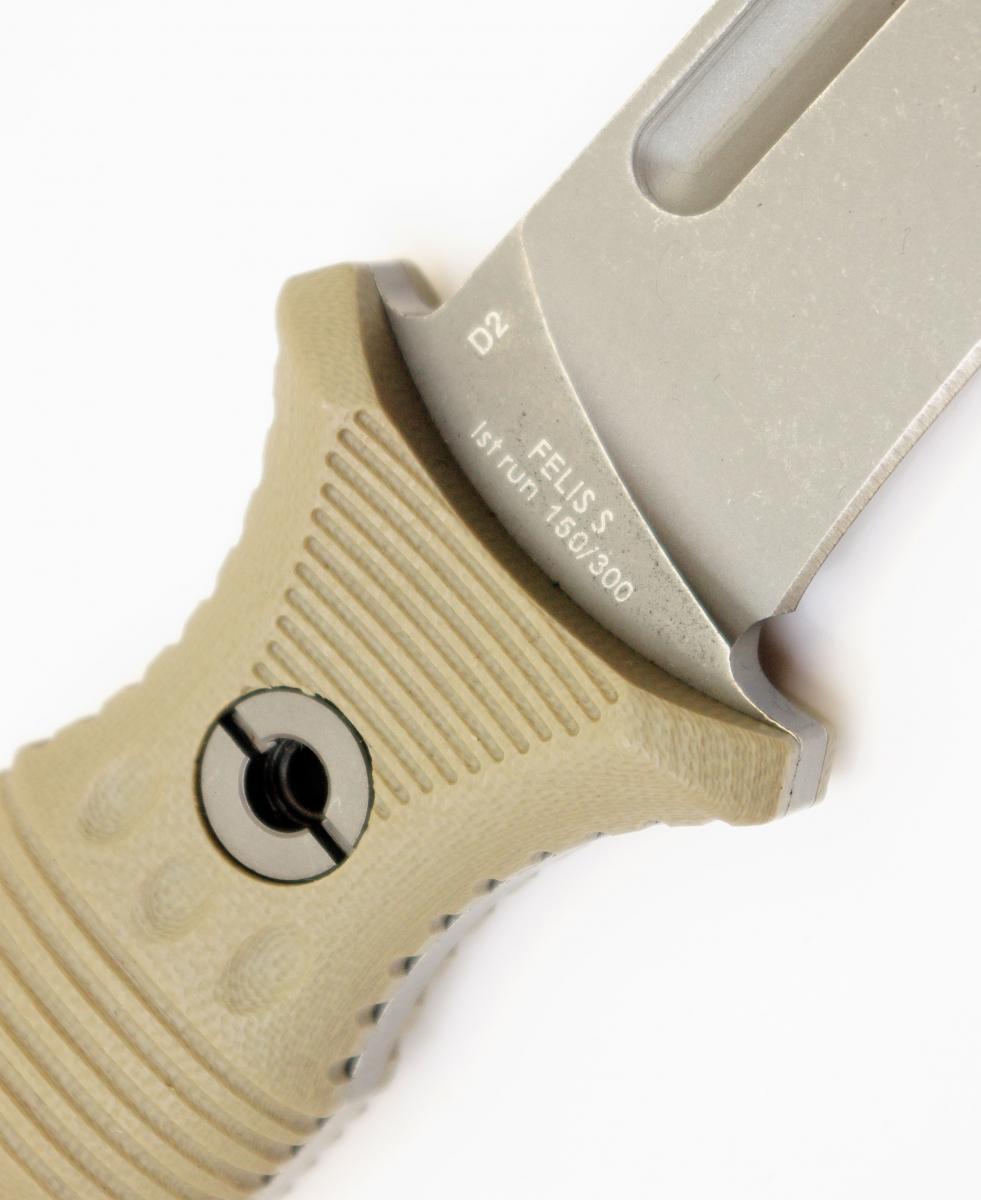 Left: The Pocket Panther was the best in feather stick making. Right: Model designation, steel type and
serial number on the blade of the Felis S.