Patent: Innovations to pocket knives
There are many ways to open and close a folding knife, and to lock the blade. Some of these are incredibly complicated, others are very creative. The latter category includes the gear mechanism by F.K. Kaltenthaler of Worms, Germany. He was granted a patent for it in January 1884.
We do not know who F.K. Kaltenthaler was. Only one patent in his name is known: German patent 28764, granted on 8 January 1884, for a 'Neuerung an Taschenmessern' (pocket knife innovation). That innovation looked as follows:
Kaltenthaler had invented a folding knife in which the blade was fitted with a semi-circular pinion at the back. The teeth of the pinion corresponded to those of a slightly curved rack. The rack pivoted around an axis in its backward protruding arm, which was fixed in the handle. When the blade was opened and closed, the pinion caused the rack to move up and down. To be able to do so, the grip had two corresponding ears, e' and e", which protected the rack and simultaneously acted as a guard. Just behind its pivot, the rack had a hook that rested on the end of the spring in the handle spine. The construction was such that the spring was relaxed when the blade was opened, and tensioned when closed.
On the right side of the handle was a leaf spring with two pins: a short one (m), which served as a lock, and a long one that protruded from the left grip where it was fitted with a button (l). When that button was pressed, it pushed the leaf spring outwards. The rack had a small opening (n). When the blade was closed, the pin m fell into that opening and blocked the movement of the rack, and thus from the blade. If the blade was fully opened, the pin m was positioned above the rack and therefore blocked its movement as well. In both cases, it was enough to press the button l to unlock the blade; the pin was pushed out and released the rack.
Whether Kaltenthaler's mechanism was ever applied on a larger scale is not known to us. His name does not appear in the reference work 'German Swords and Sword Makers', and a brief search on the internet yielded nothing else either. But his gear mechanism was nicely conceived.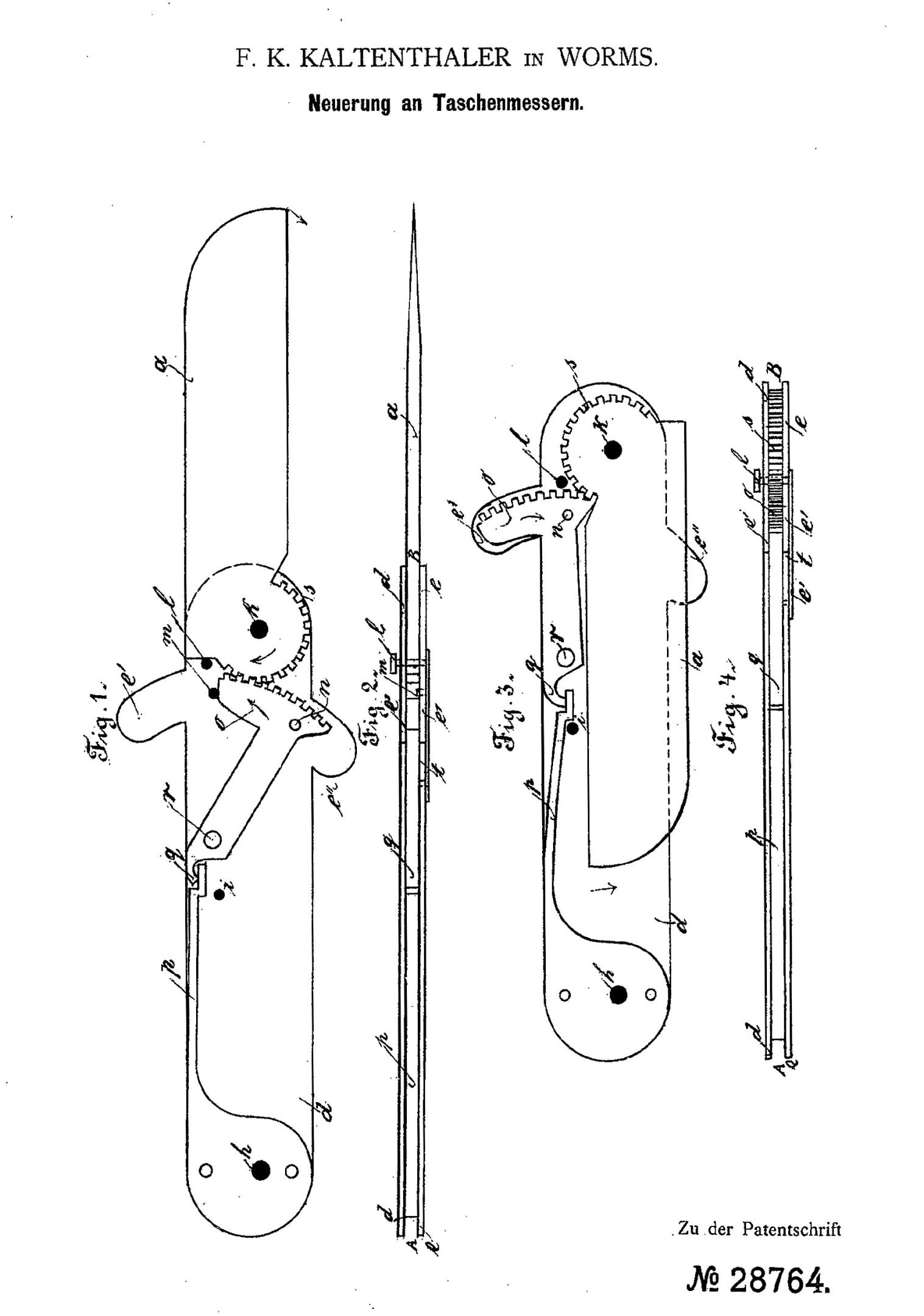 The drawings from German patent 28764, granted on 8 January 1884 to F.K. Kaltenthaler for a 'pocket knife innovation'.