Patents: Improved means for locking the blade
In October 1941, Donald Ashford Palmer and the Joseph Rodgers and Sons Ltd, both of 'No. 6 Work' in Sheffield, applied for a patent for an "improvement in the construction and operation of means for locking the blade".
There are a thousand and one ways of locking the blade of a folding knife and variations on each method of locking exist. In the 1940s, Joseph Rodgers and Sons Ltd. and Donald Ashford Palmer applied for a patent for an ingenious mechanism to lock both the opened and closed blade. According to the patent application, both were at the time associated with No. 6 Works in Sheffield, a continuation of the Joseph Rodgers & Sons company at No. 6, Norfolk Street in Sheffield, once one of the best knife makers in the world. The patent was granted in Great Britain in October 1942, under number 549,428.
Rodgers and Palmer's knife had two holes in the blade tang, each containing a small ball. These balls could not fall out, as they were enclosed between the liners. The liners had an opening corresponding with the rear hole in the blade. In that opening there was a spring-loaded plunger on the right and a locking bolt on the left, with an exterior head on the outside of the liner or handle scale. A plate on the outside of the left bolster fell around a thinner part of that locking bolt and held it in place.
When the blade was opened, the spring pushed out the plunger, and with it the rear ball. The plunger was moved partly into the opening of the blade and partly in the opening of the liner on the right-hand side, the ball did the same on the left. This blocked the movement of the blade. When the blade was closed the same thing happened, but then with the front ball.
In order to unlock the blade, the button had to be pressed, which moved the locking bolt inward. This pushed against the ball, which in turn pushed against the spring-loaded plunger. When the button was fully depressed, the ball was completely in the blade and the plunger was pushed aside sufficiently to come free of the liner. The blade was now free to move. As an added bonus, the blade was fitted with a spring which caused it to open automatically when the locking button was pressed.
For more information about the Joseph Rodgers company and some wonderful pictures of its interior, see:
www.sheffieldcutlerymap.org.uk/location/joseph-rogers-and-sons/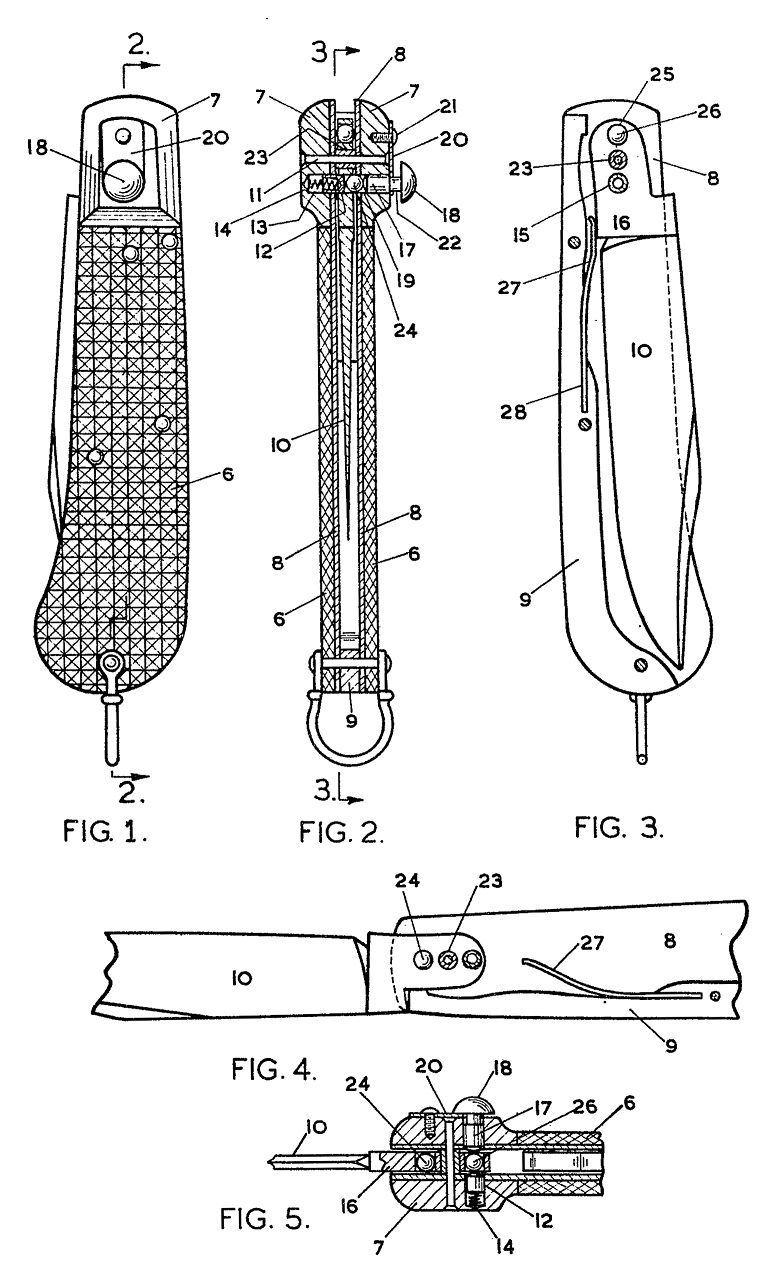 The drawings from British patent 549,428, from October 1942, showing the an "improvement in the construction and operation
of means for locking the blade". De spring-loaded plunger is no. 12, the locking bolt with its button are numbers 17 and 18 and
the balls inside the blade tang are numbers 24 and 26.