Patents: A supporting cup on a knife blade
A lot of utility knives have cross grooves on the back of the blade. This so-called "jimping" serves to improve the grip of the knife. This is great, but "jimping" is only useful on a fairly wide blade. A table knife is not suitable for it. But that is where Jean-Pierre Savignac comes in. In 1986, he invented a "supporting cup".

Only two patents by Jean-Pierre Savignac have been found, this knife and a patent for a flexible bracelet. It is obvious that he was somehow connected to the Coutellerie Savignac in Foix, France, although he is not mentioned on the company's website.
His invention of the "supporting cup" was simplicity itself - but so are more good
Ideas. Savignac applied for a patent for it on 25 June 1986. The application was published under number 2600574, but it is not clear whether the patent was ever granted. The summary description reads as follows:
"The invention relates to a device making it possible to facilitate application of the index finger or of another finger to the back of the blade of a knife in order to facilitate its penetration into the material to be cut or cut up. It consists of a dish-shaped part 2, 6 whose upper part has slight concavity, substantially matching the shape of the tip of the finger. The dish-shaped part may be made from the same material as the blade, being produced as a single part, or formed from a special component which will be fixed by various methods to the blade; it is envisaged, when the handle is made separately from the blade, for the dish-shaped part to be incorporated with the extended handle or fastened to the fitting. Uses envisaged: table knives, kitchen cutting utensils, tools for cutting up various materials, or as an aid to individuals who have had their index finger amputated or have a weakness in their hand."

According to the application, the dish-shaped part could be put on the blade spine, as depicted, but it could also be made in one piece with the blade, or as an elongation of the handle. As stated, we do not know how the application proceeded. It seems to us an invention that could be quite useful under certain circumstances, and on a folding knife could perhaps be combined with a thumb rest.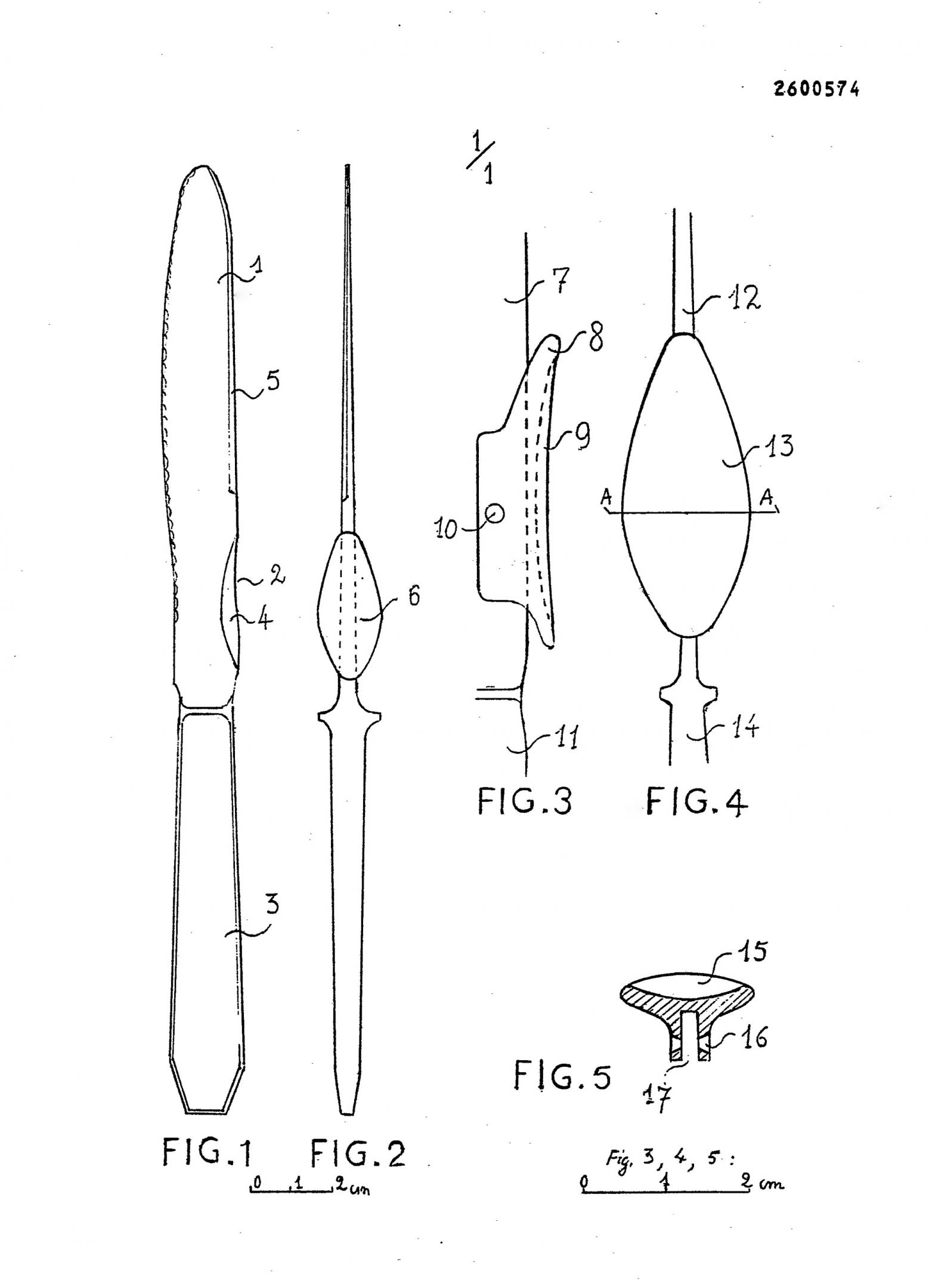 Figures 1 to 5 from Jean-Pierre Savignas patent application from 1986, showing his "supporting cup".