Otter knives from Solingen
Otter knives from Solingen
Otter Messer is a knife company from Solingen, Germany. One of their best known models is the 3-rivet knife.

Text and pictures: Arthur Brehm
Three versions of the Otter 3-rivet knife.

"The OTTER company was founded around 1840 in a small 'Kotten' – a traditional grinder's watermill – at the Königsmühle in Solingen by the Berns brothers. Its name comes from the indigenous otters, which used to live on the riverbanks and streams in the Bergisch Land region in North Rhine-Westphalia, Germany. OTTER knives […] are made in Solingen, using traditional methods. And they are still manufactured and sharpened there using meticulous handcraftsmanship to this day." (Excerpt from the website of otter-messer.de)
When I was six years old, my grandfather gave me his most valuable pocket knife to celebrate the day. It was an Otter '3-rivet knife'. Since that day the knife accompanies me in the now
5th generation (which means I've lost it 4 times) and is part of my knife passion. So welcome to a long-term review with a trial period of now 42 years. You can actually say that I know this knife inside out.
While the 3-rivet knife was still a Spartan knife (like its "brother", the model 161) in the 1960s, it was subjected to various 'facelifts' from the 80s onward. With Frank Rommel (today's owner of Otter knife) it reached its current appearance, which mutated more and more from workhorse to a gentleman's pocket knife, but without losing its job satisfaction.
Left: The three versions from the rear, showing different handle materials.
Right: The current version of the 3-rivet knife, a classic gentleman pocket knife.

Today's materials for the 3-rivet knife are complex and can be combined with Otter Messer on request.
Now to the technical data. The available blade materials are C75 (a carbon steel) or 4034. The handle is made of sturdy grenadille and 100 mm long, while the blade has a length of 90 mm and the pocket knife weighs just 80 g. A friendly knife for your pocket.
My latest version has c75 steel. This now has a nice patina, but does not rust. This speaks for the excellent processing at Otter. For years, I sharpen it after prolonged use with the simplest means, for example a DC4 stone and then I wipe it off with a Ballistol cloth, which comes with every 3 rivet knife.
The advantage of the 3-rivet knife is that in our day (with all the attacks Europe-wide with knives, axes and machetes), the knife appears as a pleasing, harmless gentleman's pocket knife, which does not cause fear, but just nostalgic memories.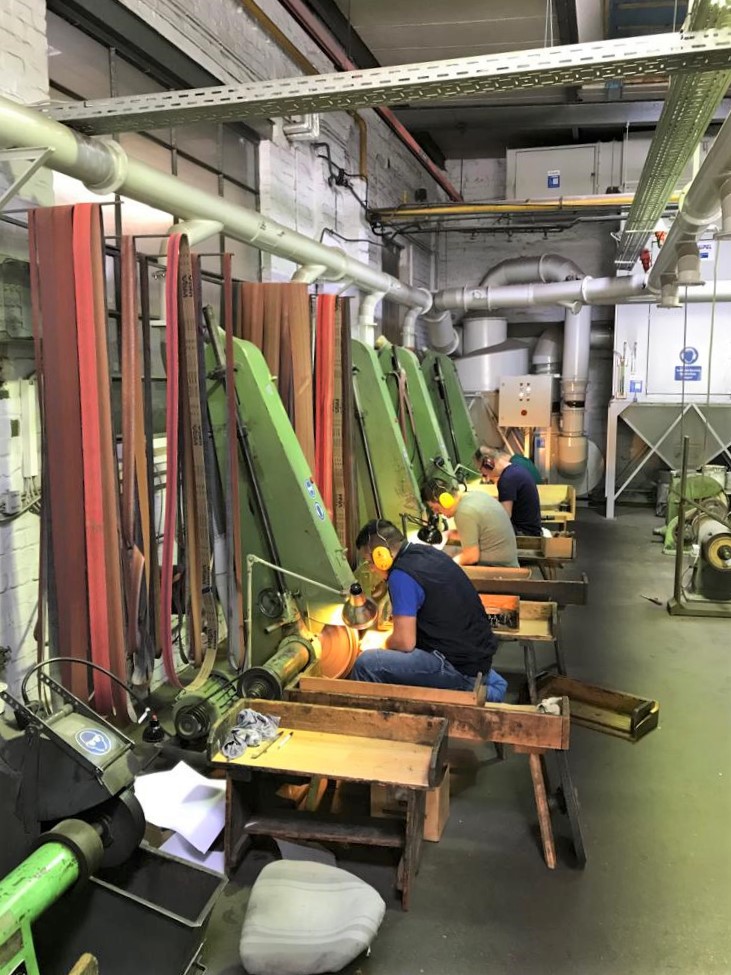 Left: The components of the knife. Center: A section of the Otter knife factory in Solingen.Right:Otter knives,
almost ready for shipment.

The 3-rivet knife goes just as well with jeans as with a suit and is suitable as an EDC pocket knife. Its drop point blade with the full flat grind performs every cutting task with flying colours. Since the knife is in the lower middle price segment, the 3-rivet knife is very affordable.
One thing is certain: the 3-rivet knife is a classic gentleman pocket knife with history and yet modern looks. An eye-catcher - for decades and an absolute buy recommendation.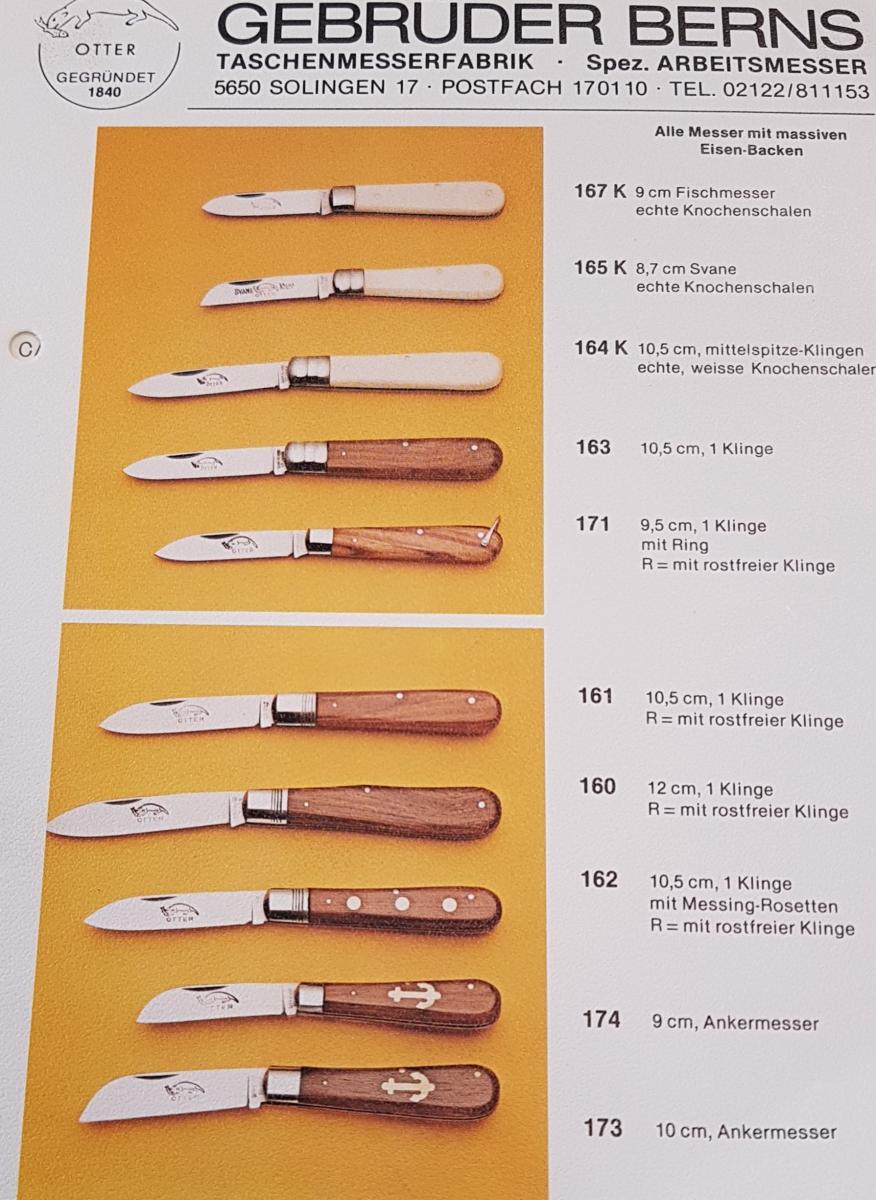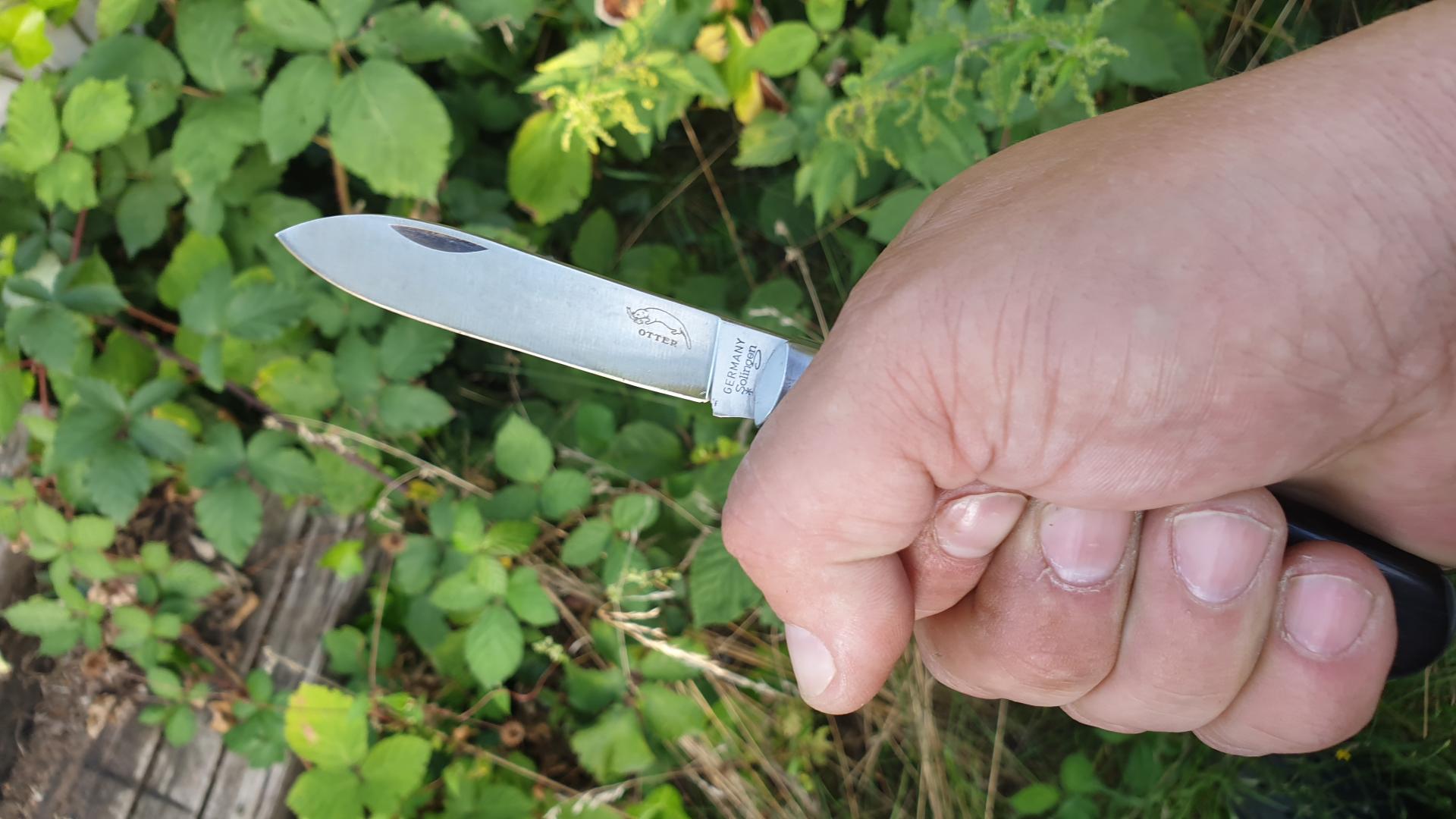 Left: An old advertising leaflet, when the company was still called Berns Brothers.
Right: The blade length of 90 mm serves most everyday purposes.