Opinel custom knives by Gert van den Elsen

Gert van den Elsen started out by making new wooden grips for Opinel knives. These are three examples.
From top to bottom: Spalted Birch, Olive and white Ebony.
Opinel custom knives
Several years ago, Dutch knife maker Gert van den Elsen started making beautiful wooden grips for Opinel folding knives. On his latest models, only the Virobloc remains an original part. Where will it end?

Text and pictures: Bas Martens

Dutch knife maker Gert van den Elsen has always felt love for the Opinel. "The Opinel was one of the first knives I owned. I found it a brilliant system, and I still do. Since then, I have always owned a few."
About ten years ago, the French knife magazine Passion des Couteaux, organised a competition for modified Opinels. "I participated in that competition, with a slightly customized Opinel. I always liked the knife, but found the beech wood handle a bit cheap. And the varnish wasn't too good either".
"So gradually I came to the idea that I could make a more beautiful knife. Then, almost eight years ago the owner of a hardware shop nearby was getting quite old and wanted to retire. He offered Opinel knives with a 20% discount. I asked how many he had in stock. He said that there were 150 knives. I offered him a price and bought them all".
With a sufficient supply of Opinels, Gert van den Elsen started making new handles from different luxurious pieces of wood. "A custom knife for people with a budget", he calls them. For himself, it was a nice distraction in between his regular, more complicated custom projects.

Two Opinel No. 10 custom knives, made by Dutchman Gert van den Elsen. Both have a Damask blade
by Achim Wirtz. The top knife has a handle of Amboina root, the lower one of Sambar stag.

Both Opinel No. 10 custom knives closed. The Virobloc ring is the
only original factory part left.
But that was not the end of the story. Achim Wirtz started to make Damask blades for the Opinels, and Gert van den Elsen combined these blades with even more beautiful and luxurious handles. The models pictured here are the Opinel No. 10, but Achim Wirtz is working on No. 8 and No. 9 blades as well.
The knives retain their original character, as they are still recognisable as Opinels. On these latest models however, only the Virobloc ring remains an original factory part. And even that may change. "I would love to make that ring of Damask", Gert van den Elsen says. "I just don't know how to do it. But maybe I will find out, and that may evolve into a new model of folding knife of my own design."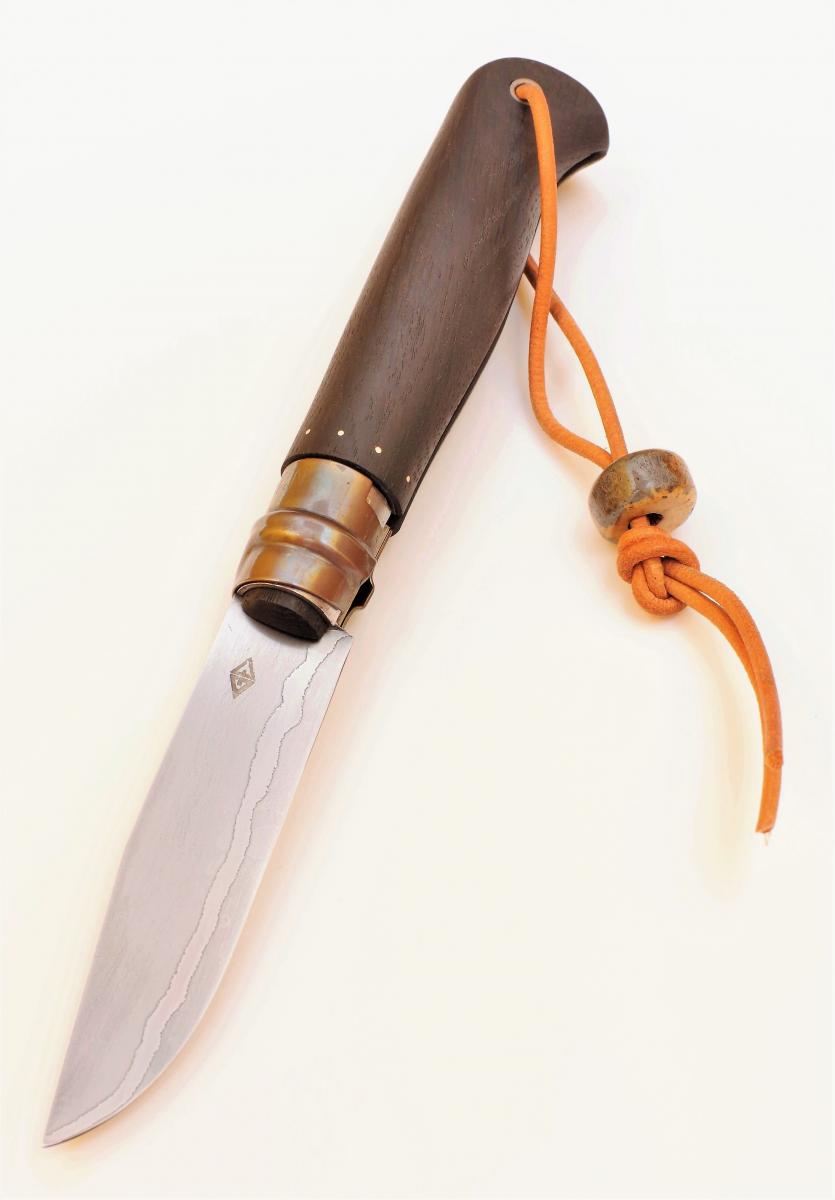 Another 'full custom', this time with an Achim Wirtz
San Mai blade and a handle made of Bog Oak.