Nože 2017, Příbram (Příbram knife show)
Nože 2017, Příbram (Příbram knife show)
The knife show at Příbram is one of the most diverse in the Czech Republic. Příbram may not be close to any airports or even main roads, but for the true connoisseur the show is not to be missed. Our report on the latest edition, held between the 9th and 10th of September this year, shows the quality and variety.

Text and pictures: Martin Helebrant

Příbram (pronounced Preebrum for simplicity - the actual pronunciation of the letter "ř" is one of the Slavic language mysteries mastered only by Czechs and Polish) with its 35,000 inhabitants is one of larger towns in Central Bohemia. It lies close to 55 kilometers southwest (a sailor would rather say southwest by south) from Prague. The town has a rich history. The silver mines of Příbram have been on record since the 16th century, feeding the state treasury of Rudolf II. It continued as a silver and iron mining town up to the 20th century, although the silver mine was almost completely depleted by the late 18th century. Still, in the 1920s the mines of Příbram were among the most modern of Europe. Its importance declined again once more in this period until large deposits of uranium ore were discovered in the 1950s.
In the 1960s, uranite was considered a strategic commodity for the communist regime and the town blossomed again. Sadly, large portions of the uranium mining took place during the communist regime, by forced laborers from the nearby labour camps. In the 1980s and after 1989 (the fall of the communist regime), Příbram fell off the map again. Today Příbram is a relatively quiet, sleepy town that reminisces about a better past and dreams of a better future.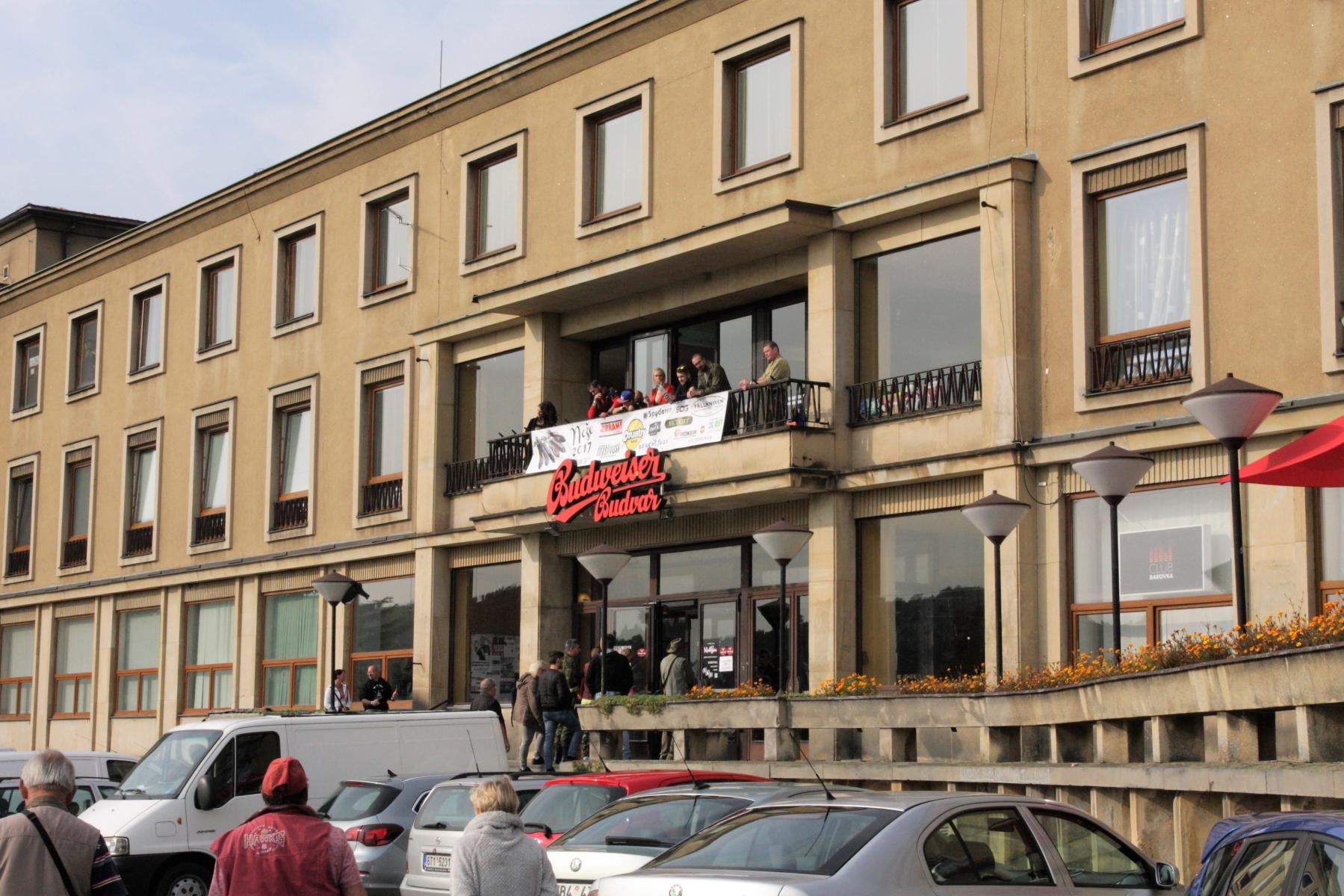 Left: The Cultural hall in Příbram, where the knife show is held. Right: A blacksmith's beer holder.
Knife show
In 1991, Pavel Formánek, an important spiritus agens of Czech knife making, organized his first knife show in this town. Despite, initially being a town of negligible knifemaking tradition, today, the Nože Příbram's exhibition is the largest knife exhibition in Czech Republic. Pavel Formánek has been organizing knife exhibitions in Příbram for 25 years and then, in 2016, he decided to withdraw and retire. The new organizer, Viktor Cais, is another well-known individual within the Czech knife making community.
The exhibition has traditionally been held in the Příbram Cultural hall. The building's architecture brings back memories of past communist days, yet a shadow of its former self. The feeling of stepping back in time is emphasised on Saturday, September 9th. The façade is lined with a queue of people (an inseparable part of the communist regime) – visitors waiting for the opening of show. Inside the cultural hall they are awaited by 88 knifemakers and around 15 knifemaking companies, importers and raw material traders. The exhibition utilized most of the large building – the main hall, 1st floor balcony and 2 smaller side rooms. Inside the main hall were tables showcasing the works of individual knifemakers, on the balcony and in the side rooms were booths of the institutional exhibitors and dealers of raw materials. Behind the building, on the grass, were tents with refreshments, field furnaces and re-enactment groups. Some tents were dedicated to the presentation of old craftsmanship.

The main floor just after closing hours was still full of people, but
compared to the morning crowd it is practically empty.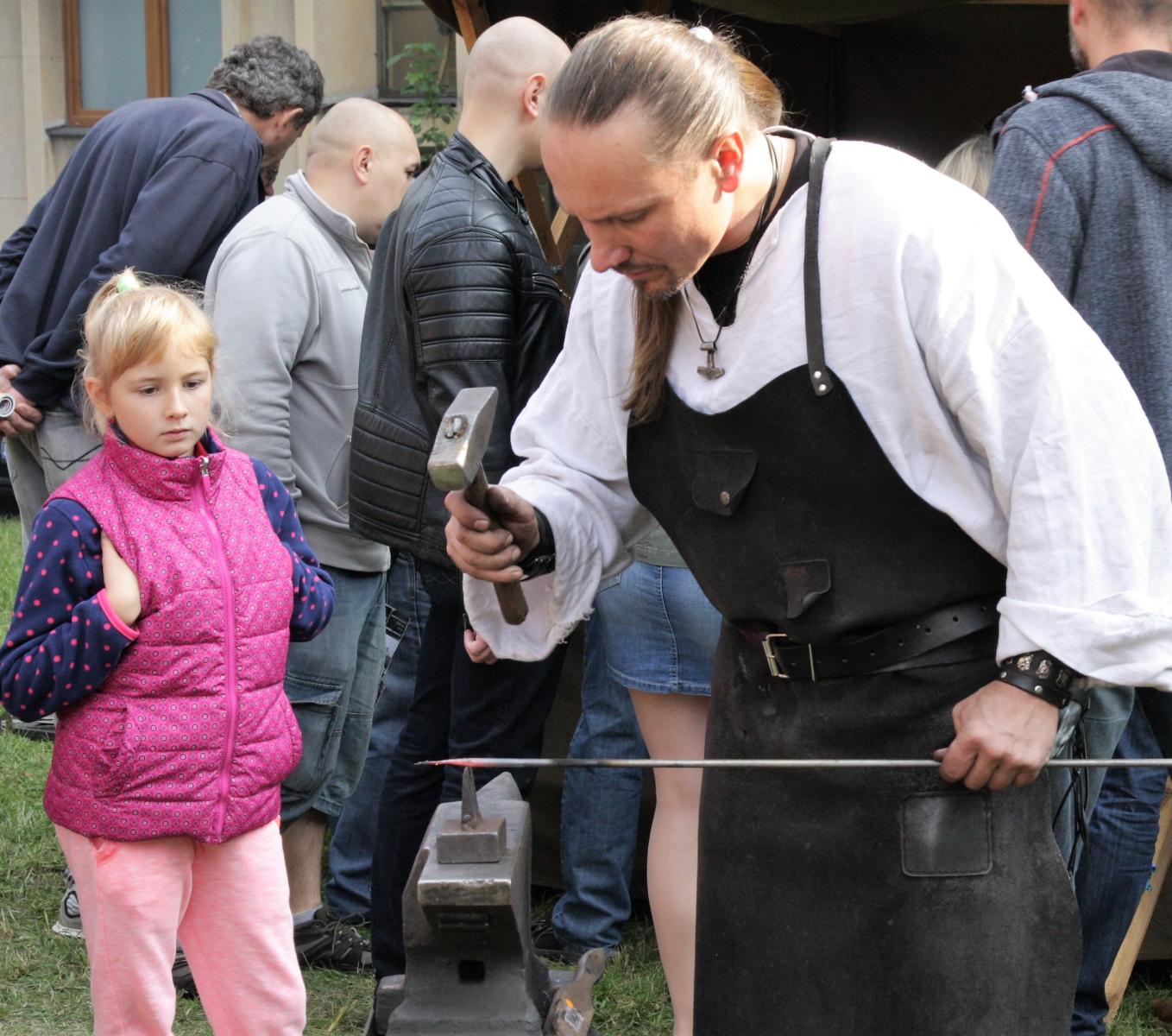 Left: Warming up the furnace and lungs. Right: This is how the point of an arrow is forged.
Like with every exhibition of this size, you can find brilliant examples of the knife making mastery as well as slightly less-than-perfect pieces. No matter its grandeur, there was a low international presence in Příbram. There were individual exhibitors from at least five countries (Poland, Slovakia, Hungary, Russia, Germany). The most international show this year was the spring exhibition in Brno (the article was in European Blades Mag. 3). Practically all the "big names" of the Czech knifemaking were here and it should come as no surprise that most of the awards were granted to the "old studs" like Karel Hons (Czech Republic, Pilsen) and Josef Pajl (Czech Republic, Sedlčany).
It was remarkable to see a lot of young or less known faces, some of them exhibiting an almost unexpected level of quality. In my personal opinion the most interesting samples were the "paleo" knives made with blades from flint. The maker was demonstrating how to make a flint blade in his tent on the green behind the building. I would have never expected that flint could be hair-shaving-sharp.
Damask knives in the open-air booth.

The booth of one of the largest Czech knife making factories, KDS Sedlčany.
Attendance
In terms of the number of visitors, the Nože 2017 exhibition proved to very successful. On the opening day, especially in the morning, there was a larger crowd than the last five or six years. In fact, the hall was so crowded that it was almost impossible to pass through it. The afternoon was quieter, but still I believe you could confidently say that the turnout was higher than previous years.
If you are interested in Czech knifemaking, this one exhibition can show you all its aspects in one place, keep your eye out the Příbram knife show. The Czech Republic has no restrictions in terms of size or mechanical features of the knife. This promotes design and development which blossom in terms of both style and design. The Czech Republic, with an average price level below the EU average, is a good source of knives with a very good quality to price ratio. Příbram may be somewhat off the beaten path, but it is highly recommended for the true connoisseur. If you are considering to purchase a good knife this year, do not despair. On December 10th of 2017 in Prague, in the New Town Hall, the advent knife exhibition will take place. Prague, just before the Christmas is a nice place to be, so why not to take your family shopping with you?

Chipping the flint blades is a surprisingly fast process - if you are skilled.

The 'Peříčko' (Feather) liner lock folding knife by Bohdan Chalupný.
Three variations, blade steel R690, handle materials are made of horn,
antler and palisander, blade length 90 mm, overall length 195, length
while folded is 135 mm.

Gerd Strohbach: Nůž (The knife), blade material N615, the handle
material is deer antler and leather, blade length 110 mm, overall length
is 236 mm.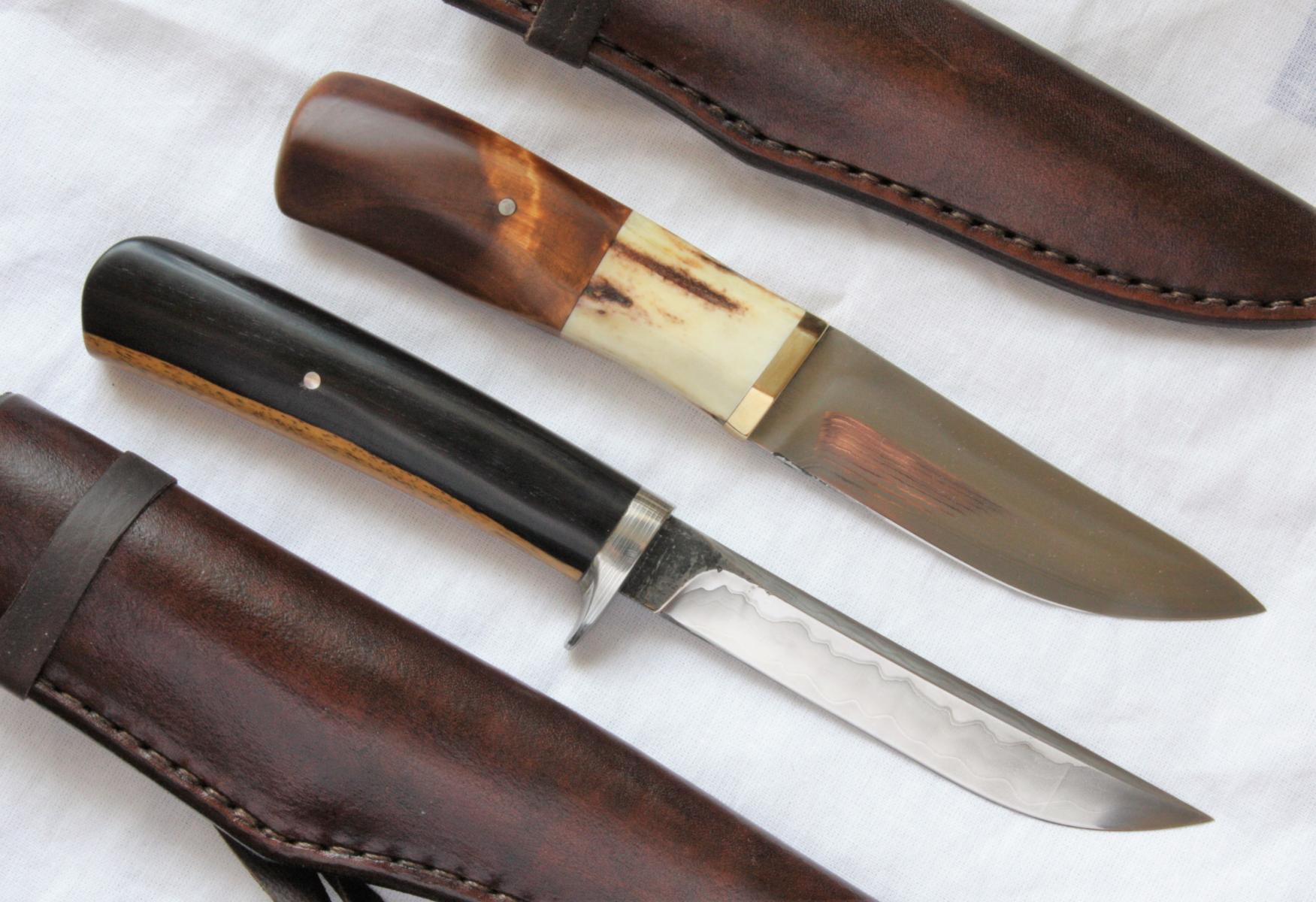 Lubomír Šmidrkal: no names. The top knife has a VG10 blade, the
lower one N690, and AK5 below. The handle materials are birch and
sambar above, grenadillo wood below, above blade length: 100 mm,
overall length: 205 mm, below blade length: 115 mm, overall length:
226 mm.
Pavel Komberec: no name, the blade is carbon steel, the handle is
resin impregnated rope, blade length: 165 mm, overall length: 225 mm.

Petr Pospíšil: the 'Hubertus' and three variants of the Kolibri. Blades
are all Böhler 1.9116, handles bruyère, antler, elm. The Hubertus has
a blade length of 105 mm and overall length of 210 mm, Kolibri blade
length: 60 mm, overall length: 146 mm.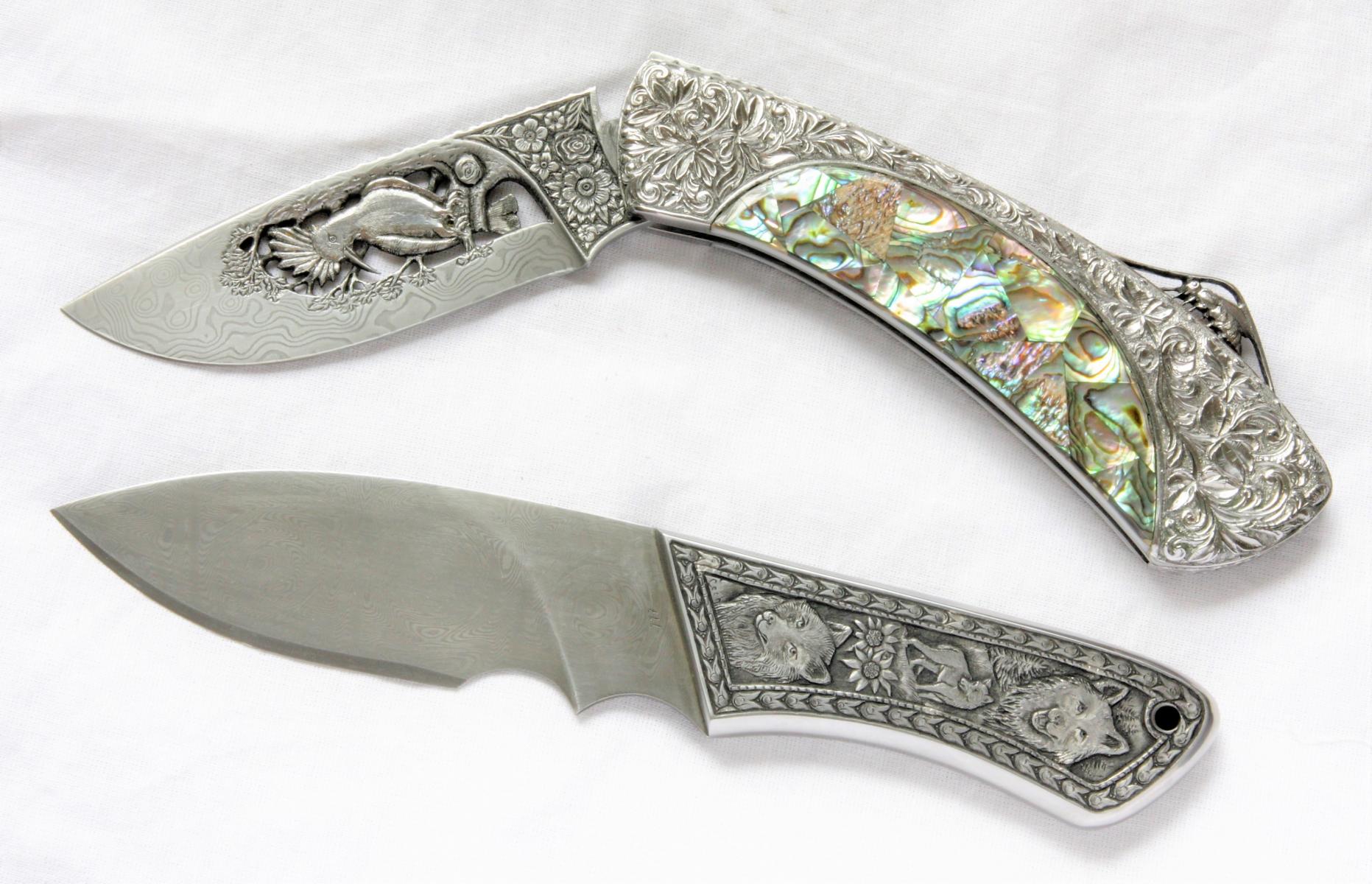 Jaroslav Čech: folding knife 'Dudek' (Hoopoe – a bird) and a nameless
fixed knife, blade material 'Dudek' is Damasteel, no name AK4,
handle material Dudek AK9 and mother-of-pearl, no name AK5, Dudek
blade length: 110 mm, overall length: 260 mm, folded length: 158 mm,
no name blade length: 105 mm, overall length: 225 mm.

Jiří Čurda: no name fixed blade and folder, the blades of both knives
and saw are made from carbon damask steel, handle fixed blade antler
and bruyère, the folder has coloured giraffe bone, fixed blade length:
118 mm, overall length: 248 mm, the folder blade length: 92 mm, overall
length: 210 mm, folded length: 120, the folder has a liner lock on the
blade, the saw is held in place by a simple spring.

Jiří Rachota: kitchen knives, all the blades are made of N690, handles
plum, maple, beech, blade lengths: 245 mm, 250 mm and 185 mm from
top to bottom, overall lengths: 370 mm, 370 mm and 305 mm.

Miloš Kislinger: nameless folding dagger and knife, the blade material
dagger is ELMAX, the folder is carbon Damascus, the handle of the
dagger is titanium, the folder has fossilized tiger coral, dagger blade
length: 101 mm, overall length: 226 mm, folded length: 126 mm; folder
blade length: 86 mm, overall length: 196 mm, folded length: 112 mm.

Two minimalist concepts by Michal Jarý, the material used is carbon
damascus steel, blade length: 80 mm resp 102 mm, overall length:
175 mm resp 214 mm.

Unčovský knives: above the 'Baroque' below the 'Sea Storm'. Blade
material RWL 34, the handle material is titanium, blade length: 80 mm,
overall length: 180 mm, folded length: 100 mm, liner lock, deep laser
layered engraving.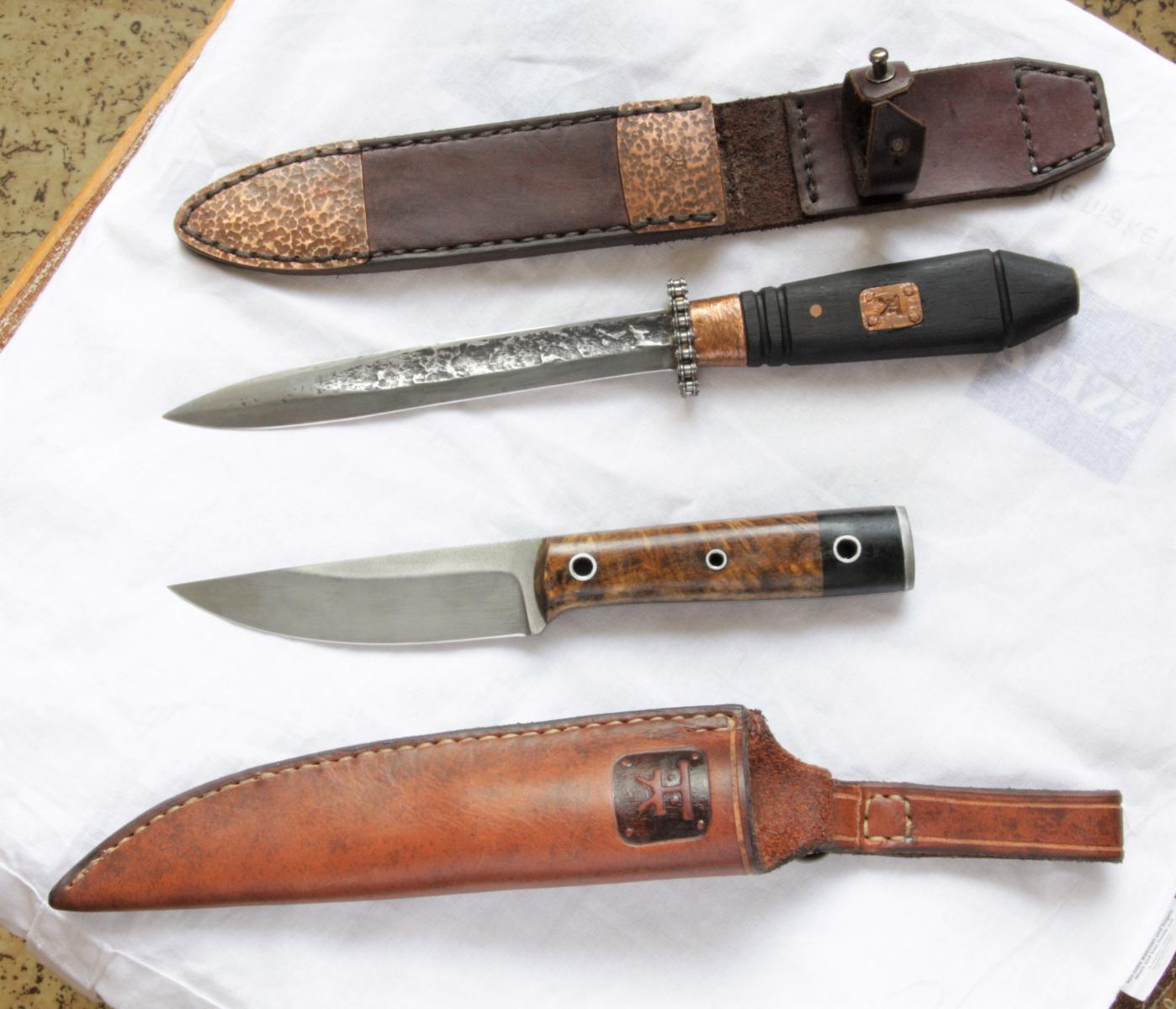 Karel Hurník: nameless, blade material above from an old Mannlicher
mod 18895 bayonet, below ELMAX steel, the handle material above is
ebony, below acacia and ebony, top blade length: 160 mm, overall
length 282 mm, bottom blade length: 111 mm, overall length: 224 mm.

Zdeněk Janča: nameless, blade material C130, handle material
grenadillo, alpaca, silver, blade length 89 mm, overall length 204 mm.

Pavel Komberec: no name, the blade is carbon damascus steel, the
handle is manta skin and beef bone, blade length: 102 mm, overall
length: 215 mm.

Pavel Formánek, who started the Příbram knife show 25 years ago.

A brief interview with Pavel Formánek:

Q: After 25 years of organizing the show, you are here as a 'regular' visitor. How do you feel?
A: On one hand I am relaxed, I have no problems, although I am still trying to be helpful. On the other hand, it is like when your child is leaving home. In the end, it is up to someone else to worry about it. All you can do now is to try to support the event and keep your fingers crossed.
Q: What brought you to knives?
A: I needed one. When I was younger I spent a lot of time in the woods. When you are wandering for a month in Český kras (nowadays a natural reserve near Prague) without a knife you are in trouble. That's why I ended up needing more than one. A knife is a very important tool. It is a simple tool but has countless variations in shape, design and size. When I quit speleology, I excavated my drawer. I found a Střelecká revue magazine (a Czech arms magazine) with an article about knives from Ing. Factor. It motivated me enough to get to the same level. And that was it, I was hooked from then until now.
Q: Why did you decided to organize an exhibition?
A: Today, I couldn't tell you anymore. There was an interest here to have some kind of exhibition. Then I went to Munich to see one, for the first time, by invitation of Mr Jeterberg from Sweden. I was there, I saw how they organized the event and I thought: 'This is something what we can do as well'. So, we tried it here in Příbram, in close cooperation with a friend from Slovakia and we put it together. It ended up working and took on a life of its own we were all drawn to it. It's elementary, my dear reporter.
Q: It has been 25 years. Did you imagine that you would be organizing the exhibition year after year for a quarter of century? That it would become the exhibition of the Czech knife making craft?
A: Definitely not, not even in my wildest dreams. If I had known then what I know now, I would most likely never have started it. Luckily, there were plenty of great friends who enjoyed the show and it snowballed from there. I would never have been able to organise the exhibition if I was on my own.
Q: Why Příbram?
A: I had some good relationships with people here, it had a big hall and the price for renting the hall was fair. Behind the building there was a grassy area for the supporting program. Still, everybody said that it wouldn't work, that it has to take place in Prague or Brno. But it worked. It's impossible to comprehend, but it worked.
Q: When looking back over those 25 years, is there anything you would do differently?
A: Probably not. I cannot do it another way. Now a new organizer has taken over. We're very different from each other. He is a man of business, I am a tramp. The money is fine, the exhibition has to make money to keep it alive, but profit was never a priority for me. From the very beginning I organized the exhibition for the knifemakers and for the fans. It came from the heart. The new people see it somewhat differently. Although, Viktor is also a fan and a freak. I believe in him and I hope that he will succeed in keeping the tradition alive and build on it. I wish both him and the exhibition a lot of success.
------------------------------------------------------------------------------------------------------------------------------------------------------------------------
Victor Cais, the present organizer
of the Příbram knife show.

A brief interview with Victor Cais

Q: How did you get into knives?
A: In the early 1990s, I was interpreting and cooperating a lot with many people from the former USSR. And one day a man from Dagestan came to my Prague office with a big bag over his shoulder. He said: "they told me that I can trust you. We are making knives. Sell them. I'll come back in a month or two and we will talk again". He left the bag on the floor and left. In the bag were knives made by Kizlyar. I became their dealer in the Czech Republic and entered the knife business.
Q: How did you get to the Příbram exhibition?
A: Because of Kizlyar knives again. I started to exhibit here. In fact, it was the producers who told me: "there will be an exhibition in Příbram, so go there and try our luck". And I went there and it was good. Then I organized knife exhibitions in Prague together with Zdeněk Janča, but later on I stepped out because of a lack of time. Zdeněk is doing the Prague exhibitions today, and doing them well. When Pavel Formánek announced his resignation as an organizer, I thought about taking it over for a long time and in the end I decided to do it.
Q: Why?
A: Someone has to. You should let an exhibition like this end simply because we are getting older and tired. I am tired now, exhausted even, the exhibition is in full swing and I want to say: "No more! It's too much." But I can't. In a day or two, I will know that I will have to go and start thinking about next year.
Q: What are your dreams about the future of the exhibition?
A: I would like to bring in more kitchen and utility knives. Now the exhibition consists mostly of knife makers and knife freaks and is focused, primarily, on custom knives. I would like to introduce knifes that we use daily as well. Maybe even add some food exhibition or cooking exhibition too, to attract women and turn the exhibition into a true whole-family experience. But the main dream is: keep it going. Do not let this tradition die.