My knife: Nicolas Dartus
My knife: Nicolas Dartus
Where do knife makers get their ideas? What inspires their designs? Our series on custom knives shine a light on one specific knife. In this issue: an outdoor knife by French knife maker Nicolas Dartus.

Text and pictures Bas Martens

Nicolas Dartus (37) describes himself as a knife maker who's still wet behind the ears, but that is overly modest. He has been an independent knife maker since 2013, and this year he was accepted as a Journeyman by the American Bladesmith Society.
French knife maker Nicolas Dartus likes his knives simple and sturdy. This knife has a selectively hardened
XC75 steel blade, and a handle of Elm burr.
His reason for becoming a knife maker was simple he says, "I always had a passion for knives. I read a lot of knife magazines, and I wanted to try it for myself. So I started to forge and then I decided to become a professional."
Nicolas Dartus has a straightforward style. For him, a knife is an everyday tool. You should be able to use it, without fear of damaging it. Dartus himself loves the outdoor. He spends a lot of time in nature with a knife on his belt. This is reflected in his designs.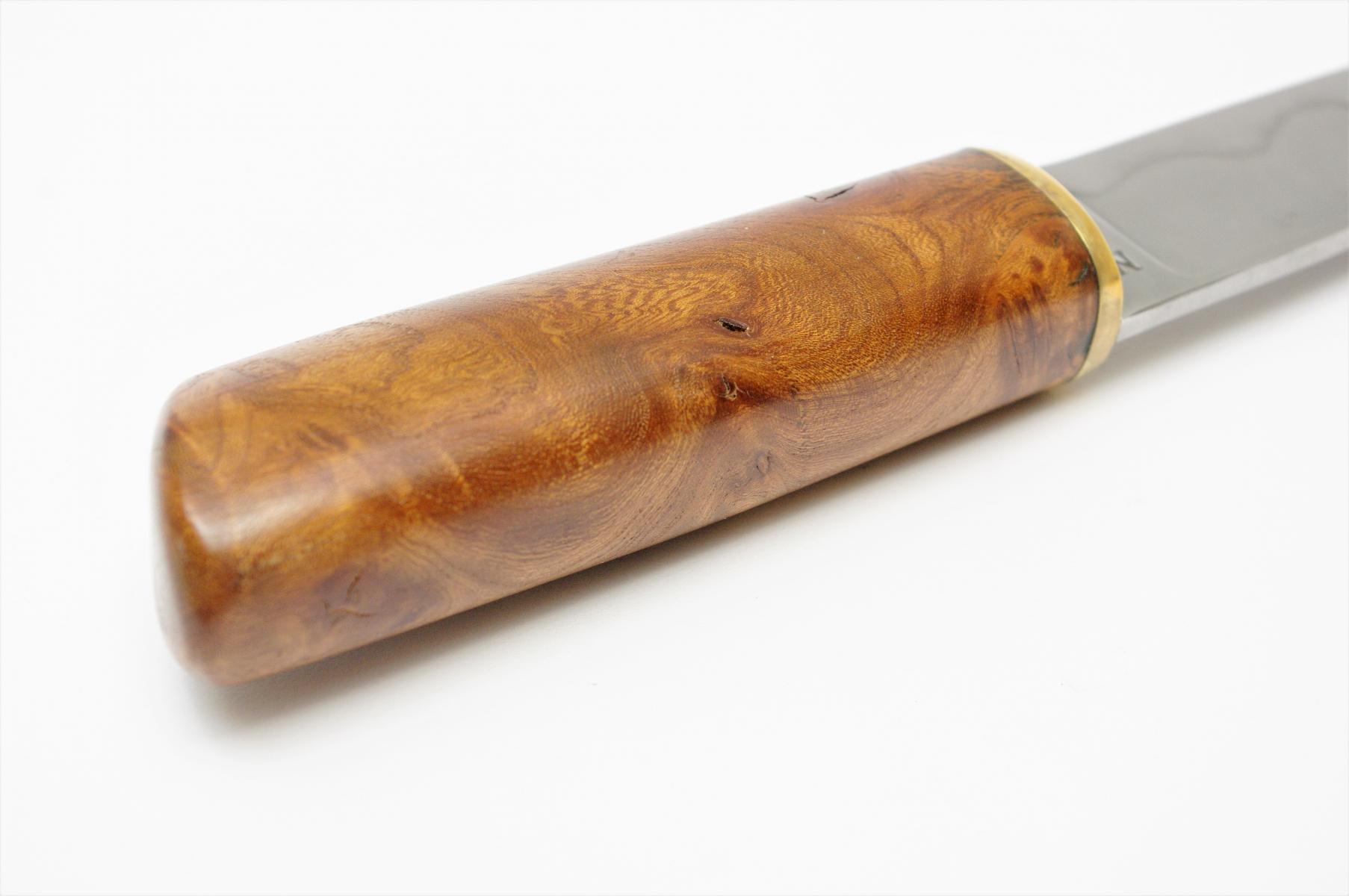 The round handle fills the hand.
Nicolas Dartus likes Scandinavian knives: simple and effective. The knife pictured here is a nice example of his work. A fixed blade, made from selectively hardened XC75 steel, and a handle of Elm burr. Dartus works with five or six different types of steel which he gets to know better and better. XC 75 is one of his favourites: easy to work with and he always gets good results.
The shape of the handle is based on his personal experience. "I like a handle that fills my hand, that is why it is round". The dimensions of blade and handle come from experience as well. "The best length of the blade is 13 cm, the best size of the handle is 12 cm", he says.
Left: The knives of Dartus are well-made, without any frills. Right: The makers' initials on the blade:
ND for Nicolas Dartus.

Thus far, Dartus has focussed on fixed blades, which has a logic explanation as well. "You need to forge a fixed blade. A lot of things happen during forging, so every knife is different. It is also a way of expressing myself. There is an immense pleasure that comes from turning a simple piece of steel into a knife, to turn raw material in an object you can use."
For more information have a look at
http://www.coutelleriefeuetforge.fr/
.