My knife: Hervé Maunoury
My knife: Hervé Maunoury
Where do knife makers get their ideas? What inspires their designs? Our series on custom knives tries to shine light one specific knife. In this issue: the 'Black Eagle' by French knife maker Hervé Maunoury.

Text Hervé Maunoury, pictures Bas Martens
The 'Black Eagle' from French knife maker Hervé Maunoury.

"Like many of us knife makers, I have always been attracted by knives, especially by their versatile nature as tools.
I think that the minor aspect that a knife can serve as a weapon gave me confidence. When I was still very young my mother gave me a dagger 'scout' type Solingen. At that time, living in the country as I did, I could proudly wear it on my belt.
"I have been making knives since childhood ... with more or less success! My work as a professional musher, which
I practiced for twenty years, not only forced me to have a quality knife but it forced me to discover Finland and the Puukkos. There, I met fellow mushers who made knives during the short Lappish summer. They worked in the pure Scandinavian tradition and they kind of 'put my foot in the stirrups'. I started to forge for the pleasure of it and now it's been more than five years since I became independent knife maker.
Close-up of the handle with the eagle's head scrimshaw.

"This knife is called the 'Black Eagle'. I wanted to make a generously proportioned camp knife. I particularly like feather Damascus; it is a form of Damascus that I find 'poetic'. On this knife, it is a feather explosion Damascus of about 500 layers. I like watching raptors, they fascinate me. The feather Damascus and the eagle scrimshaw on a stag antler insert gives the knife the same theme. I also made a small eagle-head scrimshaw on the scabbard closure.
"The guard and the pommel are from the crown of a deer antler. The black wood is Morta, which I chose because its colour is reminiscent of the dark contrast of the Damascus. The hidden full tang with no screws or pins give me a complete freedom of expression on the handle. There are birch bark spacers in the Scandinavian style.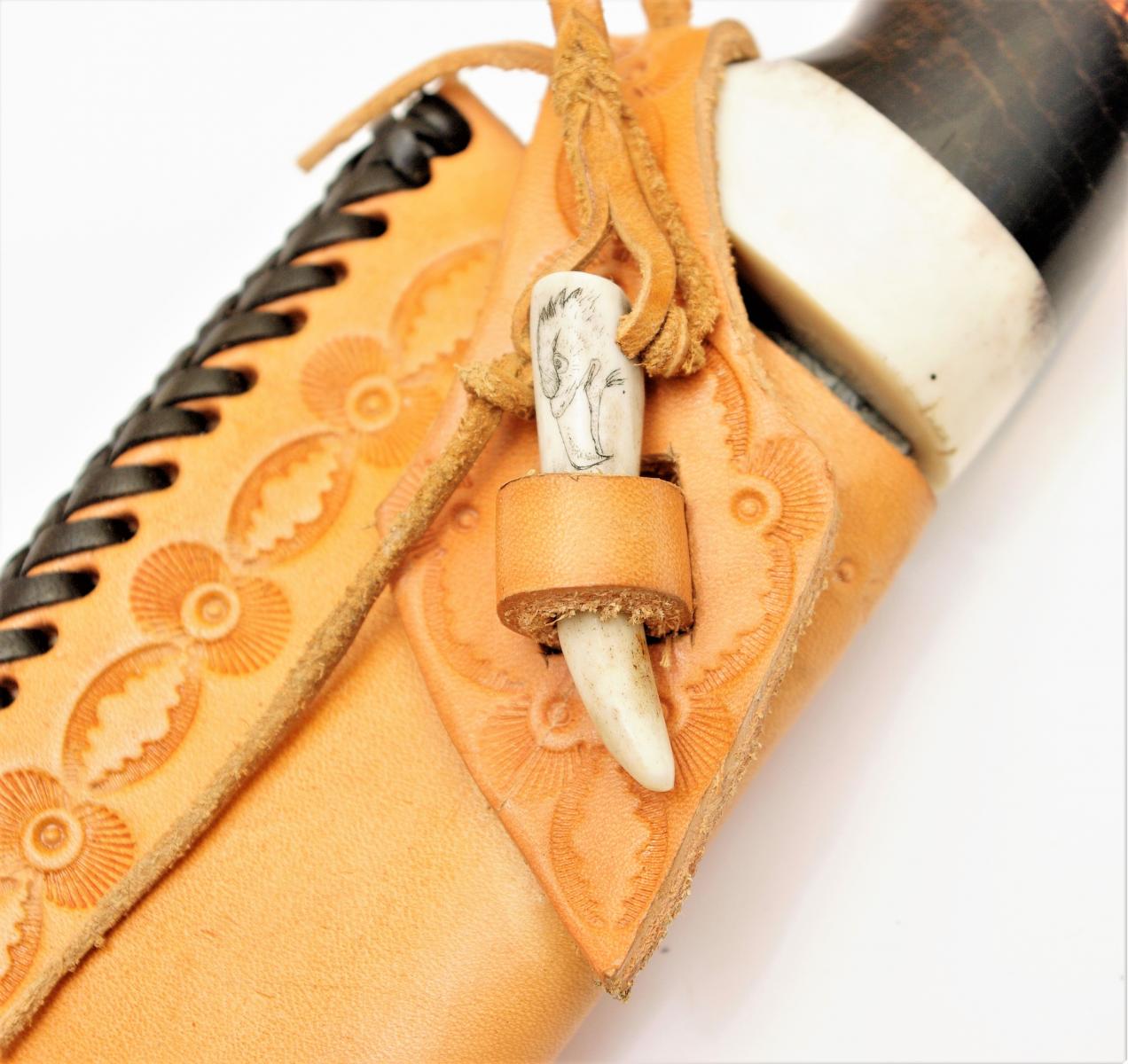 Left: There is a small eagle-head scrimshaw on the scabbard closure.
Right: Close-up of the feather Damascus blade.
"I like to do all steps of my knives myself, from Damascus to leather scabbard. Scrimshaw is a technique I discovered in the 80s in the United States. On the shores of Lake Michigan I met a family of native Americans who lived off of the fish they caught. The grandfather sold small pendants with deer antlers on which he made scrimshaws. I loved it and he showed me how to do it. I still have the pendant he gave me.
"Perhaps this anecdote shows a Native American inspiration in my work, but in fact I like to combine different primitive techniques such as lacing leather in a Mexican or Argentinian style, Inuit scrimshaw, and Scandinavian duodji in terms of lines and materials."
For more information on Hervé Maunoury see
www.couteaux-herve-maunoury.com
.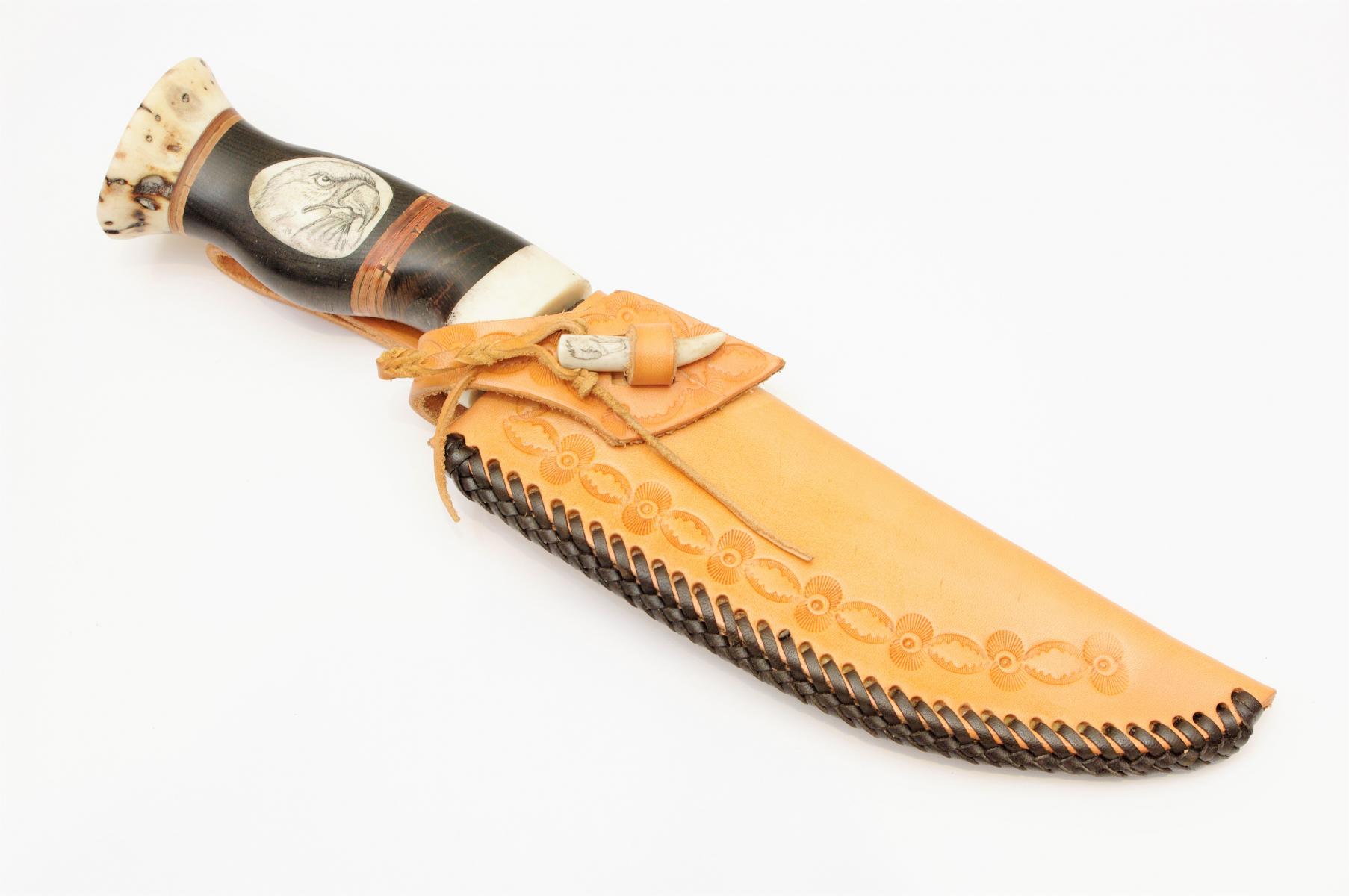 The 'Black Eagle' is a generously proportioned camp knife.