Knife show: Coutellia 2023
Coutellia 2023 in Thiers was in all respects a record-breaking edition: 300 participants from 16 countries, ranging from knife makers to material suppliers, and almost 7200 visitors. Knife making is an important part of French culture and that shows.

Text: Bas Martens. Pictures unless otherwise noted: Erik Chateau

With almost 7200 visitors in two days, the show was very well attended. (photo Serge Bullo)

There is probably no country in the world with as many knife shows as France. Almost every weekend there is a knife show somewhere, or a show of arts and crafts where knife makers are present. Knife making is very alive.
King of all those knife shows is Coutellia in Thiers. The name is a household name and, after three decades, needs no explanation. Coutellia is where all aspects of the craft - or art - of knife making come together: from the products of individual knife makers, tools and materials, to forging demonstrations and exhibitions. The 32nd edition in May this year attracted nearly 7200 visitors.
Coutellia 2023 had its usual awards for which there was a fierce competition, with 42 submissions. The Prix Coutellia was won by Romain Alvarez, who has a very good year: he also won the jury prize at the EKS 2023 is Strasbourg. The Coutellia jury prize was for "le Champêtre" (which can be translated as rural, or the countryside) by Joël Alexanian, and the public prize for "Fraternité" by Gilles Reverdy. Stéphane Robin got the "Prix Groupama", awarded by assurance company Groupama.
This year was the second edition of the "Damascus World Cup" competition. Six teams were given the same basic materials and then had three hours to make a damask blade. The blades were judged by their creativity, aesthetics, technique, quality and expression. The first prize was won by Claryx Forge, the second prize by "Les Traînards"and the third prize by Coeur de Forge. The trophy was made by last year's winners, Hispamébro.
These and the following pages show the winners, and a selection of the knives on display. Coutellia 2024 will be held on 18 and 19 May.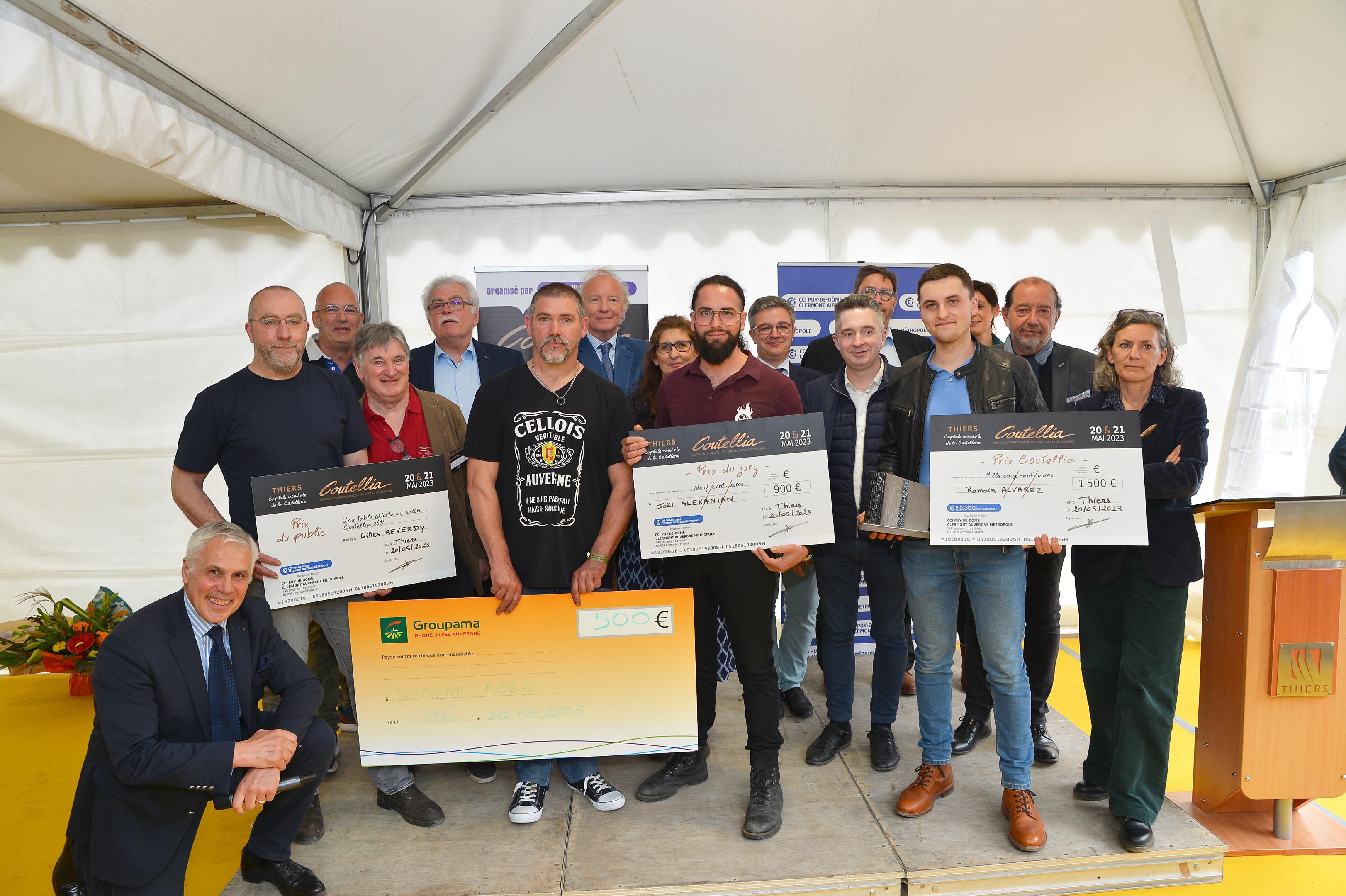 The Coutellia 2022 laureates. From left to right: Gilles Reverdy (public prize), Stéphane Robin (Prix Groupama),
Joël Alaxanian (jury prize), and Romain Alvarez (Prix Coutellia). (photo Serge Bullo)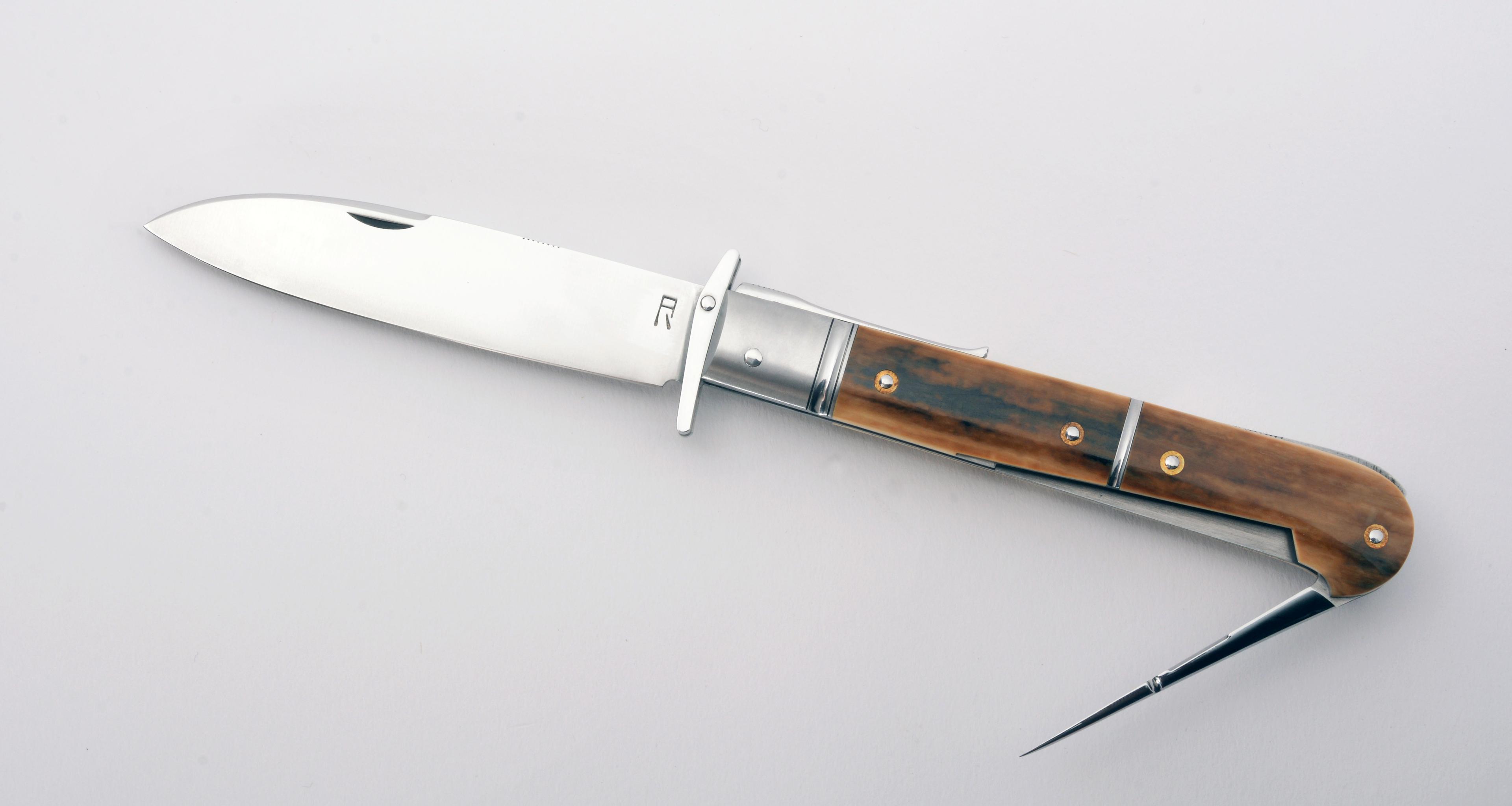 Romain Alvarez won the Prix Coutellia with this folder. (photo Serge Bullo)

"Le Champêtre" (which can be translated as rural, or the countryside) by Joël Alexanian won the Coutellia
jury prize. (photo Serge Bullo)

The public prize was awarded to for "Fraternité" by Gilles Reverdy. (photo Serge Bullo)


Stéphane Robin's folder won the Prix Groupama. (photo Serge Bullo)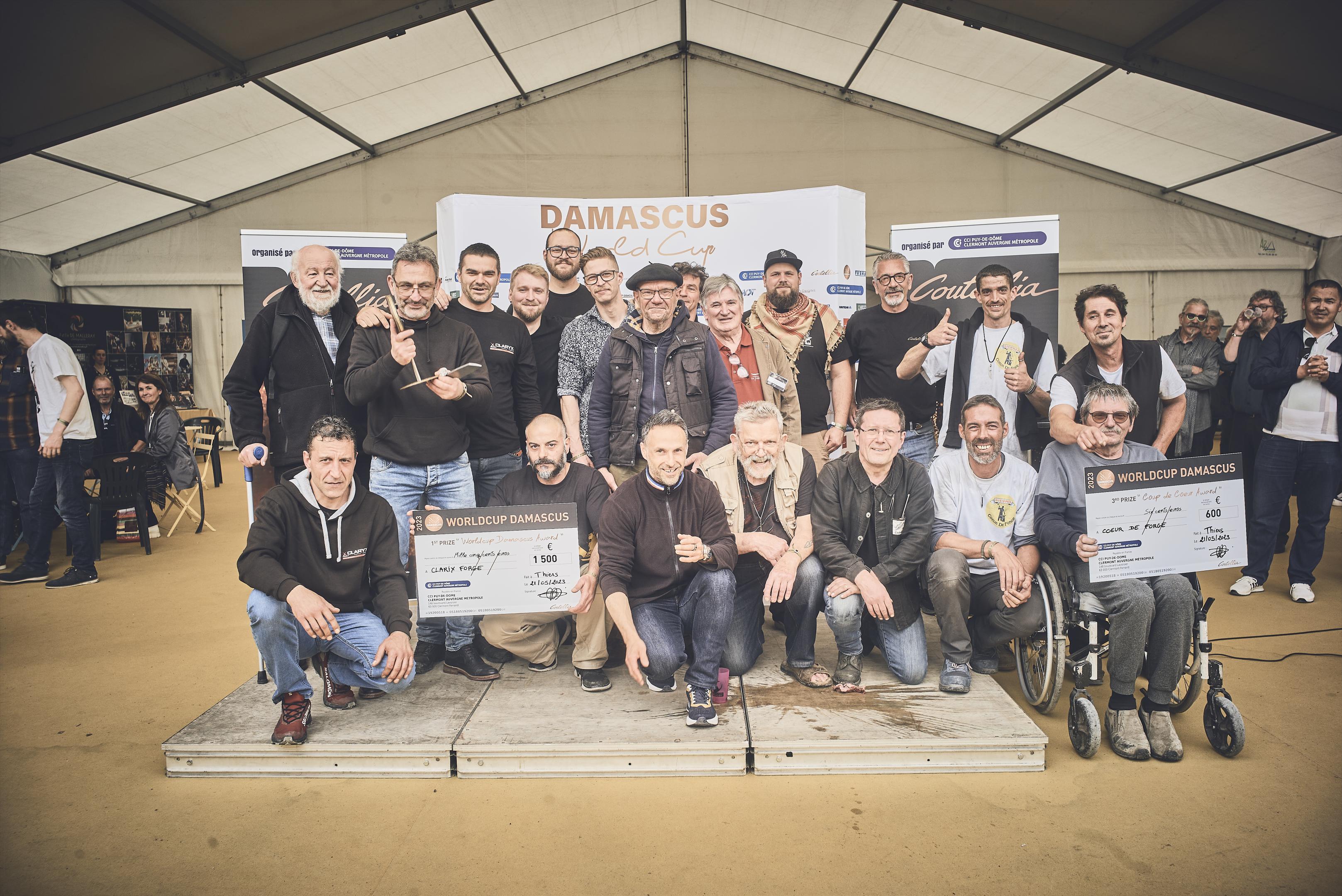 The participants for the "Damascus World Cup" competition. (photo Felix de Malleray)

Two hunting knives by Greg Picard. Both have C130 blades and Sambar handles.

A Puukko by Benoit Maguin, with a C130 blade, Bronze and Titanium guard and stabilized Birch handle.
Two knives by Michael Moing. The top one, "Danny", has a 100Cr6 blade and Brich burl handle, the lower
one, "Tomy", has a Damask blade and colorized stag handle.

Two "Sheffield" knives by Graveline, both with RWL34 blades and Mammoth ivory handles, partly engraved
on the lower one.

Two folders by Gilles Reverdy, named "Objectif Lune "(destination moon). Both have XC100 blades, Z40 liners
and sculpted silver handle scales.

Two kitchen knives by Coutellerie Rat Noir: a mini-cleaver with80CrV2 stonewashed blade and Texalium handle,
and the "Atrax", with a Carbon Damask blade, and Fat Carbon "Frost" handle scales.

A folder by Gary Headrick. The blade is Daniel Vally Damask, the handle scales are Mother of Pearl.

A typical French EDC, the "Prestige" by Couperier Coursolle. The blade and corkscrew are carbon steel,
the handles are aged brass.

"Le Saint Vincent", a sommelier knife by Goyon-Chazeua. The knife blade is 14C28N, the frame is Inox
and the scales are Carbon Fiber.

A remarkable knife by Matt K, in which one part of the sheath doubles as the knife handle.

Three knives by Chomilier. From top to bottom a Mike Norris Metadamask blade and Mammoth scales,
center a Chad Nichols powder Damask blade and Lapis Lazuli handle insert and bottom a Bertie Rietveld
powder Damask blade with black Mother of Pearl handle inserts.

Two examples of the "Alter Ego" folder by Couteau Trêfle. The blades are 12C27 Inox, the handle scales
Fat Carbon (top) and Pistachio wood.

A camp knife by Atelier des Allobroges. The blade is XC75, the handle is Elm Burl.

Two folders by SMZ. The blade is Inox/90MCV8 sandwich Damask, the handle is Buffel horn and Ebony.

Two folders by Maria Julien, a penknife and the "Bulldog". Both have an XC75 blade and a handle from
textured and patinated steel.

A folder with a secret mechanism by Eric Depeyre. The blade is RWL34, the handle scales are carbon fiber.

"Le Big" by Forge du Ronin. The fixed blade is from C130 steel, the handle is Mammoth Ivory and Amboine.
"L'Orque vulcanique" by Atelier les 2 Diables. The blade is 14C28Nvolcanique, the handle is volcanic slags
with Rosewood.
Two knives by Adrien Boulmer: a carbon steel Kiridashi and a friction folder with a XC75 patinated blade
and textured green handle scales.