Knife news: IWA Nuremberg
Knife news: IWA Nuremberg 2019
The abbreviation IWA originally stands for Internationale Waffen Ausstellung (International Arms Fair). Some years ago, the name was changed to IWA OutdoorClassics, and nowadays the trade shows features almost everything from firearms, outdoor to knives. This years' edition was held from March 8-11.
One of many knife makers' booths at the IWA show. This one from Fox Knives. (Picture Messe Nürnberg)
Böker
German knife company Böker celebrates its 150th birthday and that means a whole range of anniversary models and special editions. One of the most remarkable is the Smatchet Anniversary 150 Damast. The impressive knife, after the famous design by Rex Applegate, has a Chad Nichols Damascus blade en ebony handle scales. Only fifty numbered specimens will be made, with a leather sheath. MSRP is almost 2200 Euros.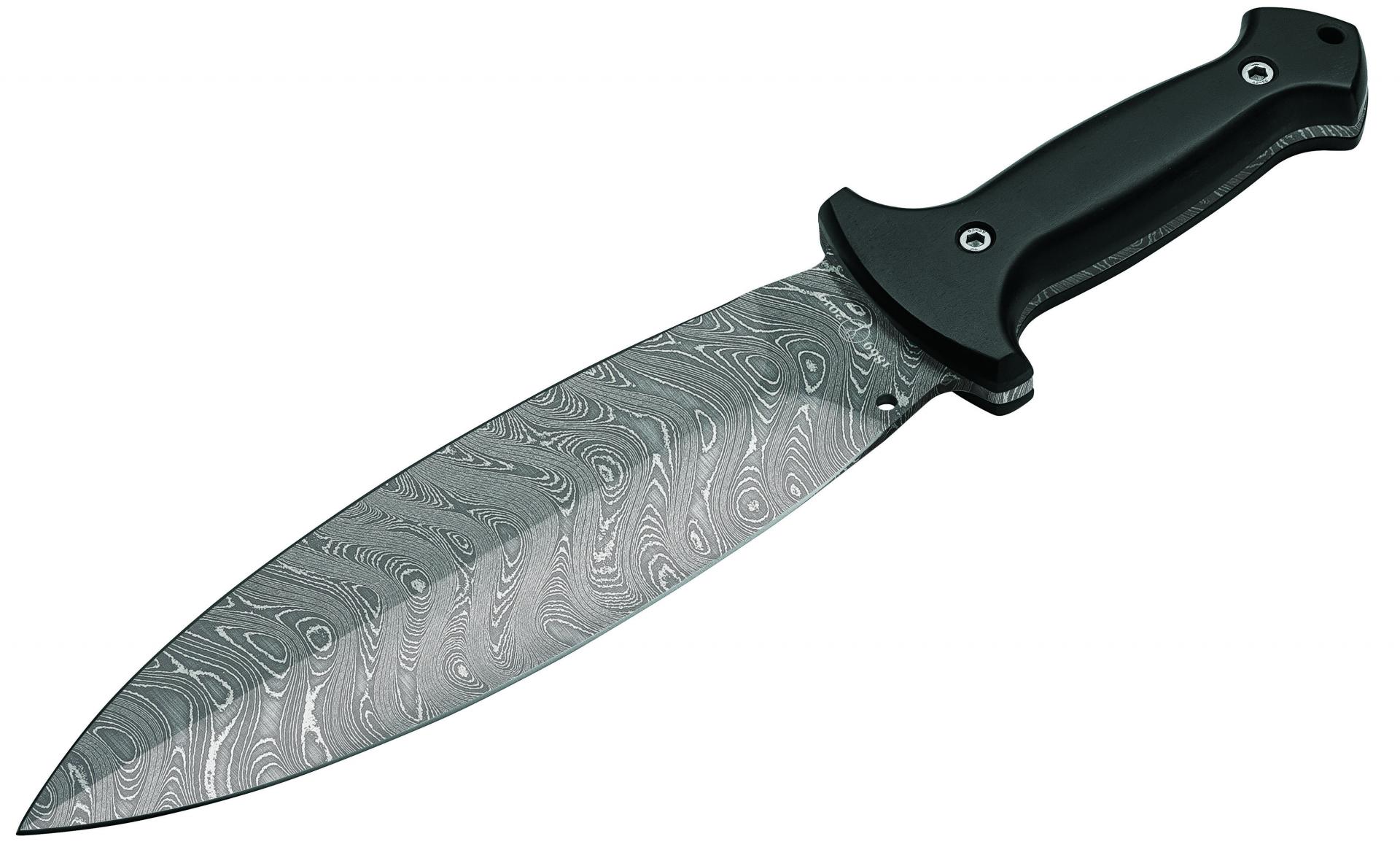 Sportmesser
The 'Sportmesser' (sporting knife) was one of Bökers earliest models, so it goes without saying that the company made a anniversary version. Limited to 150 numbered pieces. The Sportmesser features an etched blade and handle scales from stabilised curly birch.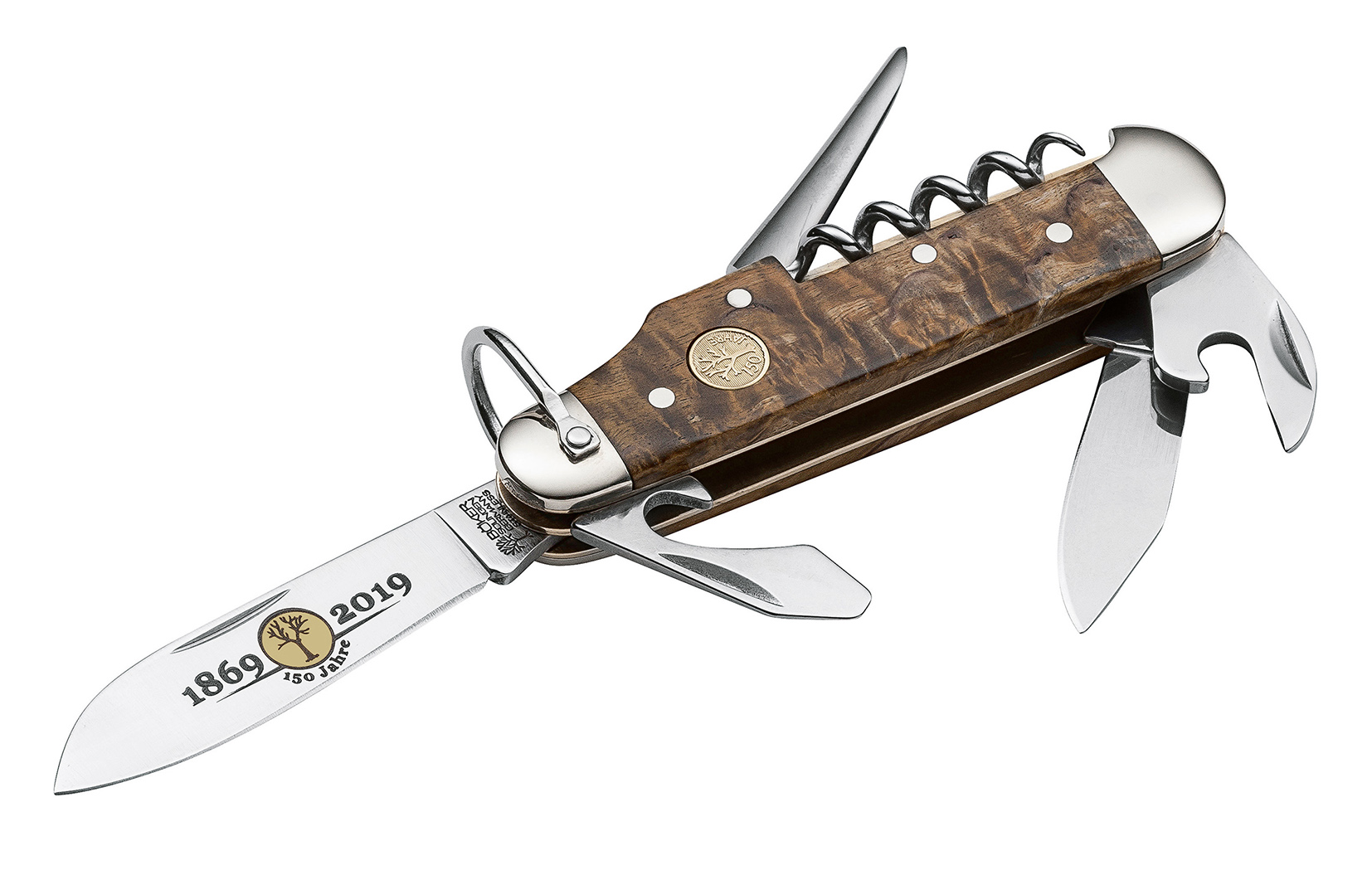 Maserin
Italian knife maker Maserin introduced four new models, of which we present the Scout and the Artiglio. The Scout is a friction folder with a 80 mm blade made from D2 with a stonewash finish. The handle is red, grey, blue, green or orange micarta, or olive wood as pictured. The knife weighs 72 gram.
The Artiglio is a linerlock folding knife, designed by Giacomo Toncelli. The 100 mm D2 blade has a stonewash finish and a flipper for opening. The handle scales are black, green, grey or dark grey canvass Micarta. The Artiglio has a reversible pocket clip and weighs 154 gram.
The Maserin Scout (top) and Artiglio
Workaholic
German knife maker Sven Kinast shows his Workaholic, a knife which is produced by QSP from China. The knife has a 89 mm N690 blade, three different types of handle scales and comes with 2 meters of paracord and a small screwdriver.
Extrema Ratio
The Selvans is a cooperation between Italian Extrema Ratio and the FISSS (the Italian survival federation). The knife is a modified version of the military Ontos survival knife, with a longer handle and heavier blade. The accompanying survival kit consists of a whistle, chain saw, water purification tablets, compass, wire, fire maker, LED light, sharpening stone and 2.5 mm paracord. The blade of the Selvans measures 160 mm.
Fox Tur Folding
Danish knife makers Jens Ansø and Jesper Voxnaes are among the household designers of Italian Fox Knives. Both came up with a new model for this year: Ansø with the Ziggy and Voxnaes with the Tur Folding, pictured here. As the name implies it is a folding knife with a 75 mm N690Co blade and G10 handles. The Tur Folding has a coloured back spacer.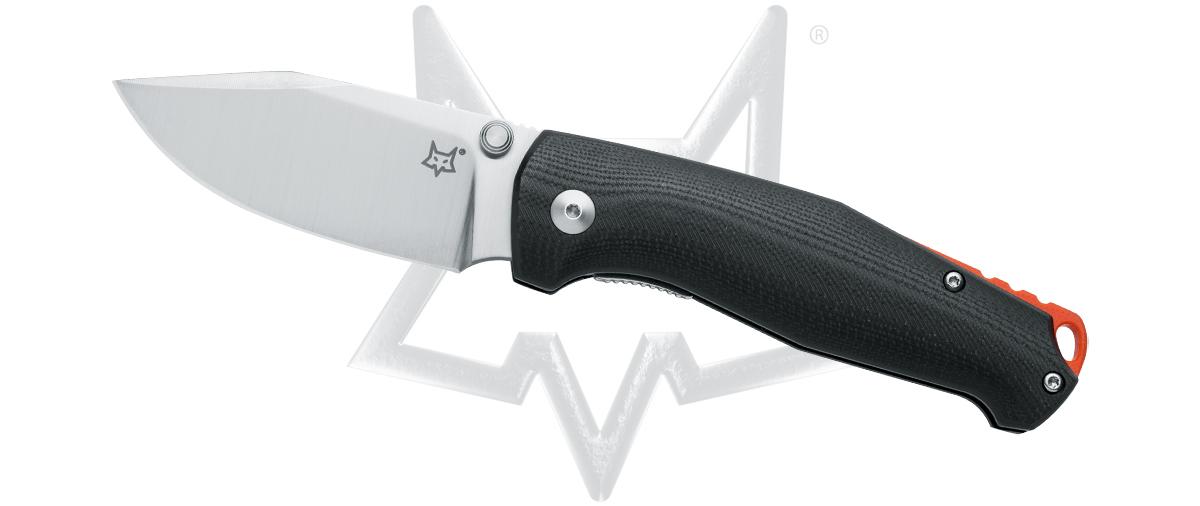 SWIZA D07
SWIZA makes Swiss pocket knives with all kinds of useful extra tools. The Model D07 has a pincer, knife, corkscrew, can opener, screwdriver and pair of scissors. These scissors are the most notable. Instead of the usual mini-scissors, those from the D07 measure almost seven centimetres.
Willumsen
Mikkel Willumsen (right) and Niels Egede Olsen (left) work together under the name Willumsen Copenhagen. Mikkel is a custom knife maker and designer while Niels established the company to market the models. We will write about their knives in one of the upcoming issues.
Opinel
What do you take on a picnic? Big knife, small knife, corkscrew? With the Opinel Nomad set you have everything at hand. De set consists of three knives: a large Opinel No. 12 with serrated blade, a No. 10 with a corkscrew and without serrations, and a small peeling knife. All three come wrapped in a microfiber cloth, together with a cutting board.
Herbertz
C. Jul. Herbertz GmbH in Solingen, Germany, is a wholesaler's which represents most of the major European knife companies. Herbertz has an own knife line as well. One of their new models for this year is this full tang fixed blade. The handles are made of G10, the steel is AISI 440. The knife comes with a M.O.L.L.E. compatible Kydex sheath.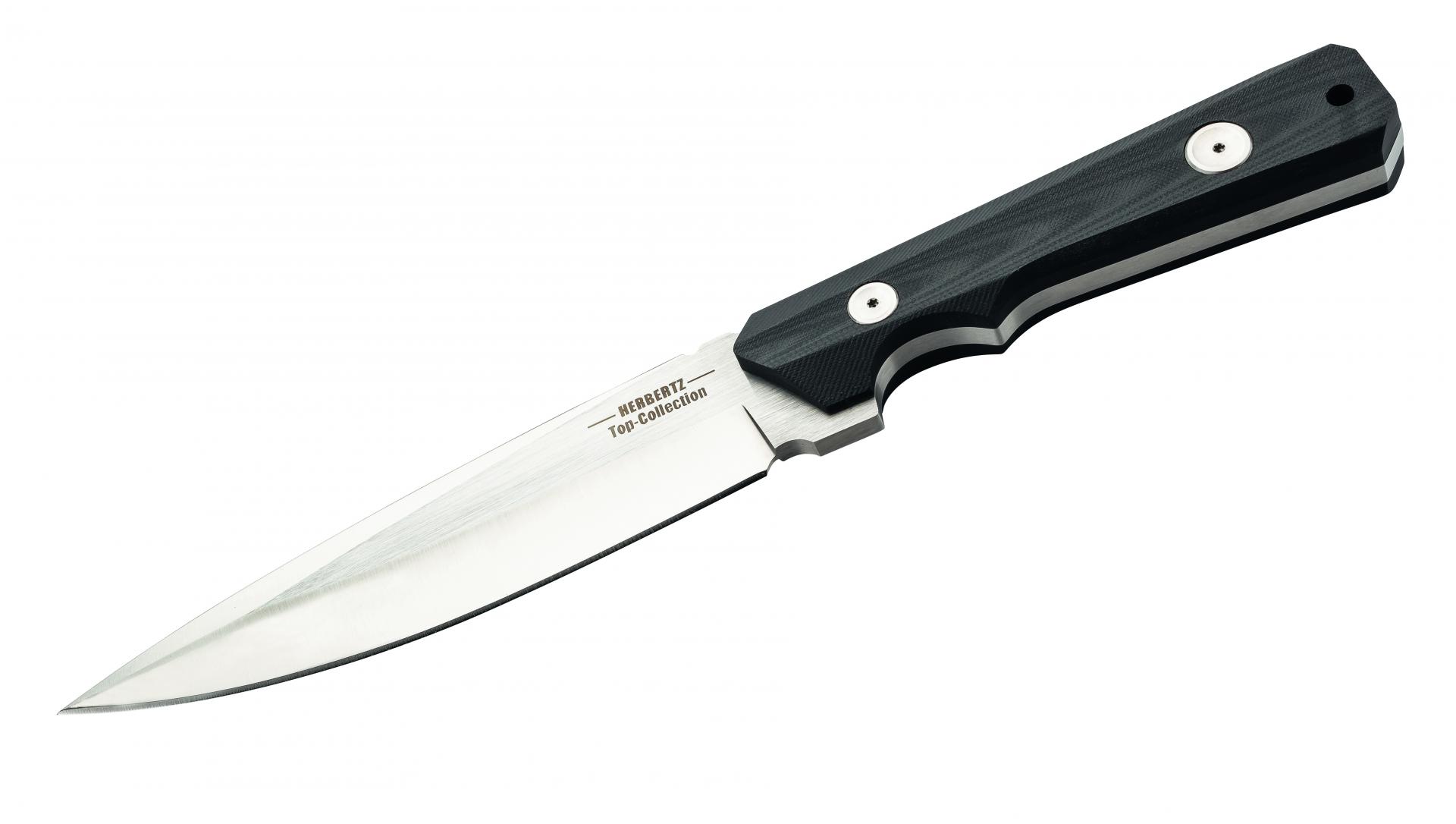 TRC
Andrius Tricius and his wife Evelina show one of TRC's new knife models, the Mille Cuori, which was specifically designed for tactical operators. The DLC coated blade measures 132 mm.
1515
French knife maker Manu Laplace is one of the IWA's regular exhibitors, with the many variations of his model 1515 knives.