Knife news
Knife news
Gastronom
Italian knife maker Extrema Ratio has started a partnership with
Gastronom S.r.L., an Italian company dealing with the study,
development and marketing of high-end gastronomy and cuisine
products, for both professional chefs and amateur cooks.
Extrema Ratio will be the exclusive Gastronom producer of kitchen
knives, starting with five models, named Total Cut, Heavy Cut,
Green Cut, Bread Cut and Fine Cut. For more information see
Böker Magnum Collection 2021
Bökers Magnum Collection 2021 knife was designed by Jesper Voxnaes. The camp and outdoor knife has a drop point blade made from D2 and a handle with polished Micarta scales with red fibre liner, fastened with three torx screws. The knife comes with a leather sheath and is made in 1999 pieces.
K98k and P08
The Böker 98k-Damascus and P08-Damascus are knives with some design elements of two famous German WWII military firearms: the K98k carbine and the P08 pistol. The 98k has a Ripple-pattern Damascus blade forged by Chad Nichols. The walnut handle scales imitate the diagonally grooved structure of the bayonet handle scales. The P08-Damascus is a boot dagger with rosewood handle scales which imitate the chequering on the grips of the pistol. The blade is also made from Chad Nichols Damascus.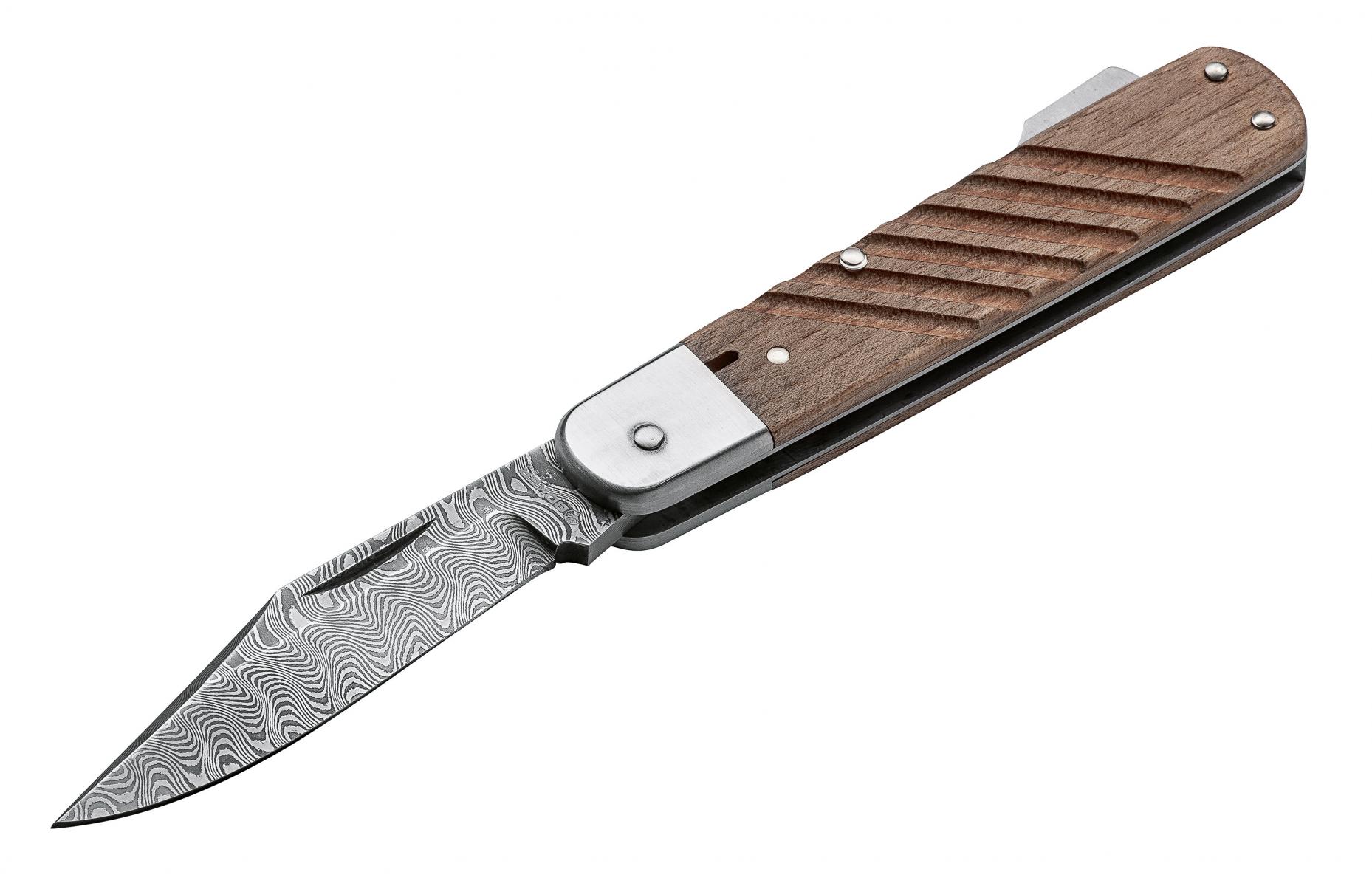 Annual Damascus
The Böker Annual Damascus 2021 knife is a luxury version of the Trapper Uno. It has a Ripple pattern Chad Nichols Damascus blade. The handle scales are blue-stabilized curly Maple with a remarkable transverse striped pattern. In combination with the brass bolsters, this creates the colours of the city of Solingen. The front bolster has the city coat of arms.
Maserin 405
The Maserin 405 frame lock folder is designed by Sergio Consoli. The 105 mm Wharncliffe blade is made from D2 steel, and has a flipper for easier opening. The handle is titanium, with anodized titanium grip screws and a titanium back spacer. Overall length is 235 mm.
Gold engraving
The Maserin 387 Arint, 392 Starlight, 398 Gun Line and 550 Onefold are four different folding knives, with a few things in common: the blades have a 24 kt gold engraving and the handle scales are made from CNC-machine Ebony.
The 387, designed by Attilio Morotti is a liner lock folder with a 60 mm blade from N690 steel. The overall length is 135 mm.
The 392 Starlight is a liner lock folder designed by Salvatore Puddu. The 78 mm blade is from N690 and has a thumbstud. Overall length is 175 mm.
The 398 Gun Line liner lock folder, also designed by Salvatore Puddu, has an 85 mm blade from N690 and an overall length of 170 mm.
The 550 Onefold is a framelock folder, designed by Moris Baroni. The 60 mm blade is made from 440C steel and the overall length is 120 mm.
The Maserin 387 (left) and 550 Onefold.