Interview with Gotscha Lagidse

Gotscha Lagidse

Armour maker, silversmith, sword maker, metalworker: Gotscha Lagidse (51), is a versatile man. His clients speak highly of him and praise the quality and originality of his work. This proved to be all the more reason to visit him.

Text and photos: Bas Martens

Even after much deliberation there is no better designation, Gotscha Lagidse is a metal artist. A wizard with iron and steel. With uncanny skill, he forges: sabres and swords; armour and helmets; and he makes coats of mail, each of them of a special quality. He is a goldsmith and restorer, armourer and blade-smith - a master in the ancient specializations of blacksmithing, and has been awarded numerous prizes. Yet, all that still does not do him justice. Gotscha just as easily switches to leatherwork, shields, crossbows and wooden quivers. All these activities have one thing in common: A close relationship to the past and then preferably to the history of his homeland, Georgia.
When Gotscha Lagidse was born, just over fifty years ago, Georgia was still a part of the Soviet Union. One of the many rulers of a proud country which, for centuries, was besieged from on all sides. "Everybody wanted Georgia", says Gotscha. The result is a glorious military history with a unique style of equipment and armament.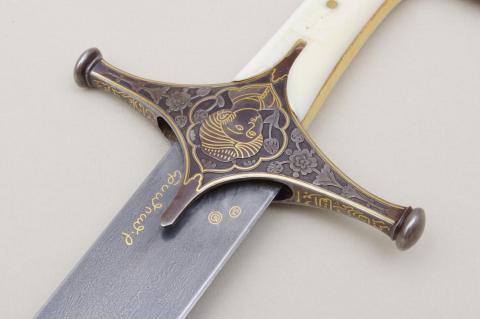 Young Gotscha was fascinated early on in his life with his current field of expertise. At the age of fourteen he began to forge chain mail. The wire he needed, he pulled out of the tires of old trucks which would otherwise be burned by the construction workers during the winter to keep them warm. In 1986, Gotscha began a study in Georgian armour. He made himself a complete suit of armour, wrote an article about it, and worked for two years in an open-air museum following his formal education as an electrical engineer.
When the Soviet Union disintegrated Georgia became independent. It was a difficult time and in the early ninety's Gotscha left for the Netherlands. His choice to move there was for a simple reason: at the end of World War II, his family members fought in the uprising of the Georgians against the Germans on the island of Texel. In April 1945, the Georgian Wehrmacht soldiers, who were stationed on the island, revolted against the Germans. Out of the eight hundred Georgians at least 565 were killed, in addition to the 120 civilians and the more than eight-hundred Germans. To this day, some Georgians travel to Texel to commemorate the victims annually. In that sense, the Netherlands was known to Gotscha but to get to work there proved difficult.
The first step on his road to fame came with the display of Gotscha's Georgian suit of armour in the 'Juttersmuseum' on Texel, during an exhibition on the Georgian revolt. The armour was seen by people from the Dutch Army Museum. Gotscha was invited to an open doors day at the museum to give a demonstration in the crafting of a coat of mail; wherein each ring was flattened and forged separately, per the proper historical fashion. His talent for perfection attracted the attention of the chief curator Jan Piet Puype, who had been looking for someone to craft a historically accurate suit of armour for the museum for years.
Maurits
Eventually, Gotscha was asked by the Army Museum to make a replica of the armour of Prince Maurits of Nassau. The original – from around 1590 – had been presented by Maurits himself in 1595 as a gift to Archduke Ferdinand of Tyrol, who was an avid collector of royal arms and armour. Today, it is exhibited in the Hofjagd- und Rüstkammer of the Kunsthistorisches Museum in Vienna. The Dutch Army Museum received the harness on loan and was granted the exceptional opportunity to dismantle it for study and the taking of measurements. The museum was still cautious however in proceeding. Gotscha's contract at the time was then divided into four parts: helmet, chest and back plate, arm plates and leg armour. Officially, each section had to be approved before the next part of the contract was granted.
Gotscha made the replica in 1997 and it was a masterpiece made up of: 177 separate sheet metal parts, both cold- and hot- forged; polished; flame-blued and partly lined with leather; and about 800 plated and non-plated fixings. It consisted of more than 1900 hours of work, excluding the research. It was a sculpture of metal and firmly established Gotscha's reputation in the Dutch museum world.
Quickly afterwards Gotscha received several major orders. The well-known collector Henk Visser ordered a helmet and a pair of gloves to be crafted, modelled after the armour of Maurits in addition to a miniature of the complete suit of armour. Gotscha made a pikeman's cuirass for the Army Museum in 2002/2003, and a children's suit of armour modelled after that of Prince Maurits for the Army Museum in 2004.
The recommendations from the Netherlands Institute for Cultural Heritage and these museums ensured he received Dutch citizenship, "based on his specific expertise, the historic metalwork".
In the meantime, Gotscha focused on the restoration of antiques, edged weapons and armour. Restoration work brings Gotscha his livelihood. But in addition, he works incessantly on his passion: edged weapons, and especially historical swords. He makes only one or two swords per year but they are all special and precious specimens.

Collaboration
With these bladed weapons, Gotscha likes to work with blacksmiths and engravers, mostly from Georgia, who provide an equally high quality of work as he himself does. Gotscha always does the design, metalwork, assembly and finishing but, for example, he does not forge damask. Gotscha's 'employees' are always recognizable. In addition to his own maker's mark (the letters G and L in Georgian characters within an oval) you can also find the marks of the damask maker or engraver - a sympathetic gesture which is rarely seen among other blade makers.
Gotscha's blades are made in a traditional style but they are not replicas. They are inspired by historical example from South Asia and the Middle East. As always there is an exception. In 2009 Gotscha made a replica of the Shamshir (a classic Persian sword) modelled after that of the Georgian king Erekle II Bagrationi (1720-1798) whose original is in the Georgian National Museum in Tbilisi. A tribute to the history of his homeland. For despite his Dutch nationality, Georgia continues to be his great source of inspiration.
Gotscha is still full of plans and ideas. Notably, on his 'wish list' is a historically accurate reconstruction of the suit of armour William of Orange owned. Meanwhile, he can still marvel at the turn his life has taken. "I'm not really religious," he says, "but I think it is the work of God that I am here in the Netherlands. I came here without family, without friends, without work. How could I have been so lucky?"

Far more than we can show here can be found at Gotscha's website www.gotscha.nl.