Interview: Thomas Gony
Interview: Thomas Gony
French knife maker Thomas Gony (26) has made a lightning start with his career. He began crafting knives in 2015 and two years later he won the prize for Best Flipper Knife at the SICAC show in Paris. It was a dream come true.

Text and pictures: Bas Martens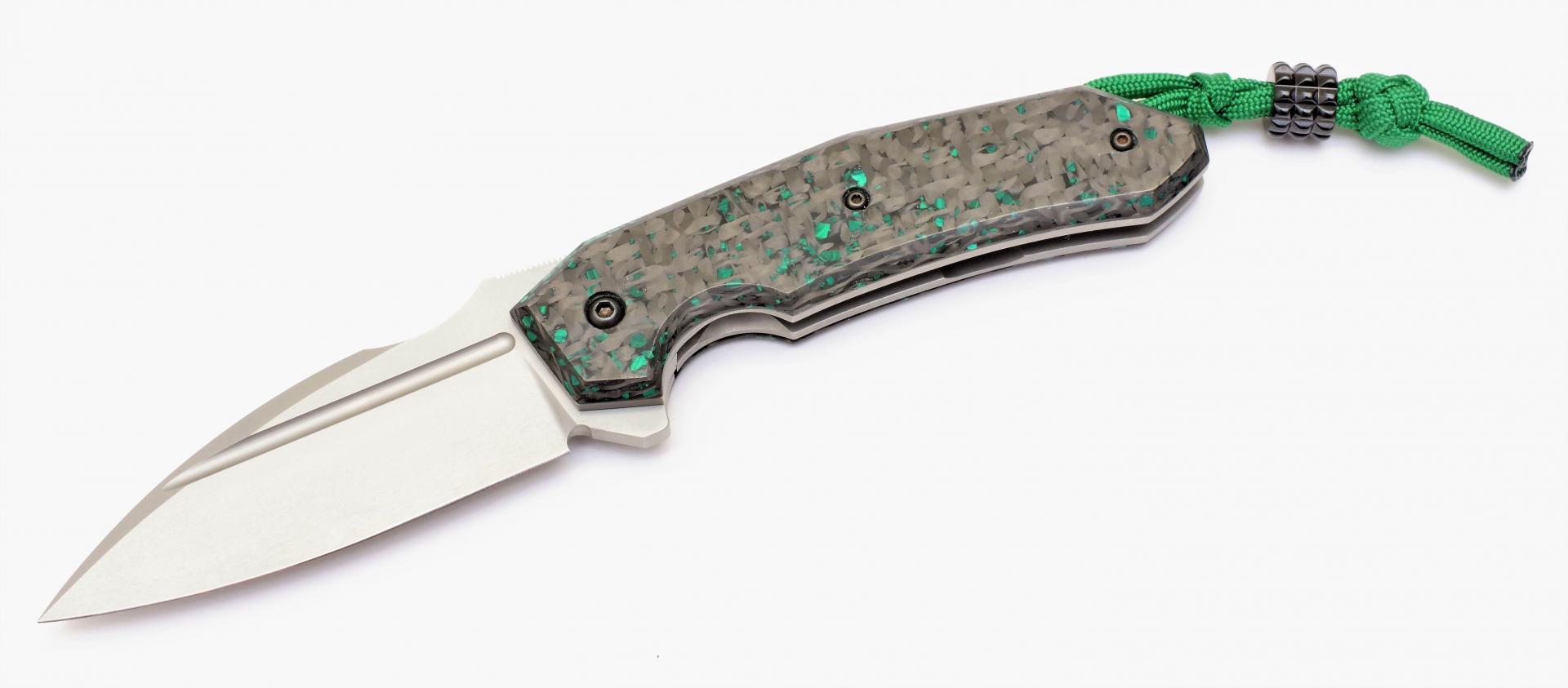 The Speartac Small Flipper. The blade is bead blasted D2, the handle is carbon with malachite infused.
The blade runs on ceramic bearings. The length of the knife is 18.3 cm.

Thomas Gony took an interest in knives around the age of seven and began collecting knives around his fifteenth birthday. Initially these were factory knives, but quickly, Thomas became interested in custom knives, especially the tactical ones, with Bastien Coves (Bastinelli) featured as one of his favourites.
The thought of making knives occurred to him, but never materialized. He had an engineering and electro-technical background and worked in a nuclear power plant. A severe accident however changed all that. Handicapped from childhood, Thomas Gony was hit by a car while in his wheelchair and spent three months with a broken leg. After recovering, he decided to pursue his dream. While visiting the Lyon Knife Show in 2016, Thomas met Bastien Coves, and presented one of his first knives. Bastien convinced him to continue with his work and participate in shows. Thomas established his company, Grind Tactical Knives, and went to work.
Left: The Speartac Small Flipper closed.Right: French knife maker Thomas Gony (Grind Tactical Knives).
SICAC 2016 was his first show, and just a year later Thomas had his finest hour. At SICAC 2017 he won the prize for the best Flipper Knife (including a trophy by Frédéric and Christophe Saint Romain – 2Saints). He also met one of his great idols, Anthony Marfione, who complimented him on his work. It was, says Thomas Gony, "a dream come true". "The prize has changed everything. It gives you credibility. And it is a wonderful recognition for my knives."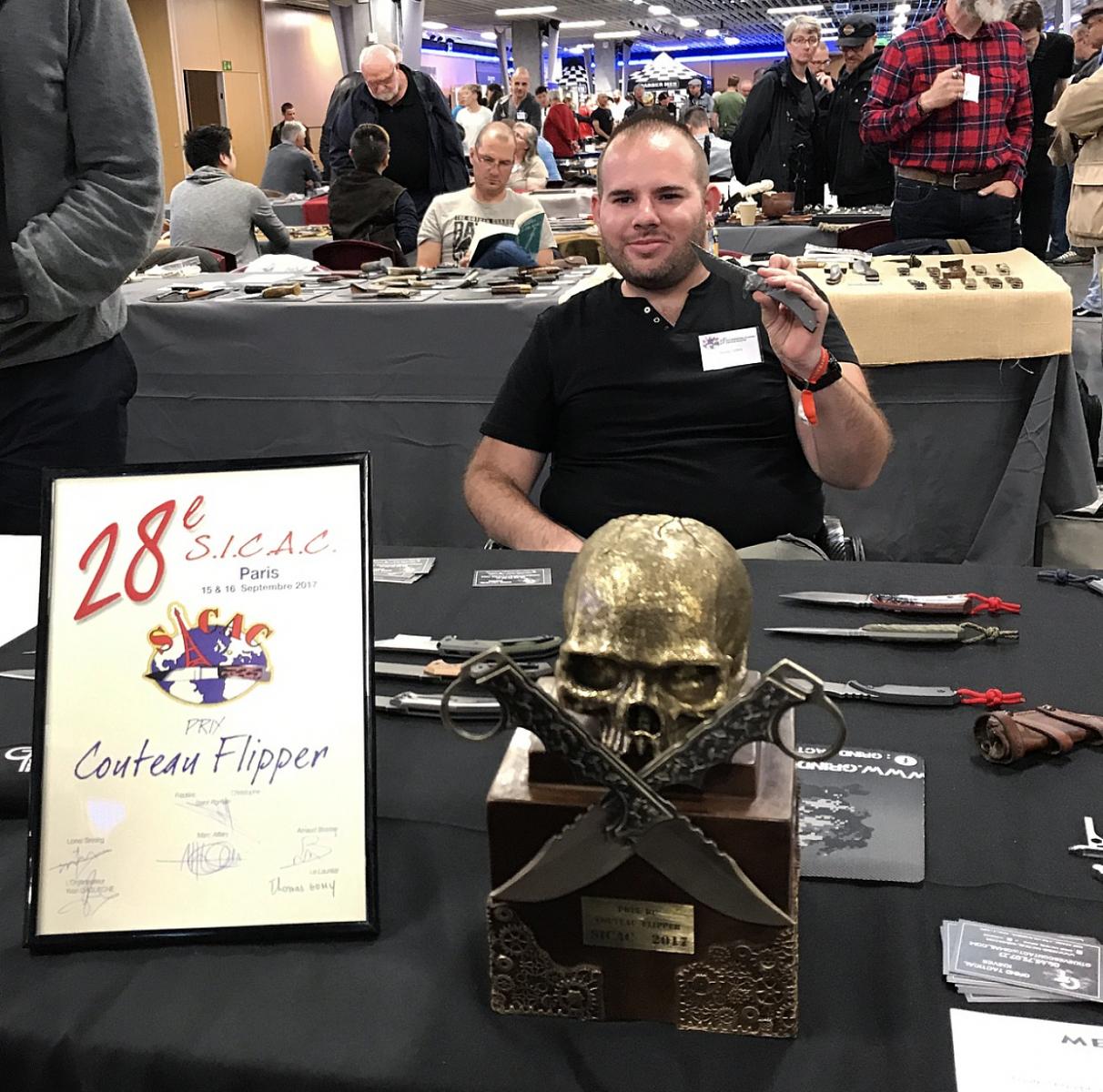 Thomas Gony at last year's SICAC show, where he won the prize for
best Flipper Knife.

Tactical
Thomas has always had a strong preference for tactical knives. He likes the geometrical shapes, the angles, the edges, the curves. His earlier models may have been a bit exaggerated, but Thomas has found the balance between his own tastes and that of his customers. His newer models are a bit less extreme.
For his materials, Thomas likes high-tech, like titanium and carbon fibre. He is especially fond of the many variations of carbon fibre; with all kinds of colour included in the material. His favourite steel is D2 for his normal knives and RWL34 for something more luxurious. He makes his blade through stock removal, after which they are mostly bead-blasted or stonewashed.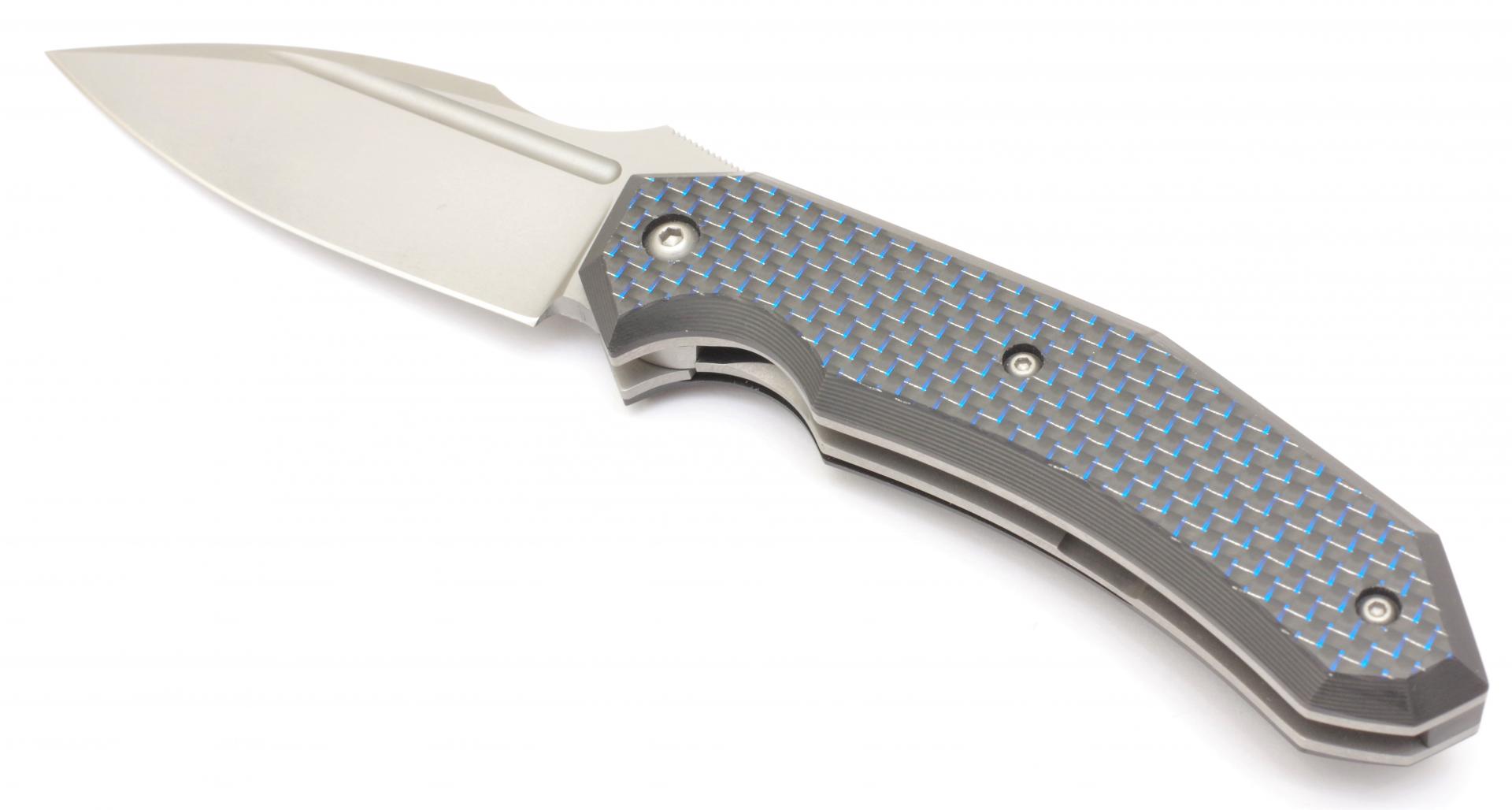 The Speartac Small Frontflip. The blade is micro blasted D2, the scales are blue carbon woven carbon.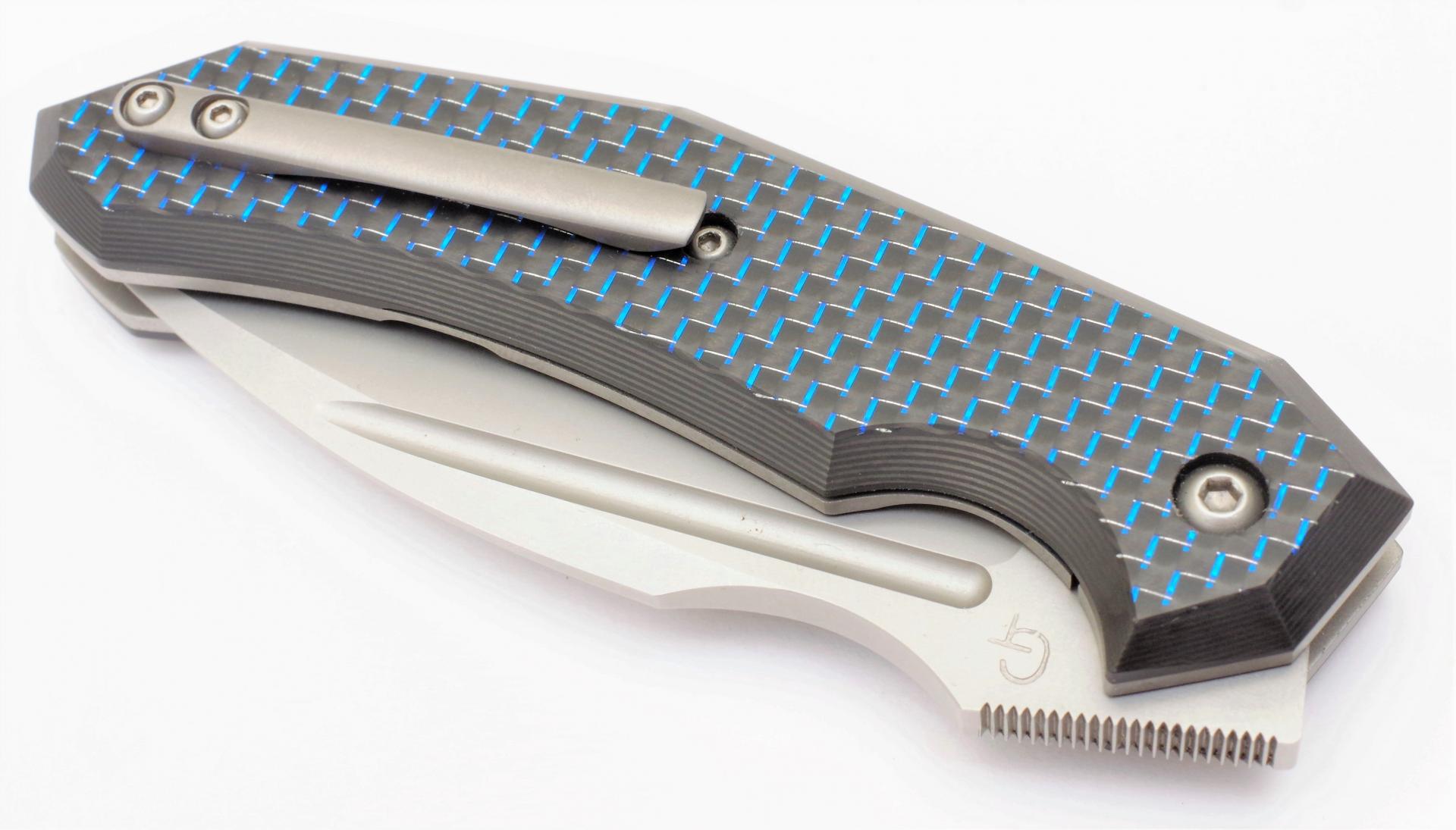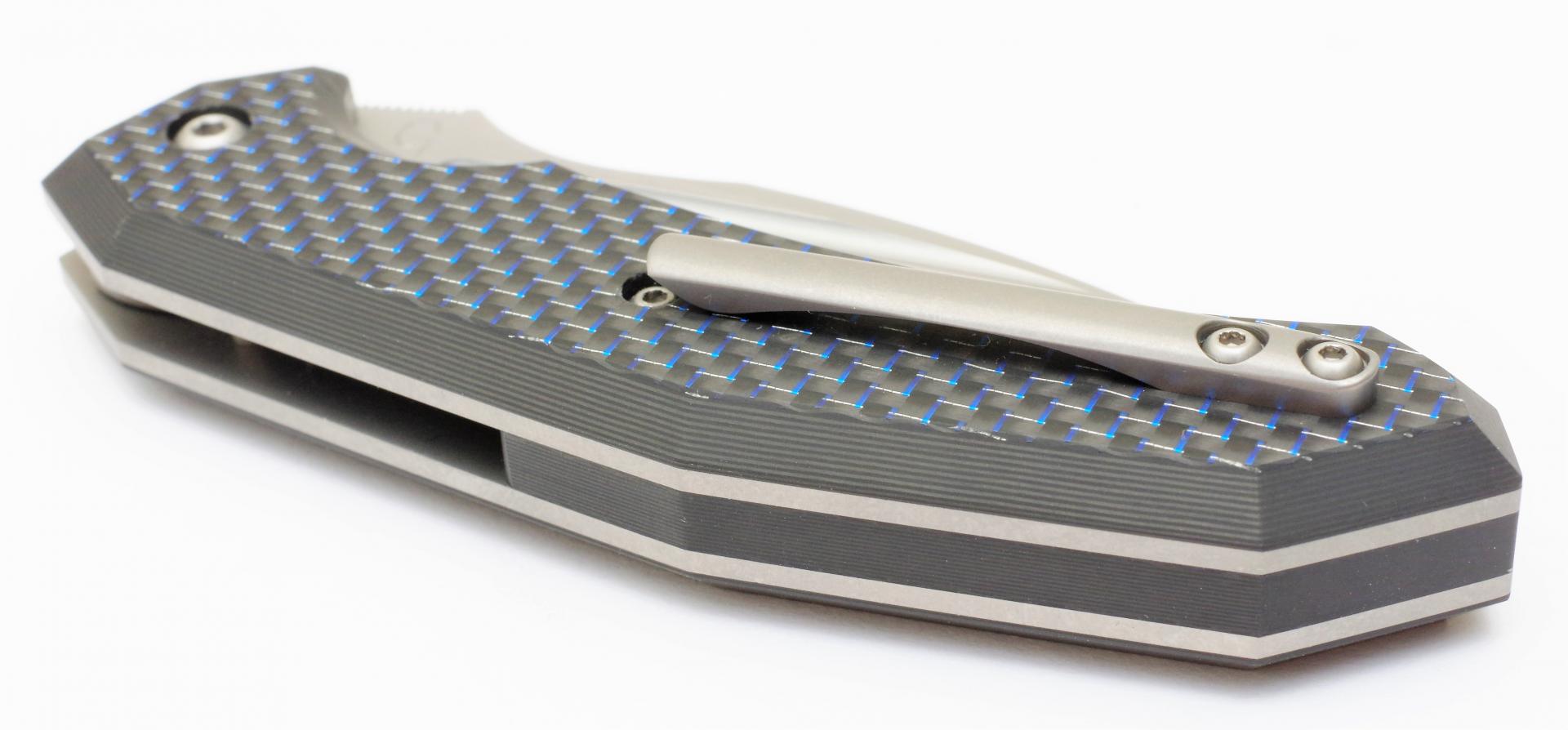 The Speartac Small Frontflip closed. Thomas pays enormous attention to detail.
One of his favourite aspects of knife making is the technical side, such as machining and milling; he is always trying to find better constructions and solutions. He has, for instance, used ceramic balls instead of steel ones in his ball bearing opening systems. And although folding knives are mechanically more interesting, Thomas still wants to make an integral knife.
Production
His production is limited to 4-6 knives per month and that, together with his fast-growing popularity, poses a problem. Thomas simply cannot make enough knives to meet the demand. His orders are booked until December this year and the time between knife shows is sometimes barely enough to fill his table. Thomas Gony therefore, picks his shows carefully. He attends the SICAC, of course, and goes to the shows in Strasbourg, Thiers and Lyon, which is close to Montelimar, where he lives. The Blade Show is high on his wish list, not just to showcase his own knives, but also to meet the people he admires.
For more information please visit:
www.grind-tactical-knives.com
Three versions of the Prickly. All three have a D2 blade. The scales,
from top to bottom, are G10, Amboyna and G10.

Two versions of the Gentac, both with a D2 acid/stonewashed blade. The top knife has Mokume bolsters,
bronze liners and lightning strike carbon scales. The lower knife has unidirectional carbon scales.
Both Gentac knives closed.
The spine of two Gentac knives (left and centre) and a Speartac Small Frontflip.
Two versions of the Necker, both with D2 blades and G10 scales.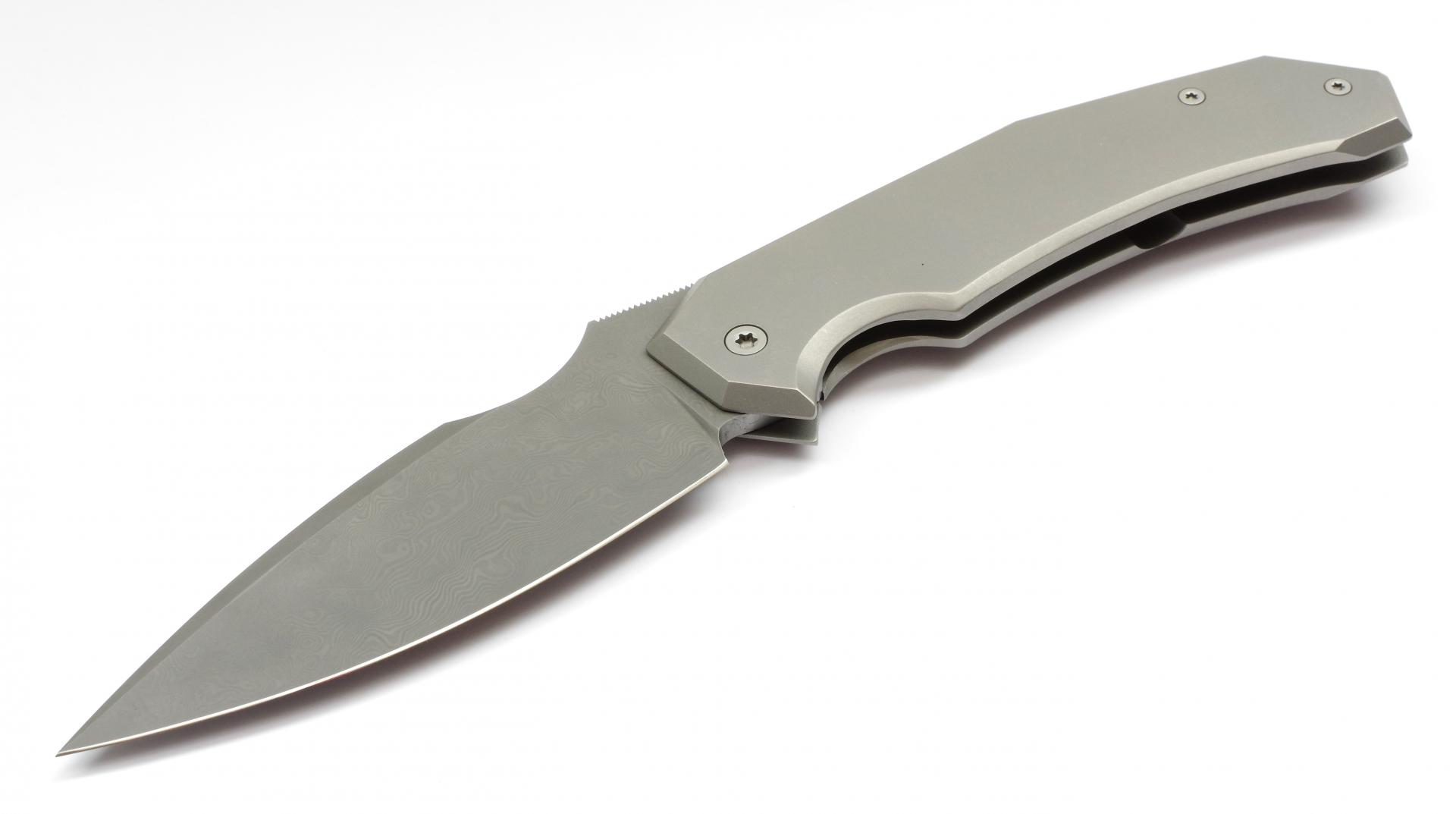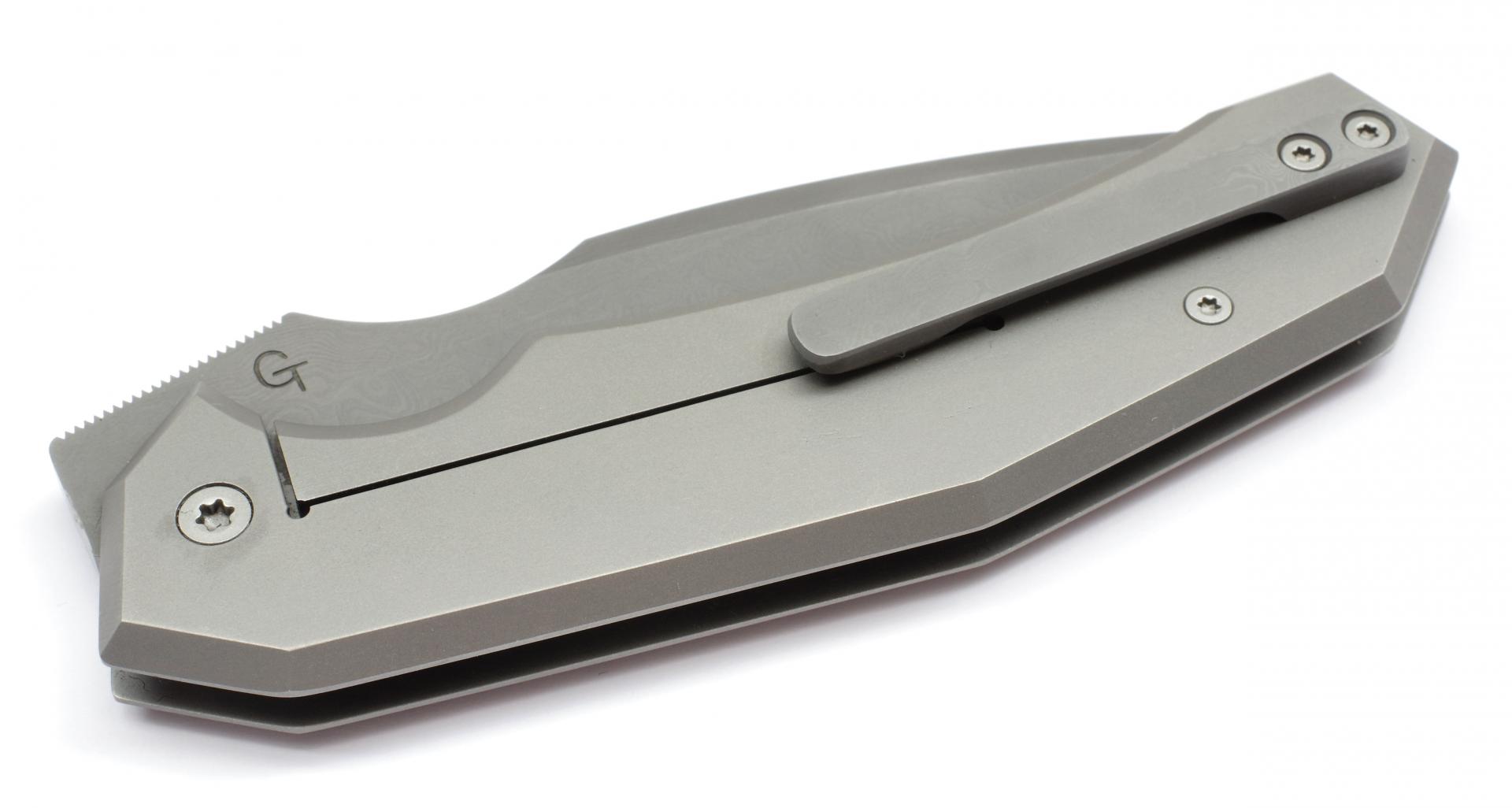 The Speartac Small Frontflip with Zladinox blade. The handle is made of titanium with a Zladinox pocket clip.