Interview: Richard Spitzl
Interview: Richard Spitzl
Richard Spitzl (53) from Germany has been a full-time knife maker for about 25 years. He is known for his strive for perfection. His knives have flawless mirror polished blades and a perfect fit and finish. European Blades Mag. went to visit him in his workshop near Munich.

Text: Bas Martens, pictures: Bas Martens and Richard Spitzl
Left: Richard Spitzl at the entrance to his workshop. Right: two Damascus Drop points with handles from
Bog Oak (left) and Mammoth Bone.

Richard Spitzl is a big, very amiable man, who appreciates the good things of life. He is full of entertaining stories, in many of which various types of alcoholic beverages play an important role. But don't let appearances fool you. Richard is a dedicated knife maker, who takes his work extremely seriously. He has outspoken ideas about his profession and there is no joking when it comes to his knives – well, maybe just a little.
Richard has been fascinated by knives for as long as he can remember. Shortly after his studies in Precision Engineering, he was fortunate enough to meet the famous knife maker Dietmar Kressler, who took him on as an apprentice. Kressler was not an easy teacher, Richard Spitzl admits, but he was a very good one, and it was the beginning of a life-long friendship.
Initially, Richard was just a helping hand with several projects, but gradually he began to make knives himself. After two years, Dietmar Kressler decided the education was finished. "You are already making knives that I could not make after 15 years," Kressler said. So it was time for Spitzl to stand on his own two feet.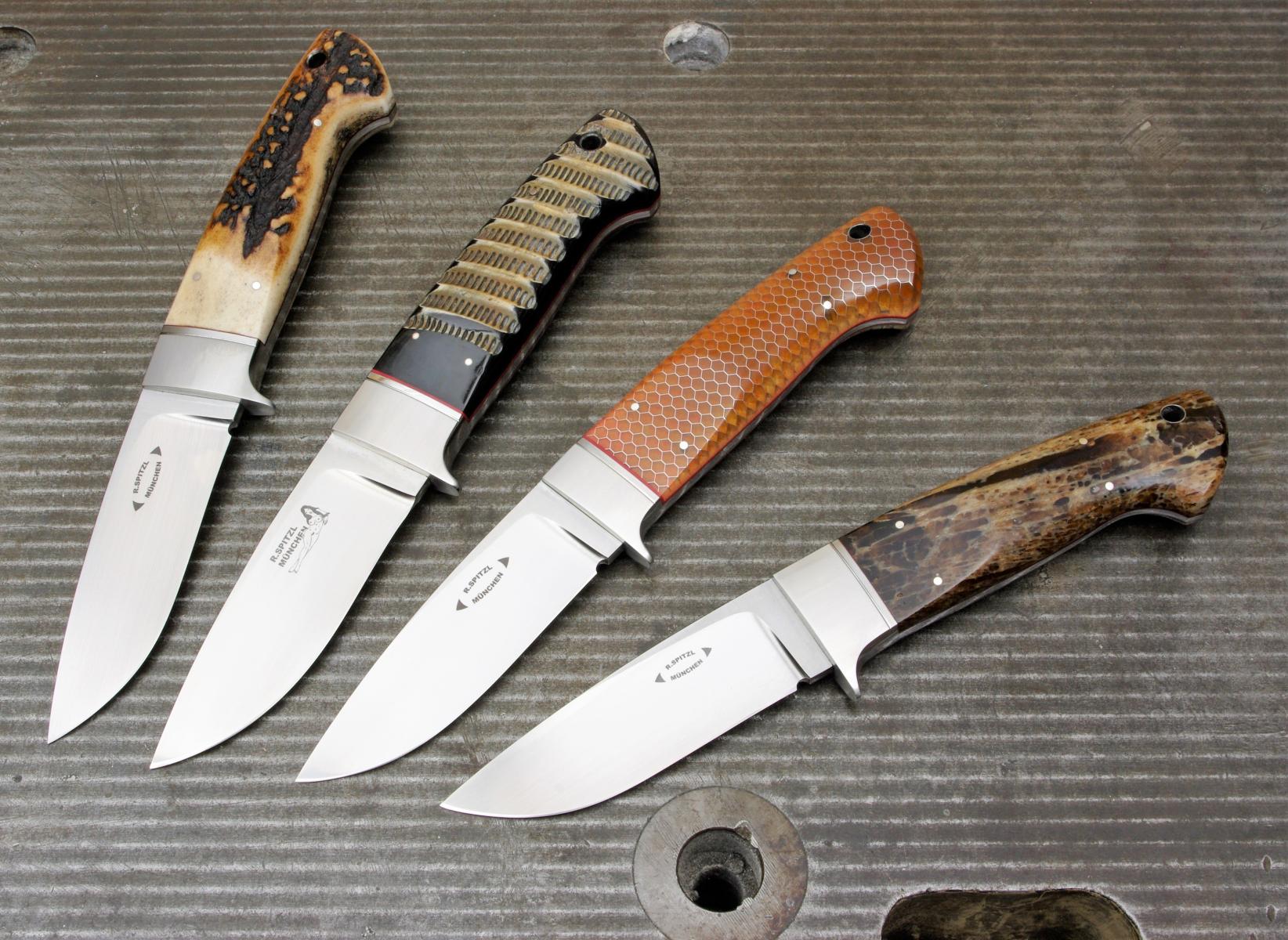 Four examples of Spitzl Drop point knives, all with RWL34 steel, and handles made from Deer stag,
Buffalo Horn, Honeycomb Resin and Kudu Horn cone.

Dietmar Kressler is still one of his great examples, just as Bob Loveless. But Spitzl's work is extremely varied. He does have a number of 'regulars': his Drop-Point Hunter and Sub Hilt Fighter, for example. These are fixed templates, although the knives always differ in detail. Apart from those, Richard Spitzl makes unique knives, or small series of no more than five or ten pieces.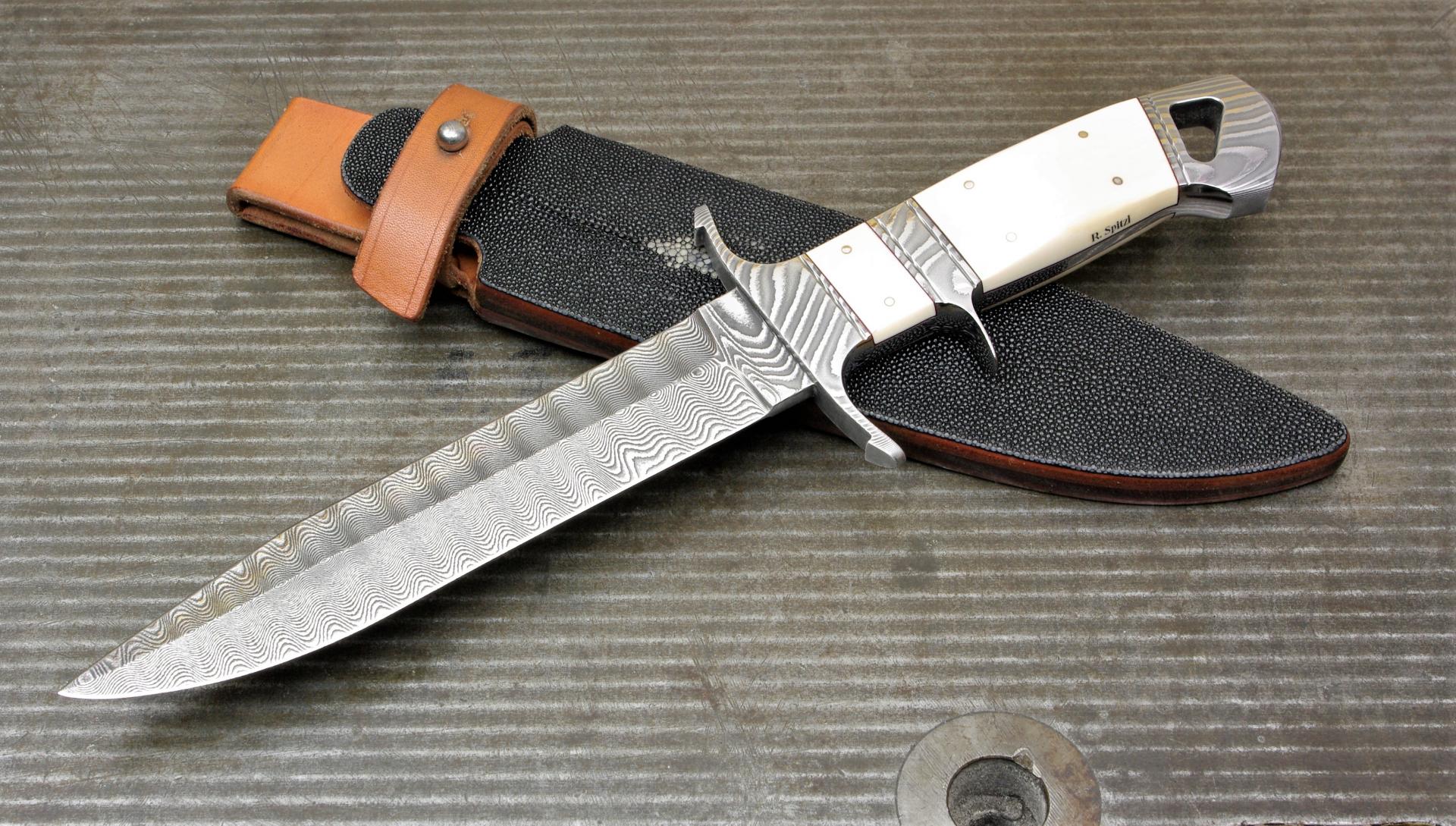 A full Integral Damascus Subhilt Fighter. The stainless Damascus is from Fritz Schneider.

Perfectionist
He works on commission, but also makes free work which sometimes, in his own words, is "sheer madness". Richard Spitzl has made a few knives which are inspired by German World War II military firearms. His 08 knife, for example, has many details of the 'Pistole 08', the German Luger. But since Richard is a perfectionist, there is much more than a superficial resemblance. The knife handle, for example, is two-thirds the size of the pistol grip, and so the chequering on the handle has been downsized to exactly the same scale. Of course no one will notice, but it had to be done.
It took forever to make that knife but, as Spitzl explains, these are projects in which he can express himself. And besides, he smiles, "Sometimes you have to let your imagination run wild".
This knife is called the 'Piggyback'. The blade is N690 Böhler, the handle is black micarta.

The combination of knives with firearms features is not common. The idea came as a surprise to Richard Spitzl as well. "I'm actually an absolute pacifist. I have nothing with guns. But certain firearms have a timeless design that can easily be combined with a knife. What interests me most is the shape, the industrial design. I'm now making plans for a Mauser C96 knife, and a knife based on the Sauer 404 hunting rifle."
Spitzl calls those knives 'Resemblants'. One of his future challenges is to make a knife to match a shotgun, as a perfect combination for a hunter. But it does not need to be a shotgun, he explains: "Whatever firearm you have, I can make a matching knife".
Two of Richards 'Resemblants'. The top one is the K98 knife, the lower one the 08 knife.

Materials
As far as his materials are concerned, only the best is good enough for Richard Spitzl. Het prefers powdermetalurgical steels, such as RWL-34; he uses almost nothing else. He likes the way the steel performs. It is suitable for intensive use, it is visually attractive and can be finished well to a high gloss finish. And, very importantly, it is readily available in any desired format – no need to wait when inspiration strikes.
Richard also uses damask steel, but he doesn't forge himself. "I'll let people do that who know about it", he says. "Maybe I would like to forge, but it would take me ten years to learn what I would like to be able to do. Then I'd rather buy it."
As far as handle materials are concerned, Richard is not shy. "A knife maker actually spends a lot of his time collecting grip materials. It's endless. There is such a wide choice of wood, plastic, legal ivory or bone. I don't use elephant ivory, no need to kill an animal, and there is mammoth. I prefer natural materials, but for practical purposes I also use Micarta. This is indestructible and easily available in all colours. I rather not use G10 and carbon, which I find too dangerous because of the dust."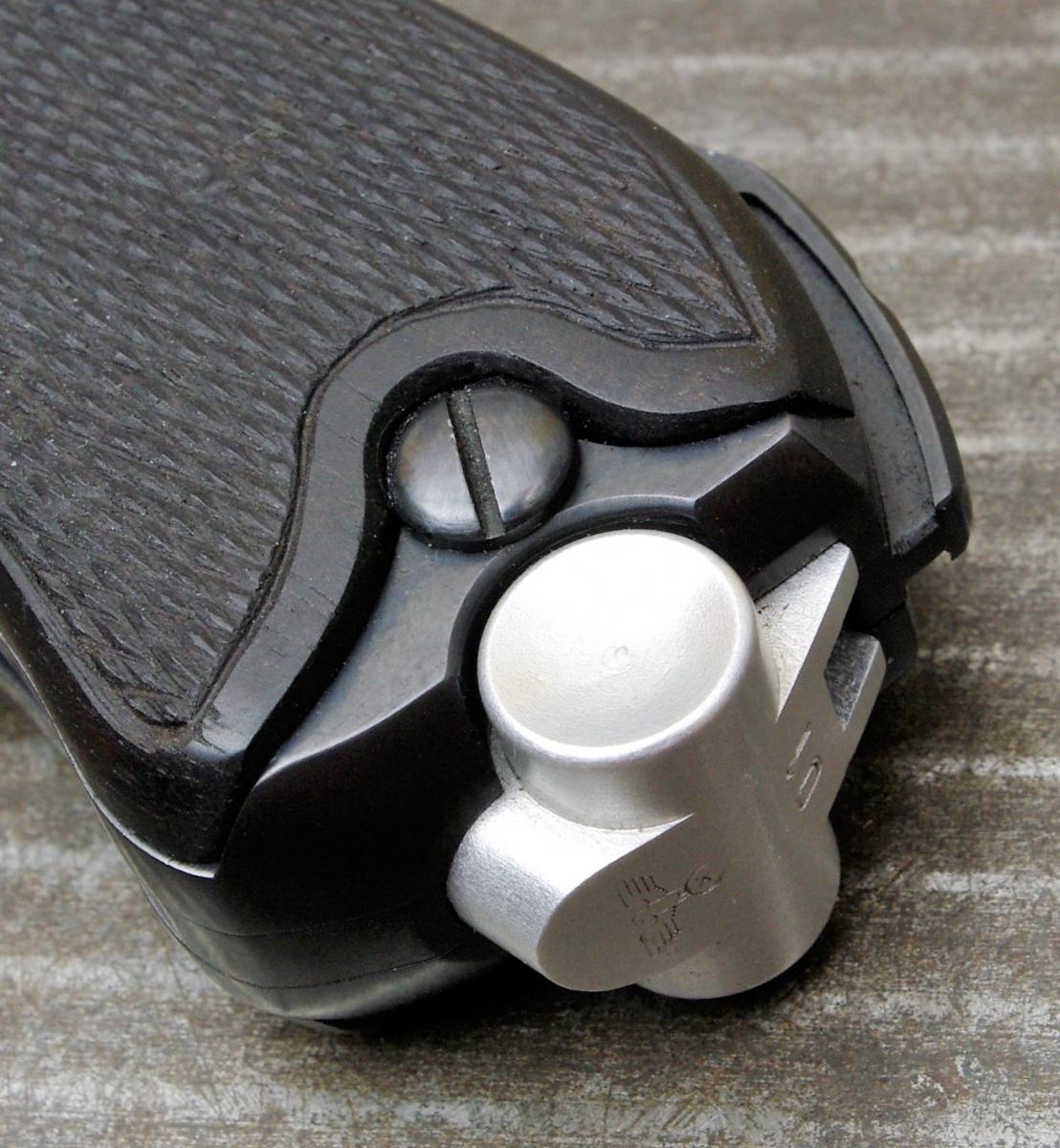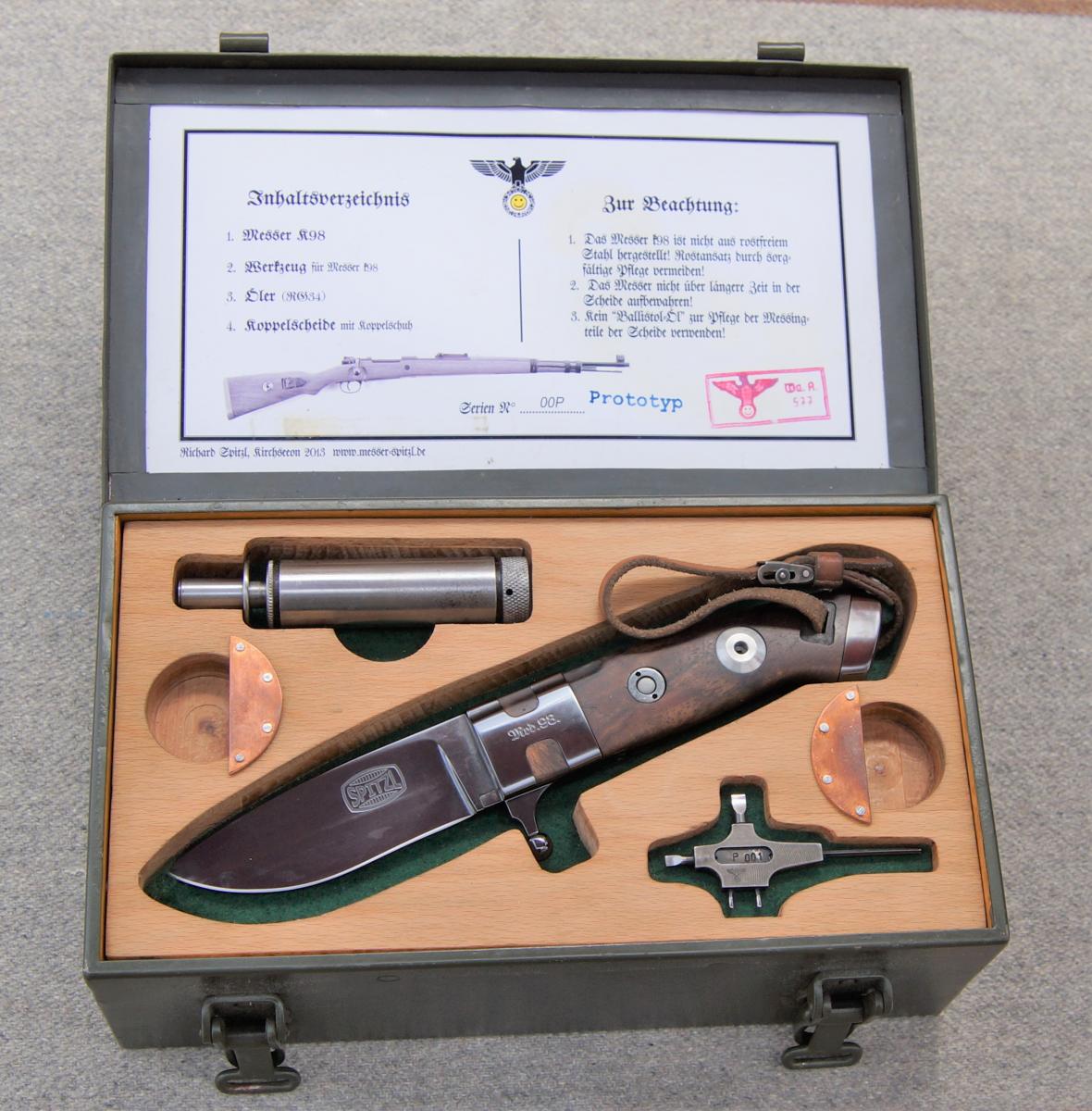 Left: The rear end of the 08 knife resembles the grip of a P08 Luger pistol, with the protruding bottom piece
of the magazine.
Right: Just a knife would not be enough, so Richard made a box full of wonderful details for his K98 knife.

One of the characteristics of Spitzl knives is their workmanship. "I make my knives with a high gloss or fine satin finish. I sometimes go up to 2000, 2500 grit", Richard explains. "That may seem exaggerated, but I am making handmade knives, so I believe the finish should be clearly visible too. Stonewash is something for factory knives. For me, a perfect finish is the pleasure of my job. Making knives is an art. That's why I consider myself an artist. And art just means a lot of work."
The k98 knife reflects many details of the military rifle.

What does Richard's daily routine look like?
"I get up and get to work, it's as simple as that. There is always something to do. Sometimes I wake up at night with an idea. It's 20 seconds to my workshop, so that's no problem. I always have ideas for knives. I just don't have time to make them all. I have a thing with gadgets. Take my cigar knife [a knife with a cigar cutter in the grip]. They said it could not be done, but I made it. I like those projects, but it takes a lot of time. And I always work on a couple of knives at the same time. You need to have variety, or you lose your appetite."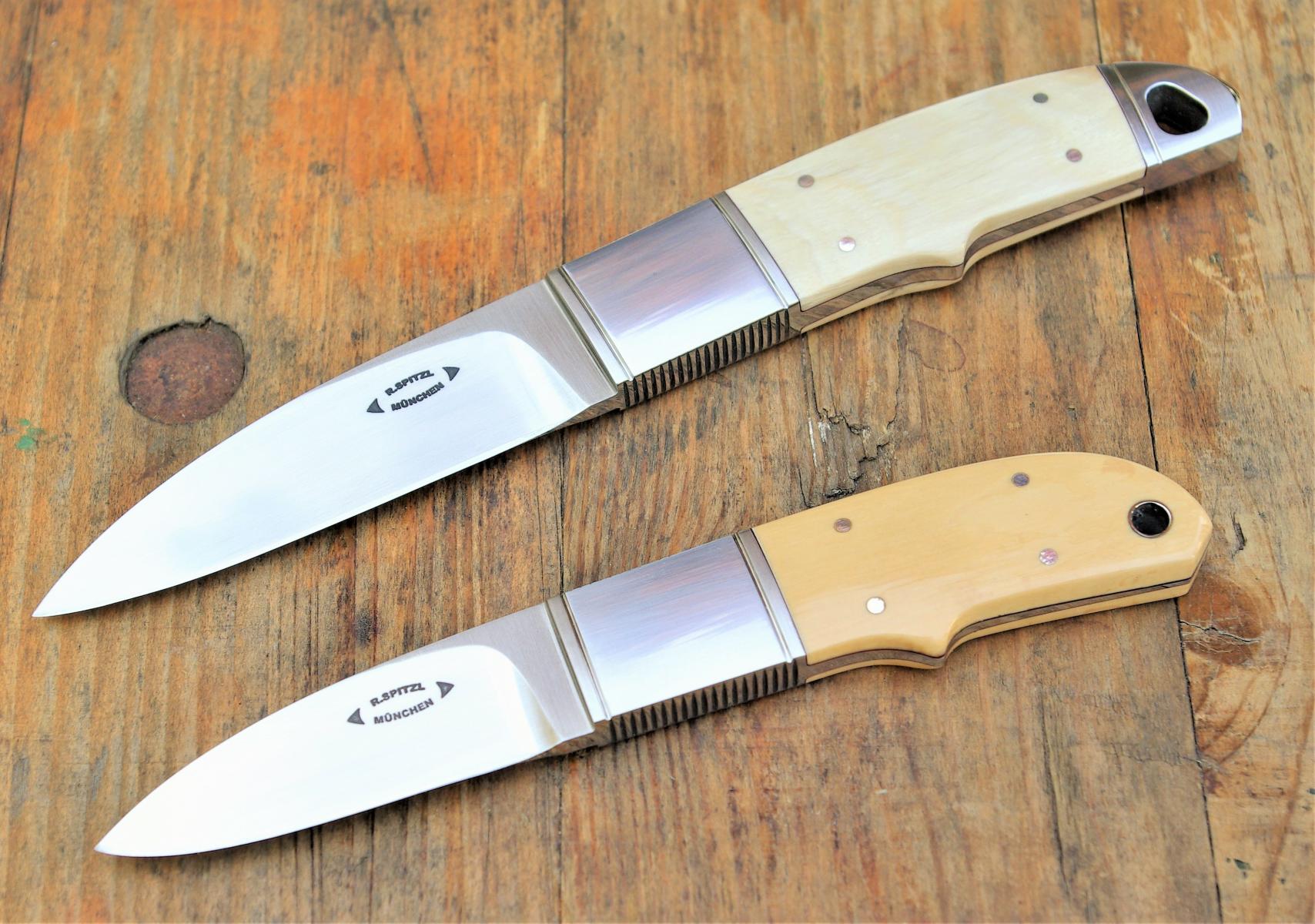 Two Integral City Hunters with Mammoth ivory handle scales.

Apart from making knives, Richard Spitzl likes to search for old tools and machines, which he restores. He makes his own leather ware. With his talent and skills, he can make just about anything. So why the fascination for knives?
"A knife is the most archaic tool people have", he says. "It's firmly anchored in our subconscious. The fascination for such a simple tool is also due to its simplicity. But that is also something complicated. As Antoine de Saint-Exupéry (the author of 'The little Prince', BM) has said: 'Perfection is achieved, not when there is nothing more to add, but when there is nothing left to take away'."
A 'Gentleman Hunter'. The handle is Deer stag. Richard also makes his own sheaths.

"One of the most important things I learned from Dietmar Kressler is when you need to stop working on a knife, because it doesn't get any better. That's one of the hardest moments for a knife maker. It's pure gut feeling. But making knives needs feeling. And practice, experience and some good fortune."
"The biggest challenge for a knife maker, in fact, is to make a beautiful knife. Anyone can make a simple knife. It takes a lot to get a beautiful knife. And hardly anyone makes perfect knives. The perfect knife is always the next one."
All that being said, it will be no surprise as how to Richard Spitzl sees his future:
"Making knives is something I'm not bored with yet and probably never will get bored with either. There's always something new. I'm still learning. Even if I win ten million in the lottery, I'll be back in my workshop tomorrow, or the day after tomorrow …"
For more information see
www.messer-spitzl.de
.
Left: The Cigar Knife, made from RWL34 with a tobacco coloured Micarta handle. The handle features a
cigar cutter.
Right: Richard Spitzl in his workshop. Apart from making knives, he likes to restore tools and machines.

The New York Special (Moscow Subway). The handle is Olive Micarta with a red liner.

A "Lippertsches Waidblatt" for stabbing/killing a wounded boar, based on a model by F.K. Lippert. The
steel is N690 Böhler, the handle is Walnut.