Interview: Hill Knives Holland
Interview: Hill Knives Holland
Albert van den Heuvel has been a full-time knifemaker for more than 35 years. Most of that time he worked together with his father Frans (1937-2016). Their company, Hill Knives Holland, is now continued by Albert. His son Michael does not make knives, but sharpens them, under the name Messenslijperij Hillknives.

Text Bas Martens, pictures John Tromp (www.studiotromp.nl) and Bas Martens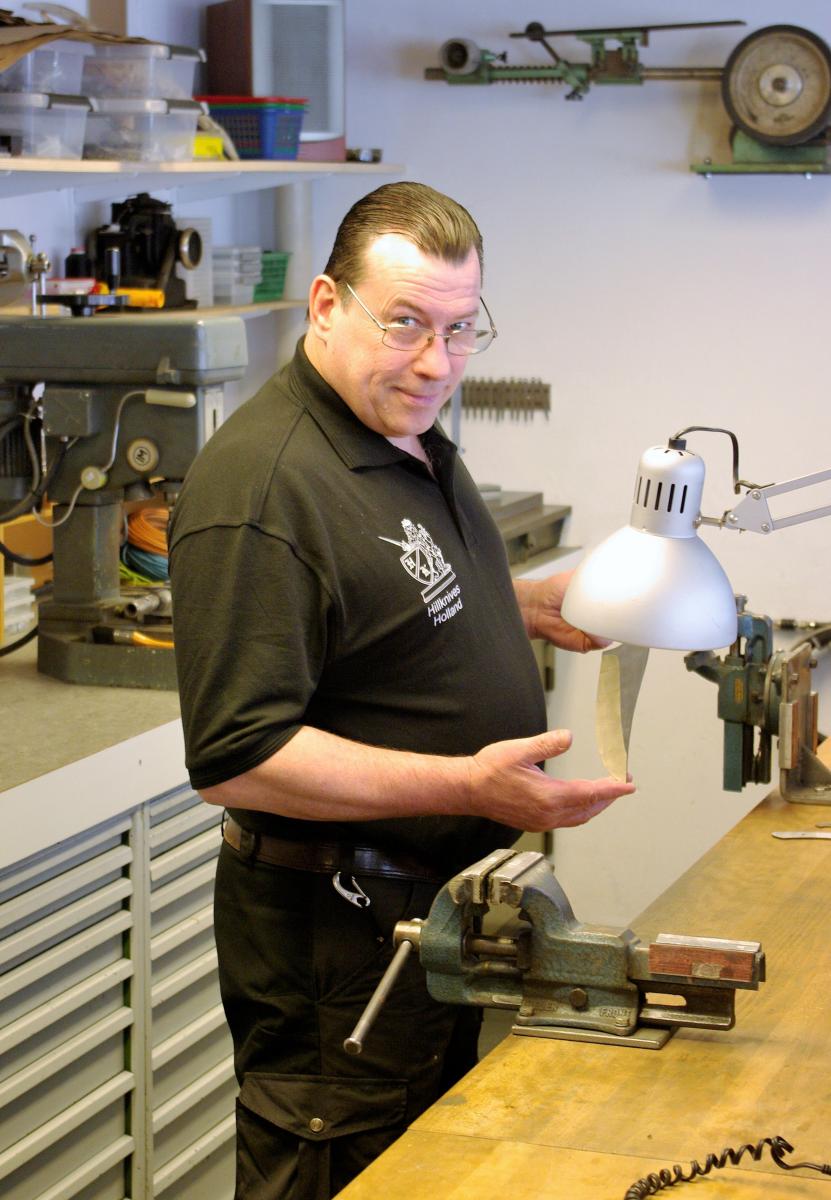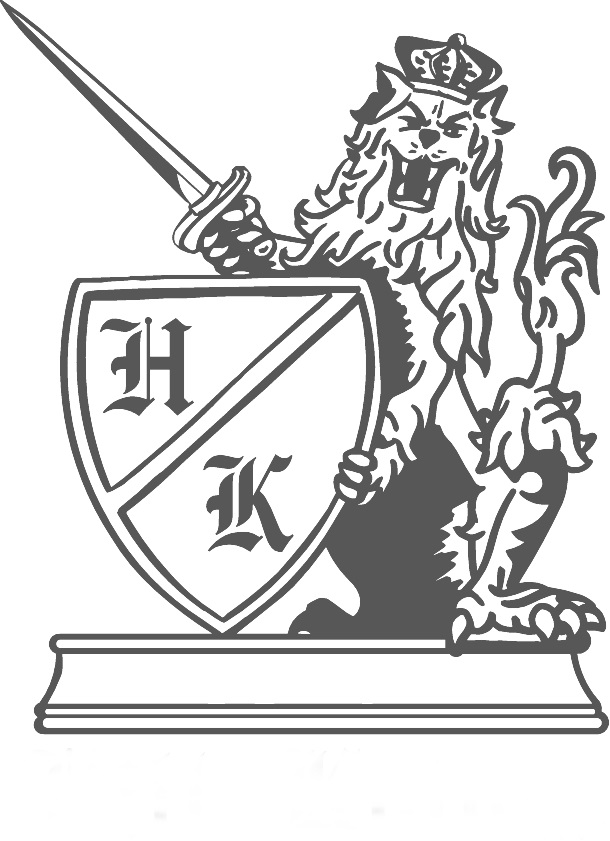 Albert van den Heuvel
The Dutch knife maker Hill Knives was the company of father and son Frans and Albert van den Heuvel for almost 35 years. Frans was one of the first professional Dutch knife makers. He died in 2016 and since then Hill Knives has been synonymous with Albert van den Heuvel (57). Well, not quite, because his father's legacy is still visible on all sides of the company, from his more than life-size photo on the wall, to the dozens of pre-grind blades from which knives still have to be made.
Frans van den Heuvel (1937-2016) began Hill Knives in 1981 and persuaded his son Albert to join him.
The loss of his father has changed a lot for Albert. "We were Hill Knives together. I sometimes say: I saw my father more often than my own wife. He left a big void. You discuss designs together, you make decisions together. Now I'm just the knife maker. Production has been cut in half. And each of us had our own specialty. My father loved grinding very much. I have to do that now.
Albert's son Michael has no affinity with knife-making, but turns out to be very good at sharpening. He started knife sharpening company Hill Knives, a separate company, as a neighbour of his father.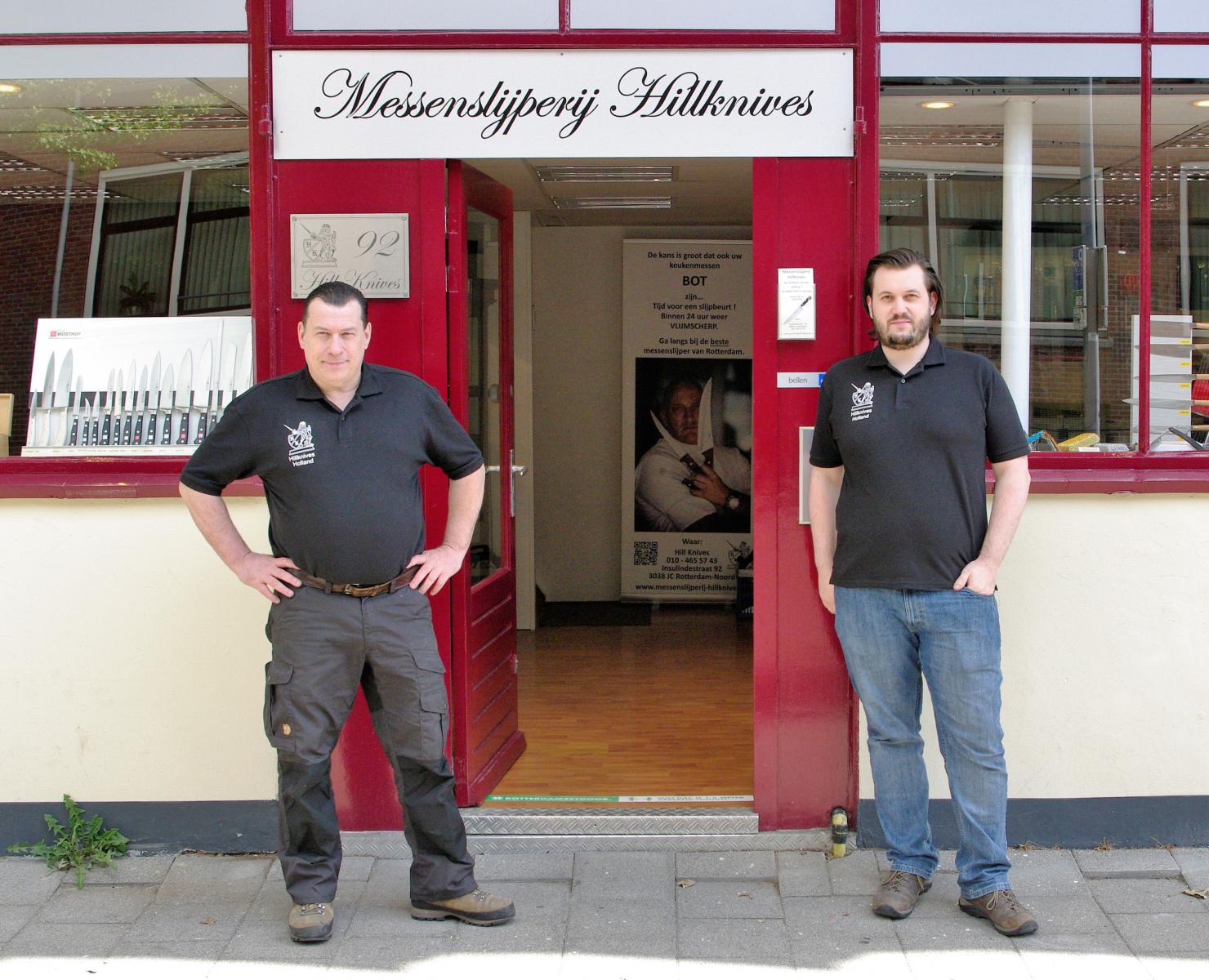 Knife maker Albert van den Heuvel (left). His son Michael (right) has no affinity with knife making but turns out
to be very good at sharpening. Het started knife sharpening company Hill Knives as a neighbour of his father.

Hill Knives is not a custom knife maker in the normal sense of the word. Under the motto "let everyone do what they do best", Hill Knives is concerned with the choice of materials, finishing, sharpening and, above all, design. "There are knife makers who do everything," says Albert. "They forge their steel, stitch the leatherwork from the scabbard. I only make knives". There are many aspects to making knives: the choice and quality of the steel (usually N690 Böhler), the grip materials and, above all, the design. The latter is the most important. The proportions have to be right. A drawing is made of each knife and then a wooden model. On the basis of this, the design is determined. Should it be wider or narrower, longer or shorter? For some knives four or five wooden models are made.
The 'library' of Hill Knives now has many hundreds of those wooden models. Some are unique, but from other models, more than a hundred knives have been made. Some knives are more popular than others.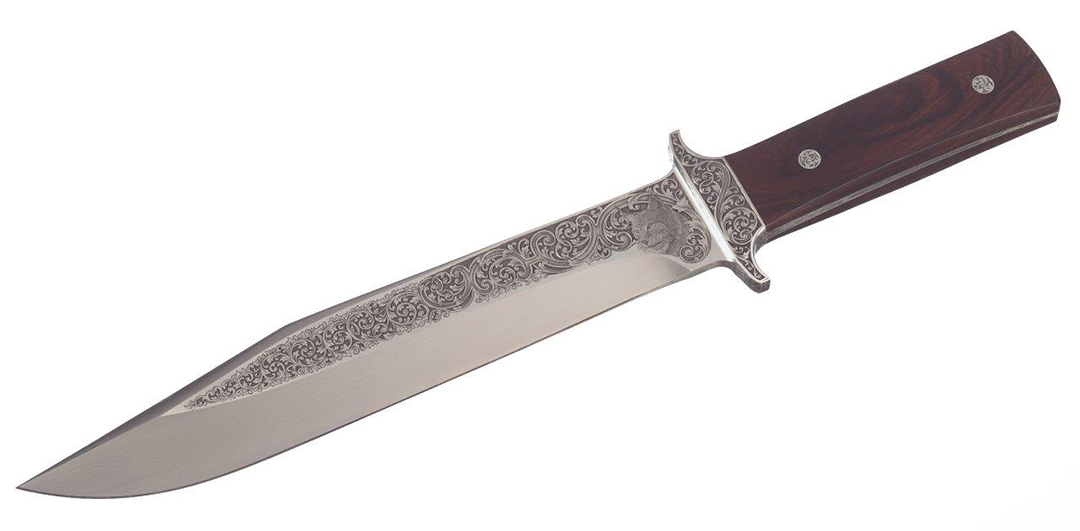 These two very different knivesshow the variety that Albert makes. Top is a bowie engraved by A. Lovenberg, below
the Hill Knives Outdoor No. 2 folding knife
After the model has been determined, the model will be executed in steel. The knife is scratched off, sawn, maybe engraved, ground, hardened - a long series of operations that are all carried out with the greatest precision and attention. When a good quality knife comes out, Albert van den Heuvel finds, it sells itself. This is evident from a visit to the company - Albert hardly has any work of his own in stock. But he also started a knife store in the Hill Knives building, especially in the culinary field.

Variety
If you want to earn a living making knives in a small country like the Netherlands, you will have to look abroad for some of your customers. The Dutch market is simply not big enough. Almost from the beginning, Hill Knives has been very successful in finding foreign customers. For example, beautifully engraved hunting knives were made for companies like Browning Herstal. Through the English firm Asprey, Hill Knives knives were sold in Bond Street, London, and Fifth Avenue, New York, for many years. The company also made a number of knives for the Dutch Royal Family.
In the early years, the range consisted exclusively of fixed blades. Since the beginning of the nineties pocket knives were added and now the assortment is very varied.
Albert makes chef knives, luxury gentleman knives, and military knives. The company has a wide range of outdoor knives.
One of the military models is the Special Operations Knife, designed and made by Hill Knives for the Dutch special forces. After more than 22 years of loyal service, they were recently overhauled for the first time, which came down to new Lexan grips and re-sharpening. A variant of the S.O.K. , the break-out knife is used by the Dutch Royal Netherlands Air Force.
For some projects Hill Knives cooperates with the Italian FOX. For example, the Afghanistan Memorial Knife, for which Hill Knives supplied the design.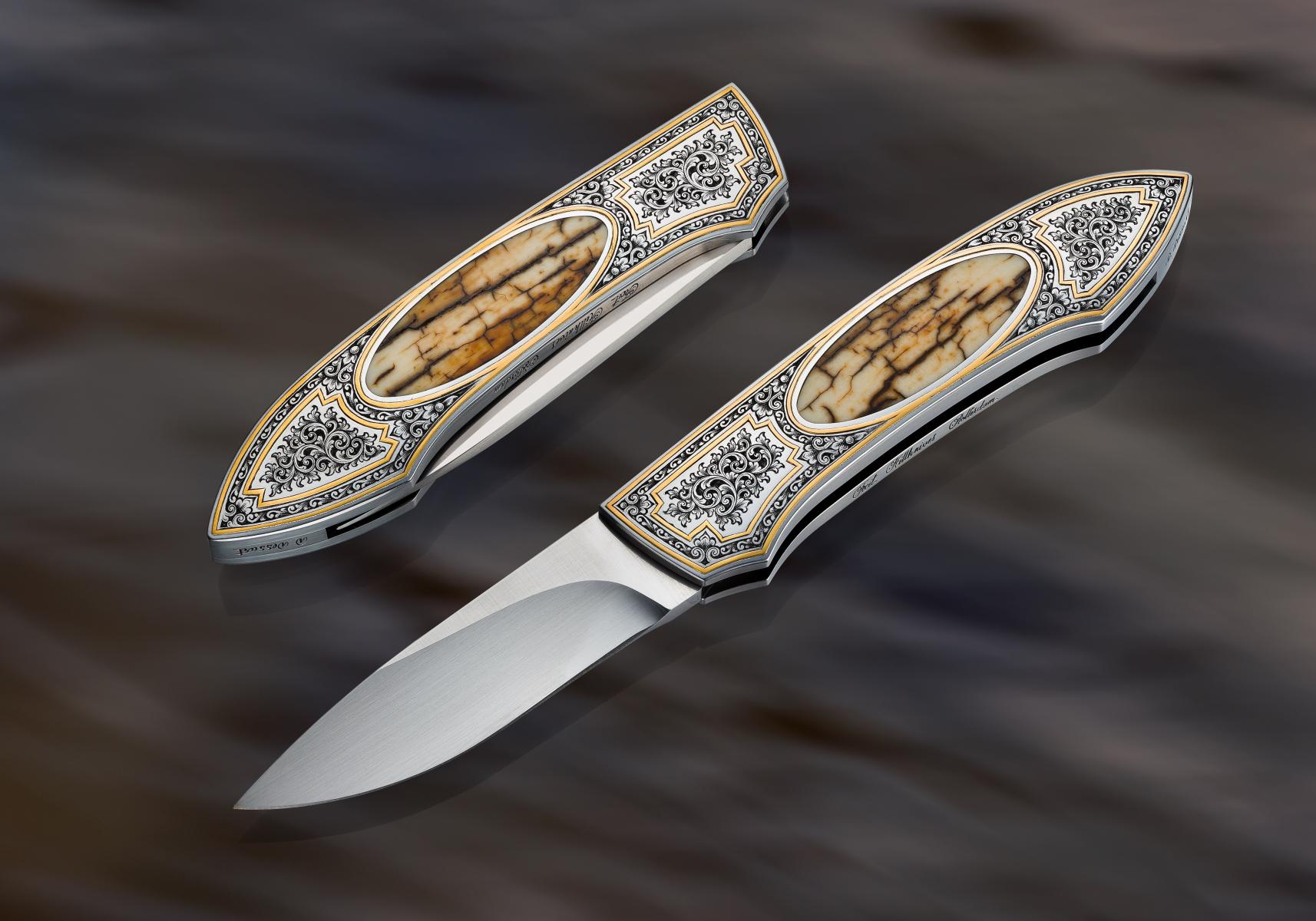 The HK-114 Backlock has a 63mm ATS 34 blade. The handle is engraved in English style by Belgian
engraver D. Dessart, inlaid with 18 Ct. Golden lines with a Mammoth Ivory insert.

Changes
In recent years, the emphasis at Hill Knives has shifted more and more to utility knives, and less to the luxury segment. Albert van den Heuvel: "The market has changed. There are always collectors who keep buying, but the world of engraved luxury knives has become much more difficult. A knife of three, four thousand Euros is no longer so easy to sell. The sale of very exclusive knives is on a low level. There are still a few knife fairs in this Corona time, but you'll have to wait and see if anyone comes. There will only be peace and quiet when we have the virus under control. "
Albert still makes luxury knives, but no longer on commission. "If you make a knife on commission, you agree on a price and delivery time. That's what your client is counting on. But I'm not in control of everything myself. The engraver says that it takes two months, which become six months, and then the customer is angry. I've had that a couple of times, so I don't take orders anymore. I still make luxury knives, but on my own initiative. That way the knife is ready, it's here, the customer can see it, pay for it and take it with him immediately. That works much more pleasantly. "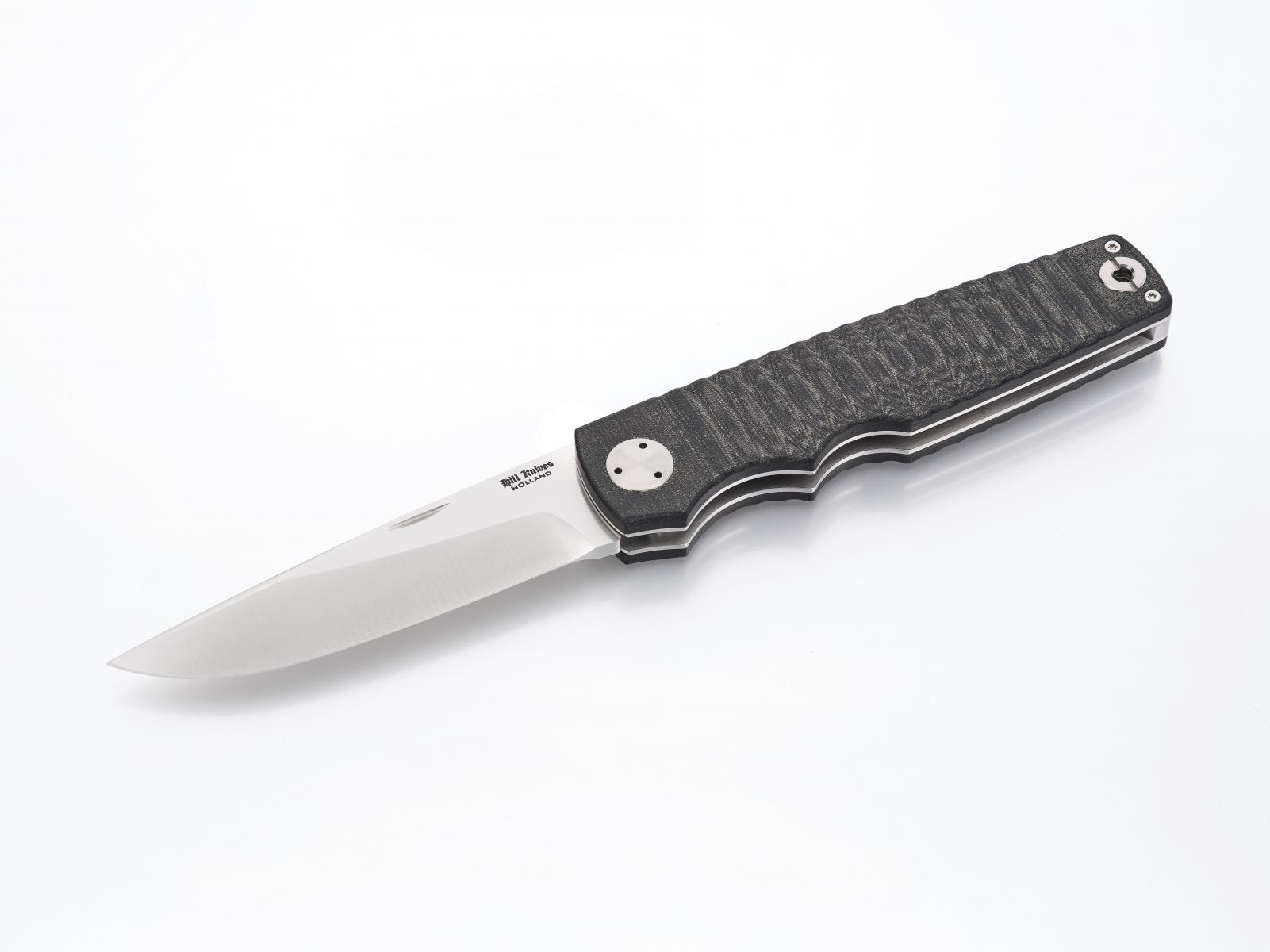 This popular version of the Outdoor knife has a Top Lock, which makes it very easy to handle.
The N690 Co blade measures 100 mm, the handle scales are Black linen Micarta.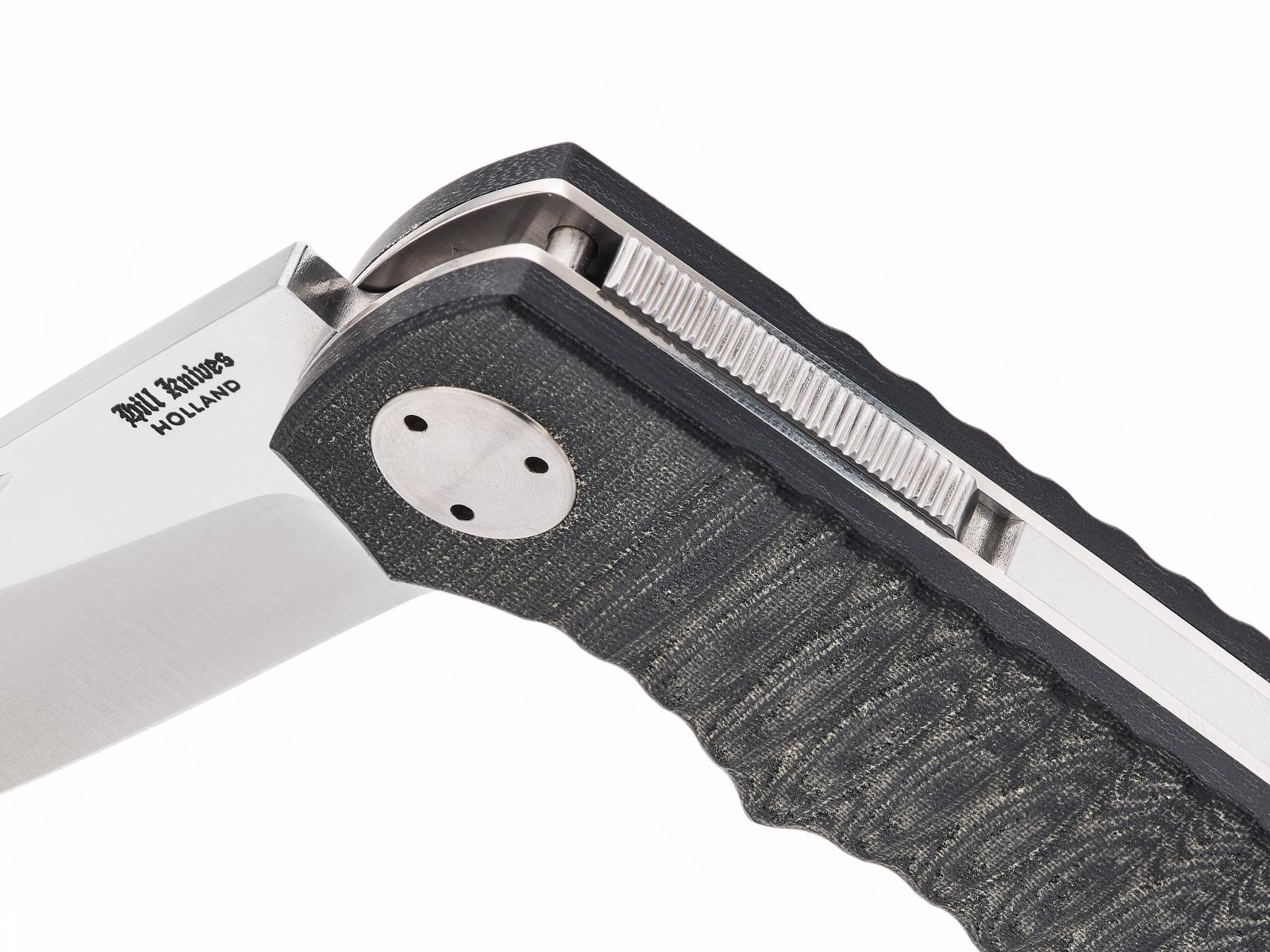 At the moment Albert is mainly working on the Top Lock, a variant of the Hill Knives Outdoor Folding Knife No. 2, with a sliding lock bar in the back of the knife. Several customers like the model very much, but too big, so he is working on a smaller version. In addition, there is a lot of demand for the smaller version of the Special Operation Knife (SOK small), and last but not least: Albert is thinking hard about a project for the company's fortieth anniversary, in 2021. No doubt, we will hear more about that next year.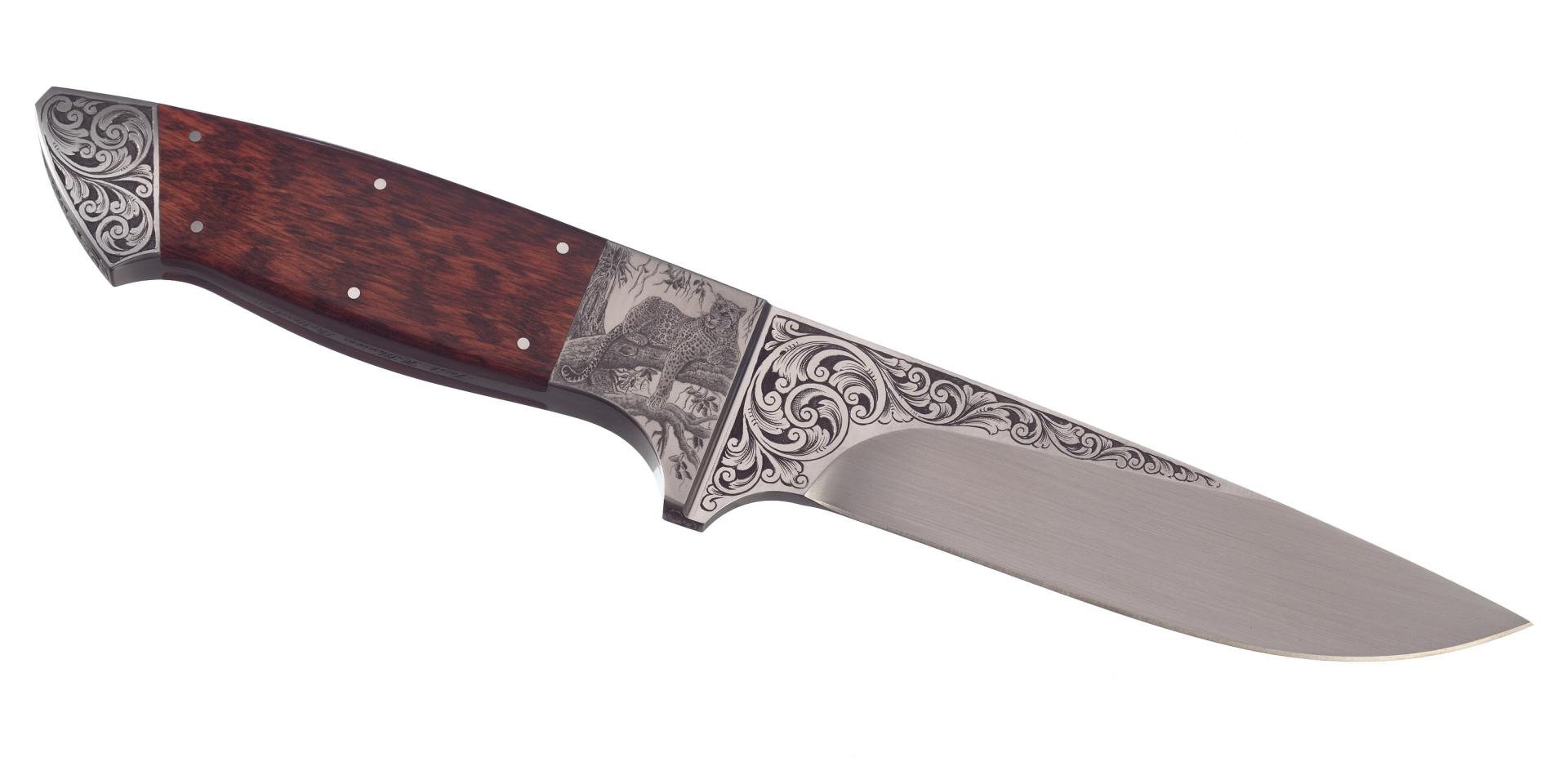 Two knives from a set of five, engraved with the 'Big Five': Leopard, Buffalo, Rhinoceros, Elephant and Lion.
The scrollwork and handle materials differ with each knife. The engraving was done by Lorenzo Gamba (Italy).
The set from the cover. The 'Big Five' again, but this time as Skinners and not Hunters.

The HK-124 Gents Knife was engraved by Belgian engraver A. Lovenberg, and inlaid with 18 Ct
Pink Gold, with 56 diamonds Top Wesselton pure to VVSI Colour F-G rare white.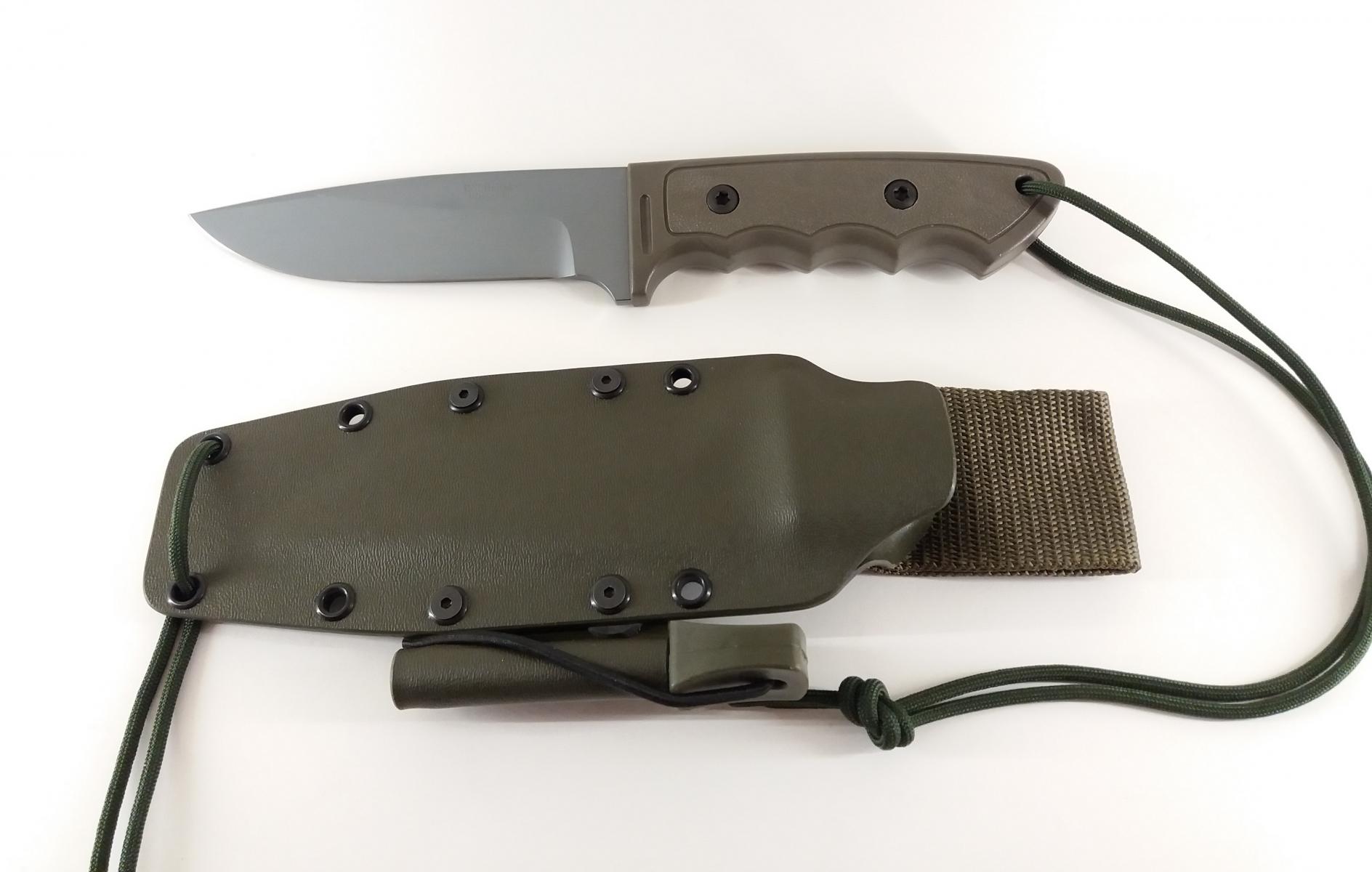 The Special Operation Knife Small (S.O.K. Small). The knife has a 135mm, Titanium coated N690 Co
blade, Polycarbonate ABS Green handle and a handmade geren Kydes sheath with a Fire Steel.


The HK-092 full integral Hunter, made from ATS 34 steel. The knife has a 160 mm blade and Desert
Ironwood handle scales. The engraving is by D. Dessart from Belgium.

An essential part of any knife makers workshop: belt grinders.


Hill Knives made an own version of the famous Commando Dagger, with a N690 Co blade and an anodised
Aluminium handle. Blade and guard coated with Nano Futura coating. The blade is etched with the logo of
the Dutch 'Korps Commando Troepen' and the Military William Order.