Interview: Bartosz Herman
Interview: Bartosz Herman

Bartosz Herman (30) from Poland, to most people better known as Bartek, has been a professional knife maker for five years. Long enough to earn himself a reputation, but as far as Bartek is concerned, it is only the beginning.

Text: Bas Martens. Pictures: Polish Custom Knives and Bas Martens
Polish knife maker Bartosz Herman.

Funny isn't it, how life can go? As a child, Bartosz Herman dreamt about designing and building luxury yachts. But Poland, at the turn of the Century, did not offer many career opportunities in that direction. So Bartek chose Plan B: he became a chemical engineer. So far, so good. But how did he turn out to be a knife maker?
Well, you see, Bartek was always building things. If he saw something he wanted, he didn't go out to buy it – he tried to build it. At the age of twelve, for instance, he made a crossbow. Like so many children, you might say. But Bartek takes things seriously. For the lath of his bow he used the leaf spring of a car suspension. We did not dare to ask any further.
Left: Bartosz Herman works with Polish Custom Knives for the sale of his knives. They provide excellent photography to help promotion.
Right: The signature on the blade simply reads 'Herman'.

When Bartek was 16 or 17, he found a piece of steel in the cellar of his parents' house. The thought occurred to him to make a knife, and without any research he went to work. The result was quite disappointing. "It did not even look like a knife", he admits.
But Bartek had fallen in love. He is an experienced sailor, but put aside the idea of building boats. Instead, he focussed on knives. He joined the Polish knife forum (knives.pl), watched tutorials and YouTube movies on the Internet and got himself Bob Terzuola' s book The Tactical Folding Knife. In the end, it all helped.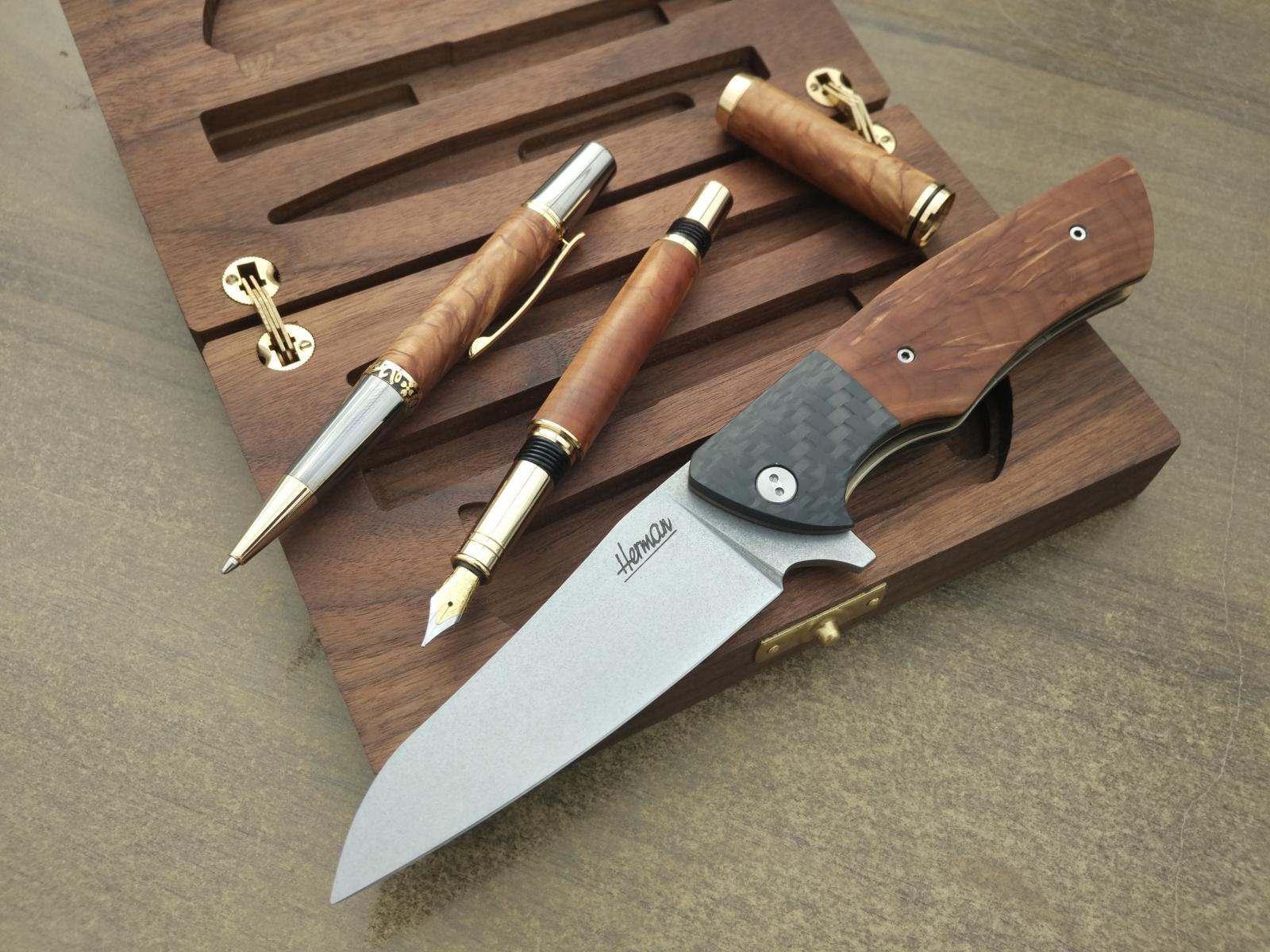 Bartek also makes combined sets of a knife and pen, in a wooden box. This particular one has two pens,
ballpoint and fountain pen.

Professional
"I made my first decent knife when I was 23", Bartek says. "Then a friend of mine wanted to buy it. So I made another one for myself". This way, knife making became a hobby, never intended to make money. But gradually, Bartek thought that maybe he could turn it into a professional career, somewhat more exciting than being a chemical engineer. And he succeeded: since about five years Bartosz Herman is a professional knife maker, living and working in Łódź, the third largest city of Poland, ca. 130 km southwest of Warsaw.
Just like many skilled knife makers, Bartek can make just about everything. So why knives?
For him, the answer is clear. His love for sailing and mountain biking showed him the importance of knives: "It is a simple, but essential tool. And there is curiosity. How good can a knife really become? That could be surprising. It may end up as something between a tool and 'utilitarian art'".
Bartek does not forge. "I might like to, but I make folding knives. For that you need more precise materials." He therefore buys his steels: Böhler N390, Elmax, Damasteel or K390 high carbon. A friend is specialized in heat treatment, so that is not a problem.
Model 'Big Sting'. The blade is 3.9 mm Elmax with a stonewashed finish. It pivots on a ball bearing system.
The handle material is Titanium Grade 5. The overall length is 220 mm.

His taste for handle materials is varied. From the pictures it may look as if he only favours high-tech materials like G10 or Carbon Fibre, but Bartek is equally interested in stabilized wood and Mammoth, or even better: combinations of the two. Carbon Fibre with mammoth, and G10 with wood, for instance.
Bartek makes his knives as several well-defined models, most of them with names, like Ishtar or Dragonfly. At the moment he has about twelve models, and each of them can be made with different steels and handle materials. It takes quite some time before a plan materializes in a new design, especially with his perfectionism.
A beauty shot of one of Herman's knives.

Shows
Bartek attends several knife shows. His regulars are Prague, Brno and Příbram in the Czech Republic, and Warsaw and Gliwice in Poland. In 2019 he hopes to go to Helsinki, Paris and the Blade Show in Atlanta as well. As many knife makers, Bartosz Hermann is an excellent craftsman, but less proficient in marketing and sales. In other words: making a knife is sometimes easier than selling it. He therefore started working with Polish Custom Knives. They do the marketing and advertising, so Herman can concentrate on his proper work.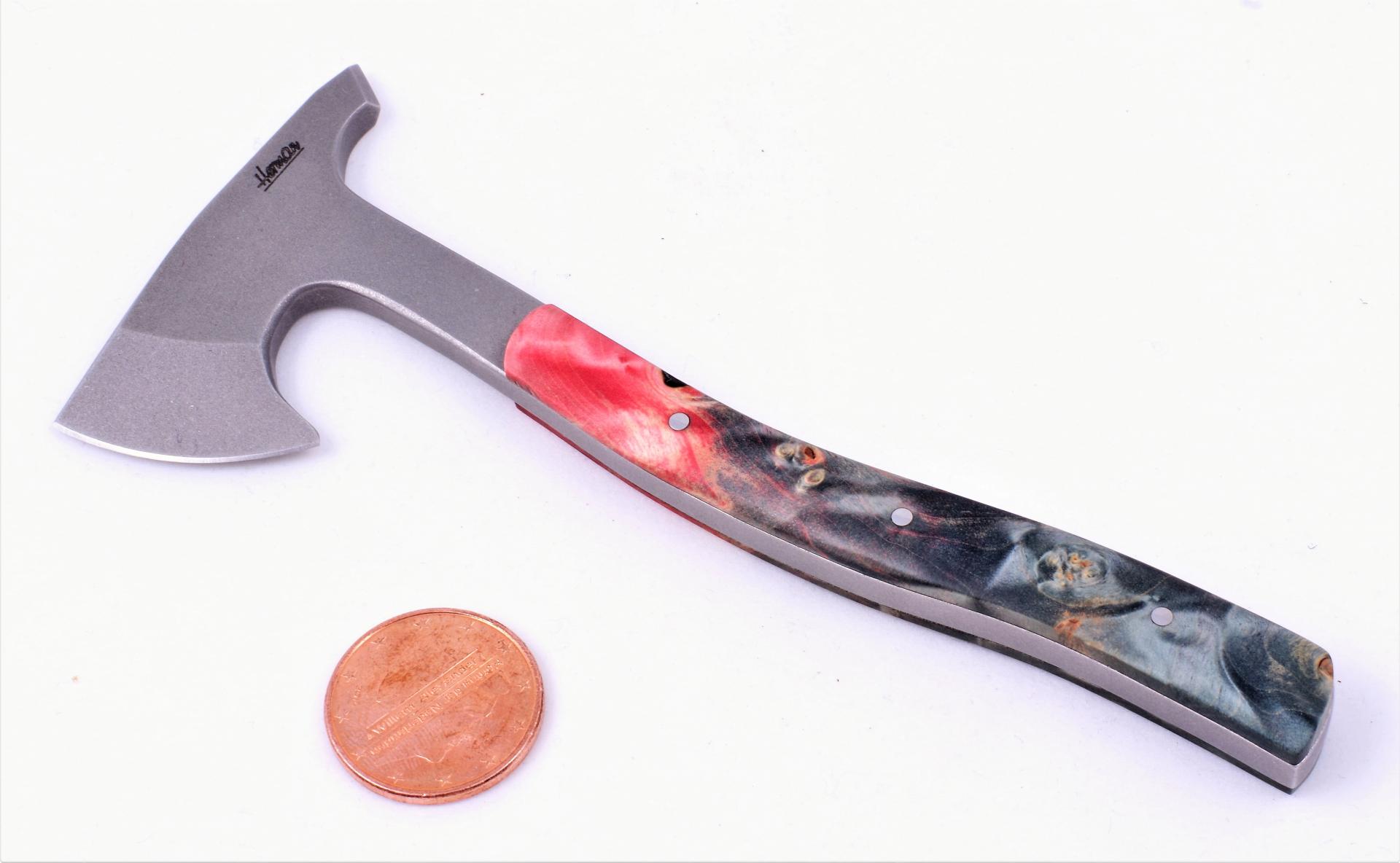 A miniature axe. Bartek made it as for fun, but the little axe draws a lot of attention at shows.
What are his future plans?
Bartosz Herman would like to be more known, and he would like to make better knives. But what is better? "You can always have more precision, a higher level of fit and finish. I would like to do some technical projects. My wildest plan is an out of the front automatic knife." For the time being, Bartek makes folders, including some wonderful Balisongs. But in the future he wants to have a look at fixed blades as well.
And finally: does Bartek have an advise for aspiring knife makers?
He answers without hesitation: "Never make knives that you think people want. Make the knives you like yourself. Because if you as the maker don't like it, other people certainly won't either."
The 'Lacerta' dagger, here in grey. The liner lock folding blade is M390 steel and the handle is titanium.
The overall length is 216 mm.