Interview: Andreas Behrend
Interview: Andreas Behrend
Knife maker Andreas Behrend (35) was born in Germany but lives and works in Austria, together with his partner Petra Rumpl-Sederl. Their company is named Two4sharPArt. We went there for a visit.

Text and pictures: Bas Martens
The Titanium Hunter. The blade is Böhler N690 steel, the bolsters are Titanium Grade II and the handle
material is Birch Burl. The leather sheath was made by Petra Rumpl-Sederl.

Many roads can lead to the profession of knife maker, but not all of them are as capricious as those of the German Andreas Behrend, born in Aachen and raised in the German-Dutch border towns of Herzogenrath and Kerkrade. After high school, he was supposed to go to university, but Andreas wanted to do something with his hands - preferably make knives.
More or less coincidentally he ended up in the famous Austrian weapons centre of Ferlach, where he was trained as a gunmaker. "I had no sympathy for weapons," he says, "but I was looking for a combination of wood, steel and a perfect finish. Actually, I did that training to become a good knife maker." It came in handy, because in addition to his knowledge of restoration and materials, Andreas also learned how to make tools, something that gives him a lot of pleasure these days.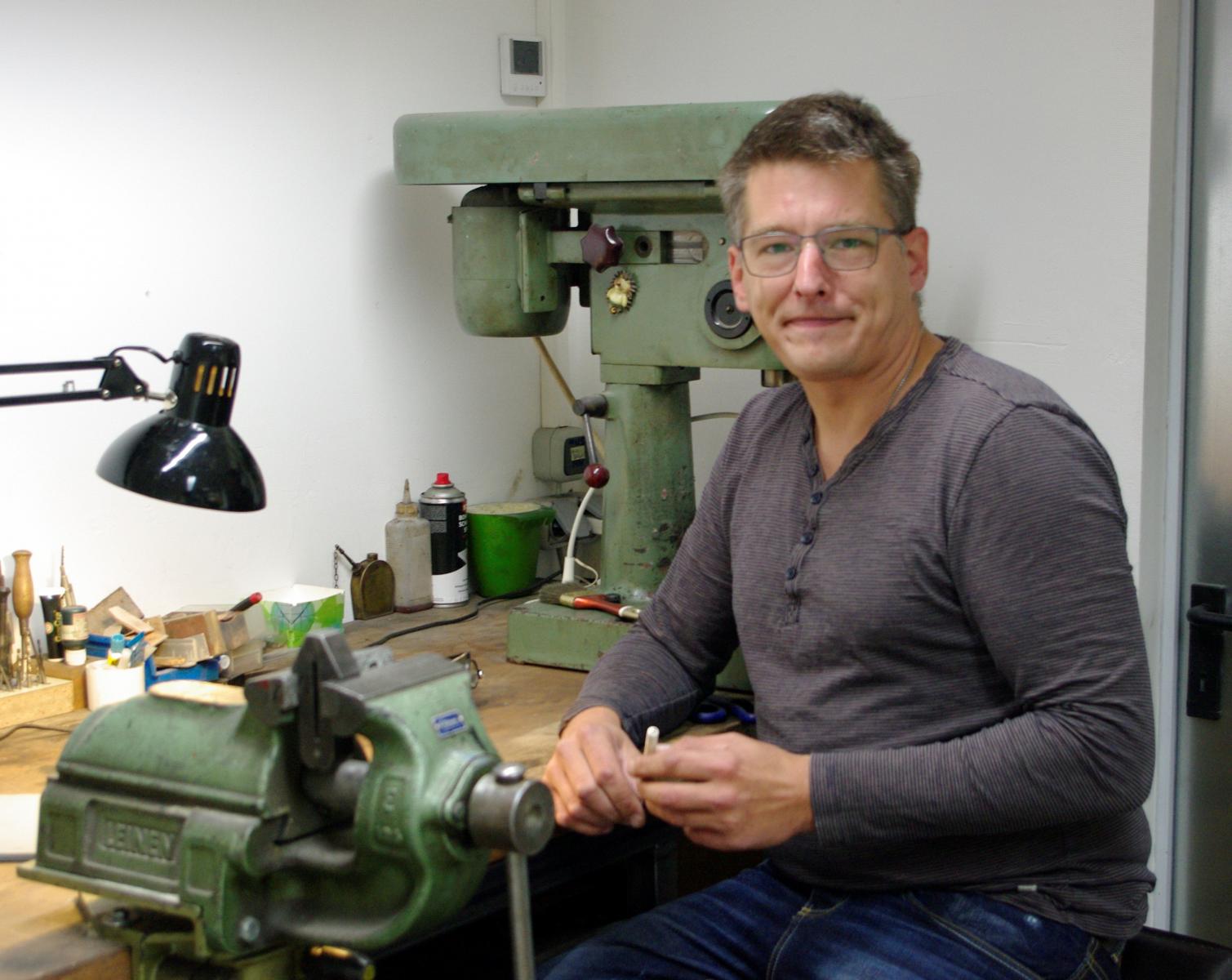 Andreas Behrend in his workshop in Scheibbs, Austria.

A knife maker and a jewellery maker go together very well, as shown by this beautiful combination. The
knife is the 'Mammut' gentleman folder. The blade is made of 1.4528 steel, the bolsters are Balbach Damask
'Ferrus' and the handle is mammoth ivory with gold screws. The blade length is 85 mm.

In 2013 Andreas Behrend came to Scheibbs in Austria to do an internship with Robert Sederl in order to improve his skills as a knife maker. Robert and his partner Petra had a shop in Scheibbs for jewellery and knives - Petra made the jewellery and Robert made the knives. Andreas felt perfectly at home there.
In 2015, however, Robert Sederl fell seriously ill and died shortly afterwards. At Robert's personal request, Andreas then settled permanently in Scheibbs and continued the business with Petra. He has been an independent knife maker since 2015 and in 2016 the two of them founded Two4sharPArt. Because of that name Andreas signs his knives with the intertwined numbers 2 and 4.
Left: Andreas Behrend and Petra Rumpl-Sederl are the Two4sharPArt company. This is their shop in Scheibbs, Austria.
Right: Andreas' signature consists of the numbers 2 and 4, referring to Two4sharPArt.

Team
Petra and Andreas form a close-knit team, both professionally and privately. Petra helps Andreas with his designs and the selection of his materials. Andreas is colour-blind, which is why Petra checks whether the materials he has chosen match each other in terms of colour. The same goes for the anodising of titanium. In addition to jewellery, Petra also makes leather goods. She makes the leather sheaths for Andreas' fixed knives. They are also active together in the organisation of the annual knife show in nearby Ybbsitz.
The upper knife is Model #242, with a Balbach DSC Inox Blade and Achim Wirtz Bolsters, Mammoth Ivory
scales and Titanium Grade 5 liners. The lower knife has a 85 mm Balbach DSC Inox blade, Uwe Heieck
bolsters and handle scales from Mammoth tusk from Austria.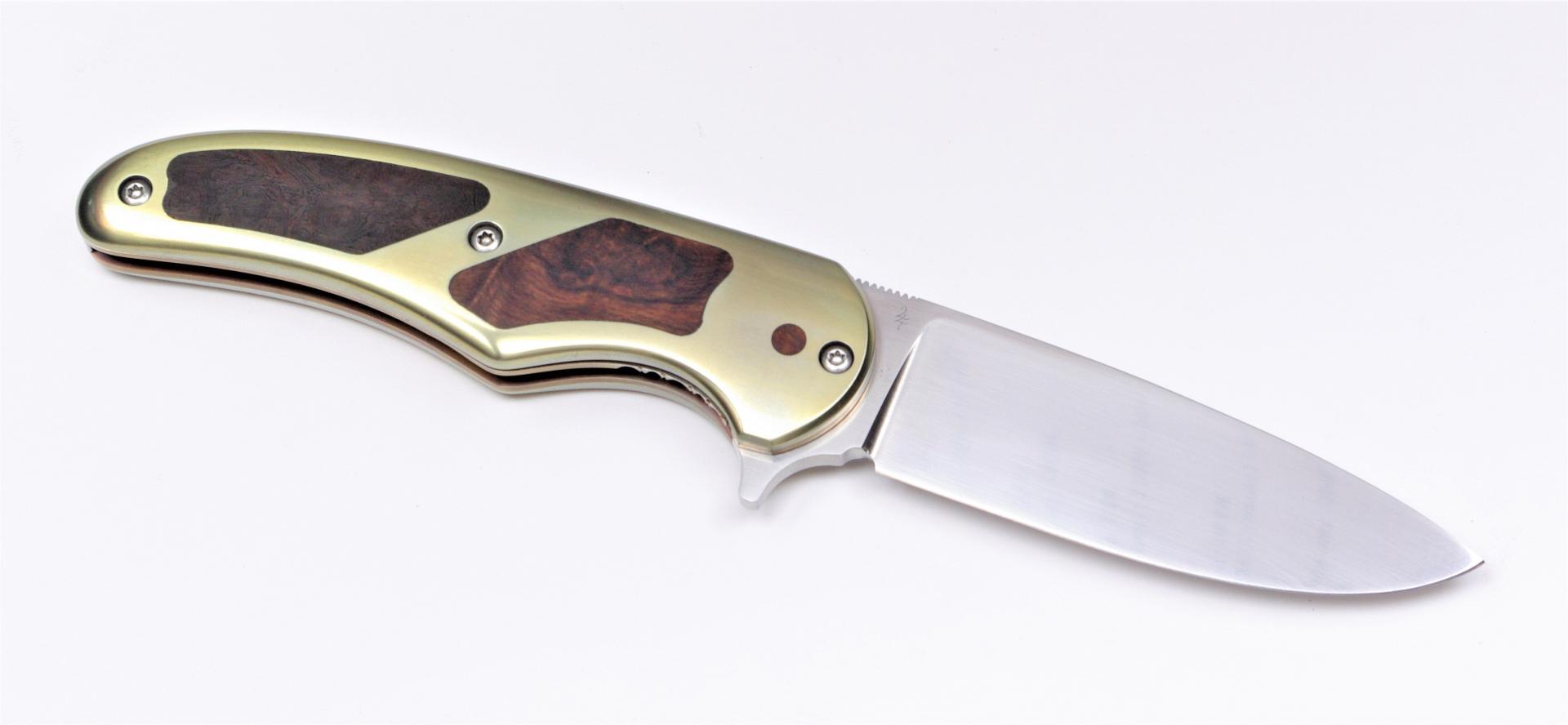 A linerlock folding knife with a Böhler N690 blade, anodized Titanium Grade II scales with Desert Ironwood
inlay and Titanium Grade 5 liners.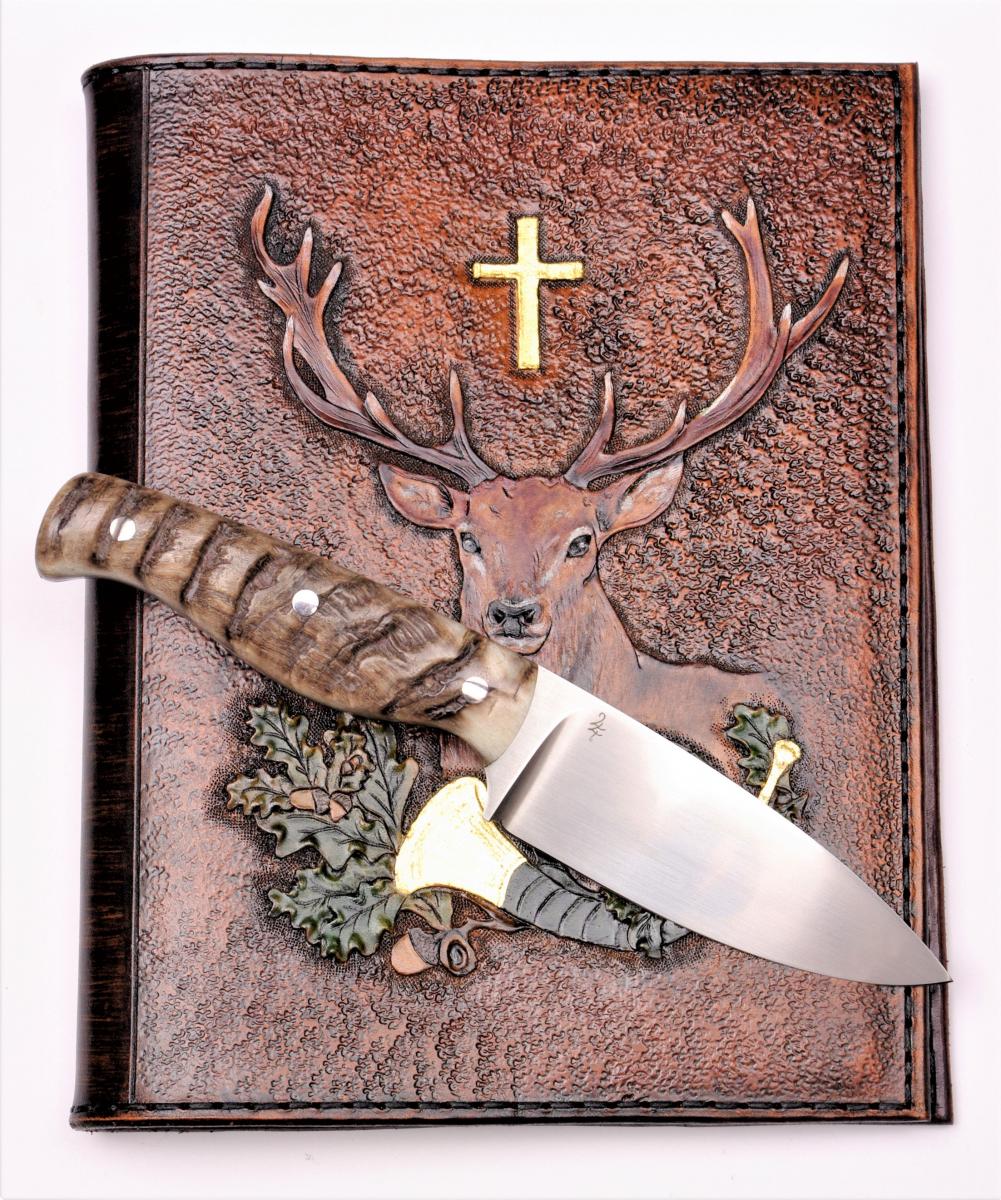 This Model 'Brotform' has a 105 mm N690 blade and
a handle from Grouch horn. The knife lies on a
leather-bound Hunter's Diary by Petra Rumpl-Sederl.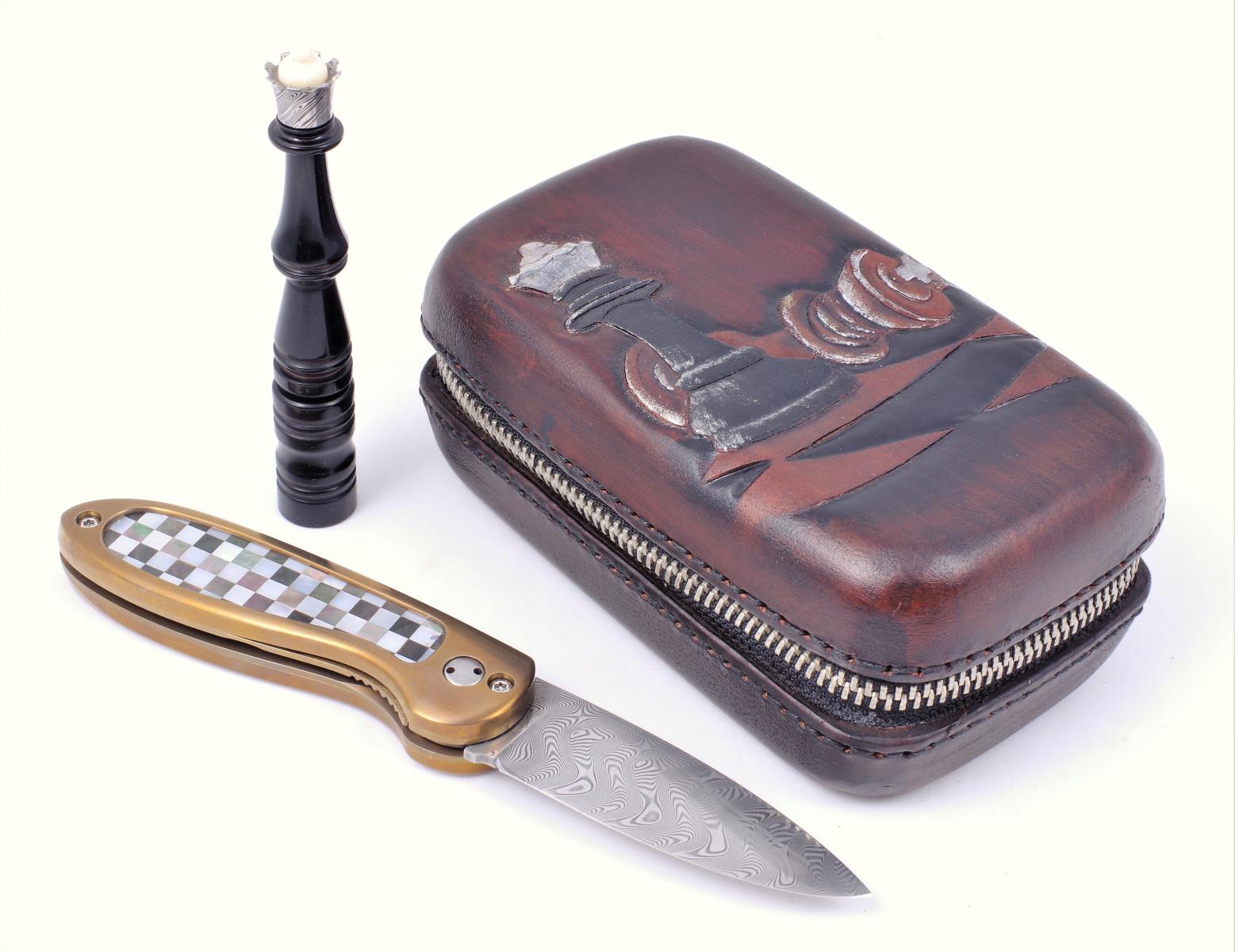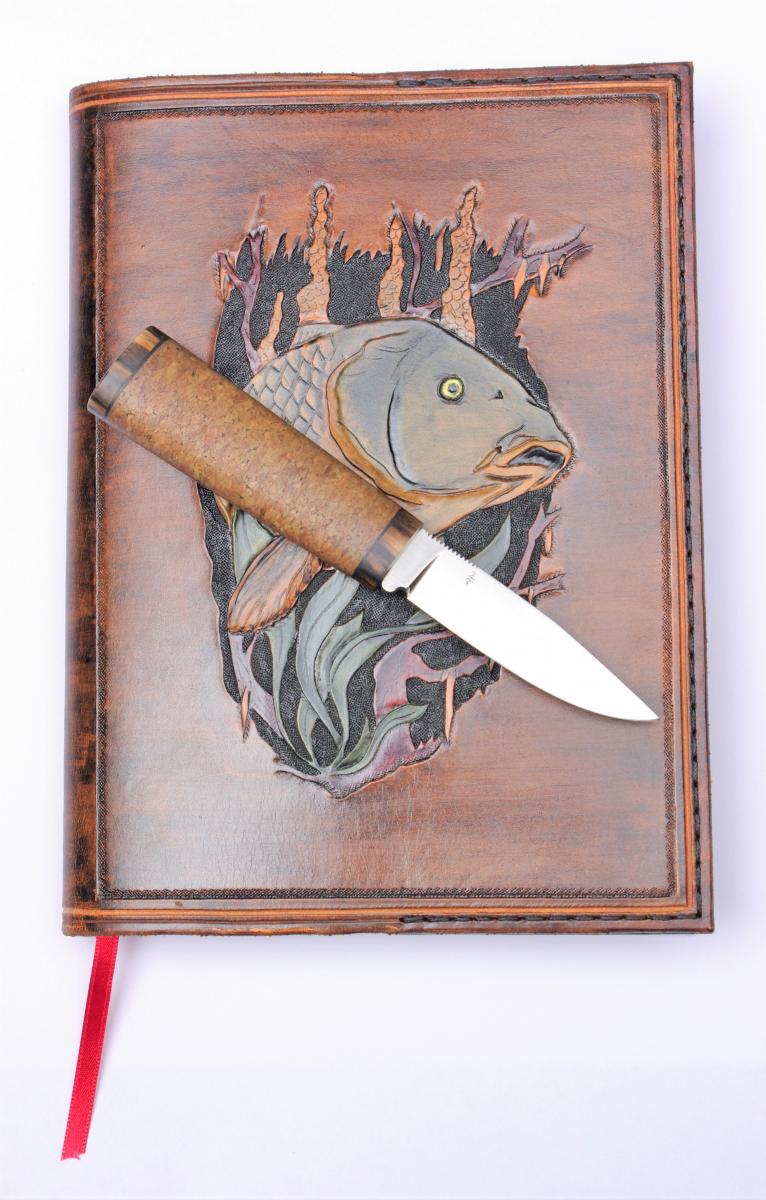 Left: The 'Kings Knife'. The set consists of a handmade leather box with an ivory chess-motif. This contains a
'King' made of buffalo horn, titanium, RVS Damascus and ivory, which serves as a screw driver for the axis
screw of the knife. The knife has an RVS Balbach Damascus blade with herringbone motif. The handle is
grade II Titanium, with an inlay of Mother of Pearl. The axis screws are handmade from Damasteel. The blade measures 6,5 cm, the overall length of the knife is 18 cm.
Right: The Ultralight Fisherman weighs only 49 Gramm. The knife has a 75 mm N690 blade and cork handles
with Laos Ebony wood. It is pictured on a leather-bound Fisherman's Diary by Petra Rumpl-Sederl.

Two4sharPArt has a shop on the banks of the Erlauf river in Scheibbs, were Petra has her workshop. Andreas initially made his knives there too, until the customers became a bit too interested in what he was doing. Meanwhile his workshop is a bit further away.
Andreas Behrend considers himself a traditional knife maker. "I don't make art, I make high-end tools", he says. "I'm very Old School." It is evident from his choice of materials. In terms of steel, Andreas is modest. He uses N690 or Balbach damask. The hand-forged damask for his knives comes from Achim Wirtz, Norbert Bahls, Uwe Heieck or Karl Schmidt. Andreas uses only natural materials such as stabilised birch, Thuja, mammoth ivory or Desert Ironwood for his handles. G10, Carbon fibre or Paracord are not in his book.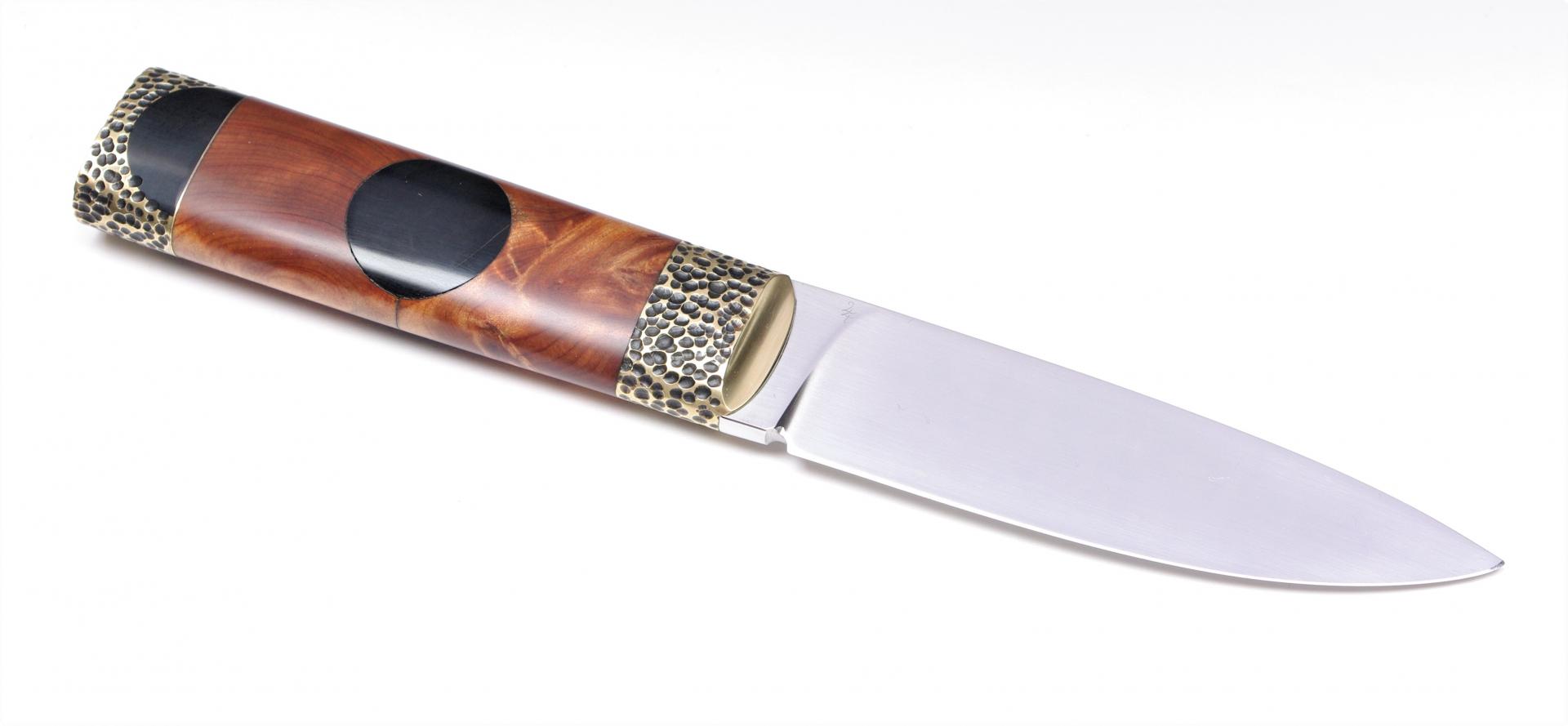 A seemingly simple knife with a 100 mm N960 blade, and a Brass, Thuja and Buffalo horn handle.

Independent
An independent existence as a knife maker seems a fantastic profession, but that is not always the case. There are the inevitable economic necessities. As a precision mechanic, Andreas would prefer to make folding knives. His fixed knives are so popular, however, that they provide a large part of the income. These are mostly traditional hunting knives, but Andreas' knives are also popular with fishermen. He also makes knives for the Austrian traditional costume, the Lederhose. His 'free work' is therefore limited to something like fifteen fixed knives and ten folding knives a year.
A fixed hunting knife. The blade is made from Damasteel, the handle is mammoth tooth, the engraving was
done at Ferlach.

The future
Andreas Behrend is relatively young at the age of 35. He notices that some people do not take him very seriously. Moreover, he is very critical of his own work. He strives for perfection, which is not always easy. But Andreas is gradually gaining international acceptance. Next year he hopes to be a member of the Deutsche Messermacher Gilde. In five years' time, he hopes to have established his reputation and to have built up sufficient financial security as a knife maker. But before that, we will definitely go and have a look in Scheibbs again.
For more information:
https://www.24sharpart.at/
Andreas Behrend in his workshop.