Hubertus Schneidwarenfabrik, Solingen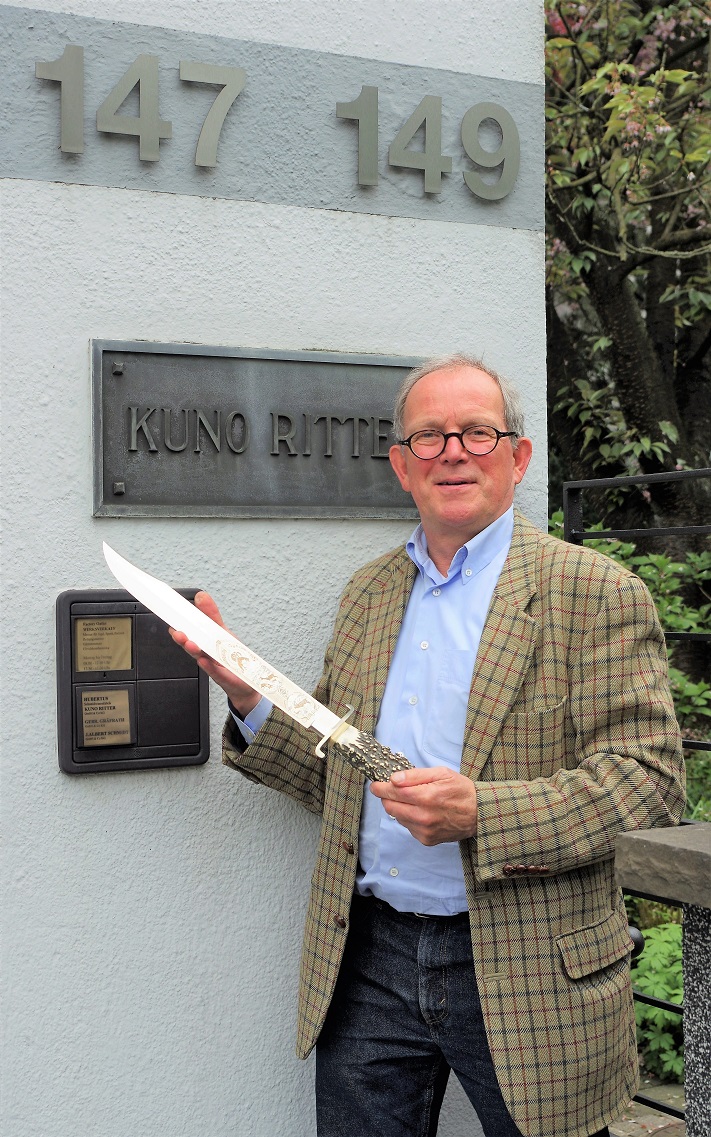 Left: The outside of the Hubertus company. The picture was taken on an early Sunday morning, therefore the window shutters are closed.
Right: Henning Ritter, company director, at the entrance of the Hubertus company.

Hubertus Schneidwarenfabrik, Solingen

The 'Hubertus Schneidwarenfabrik Kuno Ritter e.K.', commonly known as Hubertus, is a traditional knife making company in the heart of the German cutlery industry, Solingen. Hubertus makes high quality knives and cutlery according to classic models, in a traditional manner.

Text and pictures: Bas Martens

You surely know the expression: 'They don't make 'em like they used to'. Well, at Hubertus in Solingen they still do.
In its 85 years of existence, very little has changed at the Hubertus Schneidwarenfabrik Kuno Ritter e.K., as it is officially named. The company has introduced some modern designs, such as its popular rescue knife, but the larger part of the production line remains traditional knife models, made from traditional materials, fashioned in a traditional manner.
Depending on who you ask, the word 'traditional' is either much appreciated or held in contempt. For some, it is synonymous with the 'old-fashioned'. To others however, it is a tribute to long-forgotten values and near extinct craftsmanship.
When we speak of Hubertus, we are talking about the latter type of traditional. Their work is based on a straightforward philosophy: we have long been making top-quality knives, why do it differently now?

Varieties
Hubertus is a relatively small company which currently employs 16 employees. Production output is around 10,000 pieces a year, in an amazing number of varieties. The standard range of products comprises 450 basic models. With minor differences in finish, etching, with or without extra tools and there is a staggering choice of 3200 variations.
The Hubertus company was founded by Kuno Ritter in 1932, in Solingen Gräfrath, where it established itself as the Kuno Ritter Stahlwarenfabrik. Prior to his own company, Ritter was a sales representative for several cutlery companies in the Solingen area, so he knew the business well. His firm started with the production of hunting knives, sporting knives and pocket knives. During the Third Reich it made bayonets and daggers as well.
Immediately after the war, Ritter worked with the Weltersbach knife company for several years. Kuno Ritter focussed on fixed knives, mostly destined for the U.S. market. Weltersbach made folding knives for Asia.
In 1950, Ritter acquired the trade company 'J. Albert Schmidt Nachfolger', for which he was making knives since the early 1930s. That same year the company moved to its current production facility at the Wuppertaler Strasse 147 in Solingen. With the acquisition of J. Albert Schmidt, came a variety of trademarks, including the brand name 'Hubertus' – a longstanding wish of Kuno Ritter. The brand name taken from the patron saint of hunters was altered into a new trademark by raising the letter 'b' to form a Christian Cross. It was registered in 1950 and has been used ever since. Under this brand Kuno Ritter expanded its array of hunting knives to hunting cutlasses and hunter's boar knives.
In 1961, Hubertus further expanded its portfolio through the purchase of Gebrüder Gräfrath in Solingen, a company which specialised, among other things, in folding knives and switchblades. This completed the portfolio. Hubertus could stand firmly on his own feet, and more than that: through the years, the company has made many specialty knives for other well-known Solingen companies, who sold them under their own name or trademark.
Kuno Ritter left the company to his son Walther in 1962. Walther Ritter passed away quite unexpectedly in 1985, and the responsibility for the Hubertus company came into the hands of his daughter, Beate Ritter, who was at that time 26 years. Her husband Henning gave up his career in the German Army to join her in the company. With his master degree in economics he took it very seriously, following a trainee program in a technical college for the cutlery industry in Solingen first, and changing his last name to Ritter later.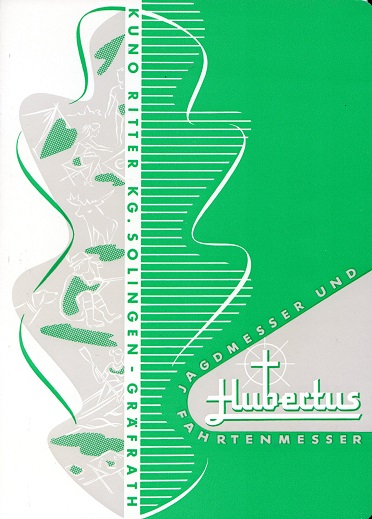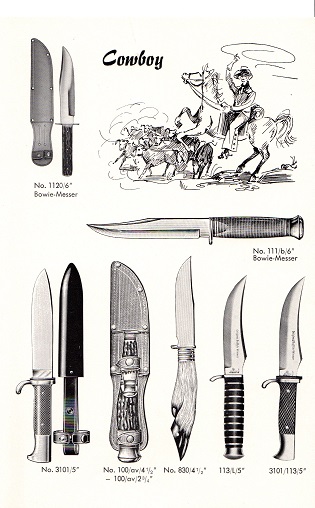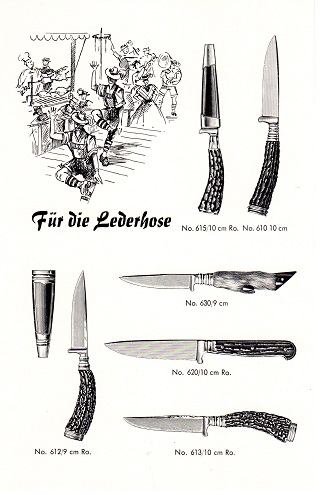 The cover and a few of the pages of a 1950's Kuno Ritter catalogue.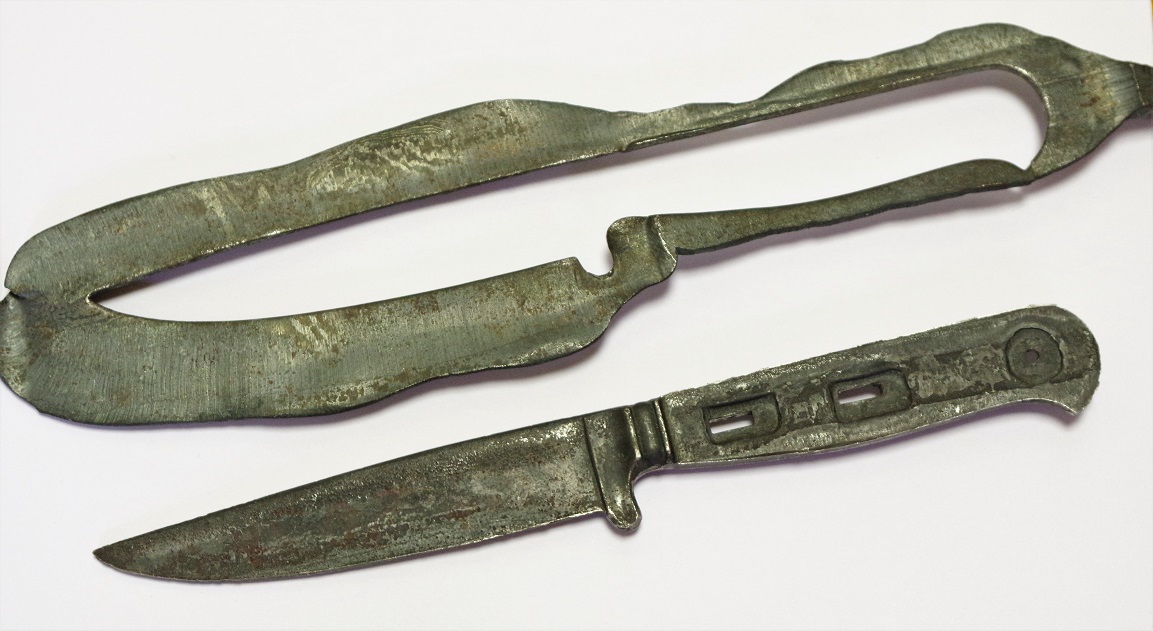 Left: Most Hubertus fixed blades arrive at the company as one-piece drop forgings.
Right: One of the production rooms.

A visit
A tour through the Hubertus company is like travelling back in time. The building consists of many rooms, some used for production, others for storage. There are wooden crates everywhere, with knives in different stages of completion, raw materials, and endless quantities of screws, pins and other parts.
Much of the logistics is stored safely in the mind of Henning Ritter. He knows about models, materials, amounts, orders. He knows what production is under way, what should be finished first and what can wait.
Hubertus fixed knives start as rough shapes, drop-forged from one solid piece of steel. The forgings come from another Solingen company. They have to be grinded in shape, polished, marked, and provided with handles and sheaths. A large amount of the grip material is of natural origin with a special focus on staghorn, which comes mostly from Spain and the large Hubertus stock remaining from sources in India - German hunters like to keep their trophies intact and put them on the wall. Damascus steel comes from the Schmiedewerkstätte Markus Balbach e.K., Manfred Sachse and, recently, from Nanger Franck (Schmiedeglut).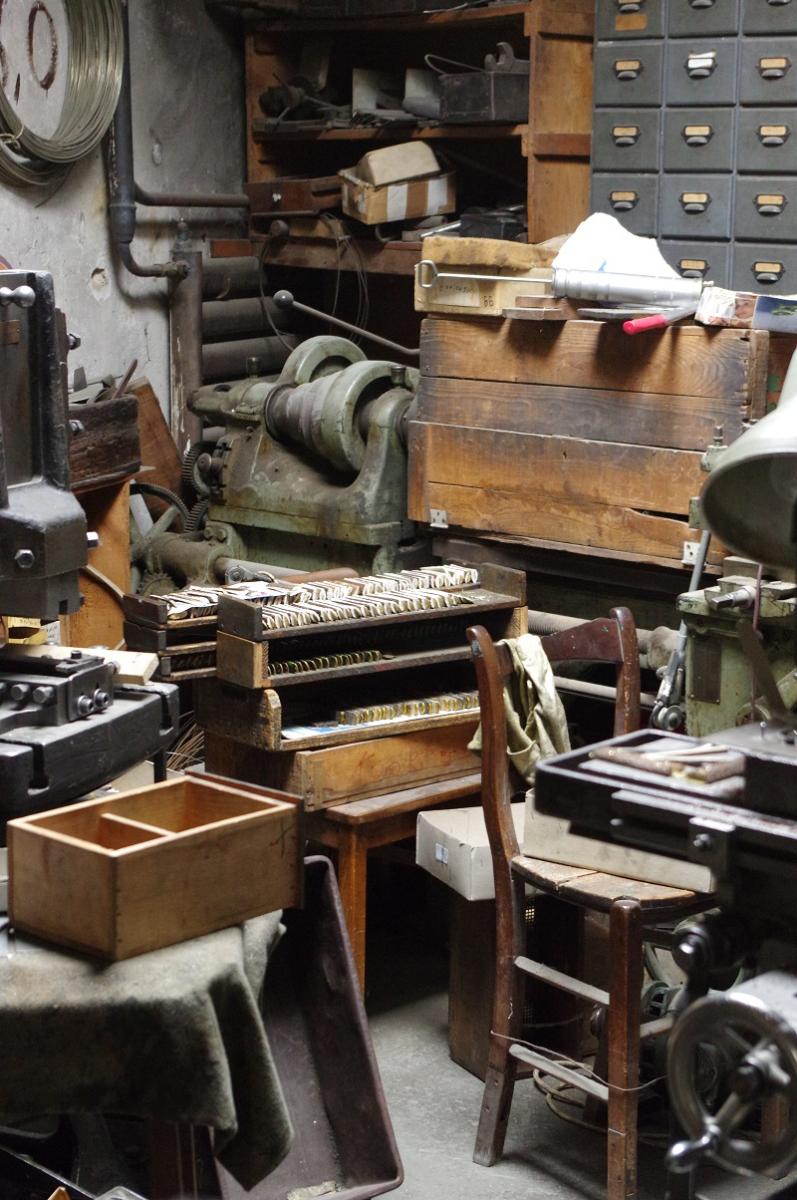 A visit to Hubertus is like travelling back in time. Little has changed over the last decades. Knives, in different
stages of completion, are everywhere and there are racks full of templates and parts..
Left: About a meter long, this set of cutlery was made as a master piece.
Right: One of the production rooms with an assortment of grinding and polishing belts and wheels.

Archive
Being a sales representative, Kuno Ritter already had a vast collection of brochures and catalogues dating back to the 19th century. Through the acquisition of J. Albert Schmidt Nachfolger and Gebrüder Gräfrath this further expended. Henning Ritter now has an enormous archive about the Solinger blade industry, of which he made good use in his contributions to the book 'German Knife and sword Makers' which is discussed further on. He has plans for other publications, but that may have to wait until his retirement.

Hubertus Schneidwarenfabrik Kuno Ritter e.K.
Wuppertaler Strasse 147
42653 Solingen
Germany
www.hubertus-solingen.de
Left: A large part of the Hubertus knives is made with staghorn handles.
Right: Hubertus has boxes full of old striking dies, for various names and markings.