Finnish Military knives

Finnish Military knives

M
ike Heffner has a blog called Nordiska Knivar (https://nordiskaknivar.wordpress.com/) about traditional Nordic knives, with a primary focus on the puukko, a cultural treasure of Finland. In observance of Finland's 100th Anniversary of Independence on December 6, 2017, he published an article on Finnish military knives, for which information and pictures were supplied by Finnish knife maker and collector Pekka Tuominen. Most of these knives are from his collection. With permission of both gentleman, European Blades Mag. is happy to share this information. Thank you!
Some official Finnish military knives from 1919 to early 1960's. There may be some more, but it must be a very small batch, so I do not know it. In Finland we have a tradition that every man buys a knife (mostly a puukko-knife) when he enters military service. We have a conscript service, and about 80% of the young men (and voluntary women) do their 6-12 months conscript service. That's why there is also such a small number of official military knives in the independent Finland military history.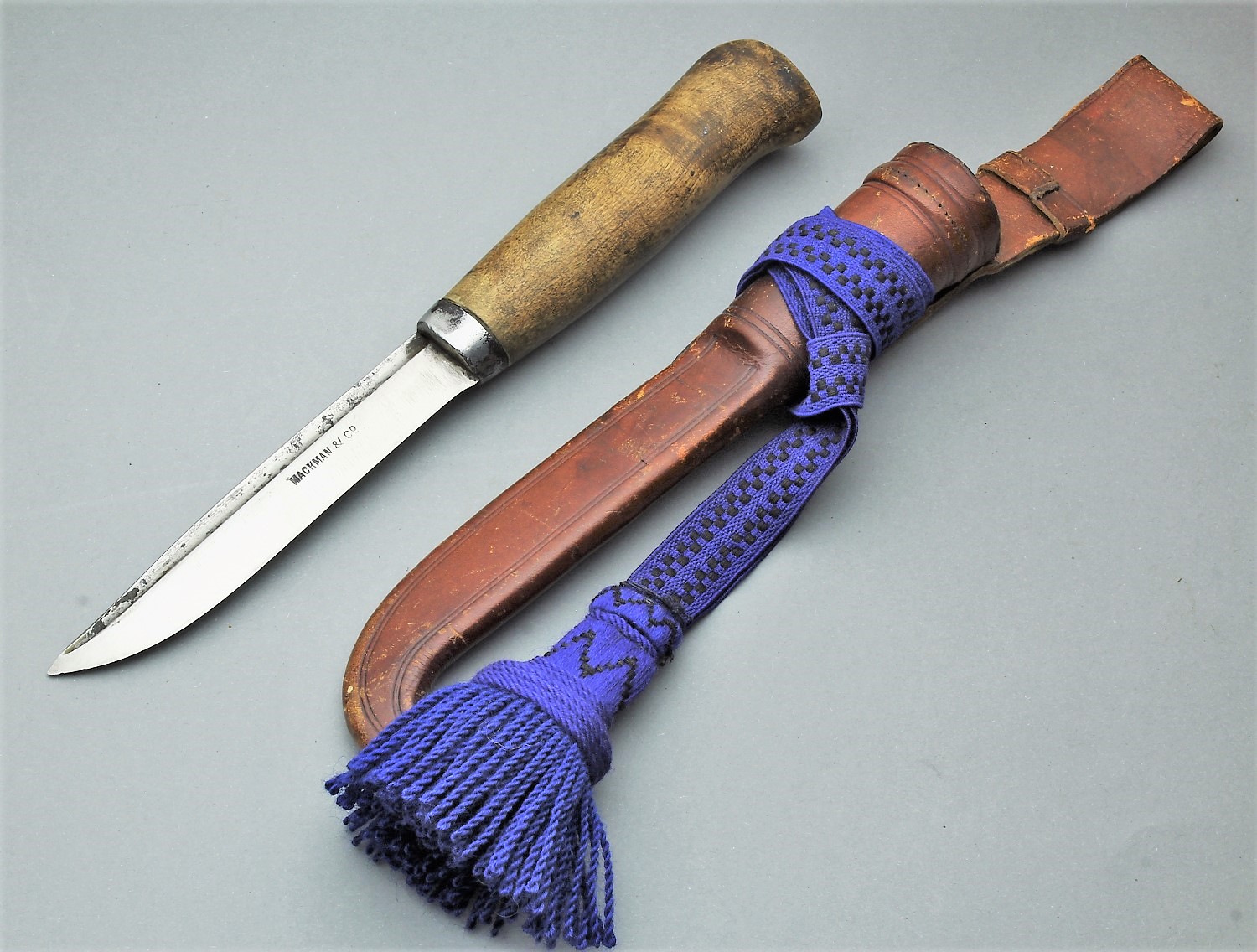 Civil Guard puukko-knife m/27
Official dress knife for the Finnish Civil Guard (1918-1944). The m/27 was designed in 1927 and it became official in 1928. Made by Hackman co. Long blade with full lenght 'blood groove'. Curly birch handle. Leather sheath with blue or green porte-epee. This is a very rare knife.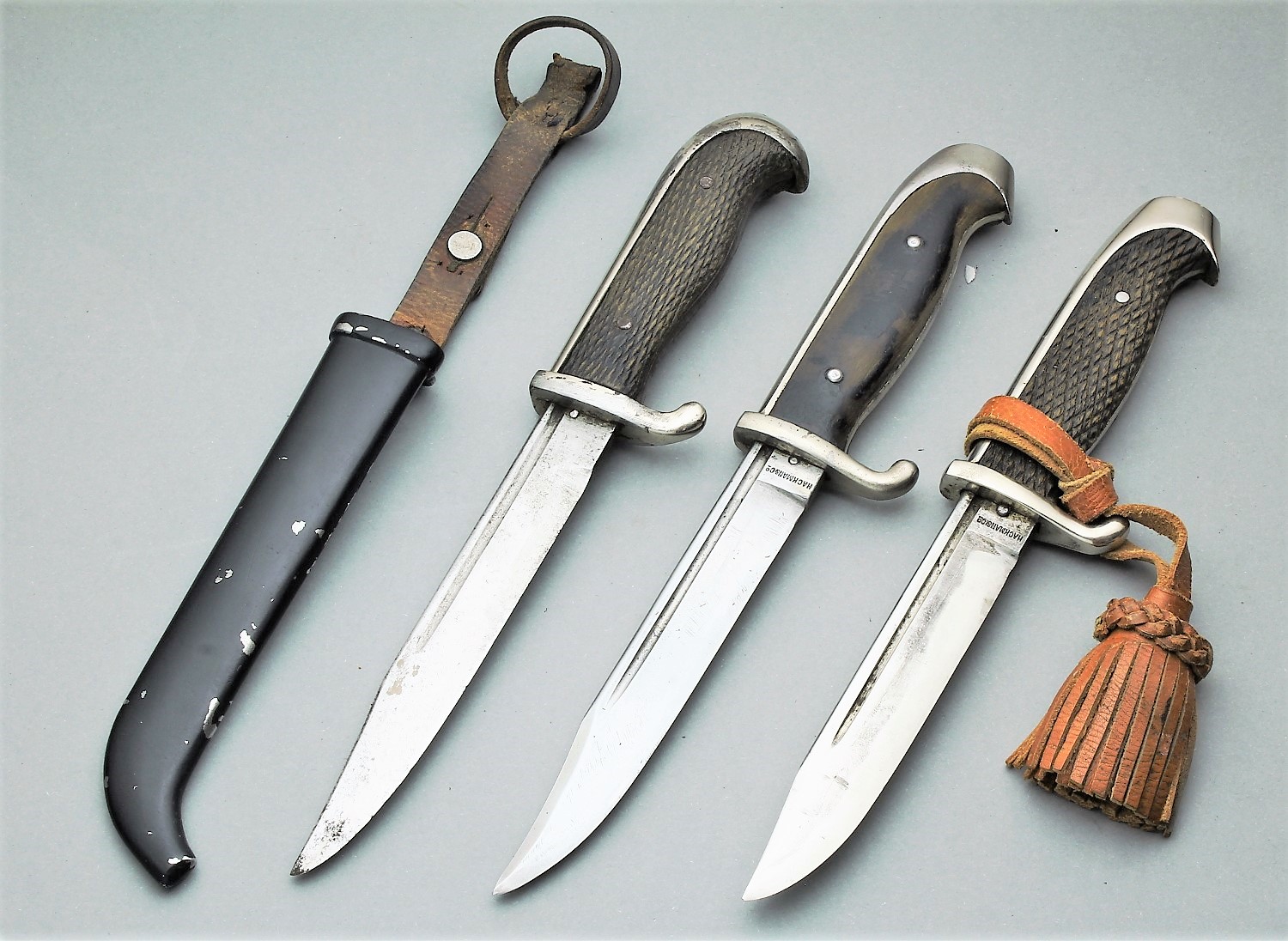 Dress knives
Dress knives became an official part of the military dress in 1919. The design came from Imperial Germany. In Finland those knives were made by Hackman co. and Fiskars co. in the early 1920's. Also Finnish military ordered similar knives from Germany, mostly from the Solingen area. In Finnish some dress knives are called 'puukkopistin' (puukko-bayonet). This name is funny, because the knife is neither a puukko nor a bayonet.
In the photo there are from right to left a Hackman co. made dress knife with filework in the handle and leather porte-epee, and another Hackman co. made dress knife with plain handle. Far left is a German made dress knife. All knives come with steel sheaths, like in the photo. There exist also a super ultra rare officer's version of that knife, with a lonher blade. The longer sheath comes with two rings for sword hangers. The Hackman made knives are from Mr. Heikki Stark's Collection.
Lineman's knives
Official Finnish military lineman's knives from the 1920-30's. From the right two Fiskars made lineman's knives, fulltang blades, sheep foot grind, Ebony handles and leather sheaths. Both marked 'Suomen Armeija' (Finnish military). Far left a sheep foot bladed lineman's knives with typical 1920-30 puukko-knife handle with SA (Finnish Military) stamp, maker unknown.
Orijärvi puukko-knives
On the right a Fiskars made puukko-knife for the first Finnish UN company, in Suez-Sinai 1956-57. A classic Fiskars Orijärvi model puukko knife, with SA stamp in the handle and sheath. On the left is a WWII Fiskars made Orijärvi with an unusual sheath with SA stamp, maybe from a pioneer's or demolition man's bags.
[
Deep sea diver knife
Originally from the UK, made by Siebe Gorman. Purchased for the Finnish Navy after WWII. Bakelite handle. The brass sheath originally comes with a leather belt loop.
Pilot Survival puukko-knife
Iisakki Järvenpää co. made this jet pilot survival knife from 1962 onward. Red painted handle with carbonsteel blade, SA marked. The sheath is so-called 'boot' style. The knife was part of a pilot's survival package. In Finland it appears in one book with the wrong designation 'laskuvarjojaakarin puukko' (airborne jaeger's puukko-knife), but it has never been airborne jaeger's equipment. It's easy to see the influence from Swedish Mora area knives in this knife, except that this blade is puukko-style, not scandi style as in the Mora area knives
Detonation material knife
One peculiar WWII is unmthis agnetic detonation material knife. Brass blade and birch bark handle. Unknown maker, maybe made by Finnish military.
There is also the Finnish Navy dress dagger from 1919, made in Germany. It's super rare and I do not own it.