European Knife Show Strasbourg 2020
EKS 2020

The fourth edition of the European Knife Show (EKS) in Strasbourg was not very different from the previous ones – and that is a compliment. Very pleasant, with a wide variety of knife makers, showing high quality of workmanship.
Text and pictures:
Bas Martens
It's hard to say exactly why, but the European Knife Show in Strasbourg has been an enjoyable event, ever since its first edition in 2017. Everybody likes to come there, both visitors and exhibitors. This was shown once more at the 4th edition, which was held on February 1 and 2 this year and had a ten percent visitor increase.
A part of the show floor. The Renault 4 car in the background is a participant in the 4L Trophy, a race through
the Moroccan desert with over 3,000 participants, to aid the "Association Children of the Desert". The EKS is
one of the sponsors.

The range of exhibiting knife makers is varied, with a number of new faces this year. The knives are of high quality, but the EKS is not a luxury fair. There is a nice knife for almost every wallet. What's more, as far as we could tell, sales were good. At least five knife makers ended up with an empty table.
Every knife show has its focus: tactical, regional, outdoor. In Strasbourg, the emphasis was folding knives – with all respect for some of the wonderful fixed blades. The pictures will give an impression of the variety.
In 2021, the EKS will celebrate its fifth anniversary. The lustre will be held on February 6 and 7. European Blades Mag. will keep you informed, but those curious can also have a look at
www.euroknifeshow.com
or on their Facebook page at Euroknifeshow.
The Russian Zladinox company showed not only their Damask steels, but also this set of kitchen knives.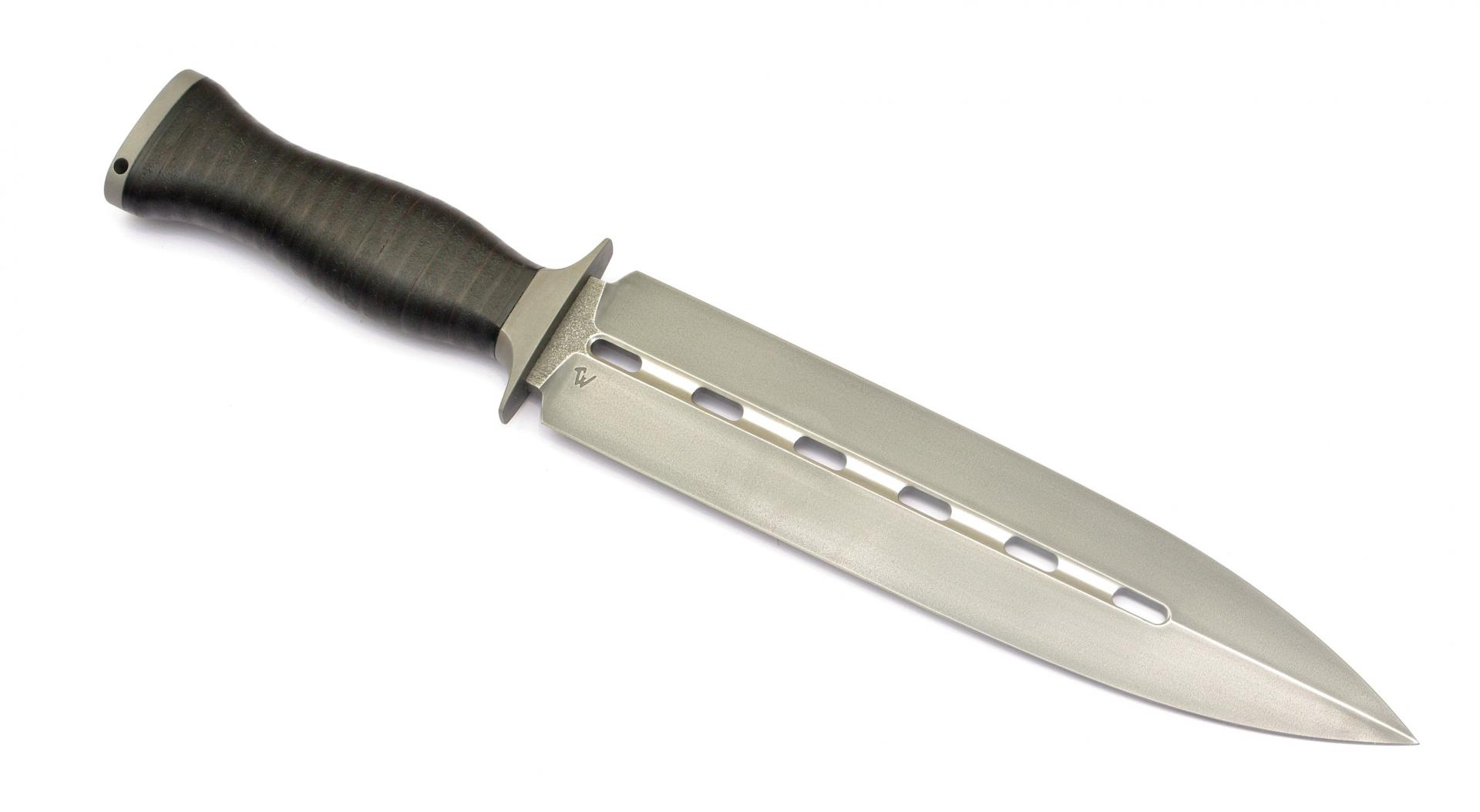 This knife by Czech maker Petr Weingärtner is aptly named 'Slayer'. The 24.5 cm blade is made from Elmax,
the handle is cowhide with stainless steel guards. The knife has a polished fuller.

French knife maker Elouan Coude (Les Couteaux d'E) made this knife with a 90MCV8 / 15N20 mosaic
Damask blade and a Warthog ivory handle. The length of the knife is 19.5 cm.
"Le Passager" (the Passenger) by French Atelier Ôdae. The blade is Alenox steel, the handle is Ringed
Gidgee with gold plated screws and heat-coloured liners.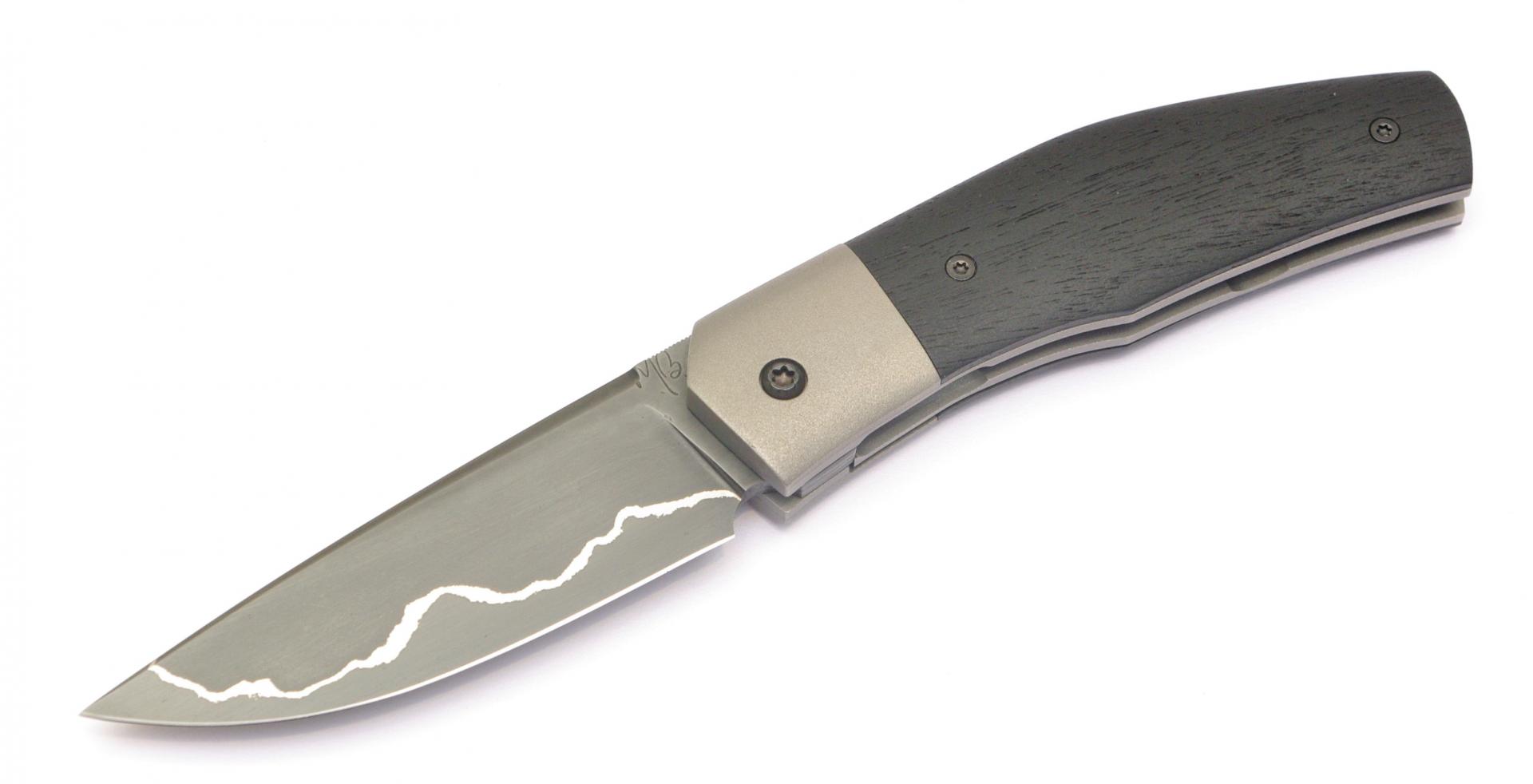 A liner lock folding knife by French maker Maxime Belzunce. The blade is 90MCV8 / / Nickel / C130 Damask.
The handle is ebony.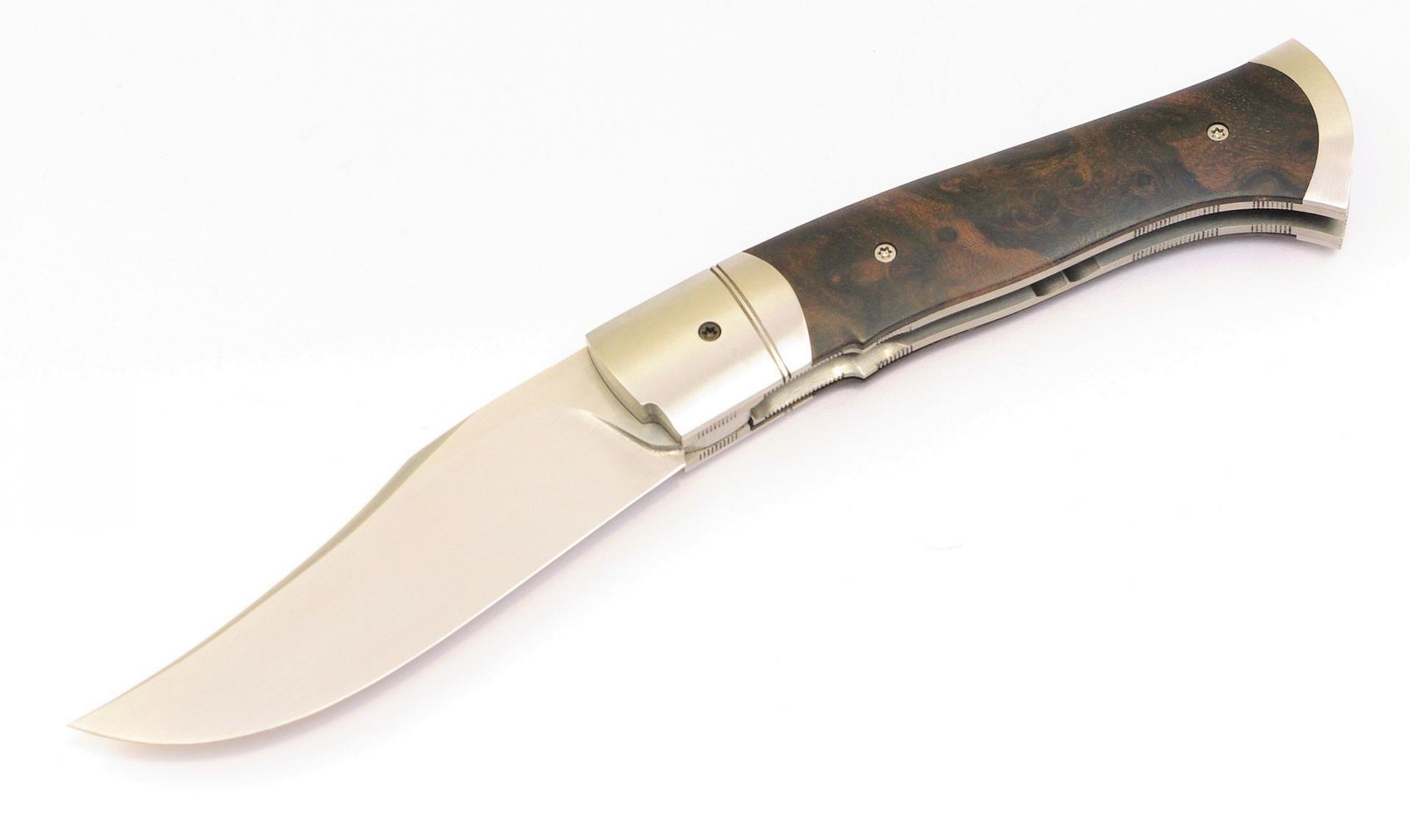 French maker Cyril Kalisz presented this "Avilad", a liner lock folding knife. The steel is SHV, the handle
material is Ziricote wood. The overall length is 189 mm.
The "African Queen" by German knife maker Joe Pöhler. The steel is nickel Damask, the handle is made
from Bronze, Silver and Baboon teeth.
Two examples of the "Névé" by French maker Tim Bernard. The upper knife is made from V610 steel and
has Ringed Gidgee handle scales. The lower knife has a stainless Wootz blade and Mammoth Ivory handles.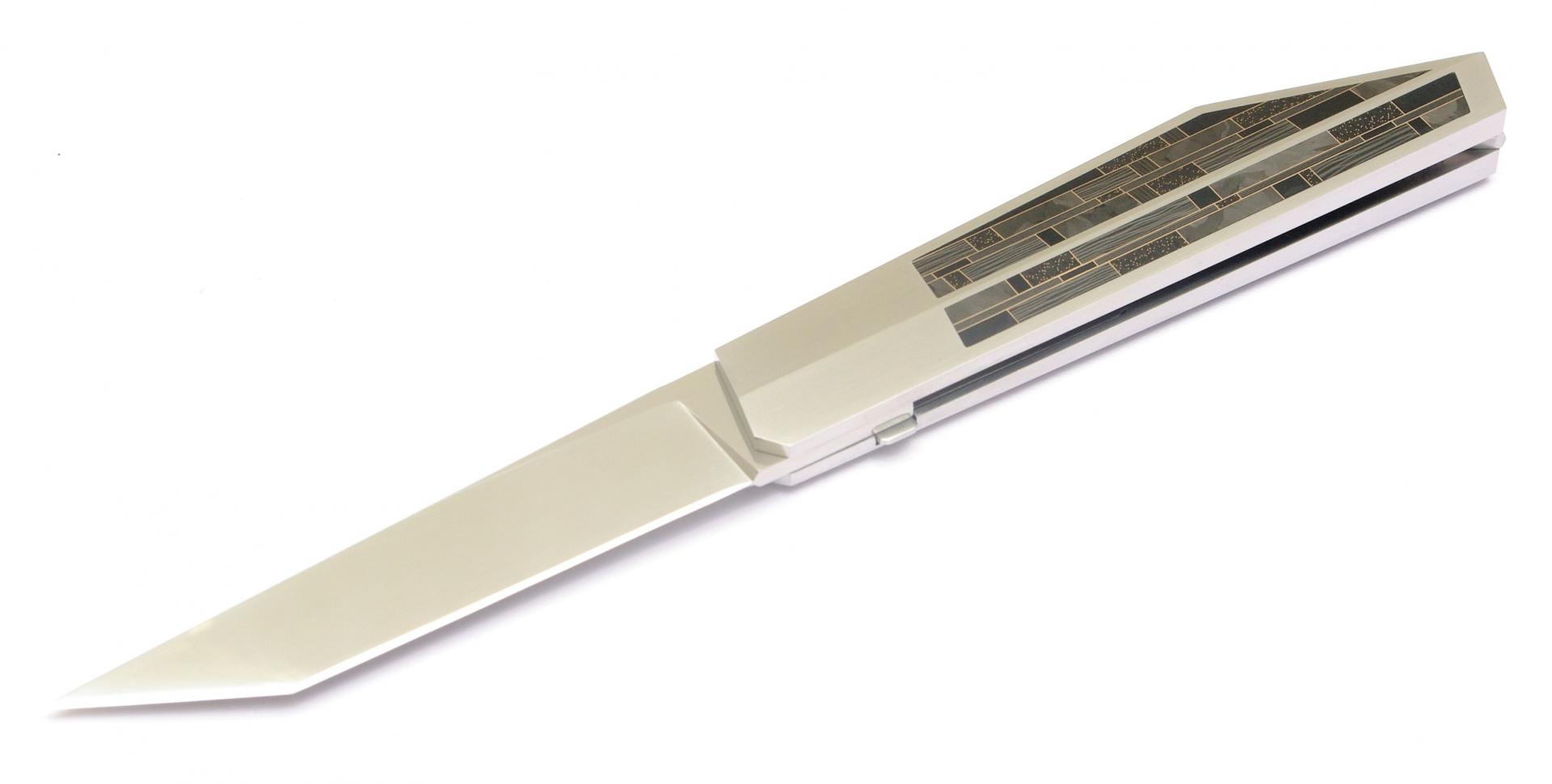 French maker Jean Pierre Martin showed his incredible craftsmanship with this "Mosaic". The side lock
folding knife has an RWL 34 blade. The 416 steel handle has inlays from different pieces of Carbon Fibre
and Bakelite. The overall length of the knife is 210 mm.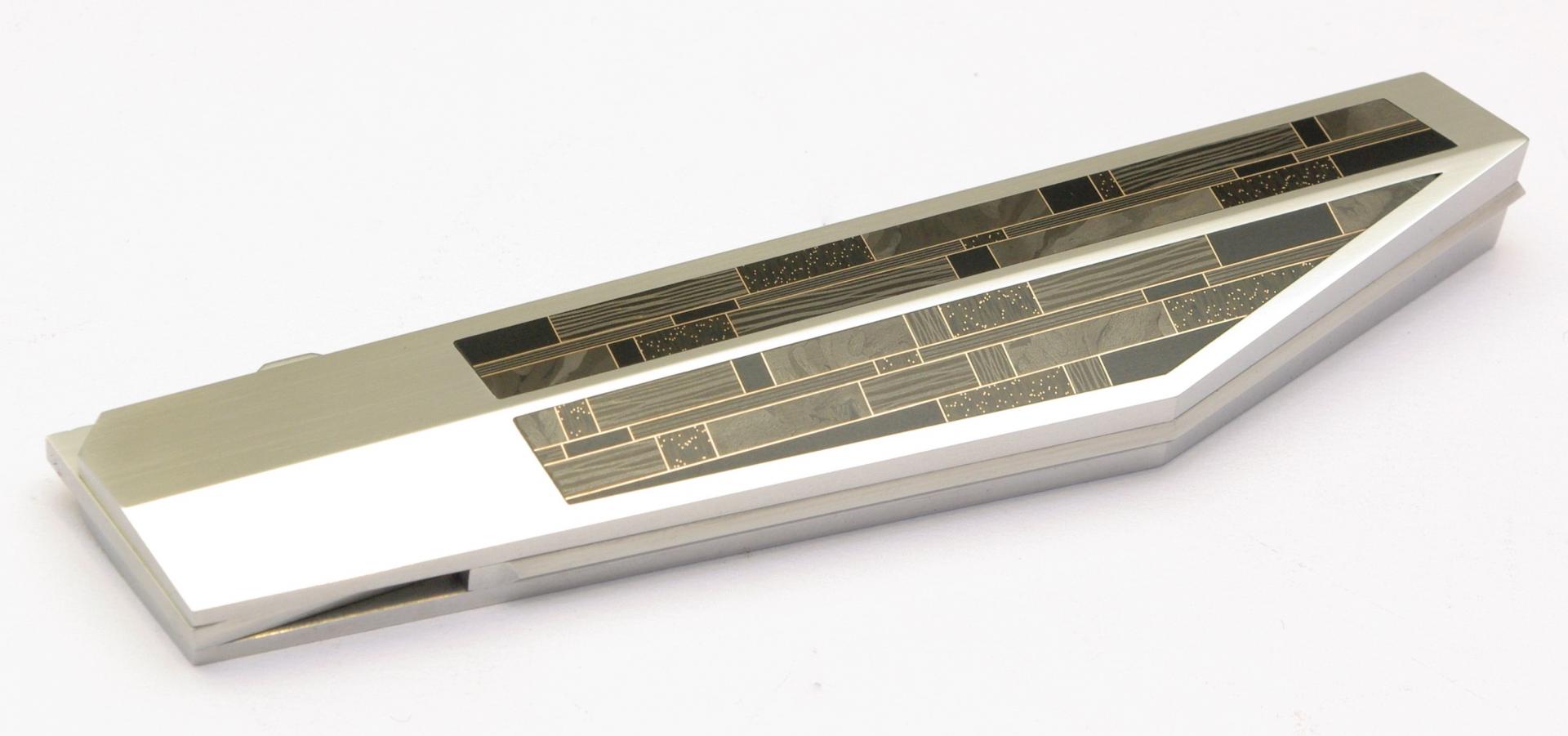 Jean Michaux (Cahuant Forge) presented this very sympathetic kitchen knife with a 16 cm C130 blade and
walnut handle.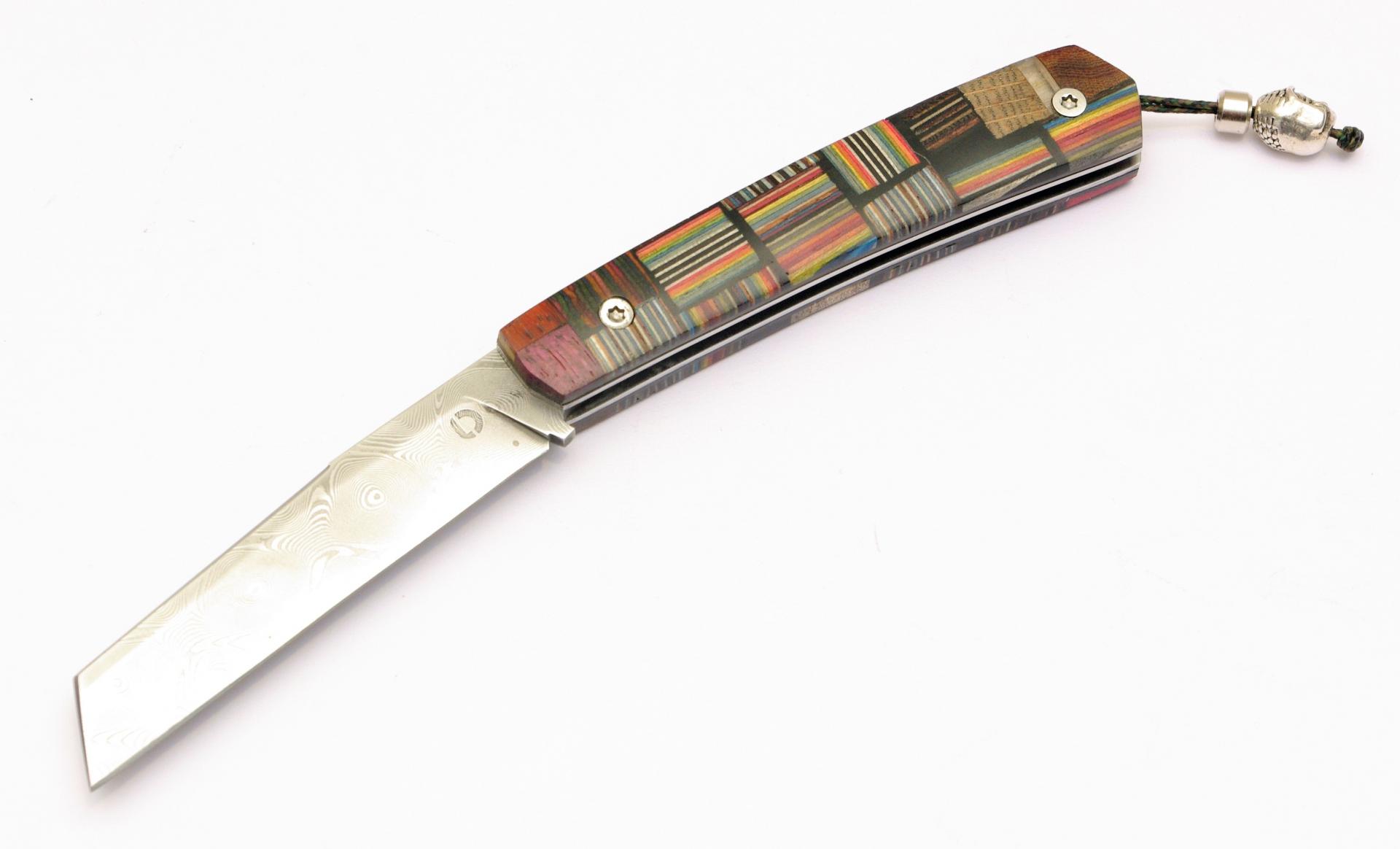 French knife maker Denis Lagarde showed the "R", a very cheerful folding knife. The blade is Zladinox
Carbon Pyramid Damask, the handle is a patchwork from different types of wood and Plexiglas. The overall
length is 210 mm.
Nicolas Dartus is, at present, the only French Journeyman Smith from the American Bladesmith Society.
In Strasbourg he presented this wonderful dagger. With a XC75 / 15N20 304 layers Damask blade. The
handle is parkerised steel and Warthog tooth.

A liner lock folding knife with an intriguing handle design by French maker David Lespect. The blade is C105
steel, the liners and pocket clip are titanium and the handle scales are Ironwood with a Damask insert.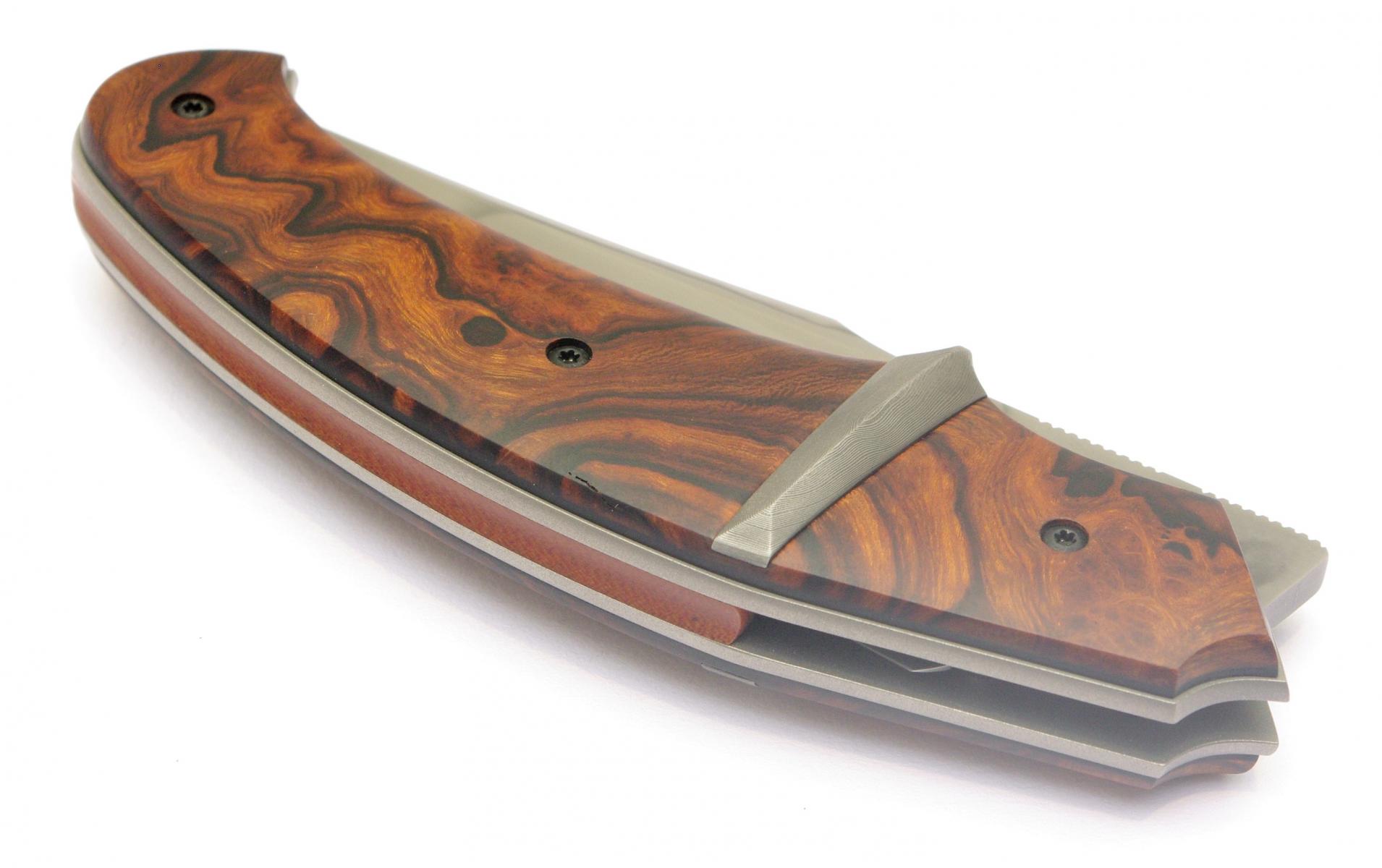 One of Jean Claude Laforet's models is his "Interpretation du Thiers" (interpretation of the model Thiers).
This particular knife has a 13 cm Zladinox Turkish Damask blade, and Mammoth Ivory handle scales.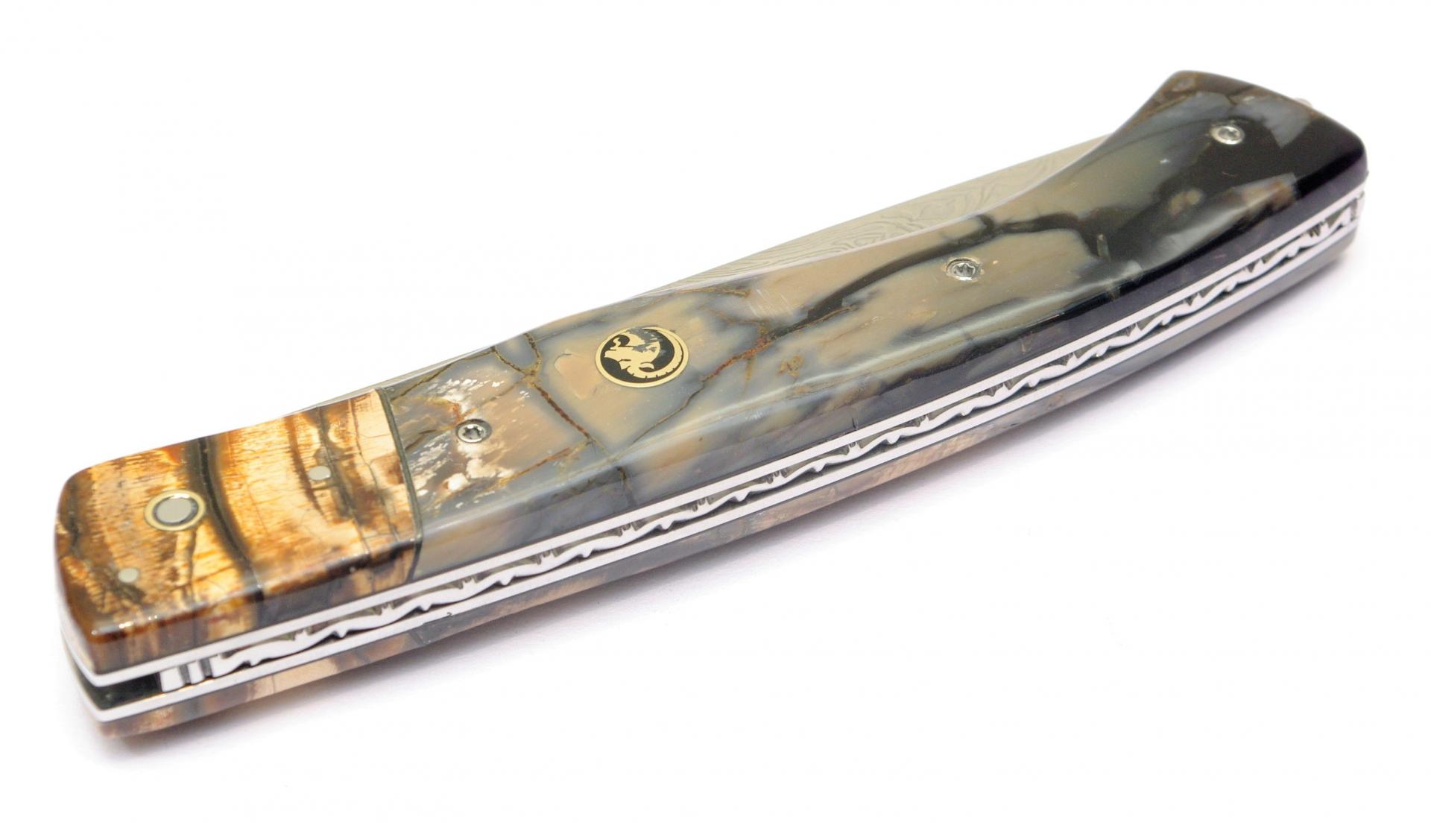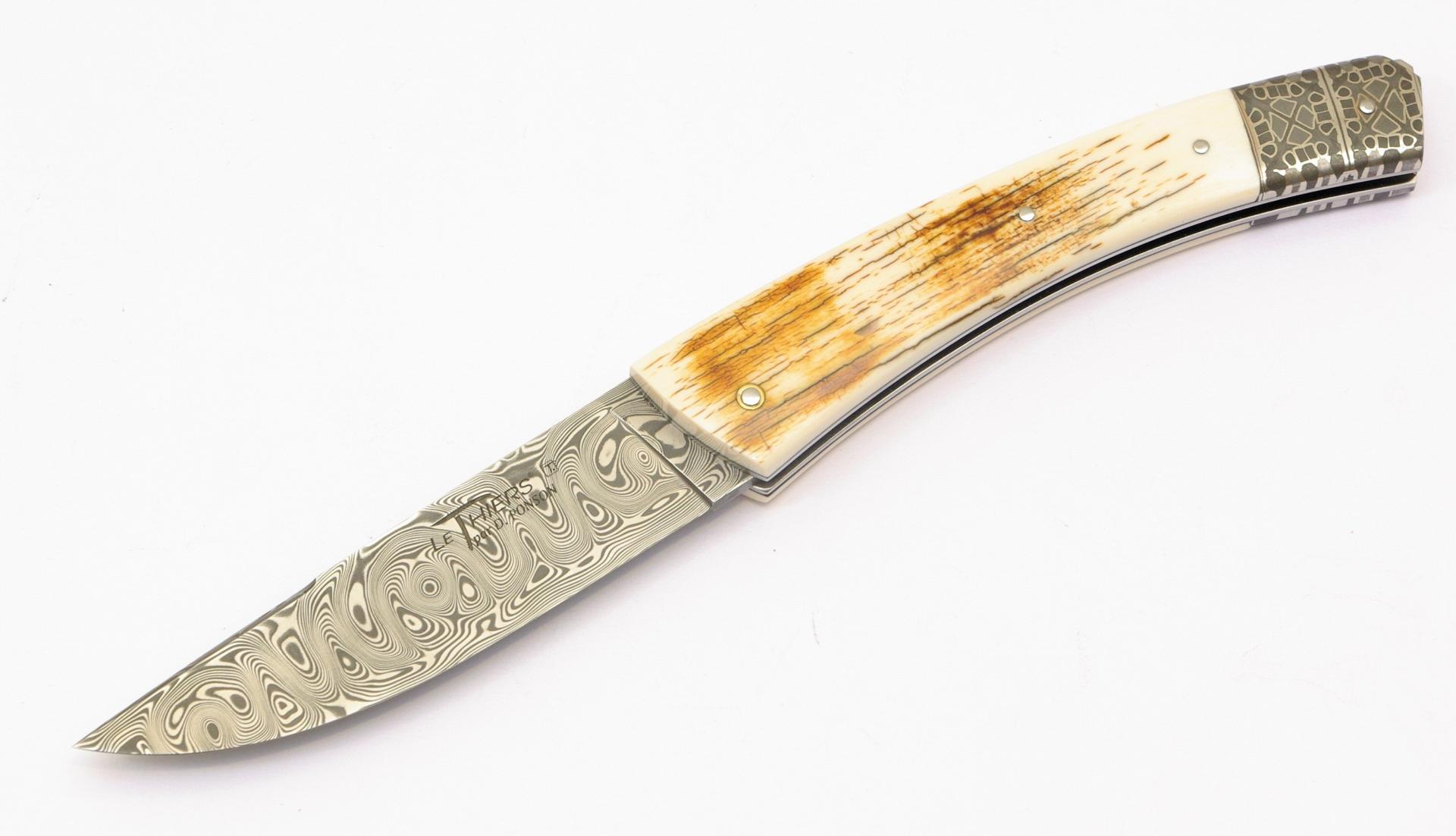 A beautiful example of "Le Thiers" by French maker David Ponson. The blade is Damasteel, the bolsters
are Damask by Philippe Ricard with Mammoth Crust handle scales.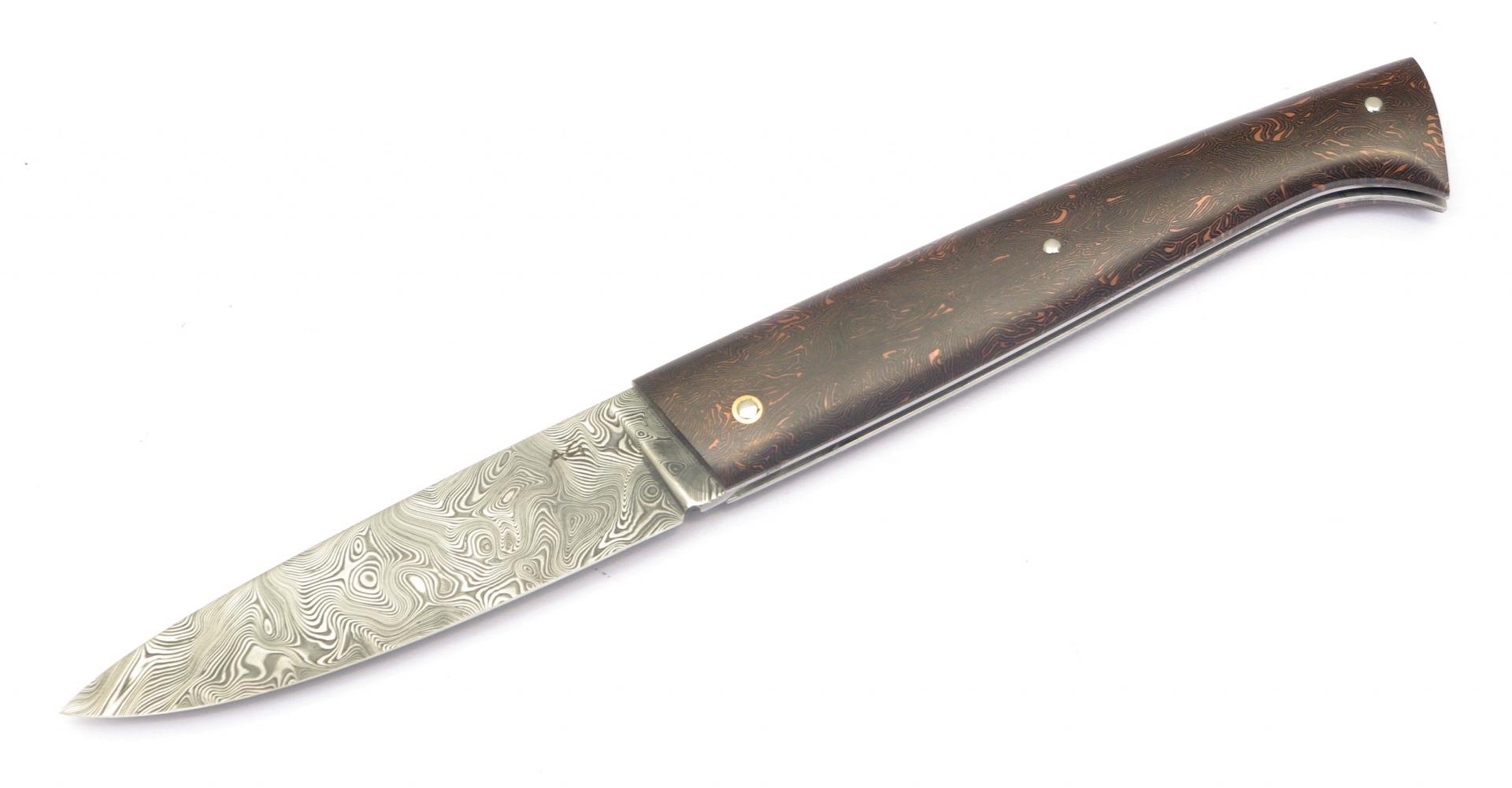 "Le Lombard" is the main knife model of French maker Adrien Giovaninetti. This example has a Damasteel
blade and Carbon Copper handle.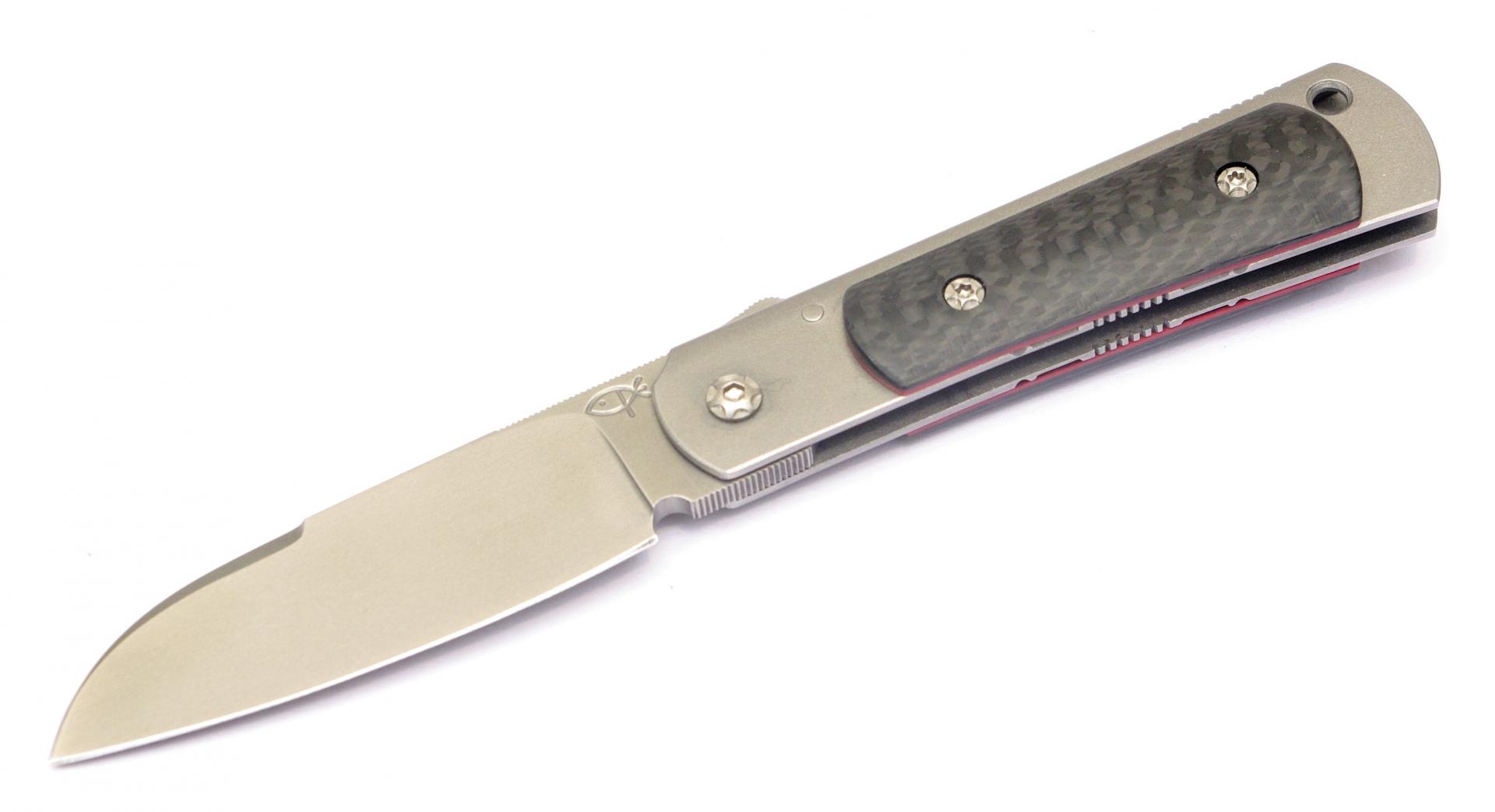 At most knife shows, it takes Belgian maker Eric Parmentier less than five minutes to sell all his knives.
The EKS was no exception. Nevertheless we managed to take some pictures from his "Minibus", a
Piémontais with a 420 MoV blade and Carbon Fibre handle scales. For those who want to know more
about Parmentier: there is an interview with him in European Blades Mag. # 9.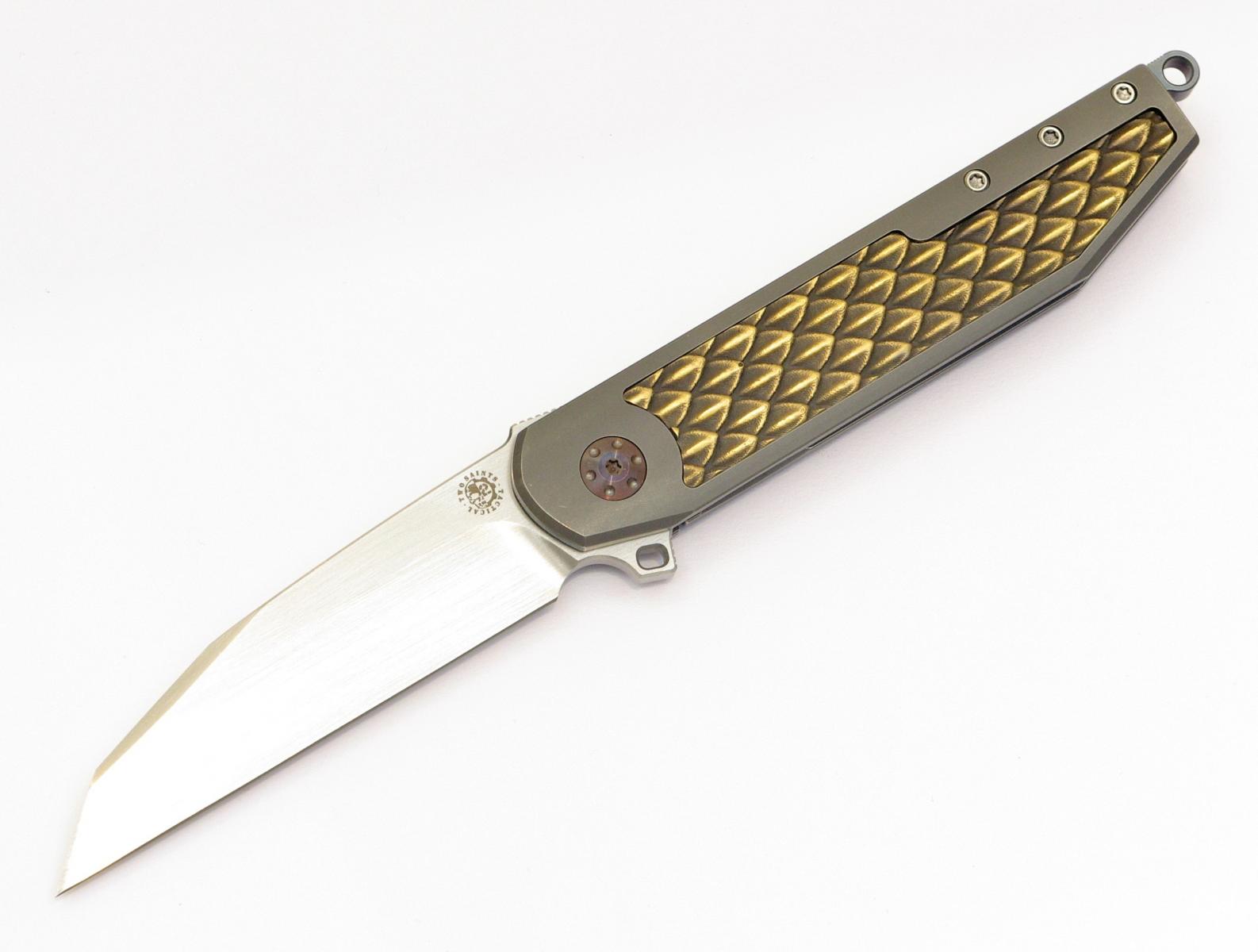 The French company 2 Saints specializes in jewellery and ornaments made by the lost wax method. Recently,
they have started making knives as well. This is "The Crow", a flipper folder with a M390 blade, a titanium handle
with Yellow Bronze scales. The overall length is 20 cm.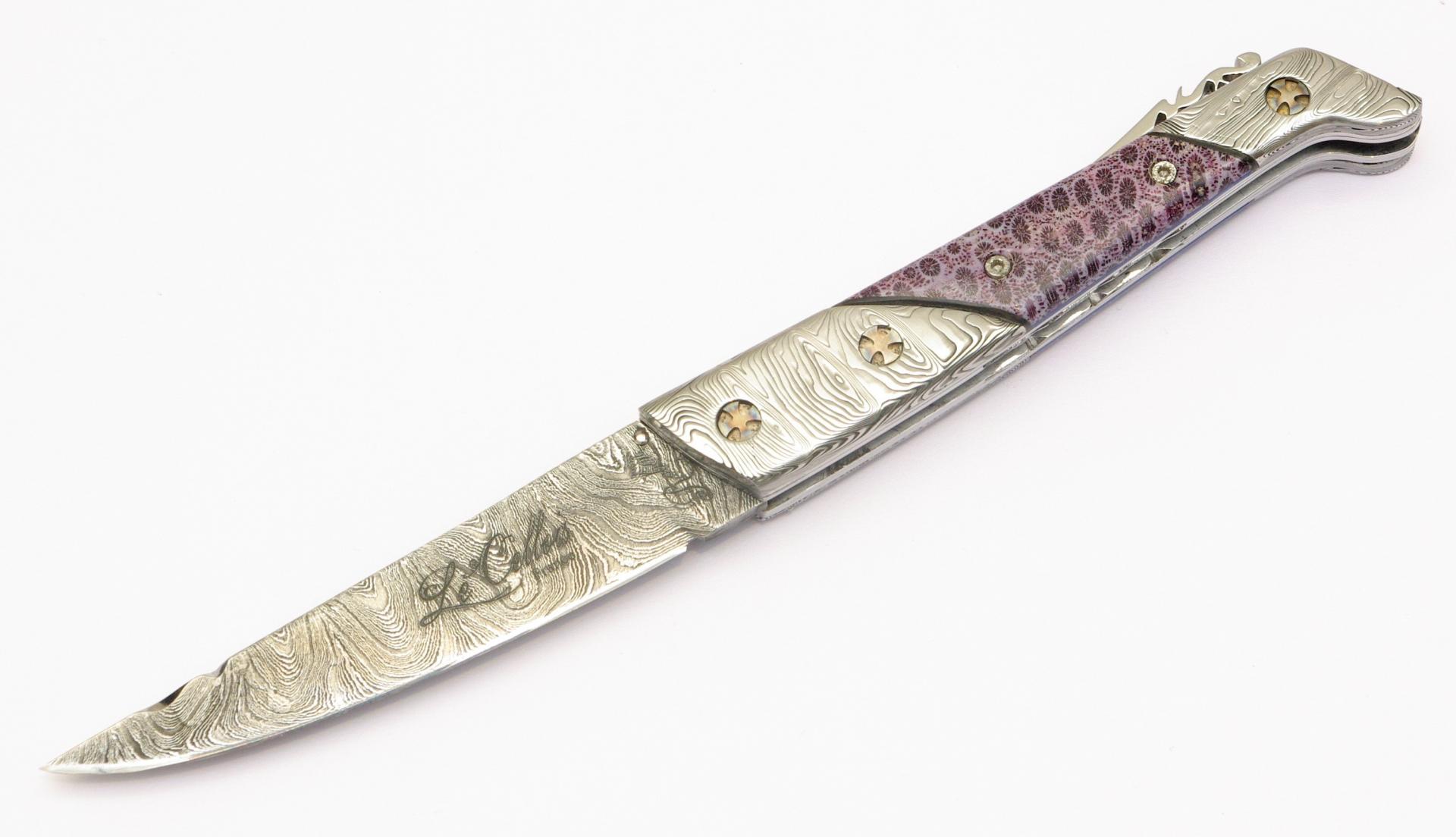 Nathalie and Stéphane Robin work together as Coutellerie Le Cellois, also known as Atelier Robin. They
designed the knife model Le Cellois after the name of their community, Celles-sur-Durolles. This example
has a Carbon Damask blade with Inox Damask bolsters and purple coral handle scales. The knife won the
public's prize at the 2018 knife show in La Monnerie-le-Montel.
The EKS was honoured by the presence of three Finnish knife makers: Pekka Tuominen, Jukka Hankala
and Pasi Jaakonaho. Pekka Tuominen showed this Art-Dagger, with a pattern-welded 80Crv2 and 15N20
Damask blade, a 925 silver guard and African Blackwood handle.


The "Big Piili" by Jukka Hankala. The liner lock folding knife has a RWL-34 blade, titanium liners and Carbon Fibre handle scales.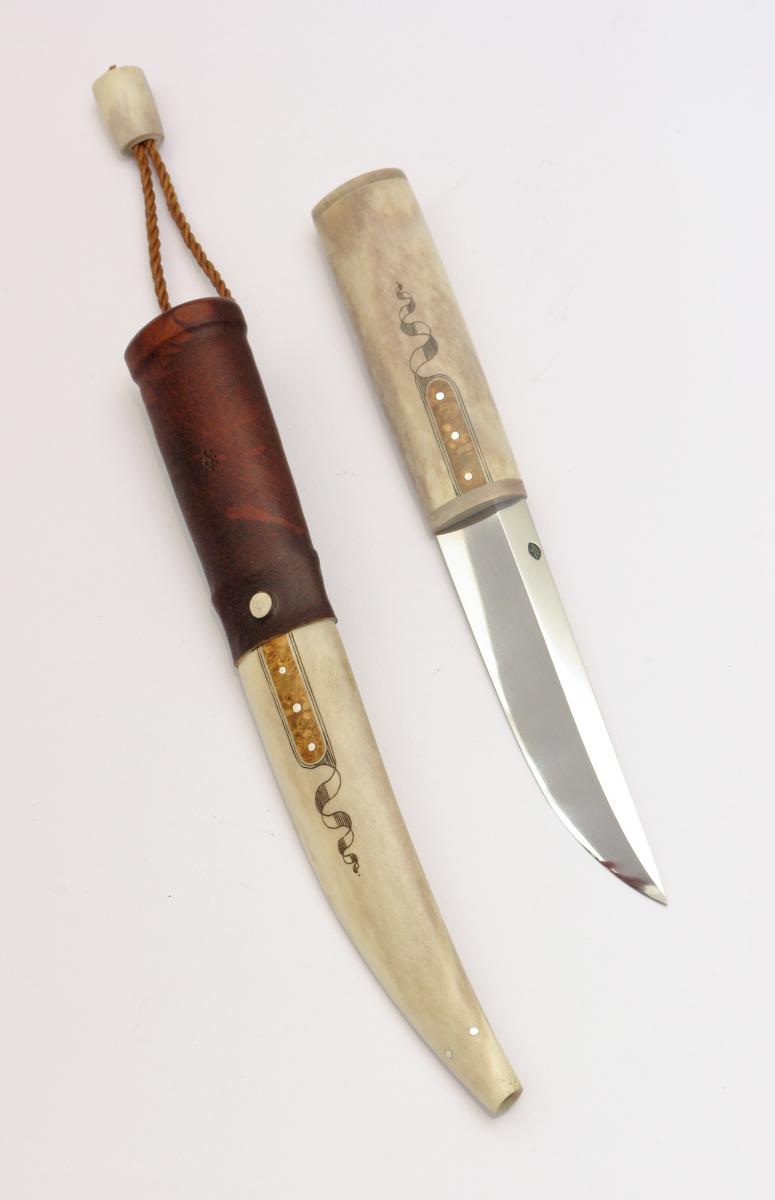 Left: Pasi Jaakonaho showed this "Revontulet" (the Polar Lights). The 133 mm blade is made from 115CrV3 steel,
the handle is reindeer antler, curly birch and silver. The sheath is reindeer antler, curly birch, self-tanned cowhide
and silver.
Right: French knife maker Anthony Brochier presented this fixed knife with a feather Damask blade, guard and
pommel from torsion Damask, and a warthog handle.


The "Kalisse liner lock" by French maker Michel Grini. The blade is Suminagashi VG10, the handle has
titanium liners.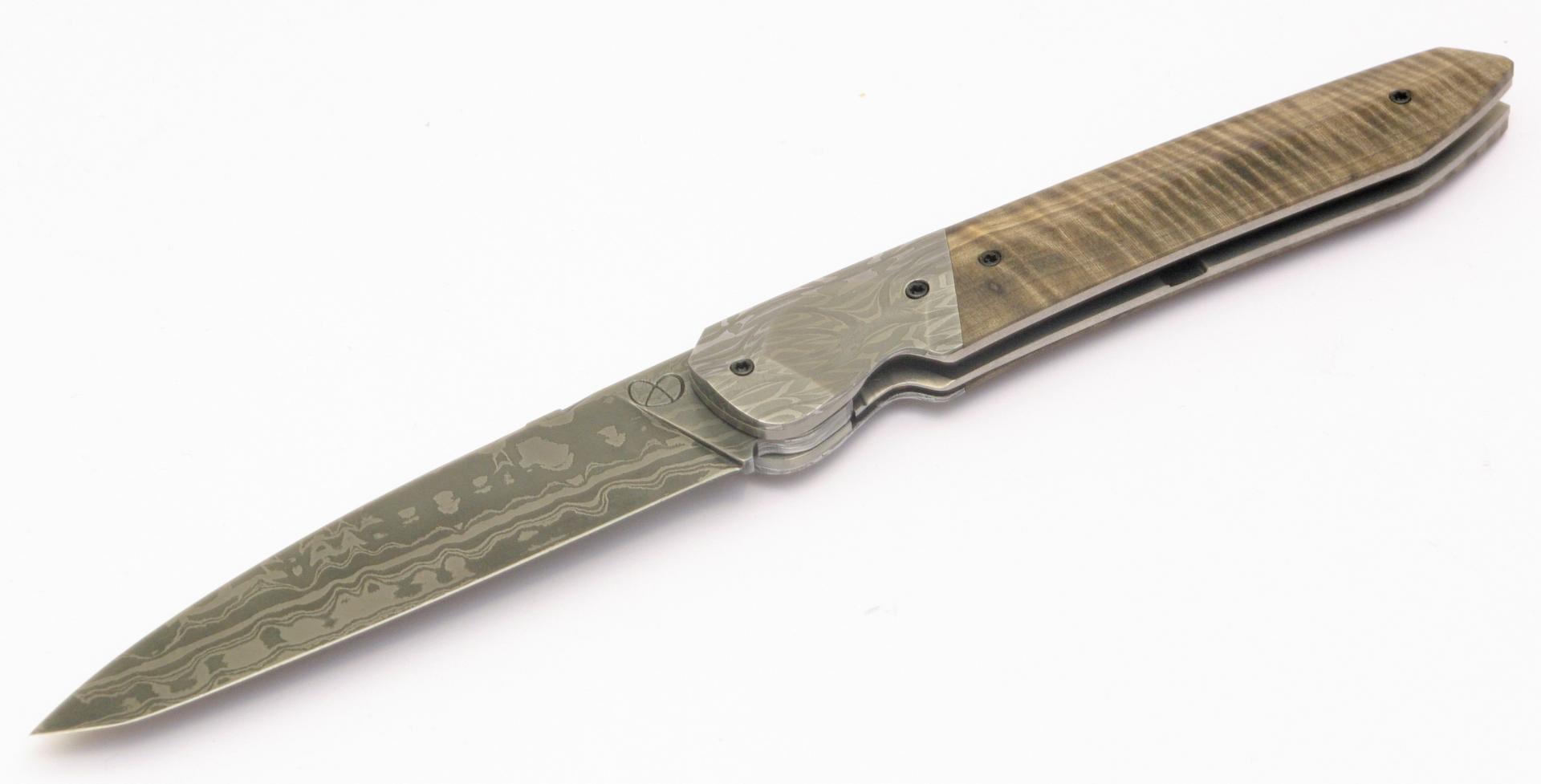 The "Drakk" by French maker Florian Keller (La Forge de 30 Pas). The liner lock folding knife has a
90MCV8 / 15N20 Damask blade, mosaic Damask bolsters and wavy Chestnut handle scales.


Richard Soler made this flipper folder with an Inox Damask blade, Titanium bolsters and Carbon Fibre handle
scales. Soler calls the mechanism a bolster lock.