Eric Parmentier 'Gentleman'
Eric Parmentier 'Gentleman'

The French company Editions G works with renowned knife makers for the design of a knife model, which is then factory-made in a numbered and signed edition of 300 pieces. Recently the third model of the series appeared: the ' Gentleman', designed by Eric Parmentier.

Text and photos: Bas Martens
The Editions G 'Gentleman' designed by Belgian maker Eric Parmentier. Each knife comes with a sheath
and pouch in lamb skin.

Belgian knife maker Eric Parmentier needs little introduction. He has spent his whole life working with his hands. He was a joiner and specialised in insulation techniques and acoustics. He was also a woodworking teacher and ran a carpentry firm – until he decided to become a knife maker. European Blades Mag. 9 features an interview with him.
Eric's knives are in high demand, and he generally has at least a year's work waiting. Eric is famous for his creative designs and his perfectionism. With his custom knives, he crafts all the components himself, down to the screws.
The 'Gentleman' features an attractive combination of stonewashed steel and vintage micarta handles.

The knife that Eric Parmentier designed for Editions G, the 'Gentleman', is a seemingly simple lock back folder with a spearpoint blade, which must be opened with two hands. The blade has no thumb stud or nail groove, but almost halfway there is an interruption of the spine tapering, which acts like a natural point of application for the thumb and forefinger. The Niolox blade, spacer and spring are sandblasted, to mimic the greyish colour of Eric's proprietary surface treatment. The vintage micarta handle scales match that very well. A crescent-shaped cut-away at the end of the scales gives access to a lanyard hole.
Befitting a 'Gentleman', the knife comes with a light brown sheath and pouch of lamb skin, handcrafted in France. The pouch is closed with a push-button. Both are embossed with the Editions G logo.
Edition G has already announced the fourth cooperation. That will be the 'Sanjo', a liner lock folding knife designed by French maker Guy Poggetti.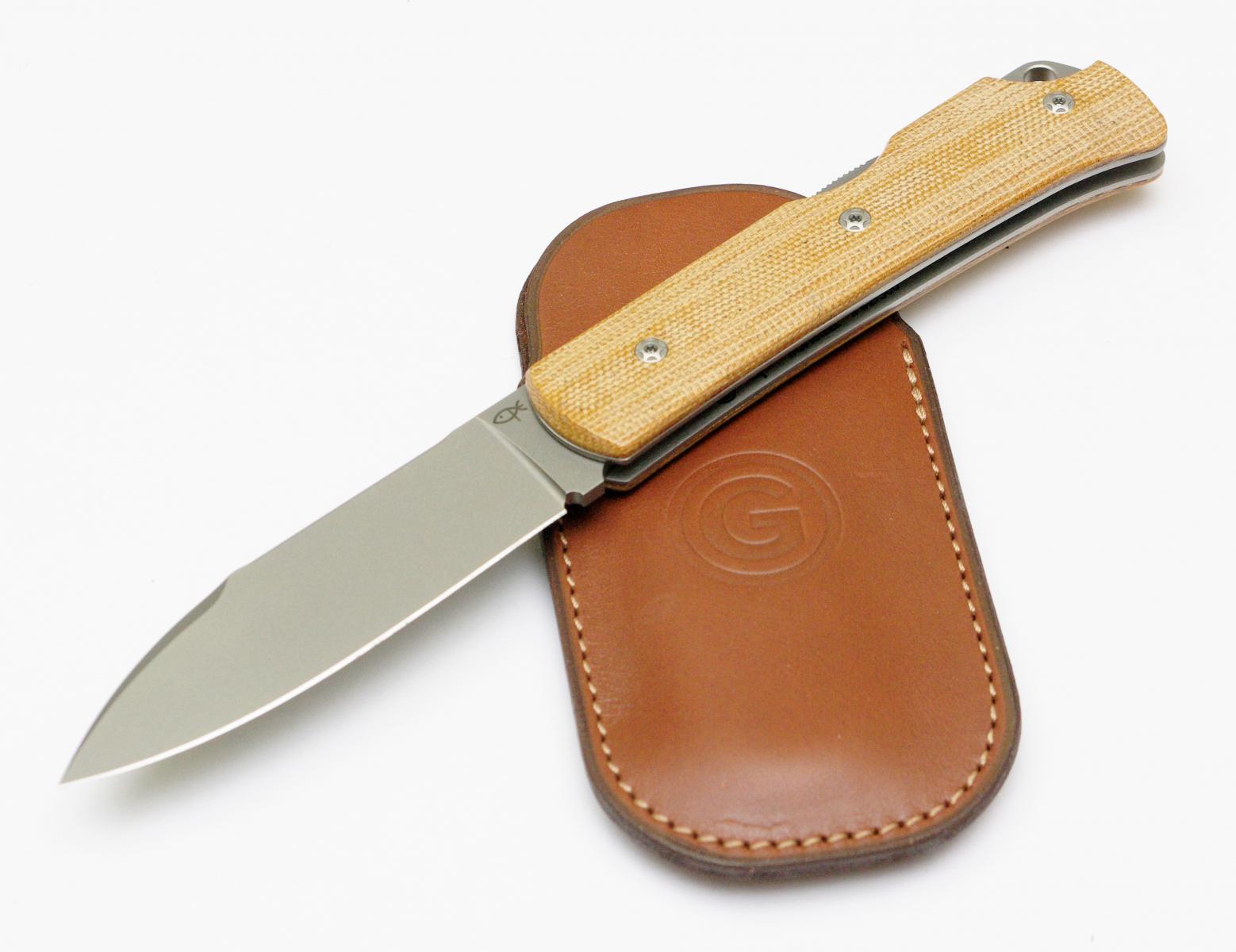 The left side of the ricasso carries Eric Parmentiers mark.
With thanks to Gregory Pohl of Editions G for making the 'Gentleman' available. For more information see
www.editions-g.com
.

Model Gentleman
Lock Lock back
Blade steel Niolox, stonewashed
Blade shape Spear point
Handle Vintage micarta
Length opened 198 mm
Length closed 109 mm
Length blade 88 mm
Largest thickness blade 3.0 mm
Largest thickness grip 13,5 mm
Weight 102 grams
Made in Italy
Price € 295, -
The light brown sheath and pouch are embossed with the Editions G logo.