Edition G Wardog 2.0
The French company Editions G works with custom knife makers for the development of a knife model, which is then produced in a numbered edition of 300 pieces. The first model appeared in 2018, the sixth one has just been released: the Wardog 2.0 by Belgian knife maker Samuel Lurquin.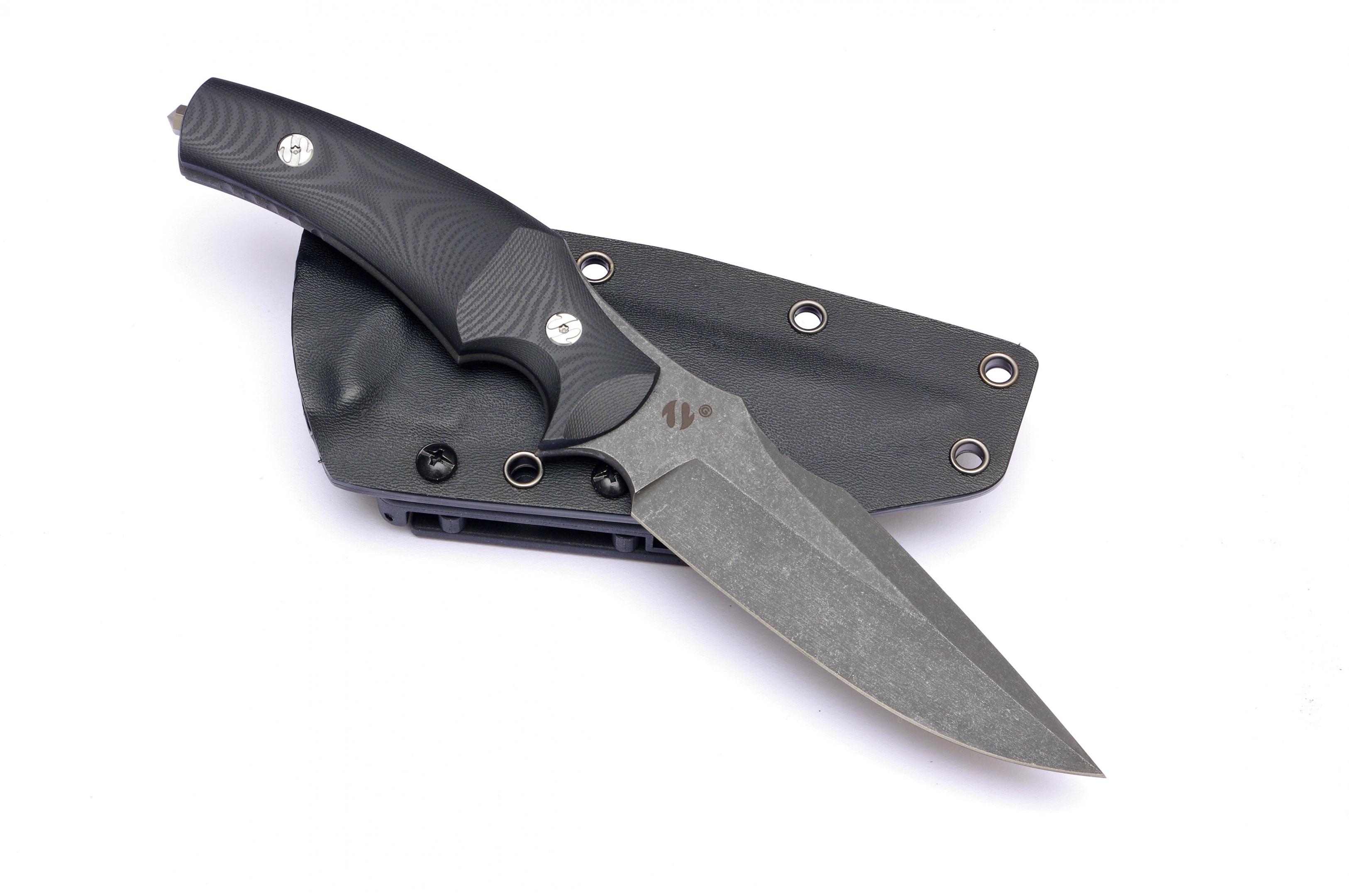 Samuel Lurquin is famous for his fixed blades. He has been making choppers, bowies, fighters and hunters for about a decade, as well as making designs for others. One of his projects was the War Dog, a design of a Fighter with a 184 mm blade for the American company Valhalla Combat Tactical. Editions G's version is smaller and slightly modified, but still has much of the original design. Hence the name Wardog 2.0.
The Wardog 2.0 is a full-tang fixed blade with a 4 mm thick blade of 154CM steel with a dark acid stonewash finish. The handles scales are black G10 and there is a glass breaker at the back of the grip. This has a hexagonal screw so it can be removed.
As a striking accent, the handle screws feature Lurquin's logo: a stylised S and L. His logo, and that of Editions G, are also on the right side of the blade. The knife comes with a Kydex sheath.
Lurquin's logo appears on the right side of the blade and on the handle screws.
The Wardog 2.0 is an impressive knife, but yet there is something graceful about it. The shape of the downward-curved handle contrasts with the upward-curved cut of the blade. There are two finger choils with corresponding hollows in grip back and blade. The grip back has subtle jimping at the front and rear for different cutting positions. The G10 handle scales follow the lines of the grip, but also have a lateral profile, with a narrowing at the rear finger choil and halfway down the grip.
Editions G's knives are starting to become an interesting cross-section of contemporary European custom design. So far, the company has released knives by three Frenchmen, two Belgians and one Dutchman. We are curious to see who will be next.
For more information see
www.editions-g.com/en
.
Despite its impressive appearance, the Wardog 2.0 has something graceful.
The rear of the grip has a removeable glass breaker.
Handle and blade have two deep finger choils.