Brusletto's first folders
The Norwegian Brusletto knife company celebrates its 125th anniversary, and for the first time in its history it presents a folding knife - two in fact, the Reisa and the Lierne.

Text and photos: Bas Martens
The Brusletto Reisa (top) and Lierne. Brusletto celebrates its 125th birthday and on this occasion
presents its first two folders.

Brusletto & Co AS was founded in 1896 by Rognald Brusletto in Geilo, a place in Norway where iron ore had been mined for 1500 years and with sufficient water power for the production of tools. Over the years, the company has developed into a producer of a wide range of knives, mainly for hunting and outdoor use, but also for the kitchen. Most of them have a rather classic Scandinavian design.
On the occasion of its 125th anniversary, the company comes up with something new: two folding knives, the Reisa and Lierne. The Brusletto website doesn't tell where these names come from, but we have an idea. Reisa is a national park in Norway, and Lierne is a Norwegian municipality.
The Brusletto Reisa is a linerlock folding knife with an 85 mm long and up to 3.5 mm thick blade of stainless 9Cr18MoV steel with a - how could it be otherwise - Scandinavian grind. The handles are made from oiled olive wood on steel liners. The blade has both a flipper and a convertible thumb stud, for easy opening. It runs on ball bearings. There is a steel tip-up carry clip on the right handle. The knife also has a lanyard hole. The Reisa is 20 cm long when unfolded and weighs 100 grams.
The Reisa and Lierne have some slight differences. The Reisa (left) has a convertible thumb stud, which can
be mounted on the left or right side of the blade. The Lierne has a double-sided thumb stud.

The Brusletto Lierne is the same length as the Reisa when unfolded, but looks a little more elegant. The 9Cr18MoV drop point blade is half a centimetre longer, the olive wood handle with its rounded shape is slightly shorter. The maximum 2.8 mm thick blade of the Liera is completely flat ground. The Lierne also has a liner lock, a carry clip (tip down) and a lanyard hole. It lacks the flipper but has a double-sided thumb stud. The Lierne weighs 106 grams.
The Lierne (top) and the Reisa, folded. Note the difference in the lay-out and position of the pocket
clip, and the different handle shape.
With the two folding knives, Brusletto is aiming at a more international audience, and that might well succeed. Both knives have an attractive design, are functional and have a neat fit and finish. They are also reasonably priced. According to the website, the Lierne and Reisa cost 599 and 799 Norwegian crowns respectively, or about 60 and 70 euros. Because of taxes and import duties, these prices may, of course, differ in other countries. For more information, see
www.bruslettoknives.no
.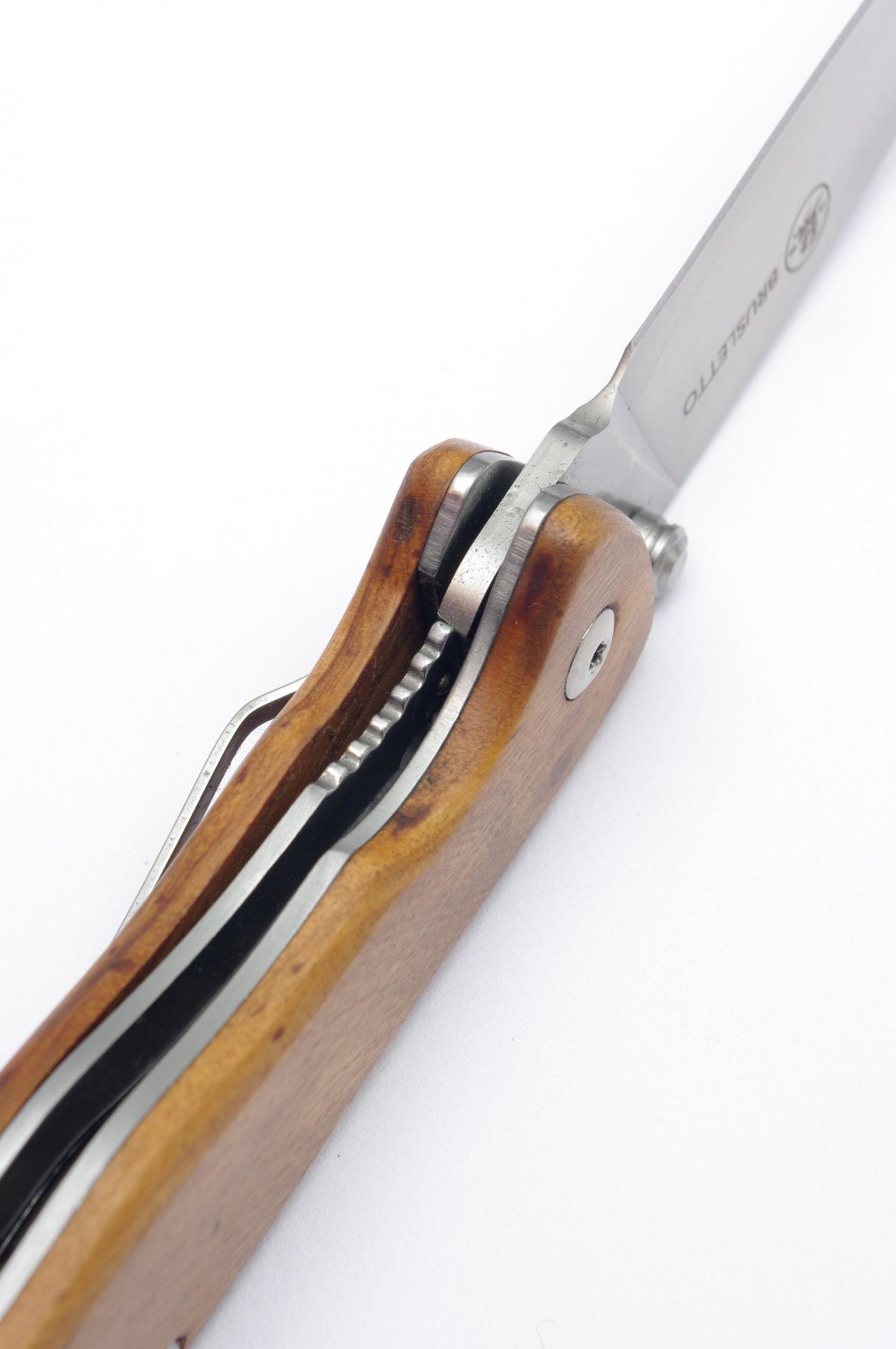 Close-up from the liner locks of the Reisa (left) and Lierne.
The Reisa (top) and Lierne are almost equally long but give a different impression, due to a different handle
shape and blade grind. The Olive wood combines wonderful with the white metal parts.