Brno Spring 2023
The exhibition was held on 25 March 2023 in the traditional venue, the Via Crucis corridor of the former Dominican monastery in Brno, now part of the Brno municipality house. It was the 30th anniversary of the spring knife exhibition in Brno.

Text and pictures: Martin Helebrant


Before covid, the spring exhibition in Brno was a place where knifemakers from Moravia, Czechia, Slovakia and also from Hungary and Ukraine used to meet and presented the best what they made during the winter. Covid hit hard all exhibitions, not only Brno, but I believe that last year has brought the first signs of recovery.
The previous Brno exhibition was already partially organized by Slavomír Kovalčík. The founder, Lubomír Maďarič, has decided to slowly step back and enjoy his deserved retirement and learned Mr. Kovalčík by doing. The spring exhibition of 2023 has been almost entirely in Mr Kovalčík's custody and in my opinion he has proven to be capable of it. He managed to assemble 48 exhibiting knife makers, succeeding to bring back Hungarians, Slovaks and even attracting masters from Austria and Germany. A nice achievement indeed.
I missed a stronger presentation of raw materials for knife makers, but this is a trend I have seen for quite some time. It seems that after covid the vendors decided that the internet is sufficient and that their presence in shows is not needed. The future will decide if this is correct.
When compared with the Prague or Příbram exhibitions, the knives in Brno have always been more artistic. The works of masters like Bojtoš, Chromý, Stefan and others are to a large extent a fusion of sculpting with a perfectly mastered craftmanship. This year's exhibition followed the rule, although I must mention that this time there was a little less art than usual. For instance, masters Chromý and Stefan presented brilliant knives, but ones of the older made. On another table were knives by Mr Maďarič, which provided evidence, that no matter of age he still can made knives of the highest grade. The Ballerina knife is the evidence, should someone ask for it. And a new master appeared this spring: Martin Vasil from Slovakia. His fixed blade knife with a deep relief engraving on the motif of a mammoth hunt, with shallow engraving on the grip scales and presented together with a special stand and small figure of the mammoth made from artificial ivory – elforyn – was honored by the Visitor's Award for the best knife of the exhibition. Master Vasil is autodidact, without any formal engravers or other artistic education. He is on the very beginning of this career and still, the work presented in Brno was breathtaking.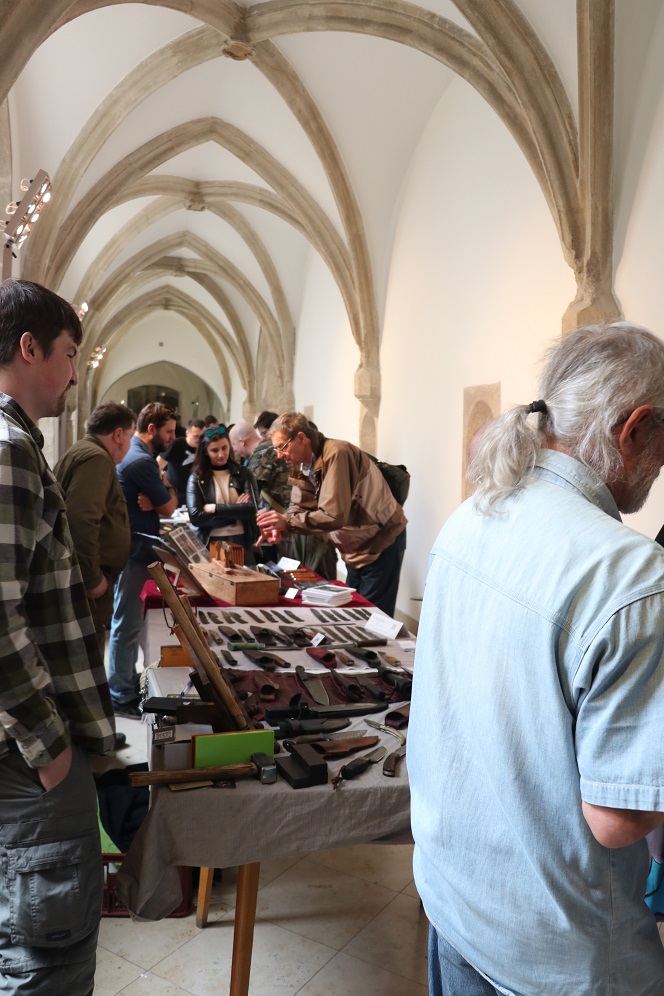 Václav "Monty" Šmíd, known rather for well-made working knives, entered the lands of art enriched knives as well. In Brno he offered a hunting knife with the grip covered by a decent scrimshaw with motif of African predators. Author of the scrimshaw is Monty's spouse. A rustical, heavy style of the relief could be seen on knives of Miroslav Veselý. The knife was to some extent similar to works of Slovak academic sculptor and blacksmith Vicent Otradický another traditional exhibitor in Brno.
The Hungarian masters returned to Brno. It made me happy to see again almost unbelievably hard working a extremely diverse styles capable János Madaras. I enjoyed the folding knives made by a freshman to the exhibition, István Nagy, and I can say the same about knives by László Tóth. The Hungarians simply know how to make plain, utilitarian working knives which the perfect craftsmanship upgrades to the borders of luxury.
In Příbram last year Aleš Karban presented an excellent Viking sword and obviously is attracted with the long blades. This time he presented a long Chinese sword (Zhan ma dao) made from wootz. Excellent blade and furniture meet the quality of the best historical originals, the furniture is decorated with a dragonfly motif. Relative to the extreme length, the sword is surprisingly light. Interesting to mention this kind of sword was carried by the palace guards. These acted in couples and the swords were drawn across – the warrior drew the sword from the scabbard on the belt of his partner. Because of the length of the blade a classic drawing is complicated.

In general I notice growing technical capabilities of the exhibitors. There is a growing popularity of sandwich blades with a core separated from the sheath by copper layer. The result is very nice, but to match two metals with different meting temperatures is not an easy task. A nice example of such a copper separated sandwich blade is a hunting knife of Bohumil Šrom..
Brno is not a place for the serial production and this year was not different. Still many masters offered kitchen knives, either in European or Asian style. It seems that every knifemaker has a period of kitchen knives and even above mentioned Martin Vasil is no exception. Let us say goodbye to spring Brno 2023 with folders with a liner lock blades and stag scales made by Jaromír Smutek. These knives have a modern shape and cartridge case heads are used for decoration of the scales. The result is manly, unusual and attractive.
To briefly summarize: Brno has passed the covid crisis and catches up again. I am pleased to invite you for the winter exhibition Brno Super that will be again held in the Dominican monastery, on the day of St. Martin (11 November).