Brno Autumn 2022
The Autumn Knife Exhibition in Brno, Czech Republic, was held on 11 November 2022. As usual, the quality of the work was very high, balancing on the border between art and craft.

Text and pictures: Martin Helebrant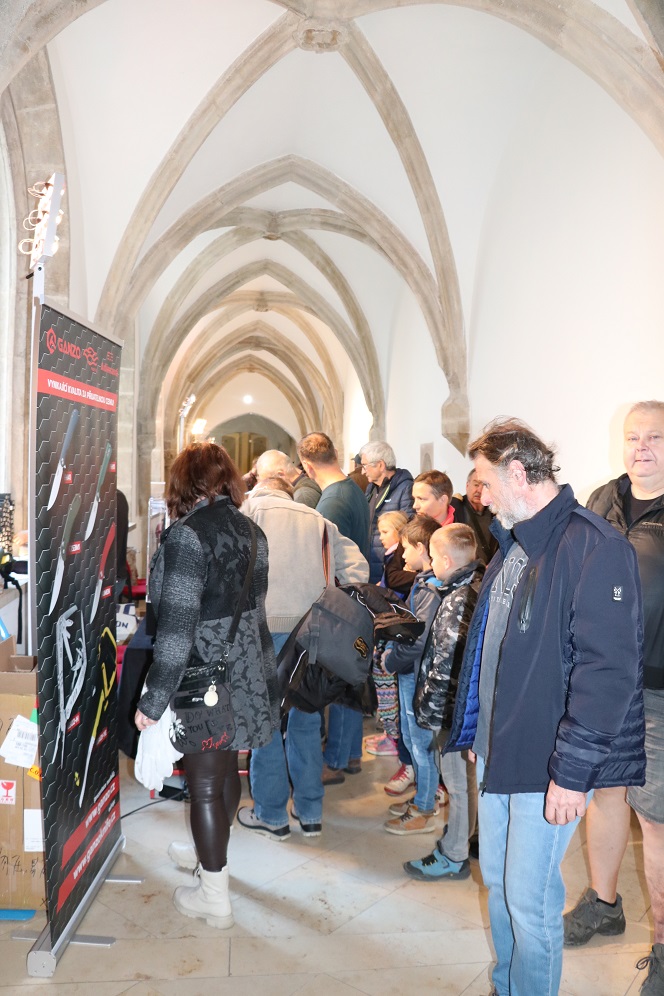 Right: The Via Crucis corridor of the Brno Town Hall (a former Dominican Monastery) is the traditional venue
of the Brno exhibition.

In the cold, foggy early morning I climbed aboard the first bus from Prague to Brno, took my seat and made myself comfortable. I was happy that I had decided to travel by bus and not to drive, I was tired, and the weather did not invite for a pleasant morning ride. Then someone switched on the teleport and before I realized the bus was sneaking through some city streets. It was November 11th and the town was Brno, capital of Moravia.
Cold, wet air smashed my face and woke me up as I was walking to the old Dominican monastery, now part of the municipality hall in Brno. The Brno autumn exhibition of 2022 went well. The number of exhibitors had not returned yet to the pre-covid level and the exhibitors from Ukraine and Russia were missing due to the ongoing war (sorry, in my mind this is a war, not a conflict nor a special military operation). Still Brno maintained its traditional international atmosphere, with lot of exhibitors from Slovakia and Hungary.
The international consistence is due to two aspects. In the days of the Austro-Hunagrian monarchy Brno was nicknamed "the largest suburb of Vienna" and to these days Brno has retained some air of of internationality (it is mere two hours by car from both Bratislava – the capital of Slovakia and from Vienna – capital of Austria and not more than three hours from Budapest – capital of Hungary). The organizer of the exhibition, Mr Lubomír Maďarič, himself a recognized and highly reputed master knifemaker has good international contacts, especially in Hungary and Slovakia. At present, he is considering to step down as prime organizer of the Brno knife exhibitions, handing the helm over to Mr Kovalčík (at least on the executive level).
Left: Hand forged axes are increasingly offered on Czech knife exhibitions. These are by Jakub Adamuška.
Right: Arpád Bojtoš was awarded for the best knife of the exhibition.

What surprised me at a first glance was number of kitchen or chef's knives in Asian style. These were offered both industrial made and custom made. Both are using some kind of a damask blade, typically in connection with a handle of a hexagonal cross section. Another aspect that I noticed already in Příbram in September this year was number of axes offered on the exhibition. These are becoming a stable part of the exhibition. I have no idea why; I only record a trend.
As usual on the Brno exhibition, there were many artisan knives of a high degree, on the edge of sculpting. Once upon a time I had discussed the differences or national character of knife makers. I mentioned there that the Slovakian and especially Hungarian are much more ornate than utilitarian Czechs, and that seemed to be confirmed on this year's autumn exhibition. To me it seemed that the less tables were on the exhibition, the higher the degree of art on them. For sure, the core is and most likely will ever be utilitarian, fine craft. But works of Mr. Bojtoš, Slovak of Hungarian heir, Mr. Majan, Mr. Štefan or Mr. Chromý are on the edge of sculpting if not righteously a full blood sculpture with a functional blade added. On the Hungarian side there are the works of Mr. Kertesz and others, that are the same level of connection between the handicraft and a full blood art. Maybe that it is only the cream, the best ones who are coming to the exhibition abroad. And they are not alone, I want to mention here for example the work of Mr and Mrs Tesařík if not of work Mr Maďarič himself. Maybe I am wrong but in my opinion this area where the Moravians, Slovaks and Hungarians intersect and melt together, is land simply blessed with talented knifemakers of highest artistic degree. You can challenge my opinion, but please, show me your evidence first, otherwise I stand my ground.
As is a good habit, almost every exhibitor has somehow been awarded. The highest award for the overall best knife of the exhibition went to Mr. Arpád Bojtoš. The times are changing and the people are changing too. The great supporter of the exhibition in Brno, Mr Loutocký, secretary to the lord mayor of Brno, is now retired, Mr Maďarič is withdrawing too. But the show is still there and as the autumn 2022 edition has clearly shown, it is a good one and still goes strong. I am looking forward for the spring knives exhibition at Brno.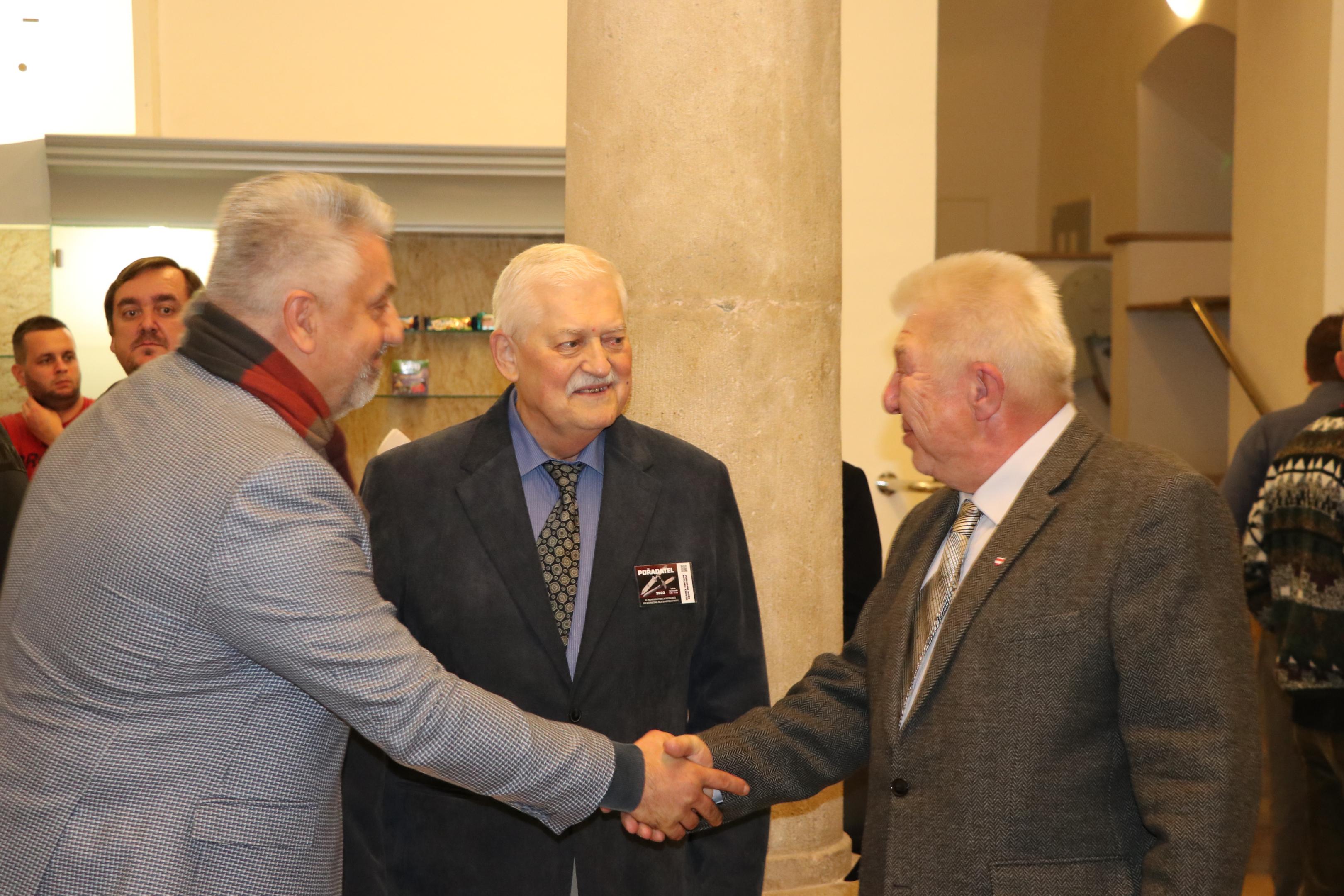 Changing guards: Slavomír Kovalčík shaking hands with the secretary emeritus to the lord mayor of Brno,
Mr. Loutocký , Mr Maďarič in the back ground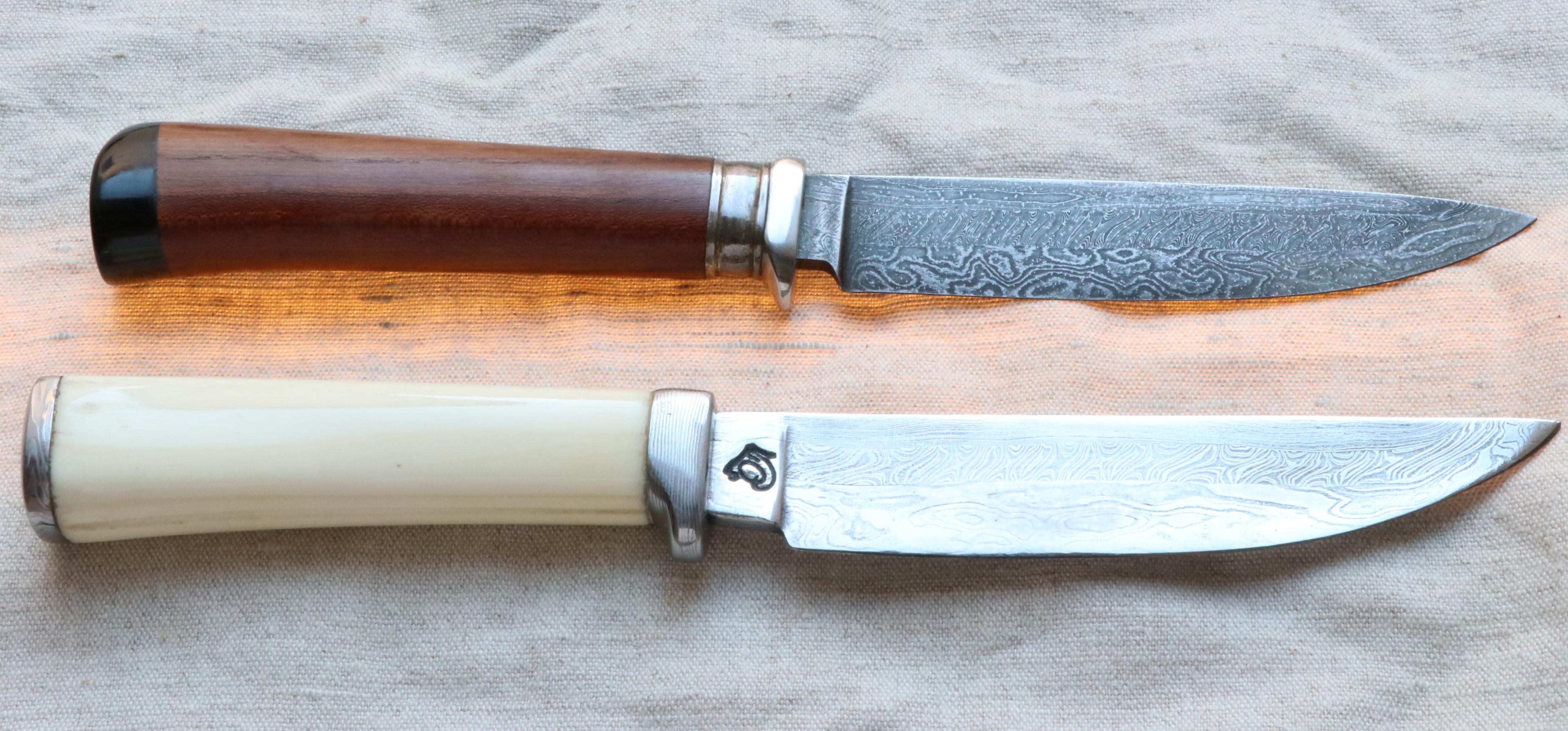 Two fixed blades by Vincent Otradický (SK). The blades are K720 and 1011 respectively, with the handles
of African wood and buffalo horn, and roe deer bone.

A fixed blade from carbon Damask, made by Jan Pacák (CZ). The handle, from Karelia birch, is locked
on the blade's tang by a cross wedge – a typical mark of Jan Pacák. Overal length is 290 mm.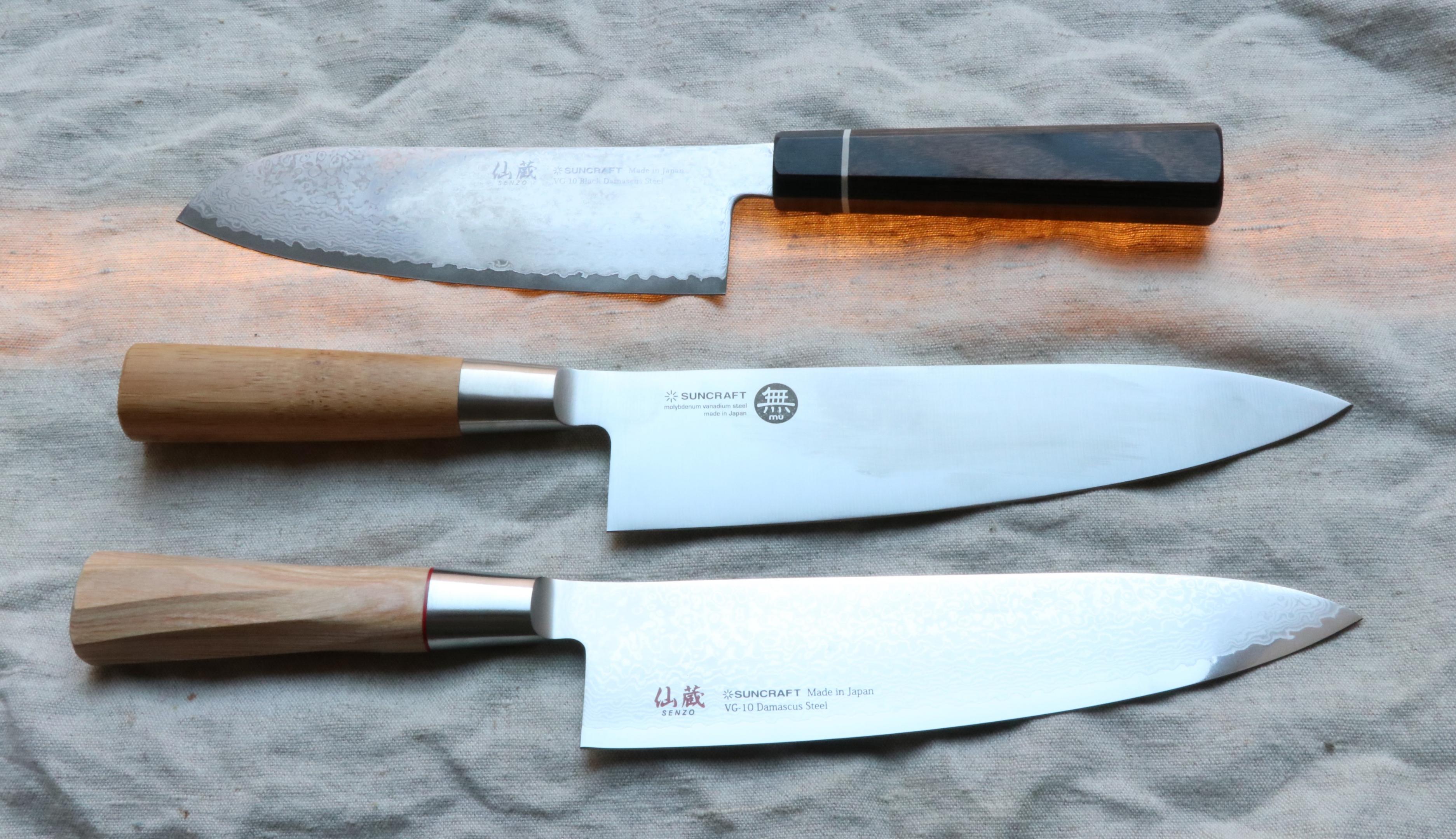 The Asian style of kitchen knives is popular. Here are knives made by the Suncraft company. Well made,
but definitely not cheap. The blade lengths are 210mm, 200mm and 165mm respectively.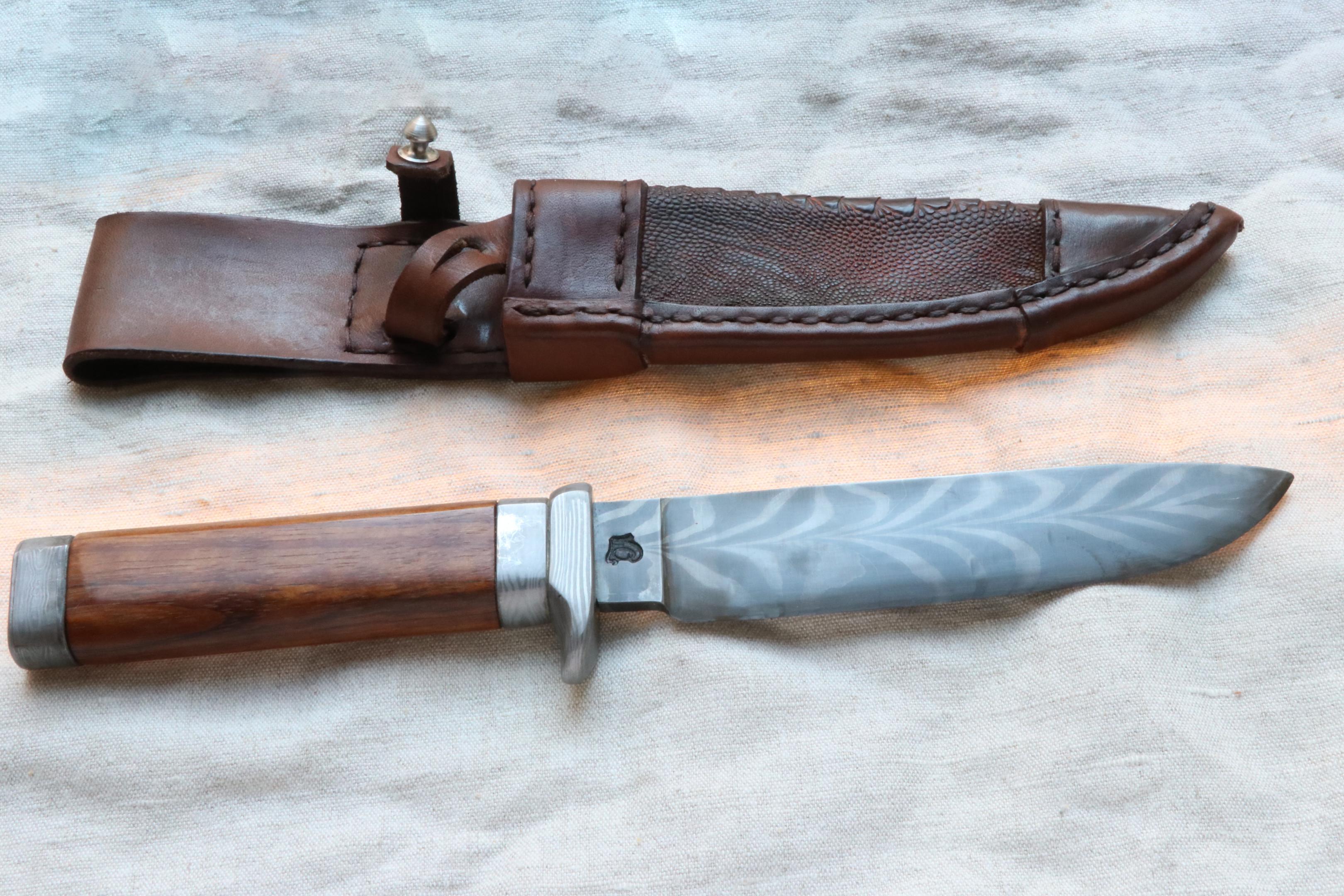 A hunter by Vincent Otradický (SK). The blade is Carbon Damask from a machine steel saw and 19312.
The handle is African wood. Overall length is 295 mm.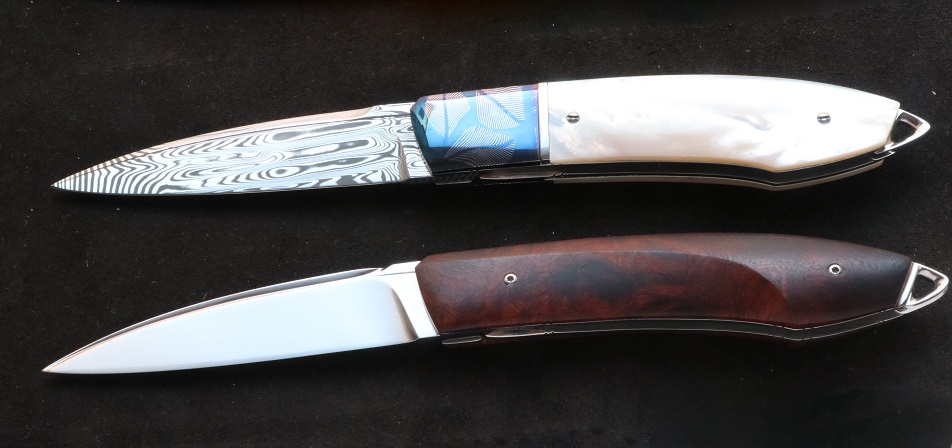 Two elegant liner lock folders by Richard and Veronika Tesařík. The top knife has a stainless Damask
blade and a nickel and mother of pearl handle. The bottom knife has an RWL blade and Ironwood handle.
Overall lengths are 192 and 200 mm respectively.

Three kitchen knives by Joszef Jeneses (HU). The blades are Japanese stainless damask and Japanese
stainless steel. The handles are mixed materials.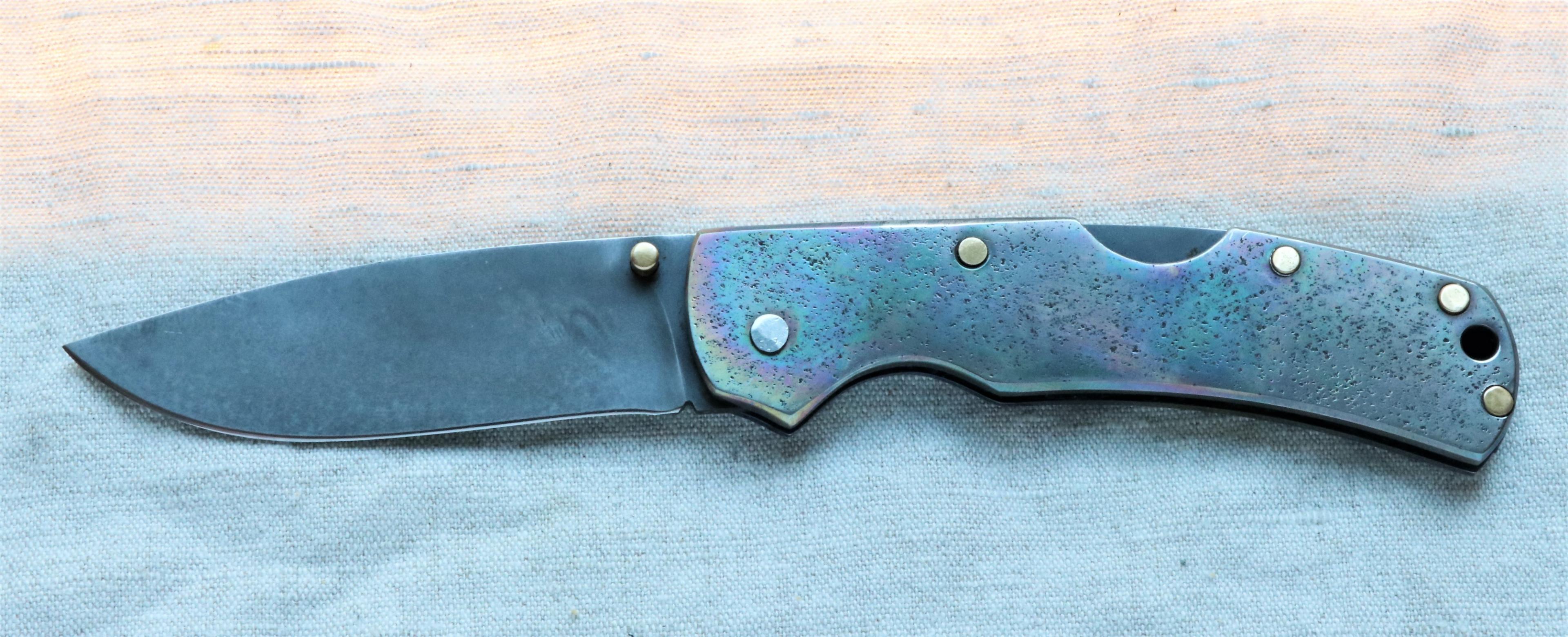 A back lock folder by Miloslav Pouzar (CZ). The blade is Stainless Wootz, the handle is Titanium.
Overall length, when unfolded, is 210 mm.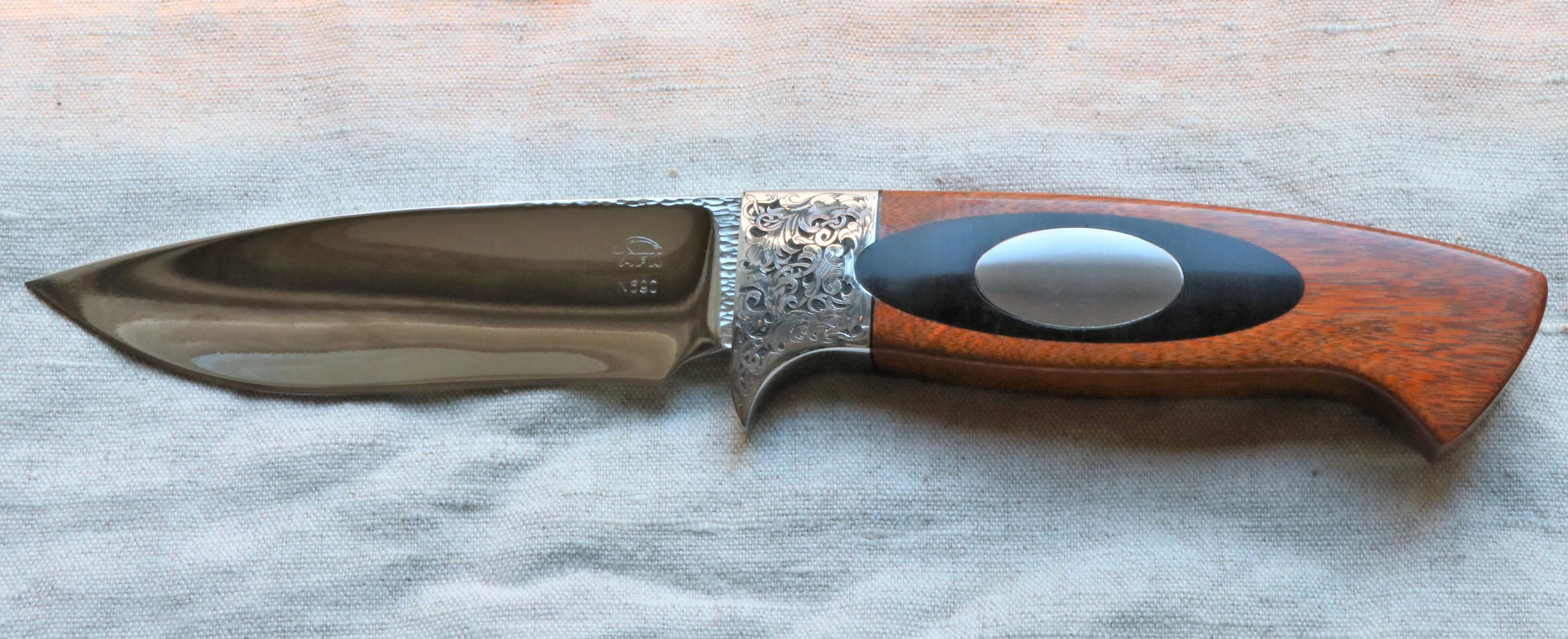 A fixed blade by AFK Attila Kertesz (HU). The blade is N690, the handle is a combination of
Pernambuk, Ebony, Gold, Silver and Copper. Overall length is 244 mm.
The table of Rudolf Matejka (SK).

Offer of different styles of Micarta on the table of the Ultrex company.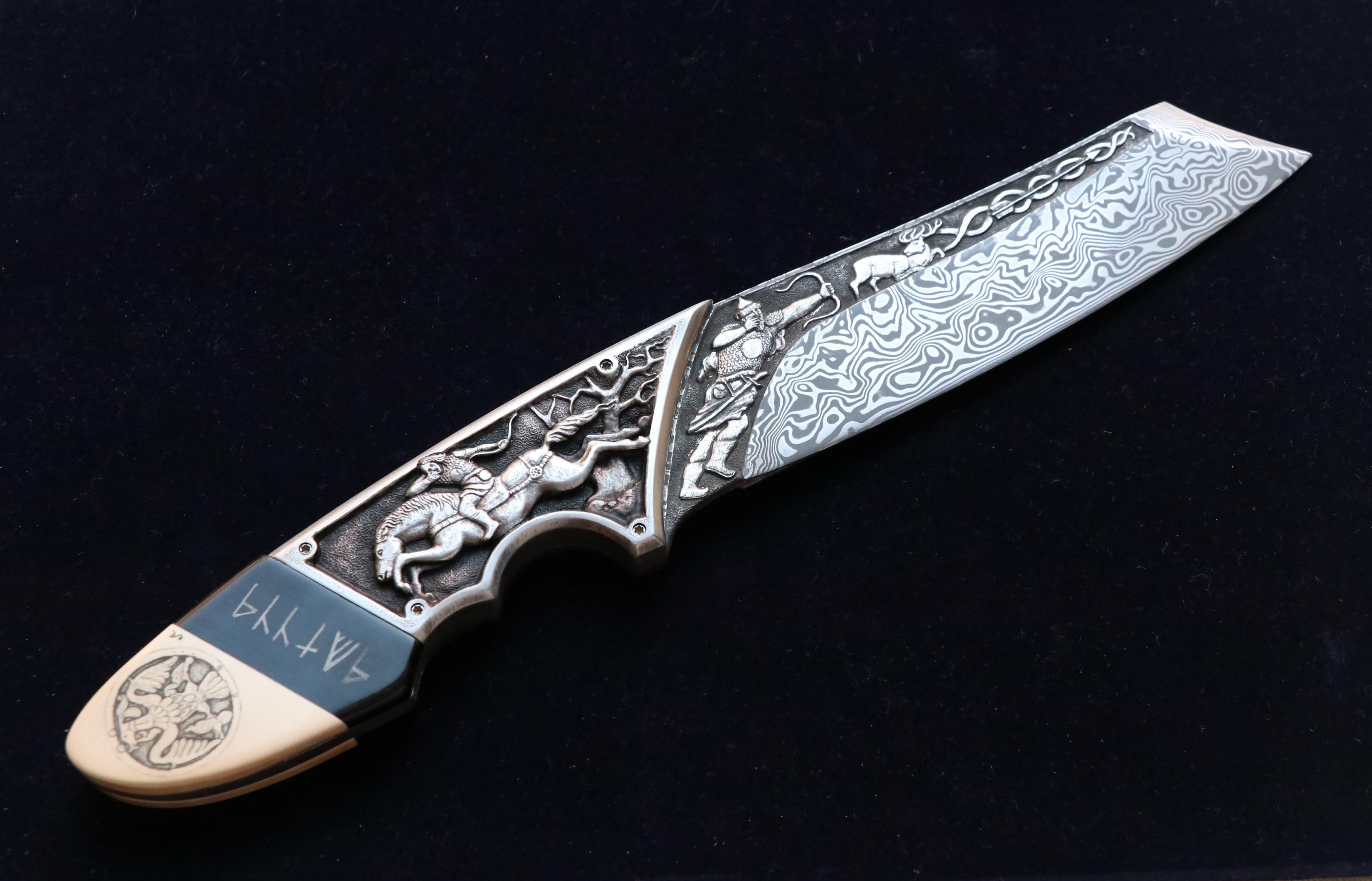 Art or craftmanship? Probably both. "Attila the Hun", by Albert Štefan (SK). The wonderfully sculpted
knife has an overall length of 284 mm.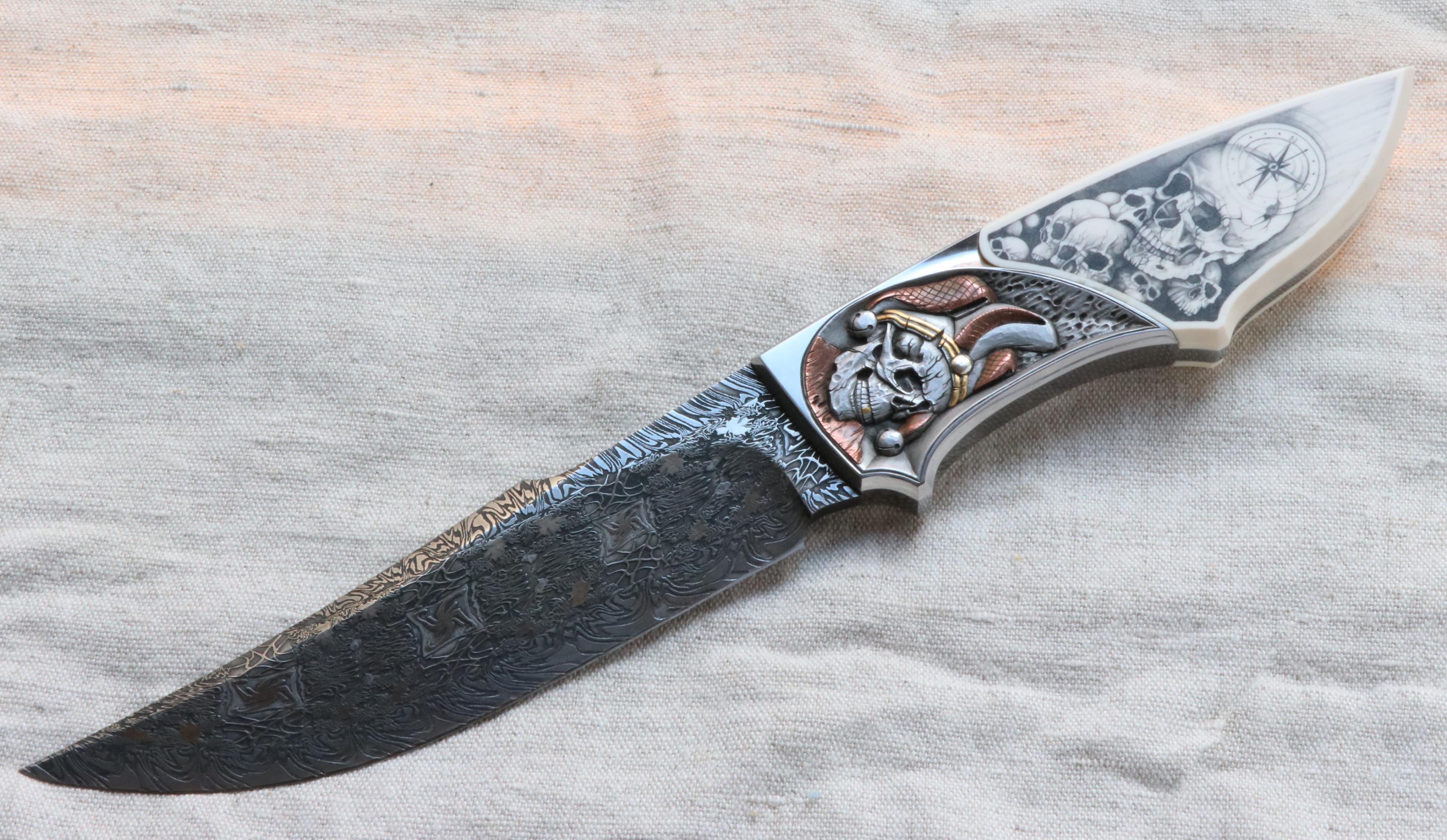 A masterpiece by Richard Chromý. The blade is Stainless Damask by Verezhnikov, the handle is
Mammoth with scrimshaw, and sculpted Silver and Gold. Overall length is 270 mm.

Another knife of Richard Chromý, again with a Stainless Damask blade by Verezhnikov. The handle
material is Ebony, Silver and Gold. Overall length is 272 mm.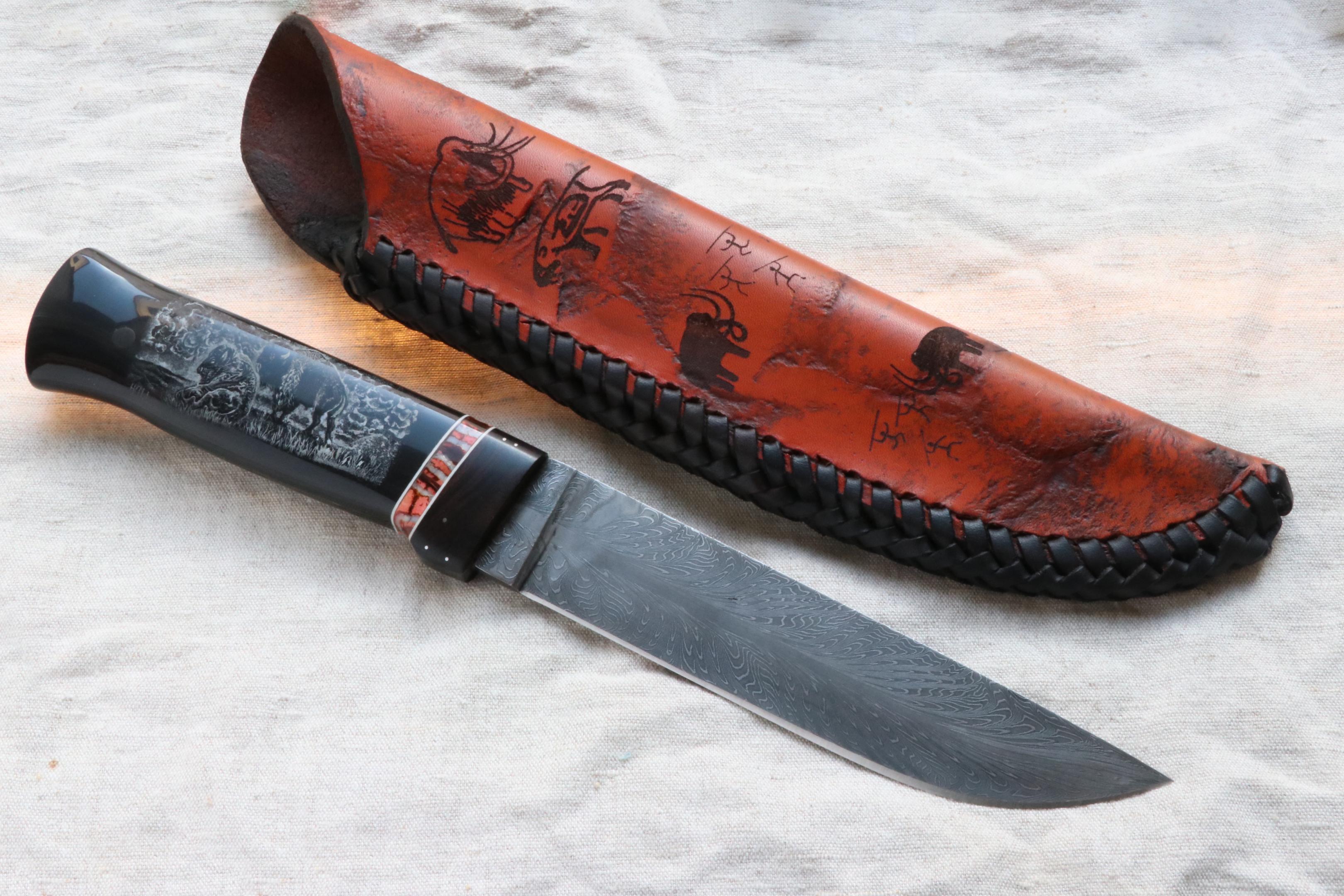 A fixed blade by Attila Konkoly (SK). The 175 mm blade is Carbon Damask, the handle is Buffalo Horn
and Mammoth. Overall length is 318 mm.

Two knives by Lubomír Krnák (SK). The larger one has a 19312 blade and a handle made from Oak,
Silver and Brass. Overall length is 210 mm. The smaller knife has a Wootz blade and Palisander and
Brass handle. Its length is 170 mm.

Two knives by Václav "Monty" Šmíd (CZ). The upper one has a 19356 blade and Ostrich bone and Ebony
handle, the lower one has a G10 handle. Overall length is 223 and 230 mm respectively.

A wonderfully sculpted liner lock folder by Arpád Bojtoš (SK). The blade is Stainless Damask by Mike
Noriss, the handle is inlaid with a Jaspis stone.

A dagger by Lubomír Maďarič (CZ), with a Stainless Damask blade and a sculpted Ebony handle.
Overall length is 375 mm.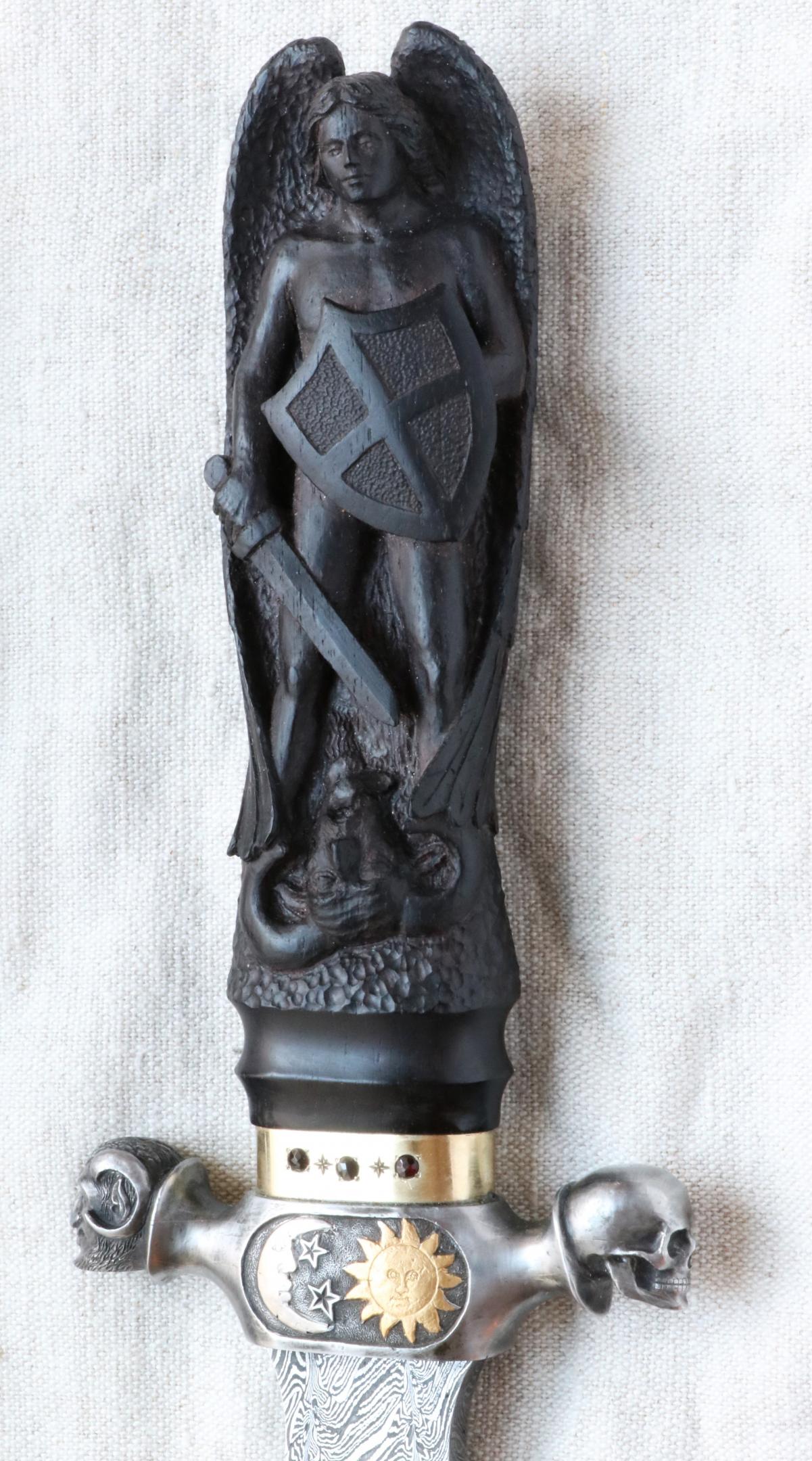 Lubomír Majan (SK) made this knife with an eagle head handle. The 133 mm blade is Carbon Damask,
the handle is Warthog bone and Amber.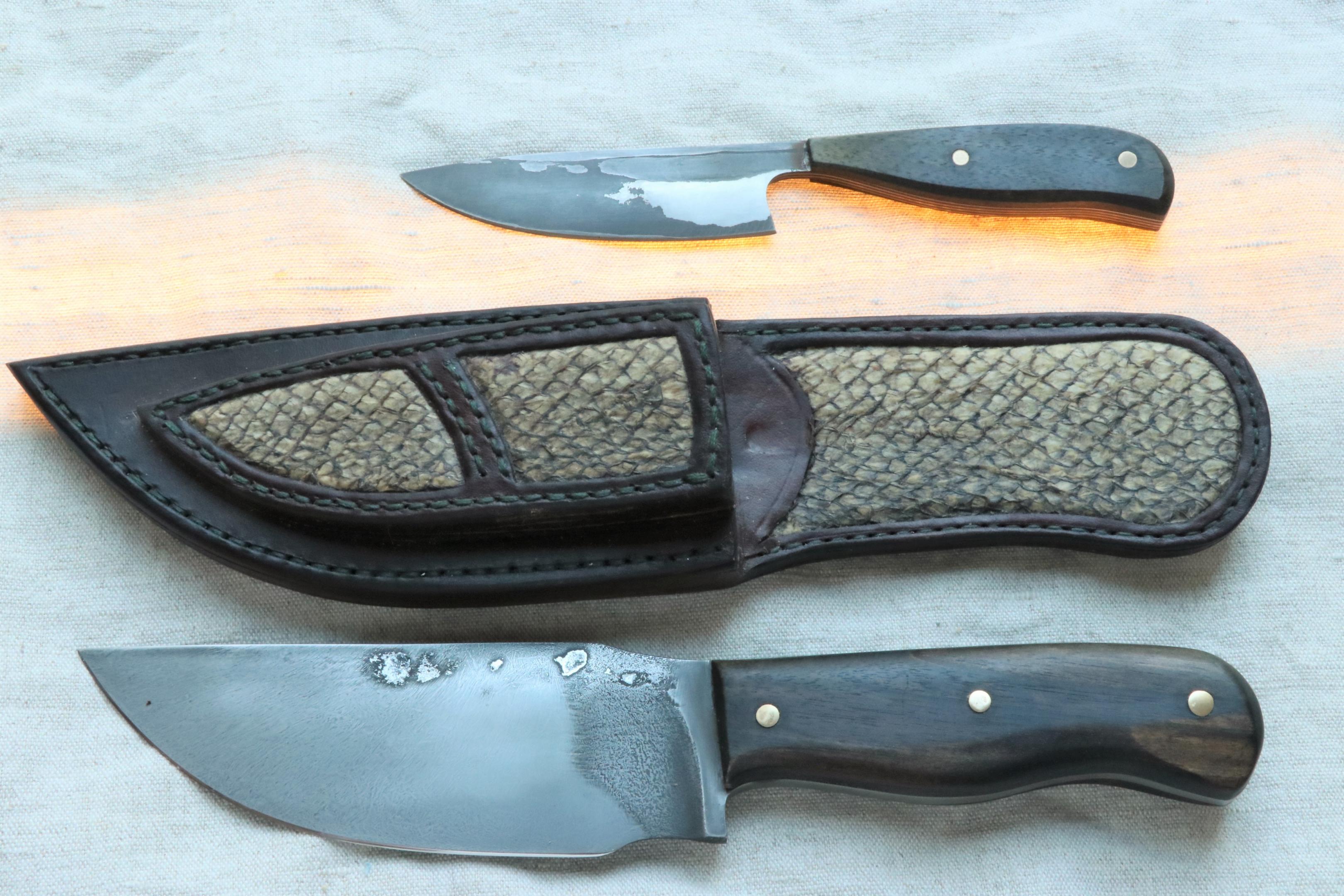 A hunting set by Miloslav Pouzar (CZ). The blades are Stainless Damask and Wootz, the handles Walnut.
Overall lengths are 175 and 240 mm respectively.

A fixed blade by Štefan Galovič (SK). The 170 mm blade is Sleipner stainless, the handle scales are
Fatcarbon. Overall length is 300 mm.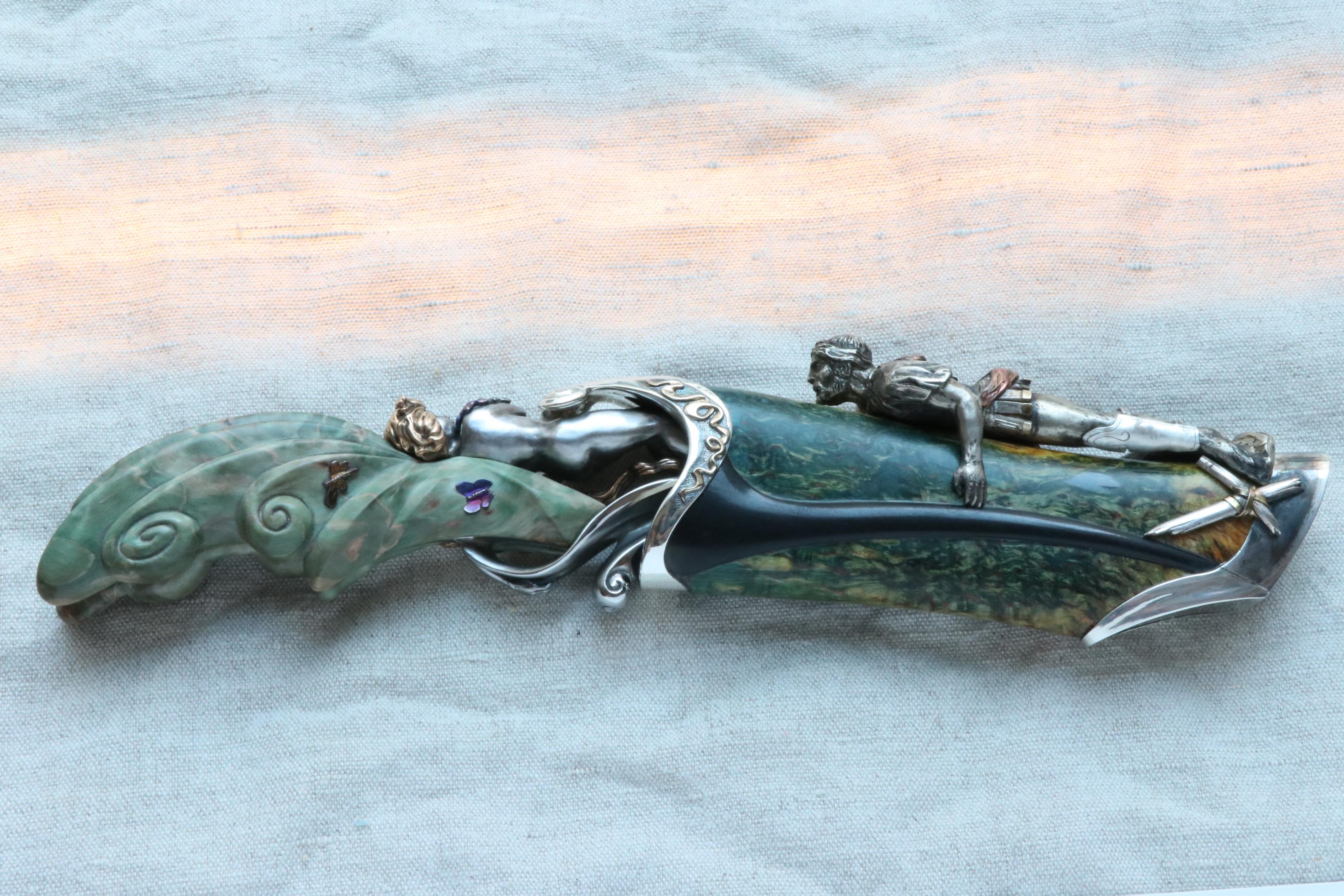 A wonderful sculpted knife and sheath by Lubomír Majan. Overall length is 225 mm.