Avanona self-sharpening knives
Avanona self-sharpening knives
The recently established French Avanona company introduces a series of self-sharpening knives. European Blades Mag explains how that works.

Text Christophe Verstappen. Pictures by Avanona and Bas Martens
The Avanova Cialos in its special sheath.

The Avanova knives are something special. Well, maybe not so much the knives as well as their sheath. Let me explain.
Philippe Héberlé and Jean-Charles Quesnel are two friends and adventurers. Héberlé was an Olympian shooting champion in 1984 (10 m air rifle), Quesnel a Naval officer and organiser of the French shooting championships. In 2016, they established the Avanona company, to market a knife sheath with a built-in sharpener – a design they patented.
The sheath consists of three main parts: the Velcro straps, the outer shell, and the sharpening container which can be replaced or detached for cleaning. At this moment, Avanona has three different knife models, all using the same sheath. These are the Cilaos (pictured here), the Eastmain for hunters and the Passe-en-s for divers. All three are full-tang fixed blades, made of Mox27Co steel blades, hardened to 60-61 HRC, and micarta grips. Other, slightly larger models are in preparation. Both the knives and the sheaths are made in France.
Left: Philippe Héberlé (left) and Jean-Charles Quesnel, the founders of Avanova. Right: The markings on the Cilaos blade.
The container has two ceramic sharpening wheels, which operate under an angle of 28°, in hinged red cassettes. Since there are two wheels, the sharpening systems functions regardless of the way the knife is put in the sheath. A wire spring pushes the ceramic wheels against the blade. A demonstration by Jean-Charles shows that even a dull blade can be sharpened by moving the knife in and out of the sheath several times. This feature makes the knives especially popular with hunters. More details can be found at the website, www.avanova.fr.

Features of the Cilaos:

Overall length: 21 cm
Blade lenght: 10 cm
Handle length: 11 cm
Blade steel: Mox27Co
Handle material: linnen micarta
Price: € 360,-
The Cilaos is a full-tang knife with an overall length of 21 cm.
Exterior and interior of the knife sheath, with the ceramic sharpeners housed in the red cassettes. The wire
spring presses the ceramic wheels against the blade.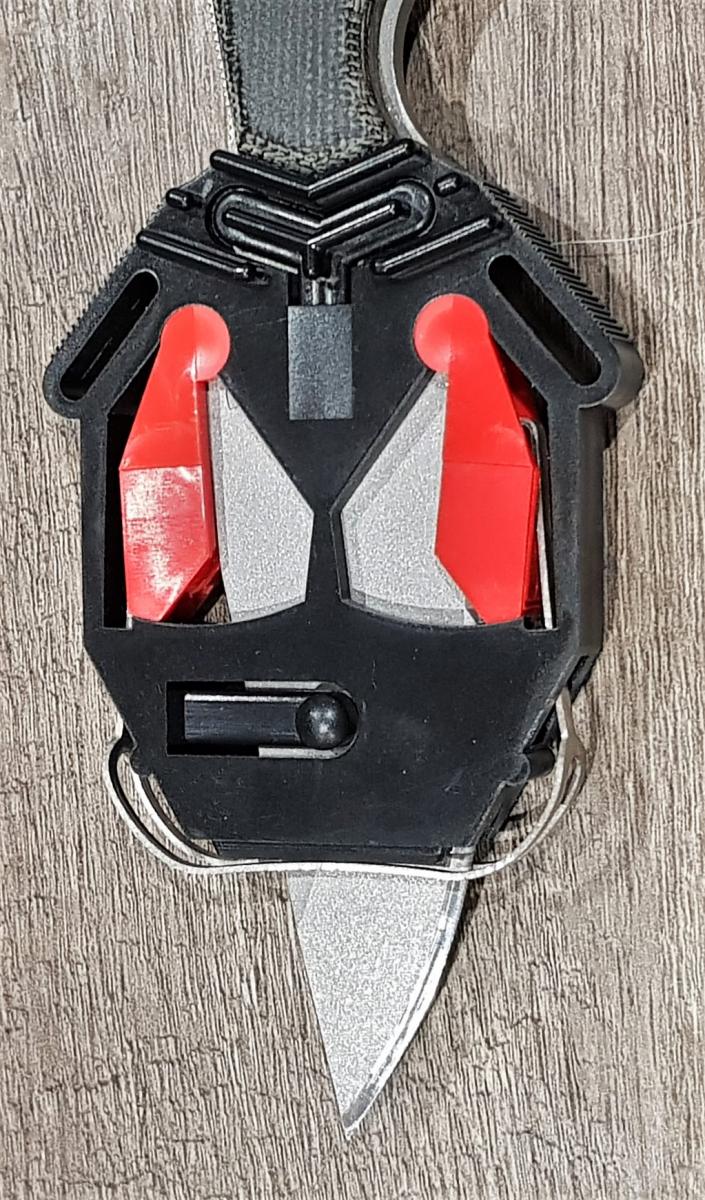 Left: This is how it looks like with the knife in the sheath. Right: Avanova makes high-quality knives,
including a nice packing.