Auctions: Two unique presentation swords
Auctions: Two unique presentation swords
The American William I. Koch is a collector of almost everything: wines, Western art, maritime art and memorabilia, military vehicles, and swords, just to name a few. Forty-eight of his swords were auctioned at Cowan's in October 2018. They sold for 1.2 million dollars. European Blades Mag. presents two early 19th Century British highlights. Koch's complete collection can be seen at www.cowanauctions.com.
Pictures courtesy
Cowan's Auctions
In 1816, His Royal Highness the Prince Regent, the future King George IV (1762-1830), presented a gold and enamel sword to his brother, Prince Adolphus Frederick, titled the Duke of Cambridge (1774-1850). The date of the presentation - July 22 - coincided with the marriage of Princess Mary, the Duke's sister, to their cousin William Frederick, Duke of Gloucester. The Duke of Cambridge escorted the princess to the nuptials and honor of giving the bride away fell to the Prince Regent.
As a royal gift should pertain, the sword is of the highest quality. It was probably made by Thomas Price from London, a noted goldsmith and sword cutler who is known to have made "a number of important presentation swords" awarded during the Napoleonic War, nearly all of which were retailed by Rundell, Bridge & Rundell from London, whose signature is on the locket. The sword has an oval plaque with the presentation against a royal blue enamel ground: "His Royal Highness George Augustus, Frederick Regent of. The United Kingdom. Of Great Britain. And Ireland to His Affectionate. Brother. The. Duke. Of Cambridge. 22. July. 1816." The other side bears the full British Royal Arms in polychrome enamel against a royal blue ground. The sword sold for $ 123.375.-, including a 17.5 % buyer's premium.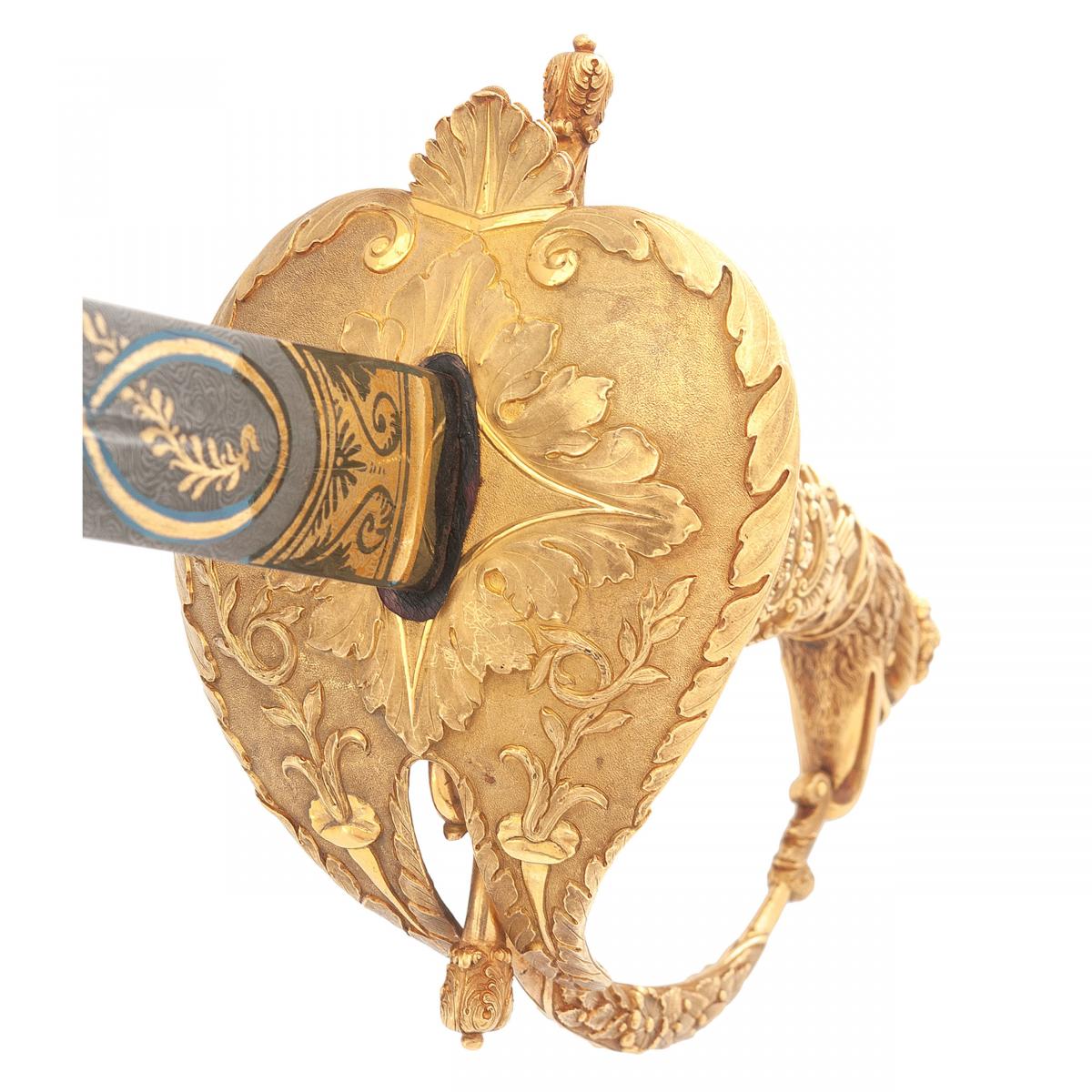 The second sword is a Lloyd's Patriotic Fund sword rewarded to Captain Robert Redmill, CB for his actions against the French fleet at the Battle of Trafalgar in October 1805. It is one of twenty-three 100 Guinea Swords (the purchase price at the time) that were awarded to captains by the British Empire for service during this famed naval battle.
The blade is heavily blued and gilt with flowers, foliage, martial and naval trophies, mythical figures, George III cypher, British Royal Coat of Arms surmounted by lion and crown, recipient initials, and cherubs. The right side of blade is gilt in block letters "FROM THE PATRIOTIC FUND AT LLOYDS TO ROBERT REDMILL ESQR CAPT OF H*M*S* POLY-/-PHEMUS FOR HIS MERITORIOUS SERVICES IN CONTRIBUTING TO THE SIGNAL VICTORY OBTAINED OVER/THE COMBINED FLEETS OF FRANCE & SPAIN OFF CAPE TRAFALGAR ON THE 21st OF OCTOBER 1805."
Captain Redmill's Lloyd's sword was crafted by Richard Teed of London, as are similar examples in British national collections. This sword sold for $ 235.000.-, including a 17,5 % buyer's premium