Auctions: A magnificent Spanish sword

Auctions: A magnificent Spanish sword
This magnificent Spanish sword, made ca. 1850-1855 by Eusebio Zuluaga Gonzalez, is one of the treasures in the upcoming auction of the American Rock Island Auction Company which is held from September 11 to September 13.
The description in the auction catalogue is as follows:
"This breathtaking sword was displayed at the Spanish Royal Armory of Madrid (Real Armeria de Madrid) from c. 1856 until the late 19th century and was part of a larger panoply containing two swords, three daggers, a pair of pistols, and accessories listed as "Trophy Formed of Different Weapons by E. De Zuloaga". […] It is unclear if these items were property of the Spanish Royal Family or the armory or if they were displayed on behalf of their maker: Eusebio Zuloaga Gonzalez (1808-1898), one of the finest metal workers in Spain's long history of artistic metalwork, arguably the very finest. […] Zuloaga received the title of royal gunmaker to Queen Isabella II in 1844 and won a silver medal at the Exhibition of Spanish Industry in Madrid in 1845.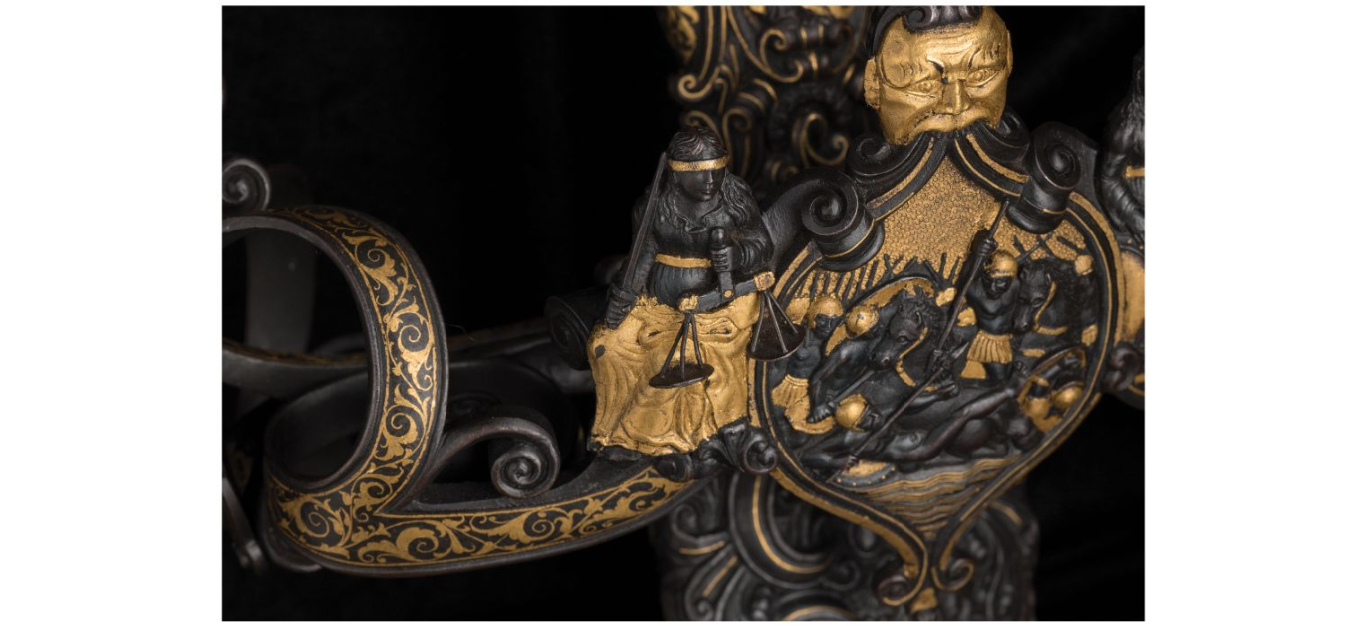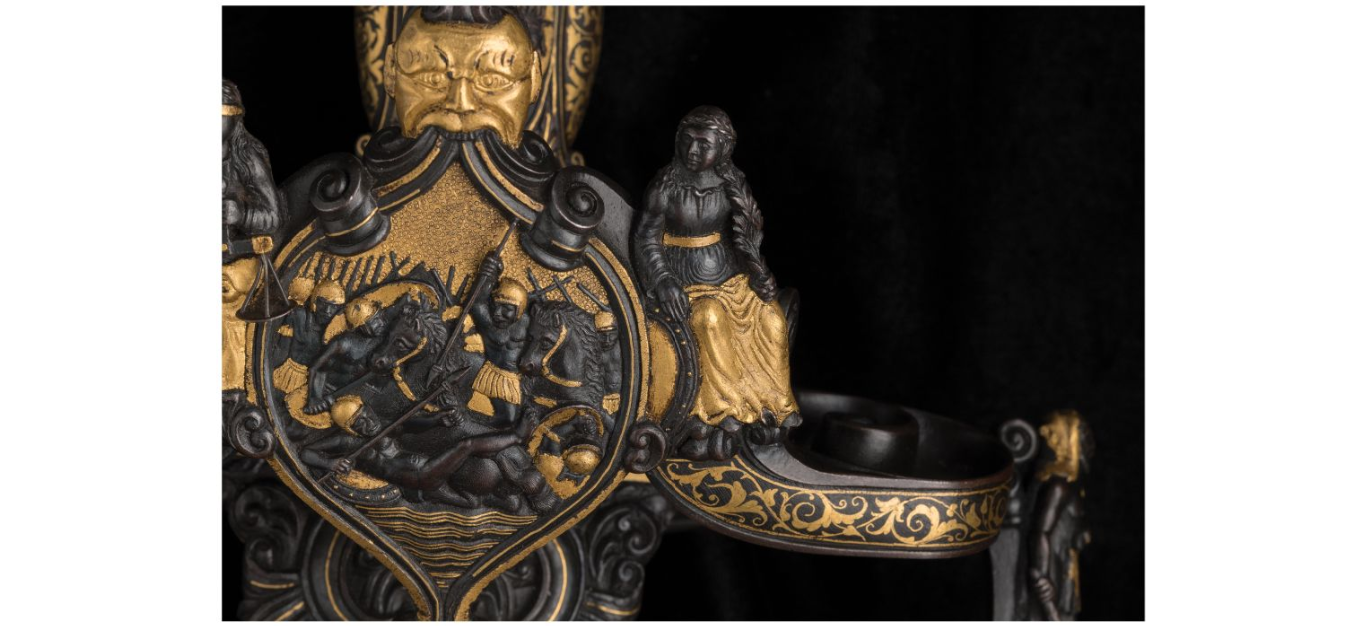 […] While the entirety of the sword is impressive, the hilt is particularly so. Its basic overall shape recalls earlier Spanish rapiers, but the overall ornamentation is astounding. The central motif on the hilt is a classical Greco-Roman battle scene within a panel with raised scroll borders that disgorge from a golden grotesque mask and is flanked by an allegory of Justice or one of the related goddesses to the viewer's left depicted blind folded and holding her famous scales and a sword and another female figure on the viewer's right with a laurel crown and a shield to her right […]. The up and down turned quillions feature additional sculpted figures. The right figure is Hercules wearing the pelt of the Nemian Lion and carrying a club, and the left figure is believed to be Achilles. The smaller inner guard has Cupid. The grip has Minerva/Athena at the center complete with a gorgoneion emblazoned shield and an allegory of Faith on the opposite side holding a cross and Bible […] The pommel has Pegasus on the sides. The hilt also consists of scrollwork in the metal accented by gold wire inlays along the raised edges and panels of damascened interlaced scrolls. The sword's blade is 32 3/4 inches long and features a shallow series of notches and barbs along the back edge for the first 9 inches and 14 inch long elaborate panels of gold backed, intertwining floral scroll patterns terminating in spires on the base of the blade. […]"
The estimate is between $ 100,000 and $200,000. For more information and the complete description see
www.rockislandauction.com
.