Auctions: A chiselled hunting cutlass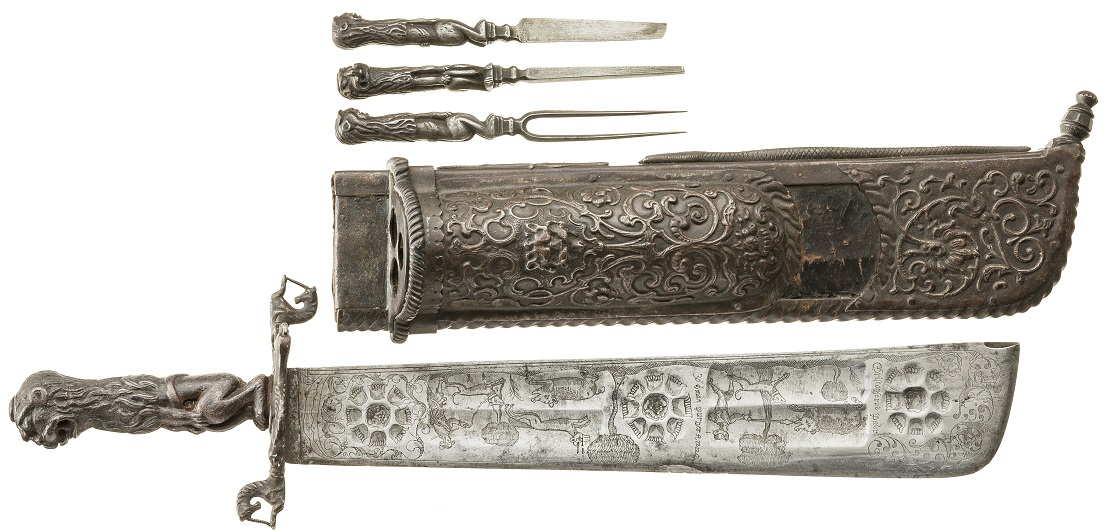 This 1669-dated chiselled hunting cutlass, made in Berlin in the circle of Gottfried Leygebe, is one of the lots at the upcoming autumn auction of Antique Arms and Armour from all over the world by German auction house Hermann Historica, which will be held on 26 October.

Pictures copyright Hermann Historica

The catalogue description is as follows:
"Sturdy single-edged blade of lenticular section with double fullers on both sides. Fine decorative etching with hunting motifs amidst flower tendrils. On the blade etcher's (?) signature "Christopherus Peder Zöchmanspurger, Anno 1669 concortianes". Minor flaw in the centre of the edge. Iron quillons, the arms cut in the shape of a leaping unicorn. The obverse
guard plate with depiction of a unicorn fighting with a wolf. Iron grip in the shape of a crouching lion. Leather-covered wooden scabbard with richly chased iron fittings.
Inserted three-piece cutlery with grips in the shape of crouching lions. Knife, two-pronged fork and awl/sharpening rod, each forged in one piece. The tips of the knife and awl are broken off. On the back of the scabbard an applied snake and crocodile in half relief. On
the reverse riveted angular suspension loop. Length 48 cm.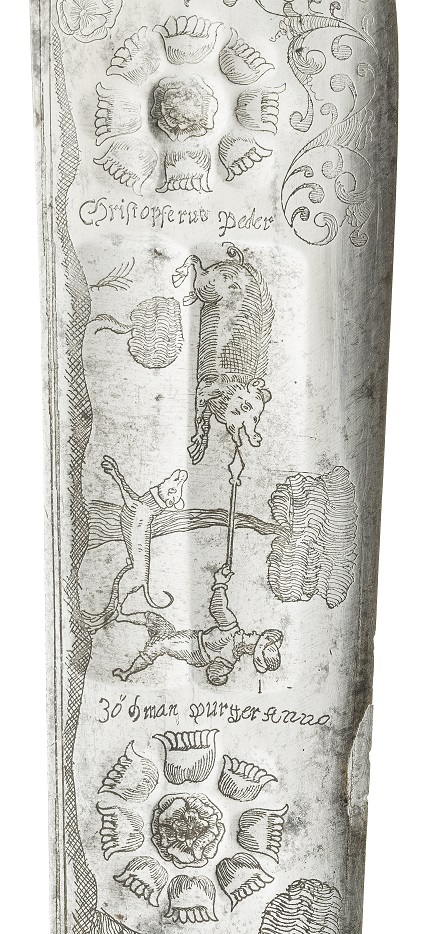 Gottfried Christian Leygebe (1630 - 83), German sculptor, iron chiseller, engraver, medallist and stamp maker. Initially stampmaker in Nuremberg, from 1668 onwards cutter of minting dies to the electoral court in Berlin. He was also renowned for his small sword hilts with three-dimensional animal figures. One of the iron figures of St. George cut by him can be found in the collection of the Grünes Gewölbe museum in Dresden."