WE Knife collaborates with European custom makers
WE Knife collaborates with European custom makers

The Chinese WE Knife Company has launched two limited edition collaborations with European custom knife makers. One is the 'Wasabi', designed by Polish knife maker Rafal Brzesky (Brr Knives). The other is the 'Ferox', a design by Dutch knife maker Gudy van Poppel (POPL-Custom).

Text and pictures Bas Martens and WE Knife

Collaborations between industrial knife companies and custom knife designers have often led to long and fruitful relationships. In fact, quite a few knife companies depend entirely on the talent behind custom designs in what has proven to be a mutually beneficial relationship.
Lately however, a new type of collaboration has come up. Existing designs from reputable knife makers are being industrially produced as limited editions, thereby balancing the full-scale production knife and the one-of-a-kind custom model. Some of these limited editions are made to third-party orders, some are marketed by the knife company itself.
WE Knife's new range of limited edition production knives belongs to the latter category. Based on custom designs, it has been initiated by WE's European Representative, Dutchman Henk Hakvoort, who himself is a passionate knife lover. Hakvoort suggested the makers and the models and served as an intermediary during the production preparations. Needless to say, he is very happy with the result. The first two models are: the 'Ferox' a design by Dutch knife maker Gudy van Poppel; and the 'Wasabi', by Polish knife maker Rafal Brzesky.
The WE production prototype of the Ferox by Gudy van Poppel. The final production model has some slight differences, most notably a stonewashed finish on the blade and a fine chequering on the handle.

Left: Dutch knife maker Gudy van Poppel. Right: The production prototype folded. The 'Ferox' is one of the heaviest WE folders.
Both knives are Frame Lock folders with a Böhler M390 blade and a titanium handle. Both will be made in a limited edition first production run of 300 pieces. And that is where the similarities end, for the knives are as different as their makers. The Van Poppel Ferox is a big, bold folder which is definitely more 'tactical', while Brzesky's Wasabi is a more elegant and streamlined knife. Which, by the way, says nothing about their respective qualities.
Rafal Brzeski's original 'Wasabi' (left) and the WE production prototype. Some changes
were made for the final production model, such as the finish of blade and handle.

Left: Polish knife maker Rafal Brzesky (Brr Knives). An interview with him appeared in European Blades Mag. # 8.
Right: Both knives folded. One can see that the production model has a slightly coarser fit and finish.
The knives shown in the pictures are production prototypes, to which several changes have been made. The final versions can be seen in the two WE Knife publicity pictures below. The knives have been presented at the Blade Show in Atlanta. Their European introduction will be at Bladestock 2018 in The Netherlands, where they can be obtained with an introductory discount (see
www.bladestock.eu
). For WE Knife, these two models are just the beginning. The company wants to expand its European presence so more collaborations with European custom makers are in the making.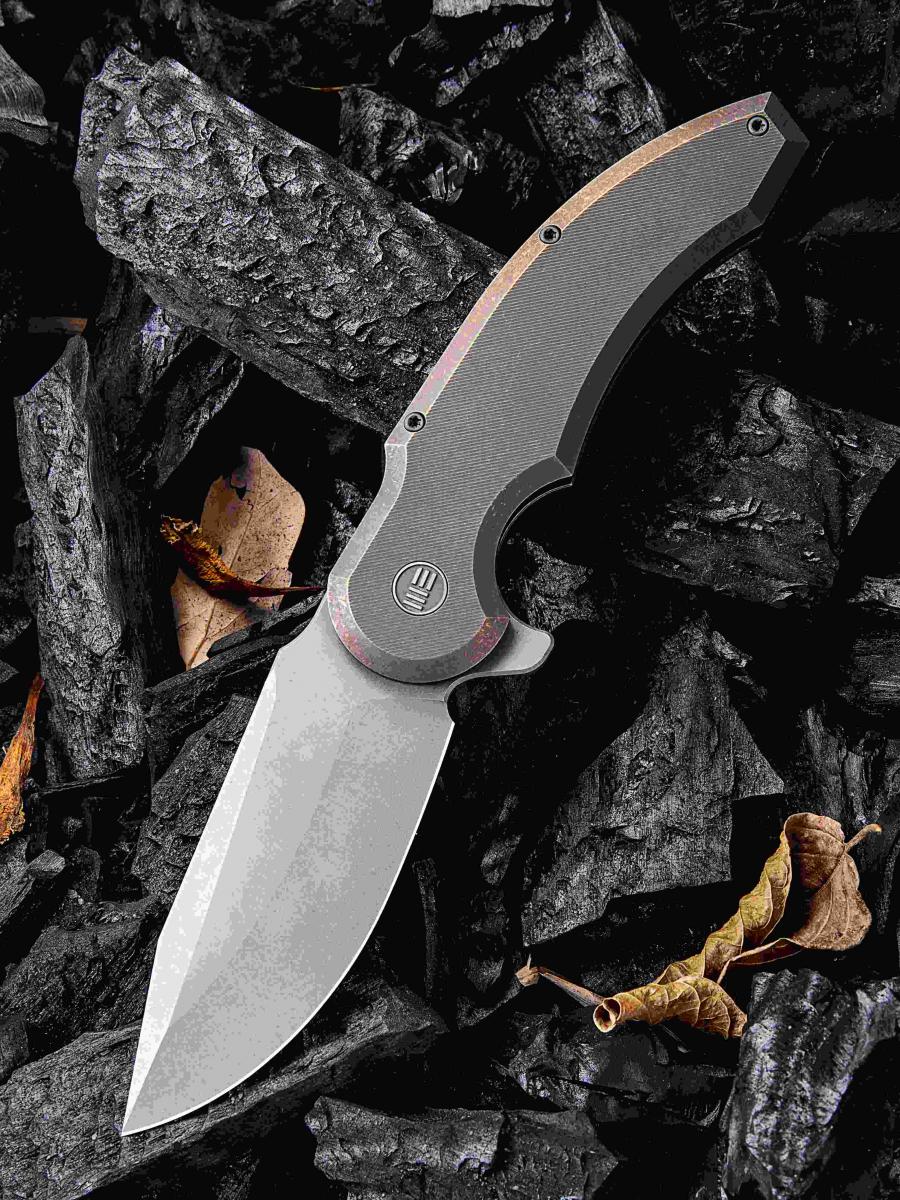 WE Knife publicity pictures of the final version of the 'Ferox' and 'Wasabi'.