'De Messenwinkel' in Antwerp
'De Messenwinkel' in Antwerp
With a name like: 'De Messenwinkel' (the Knife Shop), there is little left to the imagination. So, yes, it's a knife shop, located in Antwerp, Belgium.

Text: Bas Martens. Photos: Martijn Bosmans and Bas Martens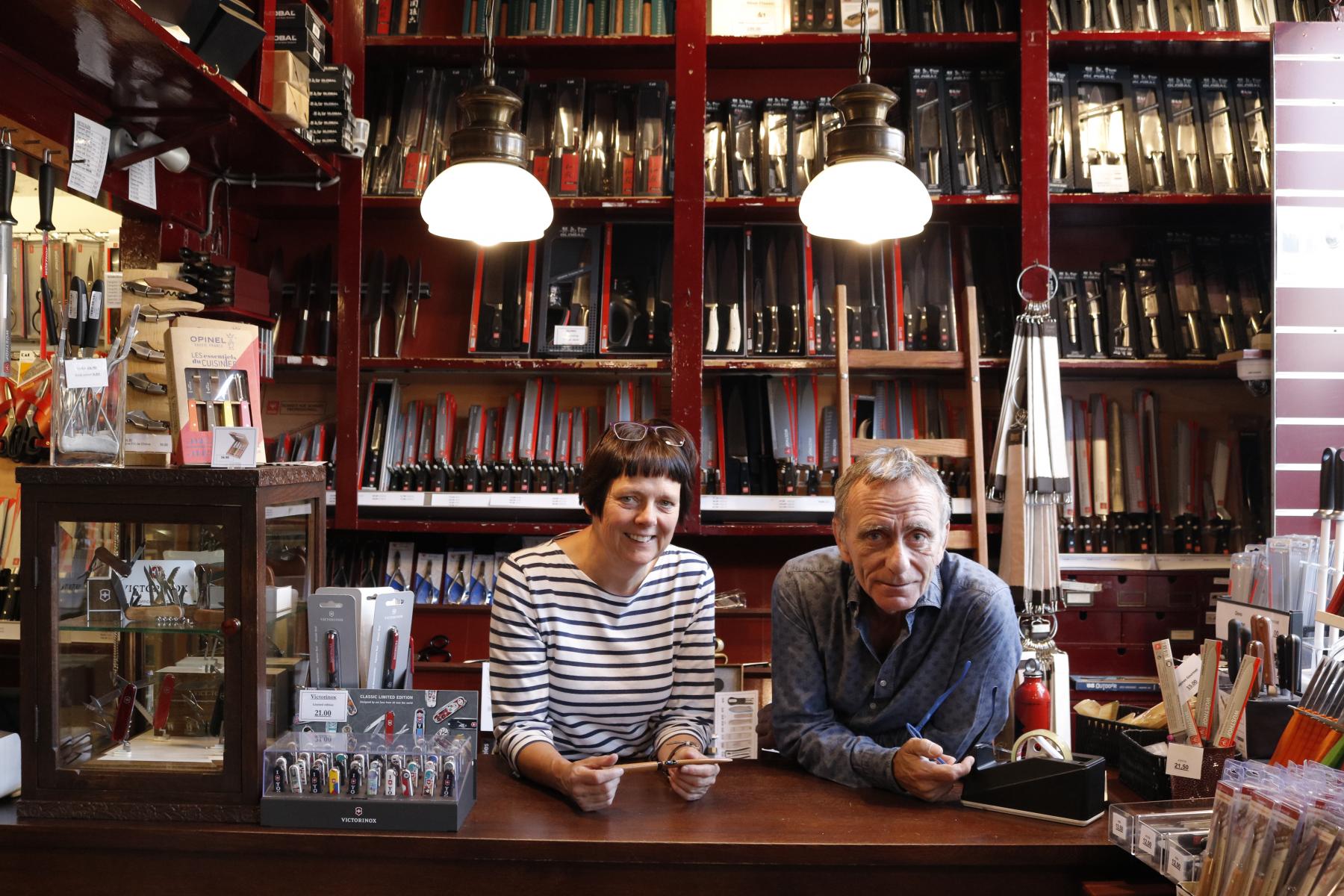 Ingeborg and Robert, the two owners of 'De Messenwinkel'. (Picture by Martijn Bosmans)
'De Messenwinkel' is a charming knife shop, in the heart of Antwerp. It is quite small and filled to the rafters, but is impeccably arranged nonetheless. The staff know their products and take their time to help the customer.
The shop has existed since 1864, not as a knife shop but as the 'Cord Shop'. The business was passed on from mother to daughter for generations, until the current owner, Ingeborg Holthof, decided about fifteen years ago to change course. The cord shop became a knife shop.
From the beginning it was obvious that the store had to specialize, if only because of the available space. It chose the higher quality chef knives and razors. Along with the razors came a supply of shaving brushes, shaving soaps and skincare products. To top it off, sharpening materials are sold, and De Messenwinkel organises courses in the proper use of chef's knives and shaving with an open razor blade. The shop also has a beautiful website, which already features more than 1300 products.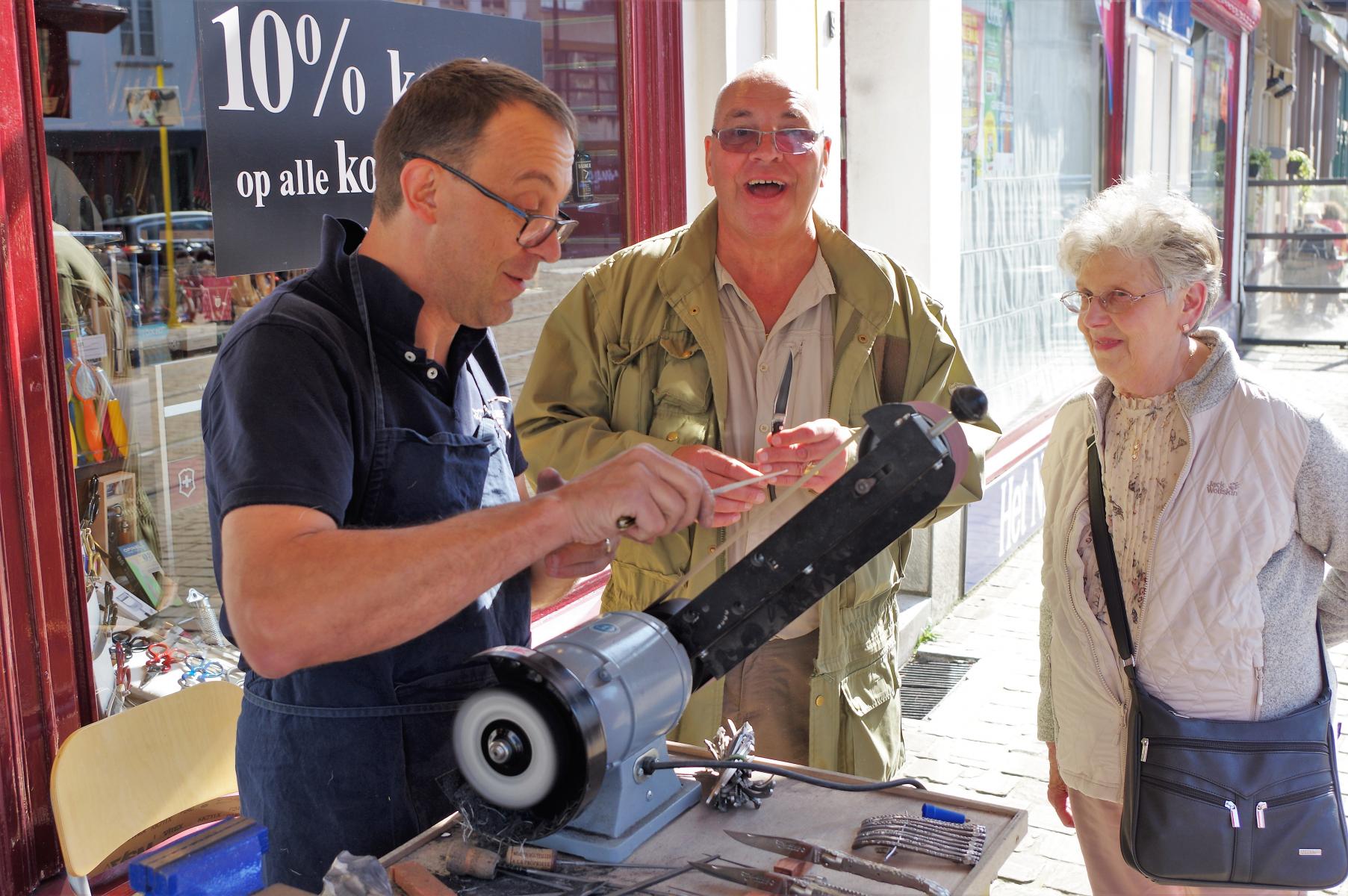 Left: De Messenwinkel is a charming knife shop, in the heart of Antwerp. Right: Thierry Valat, one of Laguiole's
knife makers, came to Antwerp to customize the Laguiole knives.
Laguiole
The reason for our visit was, of course, to get to know the store. However, our attention was drawn to a nice initiative. On September 23rd, De Messenwinkel held a 'Laguiole-day'. To mark the occasion, part of the window showcase was filled with knives from the French knife-making company Laguiole de Aubrac, of which De Messenwinkel is a dealer. Thierry Valat, one of Laguiole's knife makers, travelled to Antwerp to customize the Laguiole knives, whereas the shop's own engraver, Dirk Ameloot, offered to put the name of the new owner on the blade. Two charming ladies of Laguiole were present to answer any questions. Of course, there was a glass of wine and a piece of sausage. The 'Laguiole-day' attracted a lot of attention, but even without a special occasion like that, a visit to De Messenwinkel is well worth it.
The Messenwinkel
Mechelseplein 7
2000 Antwerp
www.messenwinkel.eu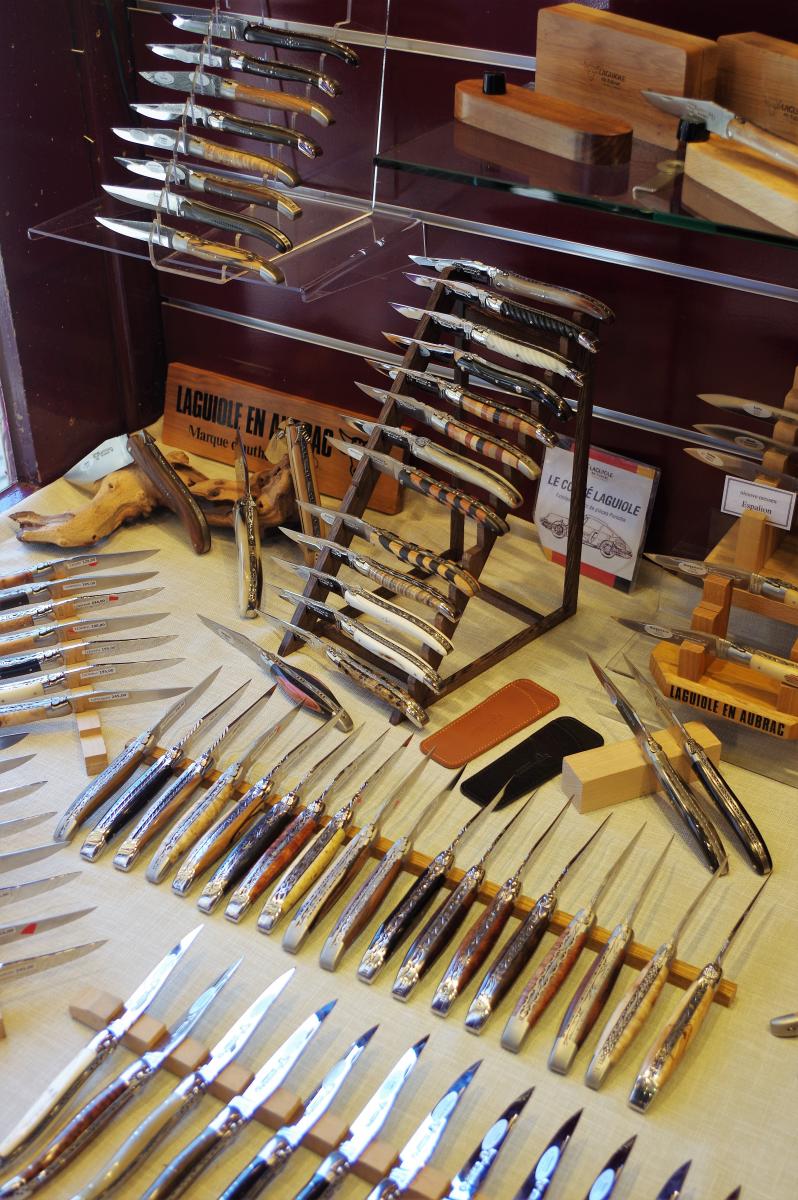 Left: The interior of De Messenwinkel. Centre and right: Part of the shop's showcases filled with knives from
the French company Laguiole en Aubrac.